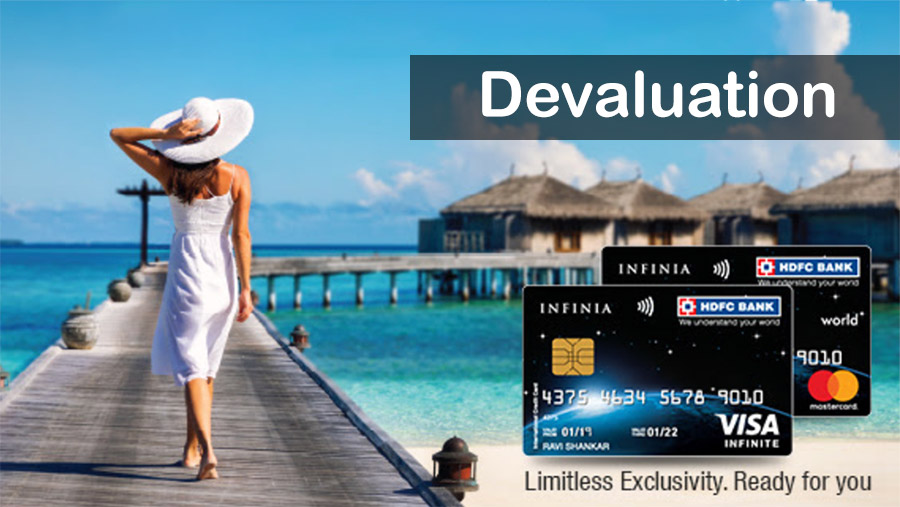 HDFC bank just sent out an email to all Infinia and Diners black credit card holders today. The email comes with the subject line "You've unlocked savings on Shopping & Travel @SmartBuy!" which is funny, because the email is mainly about the new restrictions.
Just like how Yesbank did with the latest devaluation, HDFC too included the MOST IMPORTANT terms at end of the email and makes it look less relevant to the subject, hmm not fair! Anyway, here is all you need to know,
New Restrictions
Points Redemption: Limited to 70% of the booking value, rest to be paid on card
Remaining spend: 10X points as per 10X Smartbuy limits
Dynamic convenience fee: Varies between Rs.280 and Rs.860 for flights
Effective from: 25th July 2020
As you might know, the 70% restriction is already live on most other HDFC bank cards like HDFC Regalia, HDFC Diners Privilege, etc so now they simply extended it to Infinia and Diners black.
However, the good news is atleast we will get 10X reward points on the remaining spend. Meaning, you get 33% back (as points) on the remaining 30% spend done with the card. This means, effective spend is 20% of the redemption value.
That aside, the point value remains as it is, so no change there for now, fortunately.
You've about a month to redeem at current value but well, the fact is you don't have any option at the moment to redeem at current value, because most can't redeem for travel at the moment and that's where you can get maximum value with HDFC points.
Should I close Infinia / Diners Black?
It depends!
If you could spend enough to get the renewal fee waiver, there is no reason to cancel them.
If you've earned lakhs of points via 10X Program, its fair to hold.
If you pay the fee (or) if you're highly uncomfortable to spend out of pocket for redemptions, you may cancel them.
In most cases, a usual Infinia and Diners black credit card holder will be fine to hold them, as long as there is fee waiver on spend.
But making top end credit card holders uncomfortable with these restrictions, isn't fair, especially on Infinia. Instead, they could have raised the Infinia fee to 15K or so to keep these benefits intact.
Overall it makes sense for diners black, but for Infinia it doesn't seem to be a right decision! Yet, it all depends on how much value you're making out of it.
What to do now?
Nothing much, as anyway most of our spends are low at the moment. So you may take enough time, maybe till 2020 year end to see what's happening next and take the move accordingly.
But if you are sitting on lots of points, its OKAY to redeem the points for 50ps/point (Infinia/Diners Black) for amazon vouchers.
To do this, Visit HDFC Smartbuy -> Infinia/Diners Black -> Rewards
Other cards like regalia may have low value, like 25ps/point.
For the high spenders and value seekers, it looks like Amex Platinum Charge is the only card that seems to value its top end customers even during the testing times of COVID-19 with less burden and more rewards.
But that's a 60K+GST fee card, so you can't compare directly. Yet, it looks like a good replacement for now just incase if you don't like the changes. Maybe more in detail on this in a new article.
Final Thoughts
As you might know, HDFC Bank has been cutting down on most credit card linked benefits recently. It all started with the reduction in 10X rewards, then limits to dining 2X rewards and now they've touched one of the most important aspect of redemption.
I just wish it doesn't get worse anymore!
Overall, it's obvious for changes to happen to diners black for reasons you already know, which includes: so many DCB cards in circulation, existence of 10x for a long time, etc but it's unfair to do this on Infinia, which is more of an invite only card.
That said, given how old Infinia is now, this in one way means HDFC must be bringing a new super premium credit card to place it above Infinia without these restrictions. Its my wild guess though!
2020 is indeed the worst year for credit cards and it can be said as "the end of golden age" for Indian credit cards. Yet we'll have to wait for 2021 to see how they all re-emerge into the new normal.
What's your thoughts about the new restrictions? Feel free to share your thoughts in the comments below.