What is 10X Rewards?
HDFC 10X rewards is an accelerated rewards program that gets you 10X times more rewards than usual that you would get otherwise.
The program has set of partners only through which you can get 10X rewards and not with every merchant.
However, the 10X partners covers most of the needs like shopping, travel, etc so it ideally covers everything, especially after they added Amazon & Flipkart to the partners list.
Why is it Popular?
10X rewards program is popular especially because of 2 HDFC credit cards: HDFC Infinia & HDFC Diners Black because that could fetch you returns as good as 33% on your spends.
That means, if you spend 1Lakh, you get Rs.33,000 back. This is LOT, because the best reward rate in industry is usually in the range of ~3% and max ~10% on accelerated spends but it was never anywhere close to 33%.
So everyone who knows about rewards attempted to get Infinia or Diners Black and earned massive rewards. Some even created FD (which is not a great option to invest your money) just because of this 10X program.
I can easily say that 100's of cardmembers earned over half a million reward points and 1000's of them earned over 100K points just with the 10X rewards.
They're almost equivalent to real money at 1:1 as they can be redeemed for flights & hotels. So now you know why its so popular 🙂
Types of 10X Rewards
They are multiple ways to earn 10X rewards. Initially they started this program for Diners Cards and then extended to other cards with the launch of HDFC smartbuy (a dedicated rewards portal from HDFC) which expands the 10X coverage to many cards.
Interestingly though, the Diners 10X program partners are currently paused (more on that later) but Smartbuy still continues. Here are more details:
Smartbuy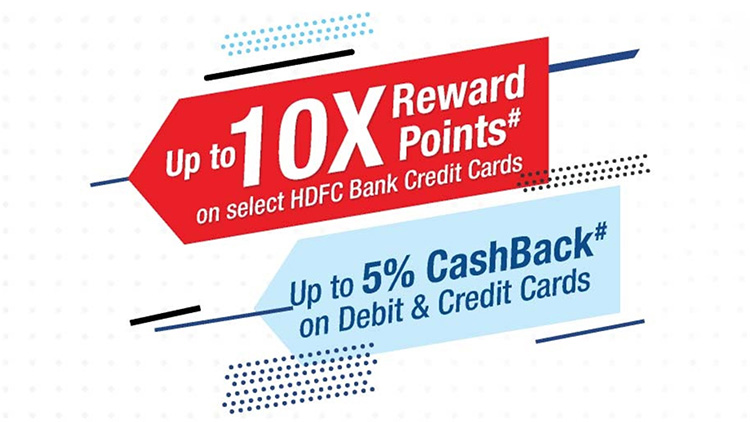 Smartbuy further has multiple merchants that could fetch you 10X/5X/3X rewards. These all used to be 10X rewards prior 1st June 2020
Amazon
Flipkart
Instant Vouchers
Hotels
Bus Booking
Train Bookings
Flight Bookings
Smartbuy Offer T&C (June 2020 Update)
Do refer to savings table for more info on which earns how much.
Diners Partners
Diners Partner merchants used to give 10X points for a long time but this has been temporarily paused due to Covid-19 as managing too many partners isn't possible at this time, mostly because those merchant partners are facing tough times due to the impact of lockdown.
Update: HDFC brings back Diners 10X merchant partners this Nov 2020.
Savings
Here is how much you can save on respective categories as a part of Smart-buy 10X program.
| | | |
| --- | --- | --- |
| Category | Infinia/Diners Black (points) | Other Cards (cashback) |
| Instant Vouchers | 33% (10X Rewards) | 5% |
| Flights / Hotels | 33% (10X Rewards) | 5% |
| Bus | 33% (10X Rewards) | 5% |
| Rail | 16.5% (5X Rewards) | 5% |
| Amazon | 16.5% (5X Rewards) | 5% |
| Flipkart | 9.9% (3X Rewards) | 1% |
| Compare & Shop | 9.9% (3X Rewards) | 1% |
Max. Cap (Smartbuy)
Below are the max. caps of the Bonus rewards (9X, 4X & 2X) that you can earn through smartbuy, as on 1st June 2020
| | |
| --- | --- |
| HDFC Credit Card Variant | Max. Cap (per calendar month) |
| Infinia | 15,000 Points |
| Diners Black | 7,500 Points |
| Regalia / Diners Privilege Credit card | Rs. 2,000 cashback |
| Other Credit / Debit card / Prepaid cards | Rs. 1,000 cashback |
Best Practices
Here are the best practices for purchasing to avail 10X rewards, especially for Flipkart & Amazon as that's where most of them get issues.
Here's the foolproof way to get the 10X rewards without fail. Even if you don't get, following these steps will ensure you have a proof for escalation. Here are the steps to earn 10X rewards:
Open Flipkart or Amazon or respective merchant from Smartbuy on Desktop. Don't use Mobile apps or Mobile web. It creates unwanted tracking issues.
Keep your products ready in Wishlist (if amazon/flipkart). Empty your cart.
Keep your Video recording tool ready. Its easy on Mac.
Now Open Flipkart or Amazon or other merchant via Smartbuy
Goto your Wishlist, open the links and add to Cart. Better don't add to cart directly from wishlist page.
Better don't open multiple tabs. Stay in one tab and add all to cart one by one.
Now checkout, pay through your credit card.
You may now stop the video. Take a snapshot of the confirmation page.
You're done!
While above is the fool-proof way, not all steps are required, but it helps just incase if anything goes wrong.
Also, for Flipkart, you don't need video as you will anyway transact on their customised store url. So the full browser snapshot at checkout is sufficient.
For Amazon, you mostly get confirmation mail from Amazon within 24 hours mentioning 'Your order#**** is completed through HDFC smartbuy'. You can use this mail as well in future for any disputes on bonus 9X.
Tracking Points
Despite the program being hugely successful, the only disadvantage of the HDFC 10X Rewards program or any other accelerated reward points program run by HDFC Bank is that its not easy to track them.
This issue is there for years together and the bank haven't done anything about it.
It wouldn't take a developer more than few hours to update their net-banking and statement to reflect the reward points against transactions but HDFC haven't done it yet.
That maybe because they don't want to do it. Reason being, it may increase redemptions, meaning more expenses to bank.
FYI, banks like ICICI & IndusInd reports reward points against each transaction.
So how to track HDFC 10X rewards?
Create & maintain your own Excel sheet and verify every 90 days whether the points are matching or not.
To reduce time spent on tracking, just track the high value transactions. Forget the rest and see if the numbers are more or less close. If there is a difference,
Call Infinia/DCB support and they should be able to tell you Reward points history for both billed & un-billed statements, transaction wise.
If calling doesn't help, you may email them and ask to re-look into it.
If it still doesn't help, you may ask for escalation via social media.
From my experience, they used to have lot of tracking issues in the past, but lately (since 2019) I'm not seeing any major difference in points.
Unable to get the difference in points despite following above steps? Do let us know in the comments below, other experts maybe able to help you out.
Updates & Changes
June 2020 Update
This program has seen countless updates since its launch but this is the major update, as the primary merchants (Amazon/Flipkart) have been moved from 10X to 5X & 3X respectively. Along with it max. caps for smartbuy too reduced for Infinia & DCB to 15K & 7.5K respectively. This marks a major devaluation of the program.
July – Oct 2020 Update
10X Program extended through 31st Oct 2020 without any major changes.
Nov 2020 Update
Smartbuy 10X Program extended through 30th Nov 2020 without any major changes.
HDFC brings back Diners 10X Merchant partners.
Dec 2020 Update
New Diners 10X Partner added
New 2X rewards Program
May 2021 Update
CRED (Store & Travel) is now HDFC Diners 10X Partner.
CRED RentPay remains as a 2X Partner for May 2021
June 2021 Update
Swiggy is the new Diners 10X Partner.
August 2021 Update
Vijay Sales Instant Voucher is now available on HDFC Smartbuy.
FAQ's
1. Is 10X rewards program still worth it?
Definitely, as long as you have Infinia or Diners Black as this program now makes sense only for super-premium cards.
And you still can earn 10X Rewards on instant vouchers, so you could save something or other. But I don't think this would stay longer either.
2. Will 10X on Flipkart & Amazon return?
Before we predict, we must know the reason why it was gone. There are two main reasons: 1. the usual change, 2. due to Covid-19 outbreak.
Out of the two, Covid-19 is the primary one (I guess), reason being, they are already flooded with orders without any promotion and why would they spend for the promo at this point in time?
So it makes no sense for Amazon/Flipkart to run the program now, so its gone (almost). And I doubt its comeback under 10X in near future, but let's hope it happens.
3. Will we get better Max. Cap in future?
I don't think so. But current max. caps may stay for long as they're pretty low for super premium cards anyway.
4. Should I close my Infinia/ Diners Black now?
As long as you can spend the required amount on respective cards to get the renewal fee waiver, it makes sense to hold, as 3.3% rewards is still a very good return on regular spends.
5. I can't redeem points for travel now, so whats the point in holding?
You have about ~2 years (3 Yrs for Diners Black & Infinia) to spend the points you earn now. By then Covid-19 fear would be over and everyone would be travelling as usual (more or less).
Though, whether you & I will be alive or not is the major concern 😀
6. What can be done to make 10X rewards better?
Following the 10X rewards program updates EVERY SINGLE MONTH in such a PAIN. Wanting the top tier card members to follow new rules every other month is never fair either.
Ideally bank has to come up with quarterly or half-yearly updates to make the entire process smooth. Further, reporting regular & accelerated points transaction wise would give peace of mind for customers and less support calls for the bank.
Bottom line
Despite the changes HDFC 10X rewards program remains attractive, but of-course definitely not as good as it used to be. While the changes might not look good for most of us, its inevitable.
We saw a glimpse of these changes by April 2019 and seeing this happen after an year means a lot of time was already given. But if you're new to the game, I feel sorry for you. I still wonder how they managed to run the 10X program for about 4 Yrs in a row.
That is unbelievable and HDFC bank definitely made a history with its 10X program. Its not just the bank, even a lot of customers earned tons of reward points in a short time that would instead take them a decade or two if they play the regular game.
That said, let's hope HDFC finds new partners or put Amazon/Flipkart back to 10X soon to make a history, yet one more time. Meanwhile, what's your thoughts about the major changes to 10X rewards program? Feel free to share your thoughts in the comments below.