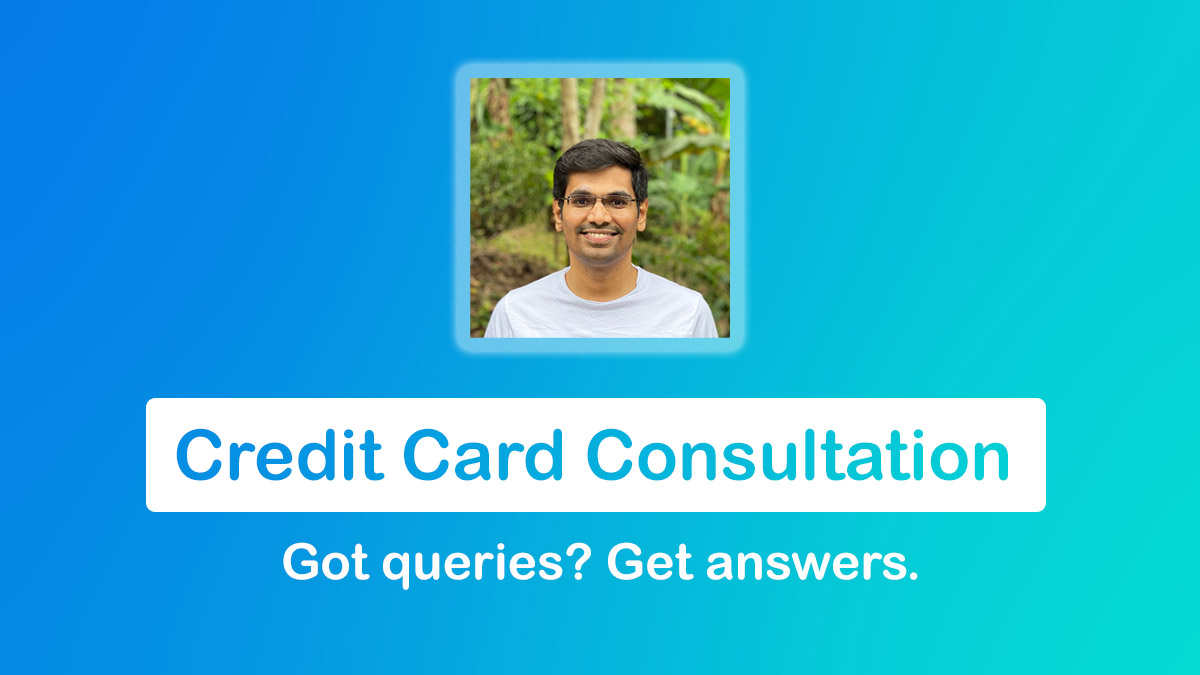 100's of articles, 1000's of comments and still unable to find a satisfying answer to your burning queries about living a life out of credit card rewards?
You've landed at the right place!
That's right, I'm re-opening the one-on-one credit card consultation service almost after ~2 years.
You can talk to me directly over the phone and get all your queries answered in matter of minutes.
What I know
I've been using credit cards across multiple issuers for over 10 years – with annual fee of cards ranging from Rs.0 (life time free) to Rs.70,000 (expensive metal's) like Amex Platinum and Axis Reserve.
At any point in time I hold 10+ credit cards in my wallet and I make sure all my spends are giving me sufficient rewards to fund my travels and bit more.
Note: This doesn't mean you need to hold 10 cards too. Beyond 5 cards is usually a matter of choice.
So all these gives me sufficient experience to answer the queries that you may have.
That said, almost 90% of what I know is already written here. Hence, what you get with the consultation is the fastest way to tap that 90% + the remaining sweet 10% as well.
What can you ask?
You can ask me anything that runs on your mind about credit cards and the relevant topics. Here are some:
Tips to get approved for Super Premium Credit Cards
Strategy to increase your Credit Card Limit to 5 Lakhs or more (for HNI's)

Earning reward points/cashback/Air-miles

Impact of applying/holding multiple Credit cards
Tips on Airport Lounge Access
and a lot more
Ideally, you can expect a simple strategy considering all of the above, which you can put in action so that you can enjoy a complimentary vacation on points.
I may not be an expert at knowing "everything" in the industry, but I'm happy to know little that helps me live a life on credit card rewards with a peace of mind.
What to expect
A straight & quick solution to your queries. Simple as that!
I prefer to have simple strategy to earn rewards and so your query too will be answered in the same line of thought.
Speaking of which, you need to know that I'm not a "road warrior" who does 100's of nights in hotels.
So I won't ask you to stay half of your life in hotels to enjoy the perks I do. Expect simple solutions to make your travel better and perhaps free, just as every other card experts are enjoying their life on points.
The Fee
Professional
Single Call
₹4999
One time support
Best for anyone with spends >10L
Call time: ~45 mins
Follow up: Yes (via email)
Valid for: 3 Months
Book now
VIP

Multiple Calls
₹12999
I'm Your Concierge
Best for HNI's with Spends >25L
Call time: ~45 mins * 3
Follow up: Yes (call, email, chat)
Valid for: 2 Years
Book Now
Choosing the plan
Professional: If your credit card spends are >15 Lakhs a year, you may choose the professional plan. This is good if you just need a quick strategy to get most out of your credit card spends.
Ideally, you can save over 1.5 Lakhs (as travel benefits) on 10L annual spend and you pay only 4,999 INR as consultation fee.
VIP: If your spends are >30 Lakhs a year, be it personal (or) business spends, this is for you. I'll be available for you anytime of the year over call/chat/email to answer your query. You can consider me as your credit card concierge.
Ideally, you can save over 3 Lakhs (as travel benefits) on 30L annual spend and you pay only 14,999 INR as consultation fee.
So, now if you ask me which one to choose, I would suggest VIP whenever possible. Because, looking at my previous conversations with wonderful people all over the country, I see that a longer call is inevitable on the topic.
*** Update *** All VIP Plan subscribers now get direct support from me for 2 Years, instead of 1 Year. So all your headaches in handling the credit cards are on me, for next two years.
Once booked, You may ideally expect a callback to the registered mobile number within 3-5 days. If you think the call is getting delayed or if you're in an urgency, please drop me a line here so that I'll make sure you're on priority.
FAQ's
1. I have read all your articles, will this consultation still be useful to me?
It depends. You've already read 90% of the content and you should be an expert by now. But if you think you're missing out on something, I would be happy to answer in comments as well.
2. I spend 5L a year on cards, can you optimize my returns?
At this spend level, best credit cards article is sufficient to give what you need. This consultation is mostly suited for those who have (or plan to have) annual spends >10 Lakhs.
3. Do you guarantee on getting me a super premium credit card?
The consultation gives you ways and means to get the card you desire – be it Infinia or Centurion. My suggestions have worked for over 99% of whom I've spoken to. However, it's not guaranteed, as it depends on the individual's profile.
4. Can I follow up later if required?
Certainly. I would be happy to respond to the follow up queries post consultation, preferably via email. If you've chosen VIP plan, I'll anyway be available over a chat, anytime of the day.
5. Can you reduce the consultation fee?
The fee is designed in such a way that you can easily get back the investment by spending as low as 15,000 INR. Hence the fee is quite affordable in that point of view.
Got queries? get answers, book your one-on-one credit card consultation now.