HDFC Bank recently added more benefits & privileges to the already most popular Diners Black and along with it raised the annual fee to Rs.10,000. That may not work out for all and still some cardholders might need better benefits compared to Diners Club Miles at an attractive fee, so I believe that's how HDFC Diners Privilege came to the picture.
Diners Privilege is positioned a bit above Club Miles and below Diners Black. Its basically a trimmed down version of Diners Black and comes with 1/4th of its fee. Let's see the benefits in detail.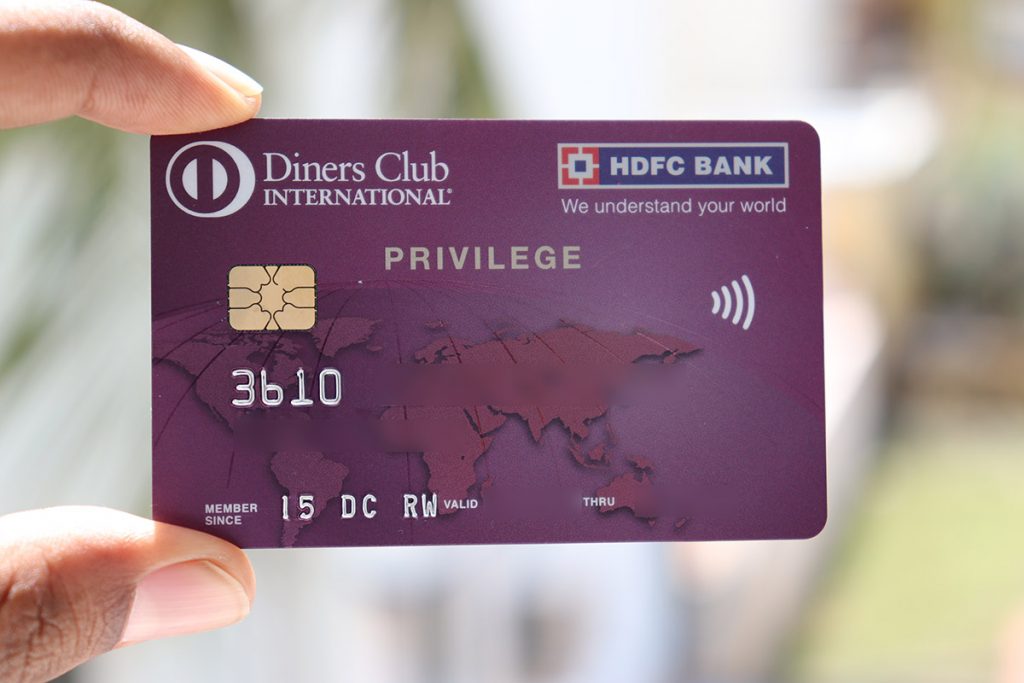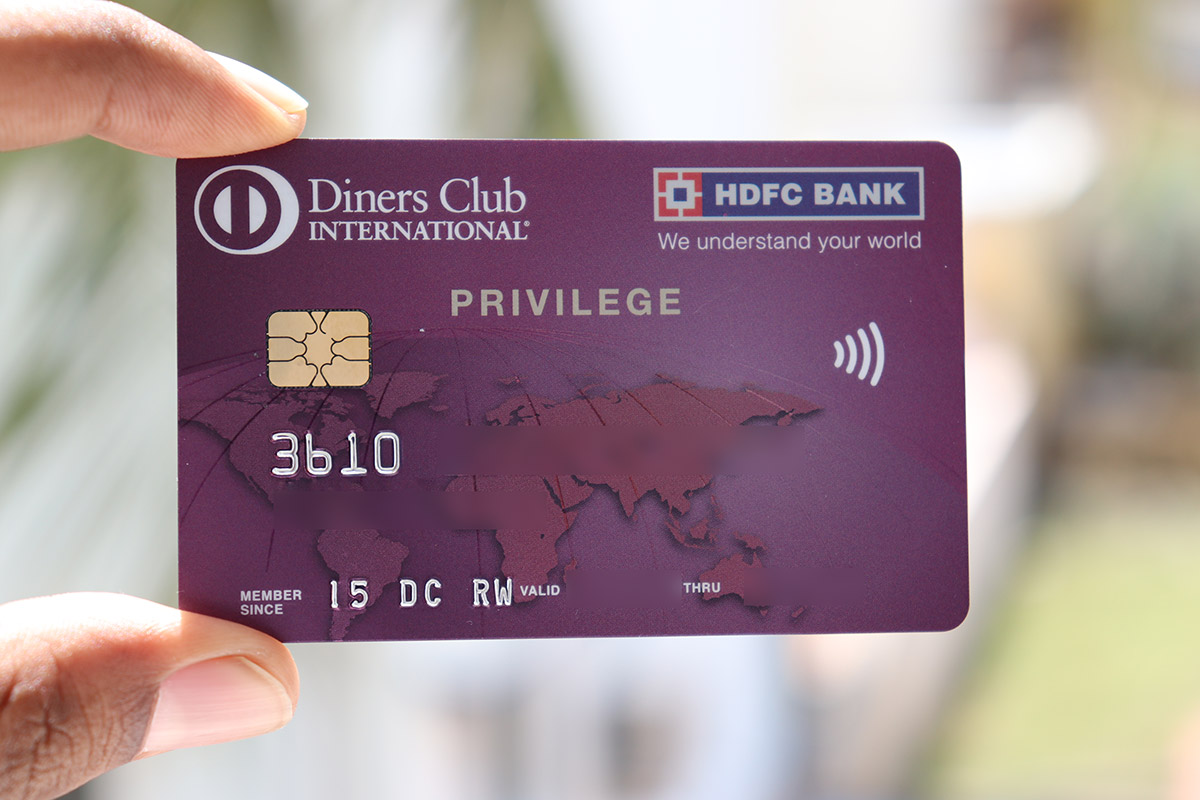 Joining Fees
Joining/Annual Fee: 2,500 INR+GST (First Year Free usually)
Welcome Benefits: Complimentary memberships with Zomato Gold, Amazon Prime, Times Prime, Big Basket Star, MakeMyTrip Double Black (if fee is levied)
Renewal Fee waiver: Spend Rs. 3L in 12 Months
Its indeed interesting to see that HDFC is moving the welcome benefit from reward points to memberships.
While Amazon Prime & Zomato gold is a good one among, rest brands aren't attractive enough. But anyway you can get it as FYF and get renewal fee waiver based on spend.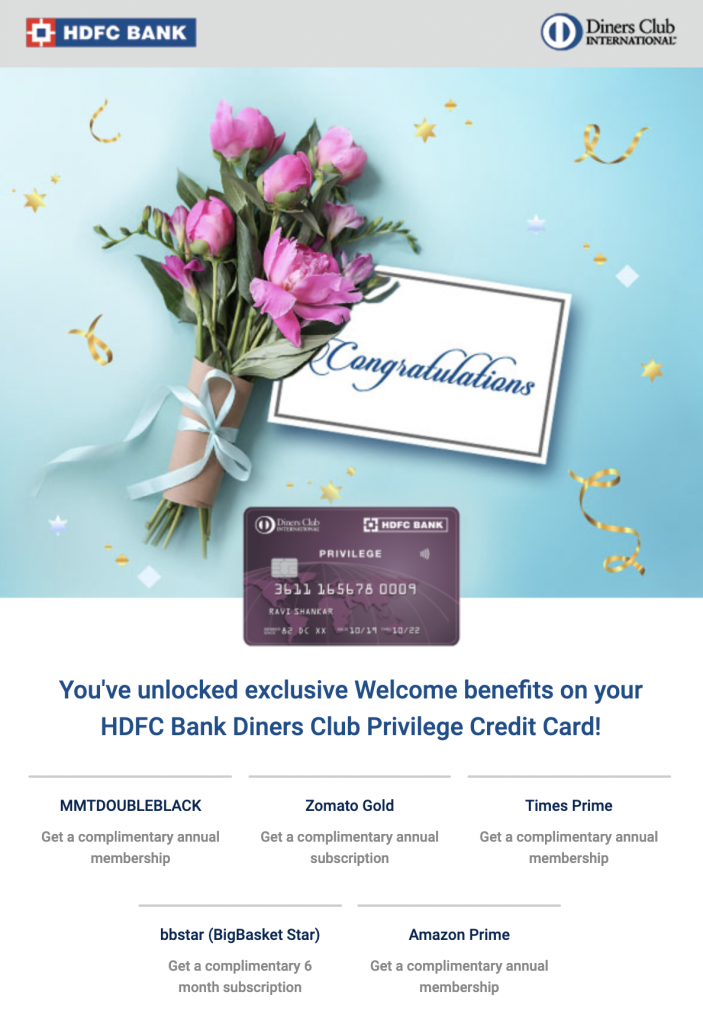 Reward Points
Regular Rewards
Earn 4 Reward Points for every Rs. 150/- spent
1 RP = Rs.0.50 for Hotels/Flights (1.3% Reward Rate)
2 RP = 1 Airmile (~1.3% Reward Rate)
Accelerated Rewards: 10X Rewards – Smartbuy + Diners Partners (13% Reward Rate)
Its surprising to note that Diners Privilege – a superior card compared to Diners Club Miles has lower conversion ratio for Airmiles. Maybe HDFC decided to keep Club Miles exclusive for that reason.
Note: Max. Cap for 10X Diners Partners is 10,000 compared to 5000 for Club Miles.
Milestone Rewards
Monthly Milestone: Complimentary choice of any 1 voucher can be availed amongst Ola Select membership or BookMyShow or TataCLiQ worth Rs. 500 every month on spends of Rs. 40,000 in a calendar month
Yearly Milestone: Complimentary annual memberships can be availed from below partners upon achieving annual spend milestone of Rs 5 Lakhs at the time of card anniversary. Zomato Gold, Amazon Prime, MakeMyTrip Double Privilege, Times Prime, BigBasket Star.
So if you're hitting the monthly milestone regularly, you get a net reward rate of ~2.3% which is pretty decent.
And its tough to put a % on Yearly milestone as some may or may-not use the membership benefits. So just consider it as an added advantage.
Airport Lounge Access
Domestic & International: 12 Complimentary access / Calendar year
Above limits are shared with add-on cards as well.
Remember that the credit card itself gives you access to lounges both within India & in foreign countries, so you don't need to deal with another set of plastic.
Also, as Delhi & Bangalore got separate section for Diners Cardholders recently, it makes sense to hold a Diners Credit Card.
Golf Privileges
2 Complimentary Golf Games per Quarter
This is an unbelievable benefit to see on a credit card of this range as Golf games costs a lot for Banks that even Citi Prestige which is priced at Rs.20K annual fee had to revoke that benefit.
And given the usual restrictions in golf bookings, 2/qtr is more than enough for most people. But of-course this will stay only as long as not many uses it.
Other Benefits
Foreign Exchange Markup fee: 1.99% + GST (get additional 1% cashback by enabling Global Value Program)
Credit Shield: 9 Lakhs
How to Apply?
New Application Eligibility: >6 Lakh Annual Income
Upgrade: Limits above 2.5 Lakhs on existing HDFC card with good spends would help.
The new upgrade forms with Diners Privilege option is out, so if you need to apply for this new card, you may do so easily via branch.
Speaking about design, the card looks pretty good outdoors and bit dull indoors, similar to Axis Vistara Signature.
Note: Not to forget that the Diners Club network has acceptance issues especially outside India, so its safe to have a backup visa/mc.
Bottomline
CardExpert Rating: 4.2/5 [yasr_overall_rating]
Overall an amazing card for a fee of this range, especially if you play golf. For those who're unable to make it to Diners Club Black or unhappy with its high annual fee, this card makes sense as it comes with most of what Diners Black has to offer, except the higher reward rate and higher max cap. on 10X rewards.
Also, if you hold Diners Club Miles and trying to upgrade to Diners Black, this card might get you one step closer, among other parameters.
Did any of you upgrade your HDFC card to Diners privilege? Feel free to share your experiences in the comments below.