Citi Bank is in the news for a while for all bad reasons. This October 2019, they removed reward points benefit on insurance spends and few other categories. This was a major blow to some, but well it makes sense from bank's point of view.
A week back they stopped Home Loan & Demat Holding being part of NRV for CitiGold. I wonder which soul removed Demat and for what reason. This in-turn reduces the ability to earn bonus points for credit card holders.
After all these changes across products, they're now removing one of their major USP – meet and greet / airport transfer benefit among others. Here's the email that Citi sent out last evening to its Citi Prestige Cardmembers (thanks to Amex Guy for the sharing it)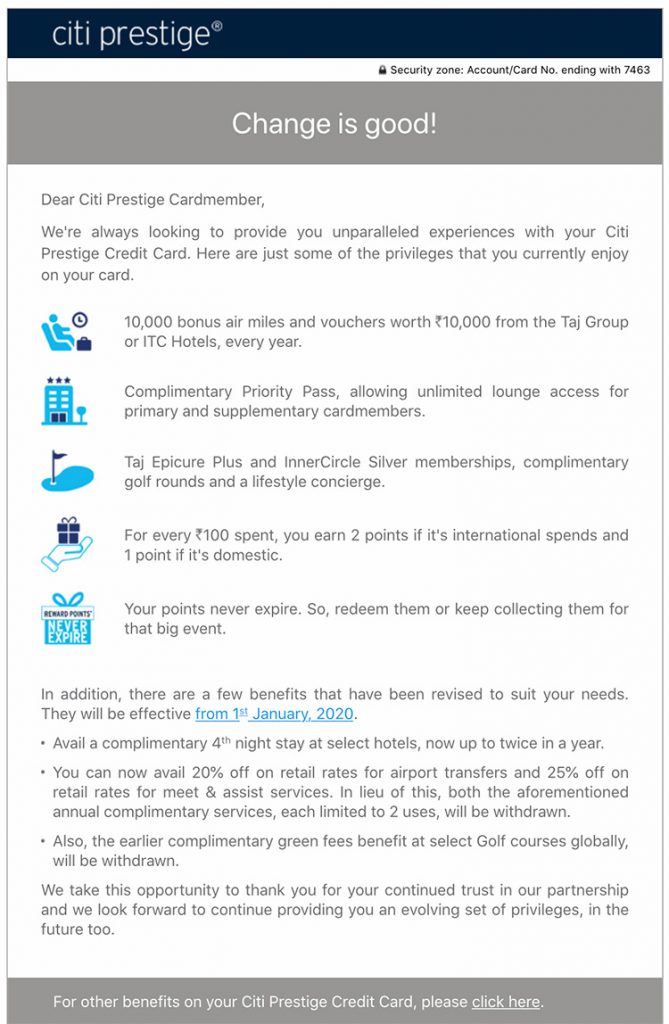 Let's see the upcoming changes in detail one by one:
# 4th night Complimentary Stay
This change is expected and many were aware of it even before. I think it makes sense as it still gives you the ability to use the benefit twice, would typically work well for 2 short vacations.
While this one is not a big devaluation as such, frequent travellers may not like this going away.
Going forward, if you need more such complimentary night benefits, you may need to check Amex Plat charge, which currently runs 3rd night complimentary benefit with Oberoi Hotels & lucrative 25% off at Taj.
# Meet & Greet / Airport Transfer
This is the major change out of all, esp. because it's one of their USP. I personally see citi prestige as a card that enables "miles game" and "luxury airport transfer experience". Now that the latter is removed, it definitely looses its aspirational value.
From what I know, meet & greet / airport transfers costs the bank heavily (at times as grand as 17K INR as mentioned by the customer) and so it seems Citi decided to cut down the costs.
This is a big devaluation which most of its customers gonna hate. I wish they could have rather enabled it on some spend criteria rather than just removing it altogether so that high spenders are not affected. Bad move indeed.
So going forward, if you need meet & greet, there is only one card that's reachable for wider audience, that's Axis Magnus, but again the problem is it can be used only in Domestic Airports!
# Golf Benefit
Green fees waiver is going away! I'm super surprised to see how they even removed it completely as this is one of the major and regular benefit on a super premium credit card.
While it looks like Citi prestige cardholders played golf a lot, it doesn't make sense at all to remove the benefit on a 20k fee card.
Bottomline
Overall these changes are bad for its customers leaving them disappointed and yet expecting them to pay 20K fee isn't fair. Now that they've reduced the benefits, it would make sense if they reduce the fee a bit as well.
If not, it makes no sense to hold the card, unless the spends are very high (>20L) which could get you a couple of biz class tickets. If the spends are lower than that, HDFC Infinia is lot better product as you also get a renewal fee waiver.
Anyway, it's good to see that at-least they didn't touch the reward rate. So those playing the miles game, you may continue to do so.
Devaluations are regular in the industry esp. when too many get into the basket. While I don't know what's the reason behind this, part of it could be that they started upgrading premier miles to prestige "easily" in the last ~2yrs. Or maybe they're working on a new product to position above prestige? God knows!
Whatsoever it maybe, Citi Prestige is not a cup of tea for most credit card holders. It not only demands high fee, but also high spends to play the miles game.
What's your take on this move by Citi? Feel free to share your thoughts in the comments below.