Axis bank has recently launched a new credit card named Burgundy Private Credit Card for its Private banking customers. Its targeted for the Ultra Rich (Ultra HNI) Indians with high net relationship value. This card is designed for the segment of customers holding cards like Amex Centurion & Citi Ultima.
So as usual, do not expect more "rewards", because customers in such profiles aren't attracted towards those reward points but happy if a card makes their busy life a easy one.
Eligibility: 5Cr + Net Relationship Value
Joining/Annual Fee: Nil (Rs.50,000 if customer downgrades the account)
Welcome/Renewal Bonus: 30,000 Points (not updated on site yet)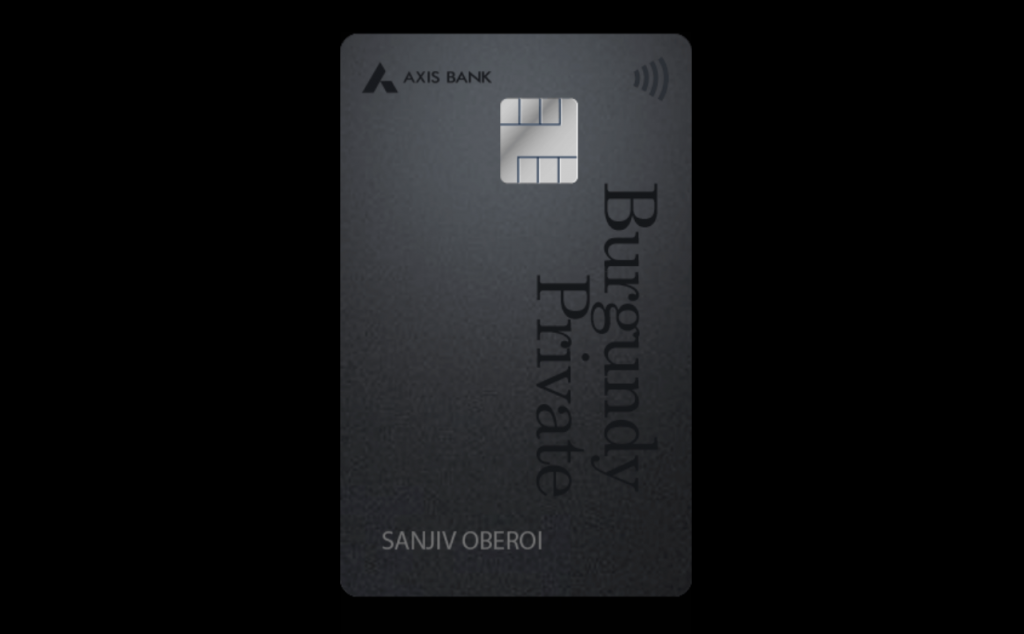 Features & Benefits
Form Factor: Its a Metal Card
Card Network: Visa Infinite
Rewards Earn Rate: 1.5% on all txns (15 EDGE REWARD points for every Rs. 200 spent on your card.)
Forex Markup Fee: Nil
Cash w/d charges & Interest Charges: Nil
Airport Meet & Assist: 8 Complimentary Airport Meet & Greet Services
Domestic Airport Lounge Access: Unlimited via Visa (primary & Add-on cards) + 12 Free Visits for Guests on Primary card
International Airport Lounge Access: Unlimited via Priority Pass (primary & Add-on cards) + 12 Free Visits for Guests on Primary PP card
Movie benefit: Bookmyshow Buy1 Get1 Offer, both movie & non-movie tickets like events, activities, etc. Limits: 5 times in a month for movies (upto Rs.500 per ticket) & 5 times for Non-movies (upto Rs.1000 per ticket)
Dining Benefit: Taj Epicure, EazyDiner Prime membership for savings up to 25% or more at fine dine restaurants.
Golf benefit: 50 complimentary rounds of golf per year.
Hotel Benefit: Save 15%-50% on Oberoi. Club Marriott (APAC) & Accor Plus (APAC) Memberships
Airport Transfers: 25% OFF on international transfers, 30% Off on Domestic transfers via concierge.
Concierge Services: 24/7 concierge for travel/dining/gifting/ shopping/events
That's a decent set of benefits and not to mention, its fulfils one of my wishes for 2020 as well (0% markup fee) 🙂
USP of the Card
Just incase if you don't know,
This is the First Credit Card in India with 0% markup Fee
This is the First Credit Card in India with 0% charges on "cash withdrawal & interest charges"
So the USP of this card is its Nil fee on Foreign Currency markup Fees, Cash w/d & Interest charges. What this means is a single card can act as a Credit/Debit & Forex card.
This is a BIG move considering the fact that the bank would miss out a significant revenue on markup fee, which is one of the major revenue stream for credit card companies.
Is it Worth it?
There are two ways to look into this,
First, as someone who prefers to have convenience while travelling across multiple countries. In this perspective, its very well worth it for the convenience it comes with as one could goto any country, swipe anywhere and withdraw cash like a local with one card. No charges, nothing.
Let me tell you, its an amazing feeling to use a card like that as I'm able to achieve this even without this card by using Indusind Signature Debit card which also comes with 0% markup fee.
So i save a lot of time, energy & money in converting INR to other currencies and all that, but the problem is its a DEBIT card so you miss out on the extra layer of security which a credit card has.
Second, as someone like us on Cardexpert where we usually chase the reward rate one way or other. In this perspective, simply put – its not worth it.
Bottomline
Cardexpert Rating: 4/5 [yasr_overall_rating]
Its undoubtedly an amazing card for world travellers moving in & out of multiple countries frequently and wishes to have a convenient option for making payments.
But that aside, it doesn't sound attractive with other benefits. For ex, it could have had more complimentary meet & greet benefit as even Axis Magnus has same limits, better Hotel memberships & more complimentary services like Airport drop, etc. But then its a free card compared to Centurion at ~4L fee and Ultima at ~1.5L fee.
So this is not a great stand-alone card, but a very good addition to your existing ones. If you're someone who's eligible to get this card, here's how your strategy would be like,
Use Amex Centurion/Plat Charge for Hotel benefits & concierge
Use Infinia if you love 2X/10X rewards
Use Axis Burgundy Private Card for convenience
Overall a good innovation from Axis bank by finally introducing 0% markup fee concept to India, yet could have done better for a card that demands 5Cr NRV.
What's your take on the new Axis Burgundy Private Credit Card? Feel free to share your thoughts in the comments below.