While Axis bank has amazing entry level card (Axis Flipkart Credit Card), highly rewarding Airline card (Vistara Infinite Credit Card) and a very good travel card (Axis Privilege Credit Card), their premium and super premium lifestyle cards were not competitive enough and so they decided to refresh them to win the respective segments.
Axis Bank has re-launched their premium (Select) & super premium (Reserve) lifestyle credit cards with new design & benefits and here's everything you need to know about them:
Axis Select Credit Card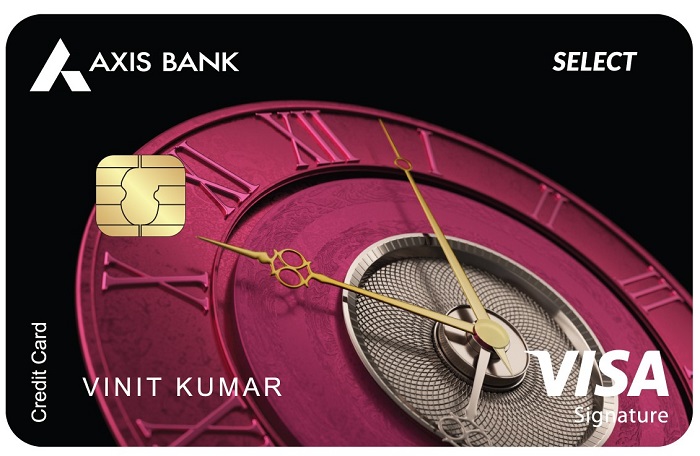 What a beautiful design it is! This product is live on Axis website already and below are the newly updated features:
Annual Fee: Rs.3,000+GST (Renewal fee reversal on 6 Lakhs spends )
Eligibility: Annual Income of 9 Lakhs (not a strict criteria)
Welcome Vouchers: Rs.2000 Amazon Vouchers
Reward Rate (retail shopping): 2% on retail shopping (20 eDGE rewards points per Rs.200 spend on retail shopping spends – online/offline)
Reward Rate (everywhere else): 1% everywhere (10 eDGE reward points per Rs.200 spend on all other spends)
Milestone Benefit: 5000 Edge Rewards on 3L spend (Rs.1000 value)
Swiggy Offer: 40% off up to a maximum of Rs. 200 / valid twice a month.
Bigbasket Offer: 20% off, up to Rs. 500 p.m., valid once per month.
BookMyShow Offer: Buy one and get up to Rs 300 off on the second ticket, valid once per month.
Up to 12 complimentary Priority Pass visits worldwide in a year / 2 domestic lounge visits per quarter
Golf: 6 complimentary rounds (3 more rounds, on spending 3 Lakhs annually)
24×7 dedicated concierge
That's a very good set of benefits for a fee of this range.
And the design.. how could I not speak about this mind-blowing work of art. The looks are just stunning that adds an instant WOW factor to it. I hope it looks the same in hand. Ideally it must, just like how Magnus is.
Its really good to see a 2% reward rate on Axis bank credit card clubbed with other nice features. Yet, the "Retail shopping" is bit tricky just like the old select but we haven't seen any complaints on it so far. So it should be good.
Furthermore, its free for Burgundy customers, and for others 6L spend will give the waiver, which is decent.
Only downside I see with the card is that they could have done better on welcome vouchers. Amazon Voucher is almost a cash equivalent, so it definitely makes sense. Yet, I wish maybe they could have given a Rs.1000 Swiggy voucher along with it 🙂
Overall its a wonderful card for a fee of this range!
Axis Reserve Credit Card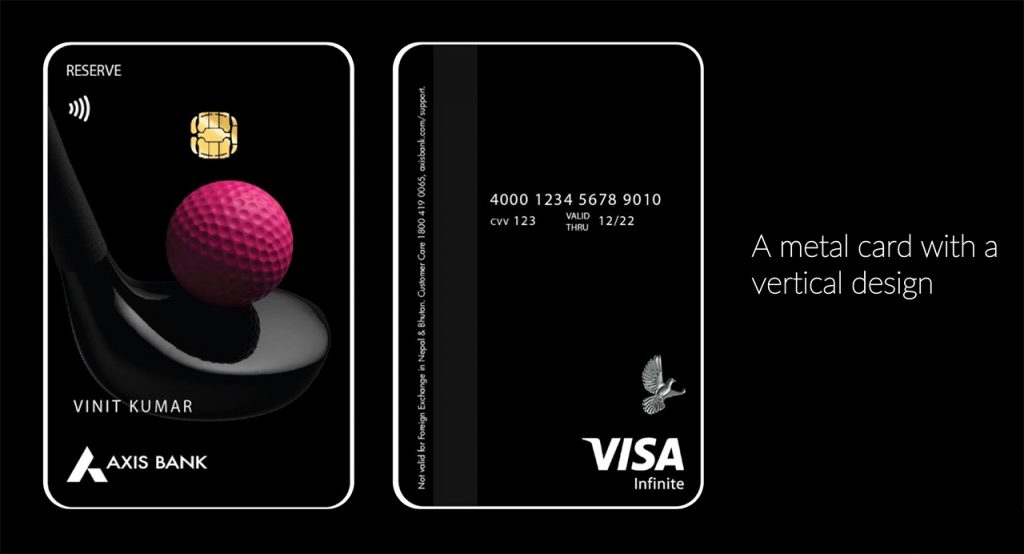 Note: New Reserve is yet to go live on Axis website, but we of-course have some details on the product.
Its expected to go live in a month and so donot consider below benefits to be 100% accurate, though it has to be. Well, you don't need to worry about it. You will know why shortly 😀
Annual Fee: Rs.50,000+GST (Renewal fee waived on 25L spend)
Welcome Bonus: 50K points (Rs.10k value)
Form Factor: Metal
Reward Rate: 1.5% (domestic), 3% (International)
Airport Concierge Service (Meet & Assist) – 8/year
Luxury Airport Transfer – 4/year (only at select domestic airports)
Unlimited Domestic Lounge access for primary & add-on cards. 12 additional complimentary visits for guests
Unlimited International Lounge access for primary & add-on cards. 12 additional complimentary visits for guests
Golf: 50 complimentary rounds (domestic)
Hotel Benefits: Accorplus with 1 Night complimentary stay, rate benefits at Oberoi & postcard hotels, Club Marriott Membership
Bookmyshow BOGO Offer: Rs.500 Off on 2nd ticket upto 5 times (movie), Rs.1000 off on 2nd ticket upto 5 times (non-movie)
Dining Benefits: ITC Culinaire Membership, Eazydiner Prime
Markup fee: 1.5%
24×7 dedicated concierge
As you see, this is the first credit card in India to introduce Luxury Airport Transfers. This is Amazing indeed but I wish they had atleast 8 transfers for the fee it comes with.
So for most of us, its not the right card, not because it doesn't carry a value, but because its targeted for Golfers, just as you see on the card design itself.
Hence, if you don't play Golf or have other cards like Amex Platinum to serve that need, you will find hard time in getting value out of the card.
While you may still squeeze some value with various benefits, it wont justify the fee unless you make use of the Golf/BMS/Lounge benefits to the max.
How to Apply?
Axis Select: Branch started taking applications already and I've submitted the application 2 days ago (executive took the application in tablet) and it got approved and showing up on app already.
Though, its pretty new and so I would suggest you to wait for ~2 weeks (if you can resist, unlike me) to see if there are any launch offers, as I "expect one".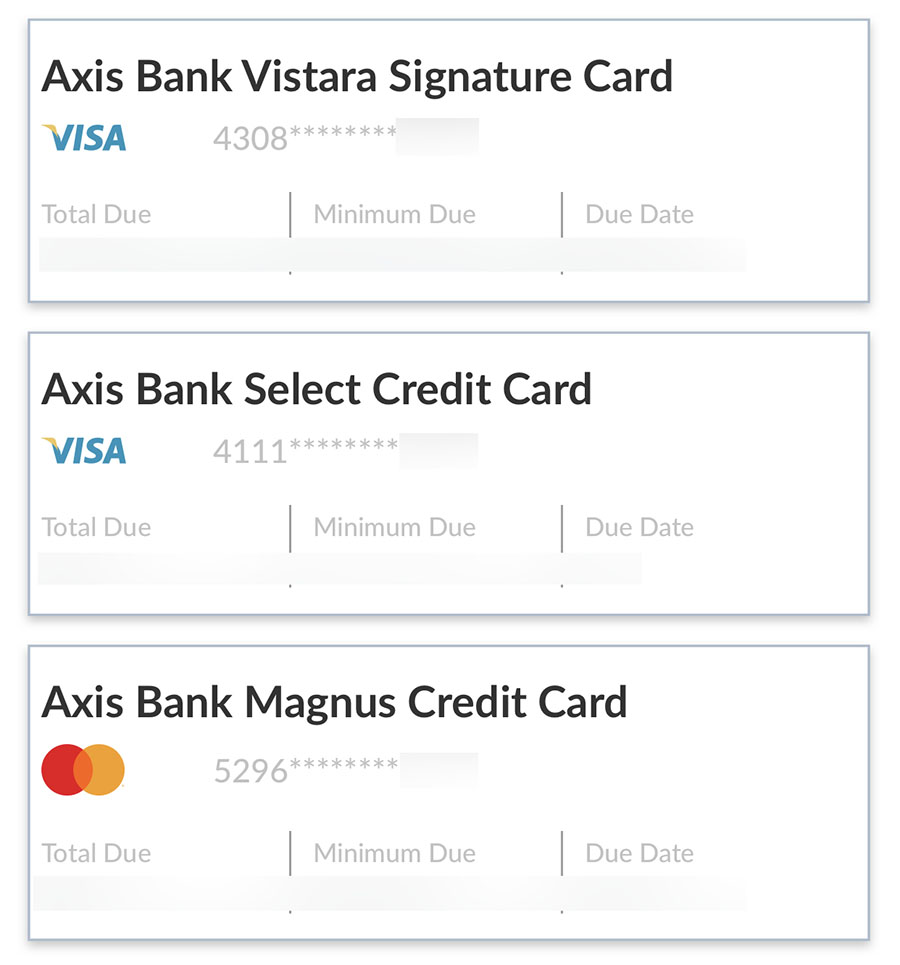 Axis Reserve: New Reserve maybe live on front-end in a month time. Hence, kindly wait till Aug 2020 to look at the official final list of benefits as these benefits were known pre-covid. So there could be minor changes.
Bottomline
So finally Axis bank has a promising product in "Premium credit card" segment with the new Axis Select Credit Card, as it stands as a very good competition for HDFC Regalia among others.
Yet, when it comes to super premium segment, something more could have been done to Reserve.
Perhaps they (or anyone) could do a 20K fee card with a mix of Axis Select like rewards + Axis Magnus like Meet & assist + Axis Reserve like luxury Transfers (excluding golf, BMS, unlimited lounge, hotel, dining benefits) and I'm pretty sure it will sell like a hot cake.
Anyway, overall a great attempt by Axis Bank and I can't wait to have hands on this beautiful pink card. 🙂
You may expect as detailed review of both the cards shortly once we have more details.
What's your thoughts on the newly revamped Axis Select & Reserve cards? Feel free to share your thoughts in the comments below.