Below article maybe outdated, please refer to the latest review here: Axis Vistara Infinite Review.
Air Vistara in partnership with Axis bank launched a range of Vistara Co-Branded credit cards around July 2016 which includes three variants namely: Platinum, Signature & Infinite. Among which Axis Vistara Infinite Credit Card is the top of the line variant that can pamper you with Complimentary Business Class tickets on your everyday credit card spends.
Joining Fee: INR 10,000+Tax
Welcome Bonus: One Complimentary Business Class ticket (consider it pays off Joining fees)
Milestone benefits on Axis Vistara Infinite Card:
When you spend certain # anywhere with your Axis bank vistara Infinite credit card, you're given with milestone benefits as below.
Spend Rs.1,00,000 – 10,000 CV Points
Spend Rs.2,50,000 – 1 Business Class ticket
Spend Rs.5,00,000 – 1 Business Class ticket
Spend Rs.7,50,000 – 1 Business Class ticket
Also earn: 6 CV Points for every Rs.200 spent
Note that you need to pay extra Rs.500 or so as "taxes" to redeem these complimentary tickets. Apart from welcome bonus, on spending about 7.5L, you'll end up with
3 Business class tickets + 33,000 CV Points
CV points can be redeemed for tickets
Tip: Use CV points for Upgrades for better value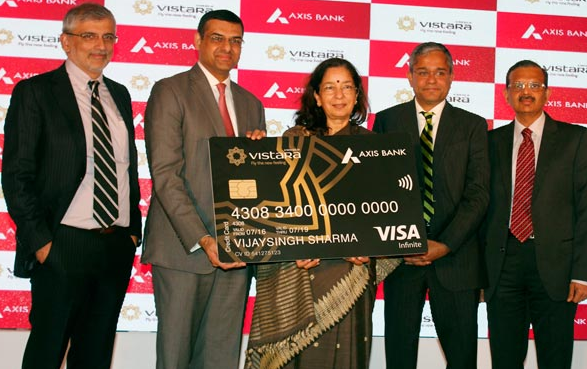 Now, what's the value of it? For this, i took route BLR->DEL and here are the values
3 Business Class Tickets: 60,000 INR
3 Upgrade Vouchers: 30,000 INR
33,000 CV Points: 25,000 INR
Total value: 1,15,000 INR (15% reward rate)
In other words, you get a super cool ~15% value back, as you spend 7.5L. A great return as you can see. Oh, but, do you travel in Business class usually? If not, the way you see this should be different.
An interesting part is, Air Vistara's Business class ticket costs are not proportional to distance. BOM->DEL is costlier than BLR->DEL hence, the rates are based on the demand. Looks like there are lots of celebrities in Mumbai flying business class 😀
Features of Axis Vistara Infinite Card:
CardExpert Rating: 5/5
Reward rate: Upto 15% as complimentary tickets
Complementary Airport lounge access: 4 Visits/quarter via Visa Lounge Access Program & also via Club Vistara Gold Membership
Fuel Surcharge Waiver: Yes
Foreign Exchange Markup fee: 3.5% + Service Tax
Renewal Fee Waiver: Nil
Special Features: Club Vistara Gold Membership & Travel Insurance Protection, Complimentary golf access
While it delivers a better value than Vistara Platinum & Signature Cards, its important to ask yourself, will you spend 7.5L + Joining fees+taxes just for 4 flight tickets which hardly takes 2~3 hrs each? The perception varies from person to person.
However, if you're a person who spend on new "experiences", you might consider holding one. Like, if you want to access the business class lounges like GVK lounge in Mumbai, which the Priority Pass/Mastercard/Visa cards donot have access to, this Complementary business class ticket can get you one.
Bottomline:
If you're an existing Business Class flyer of Air Vistara who can spend 7.5 Lakhs a year "easily", its no brainer to pick this card to save some costs. Only downside for most is the Vistara connectivity but now they've started flying even from Chennai and from other parts of the country.
Their connectivity is improving over time and they're expected to go international by mid 2018, likely to Singapore from Delhi/Chennai. So i think we will have better opportunity to redeem the CV points on international sector as well in near future. Overall, its a wonderful product for the HNI i would say.
What's your take on Axis Bank Vistara infinite Credit Card? Share your thoughts in comments below.