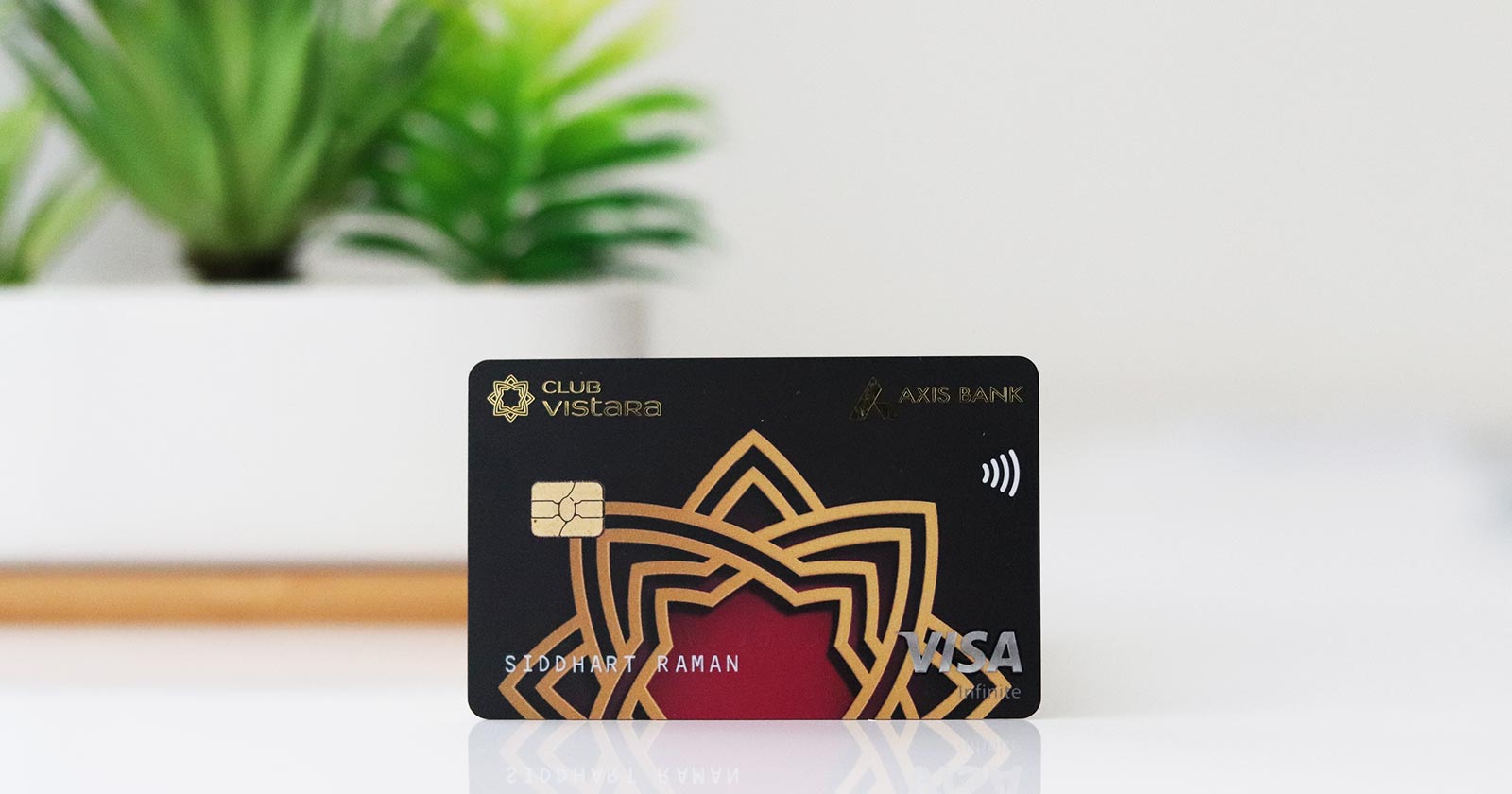 Axis Bank not only has some of the amazing super premium & cash-back credit cards but also issues the best airline credit card in the country: Axis Bank Vistara Infinite Credit Card which gives complimentary business class vouchers based on spends.
Here's everything you ever need to know about the Axis Bank Vistara Infinite Credit Card which is being issued as a First Year Free Card for a limited period (on spending 1.2L in 90 days – offer ends by 31st Dec 2022).
Overview
| | |
| --- | --- |
| Type | Airline Credit Card |
| Reward Rate | ~10% |
| Annual Fee | 10,000 INR+GST First Year FREE (Spend 1.2L in 90 days) |
| Best for | Flying Business Class for FREE |
| USP | Milestone benefits |
Axis Vistara Infinite Credit Card has been the best airline credit card in the country since past ~5 years and it continues to be so even in 2022.
As long as you're eligible for the card, fly at-least once a year where Vistara flies, there is no single reason to avoid this card, especially when there is a lucrative offer like this one. Not grabbing the offer is like leaving money on the table!

*** First Year FREE offer ends by 31st Dec 2022 ***
Fees
| | |
| --- | --- |
| Joining Fee | 10,000 INR+GST First Year FREE (Spend 1.2L in 90 days) |
| Welcome Benefit | 1 Complimentary Business Class Voucher |
| Renewal Fee | 10,000 INR+GST |
| Renewal Benefit | 1 Complimentary Business Class Voucher |
| Renewal Fee waiver | Nil |
Welcome Benefit: 1 Complimentary Business Class Voucher
Value: ~20,000 INR
The welcome benefit given is of great value, as good as 2X the joining fee paid. So it's no wonder that it's an amazing card even as a paid variant.
On top of it, we now have First Year Free Offer running which means the joining fee gets reversed on spending 1.2L in 90 days (from card setup date). And that my friend is not something you should miss!
Because what you get is not only a free card but also a FREE business class voucher which is worth well over ~20,000 INR.
Note: You'll ideally need to pay the joining fee when the 1st stmt gets generated but once you've spent 1.2L within 90 days, reversal will be initiated within another ~30 days. Ideally, entire process takes ~120 days from the date of card issuance.
Design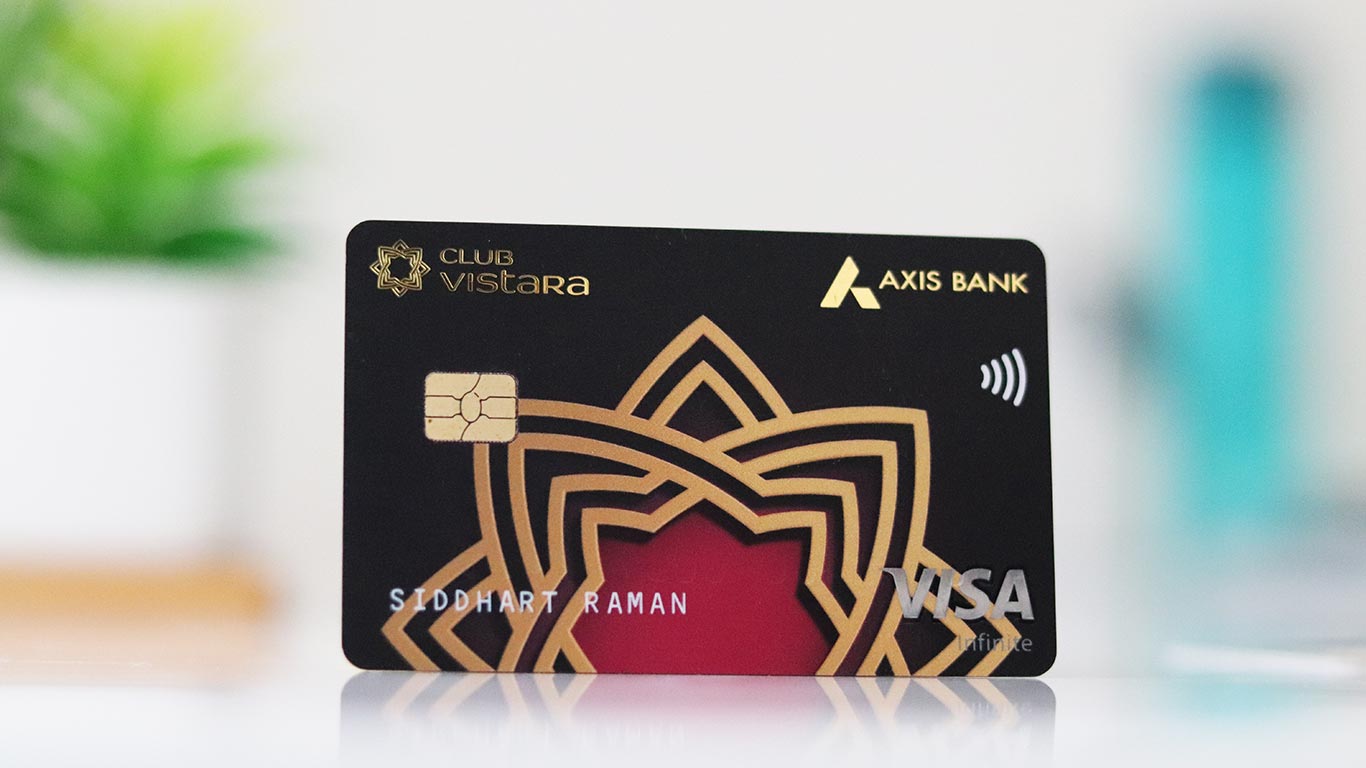 The Vistara Infinite credit card design looks pretty good in reality just as we see on image, especially the golden elements shine well when the respective areas are exposed to light.
The card design was recently revamped, about an year ago and I think it's a good move, at-least for this variant.
Rewards
| SPEND TYPE | CV Points | REWARD RATE |
| --- | --- | --- |
| Regular Spends | 6 RP / 200 INR | 2.25% – 3% |
1 CV Point = 0.75 INR to 1 INR (depending on your redemption)
CV Points Expiry: 3 Years
While earning Club Vistara Points (CV Points) on regular spends are not the USP of this card, it is worth knowing what you earn and it's value.
Ideally I value CV points at 75Ps but in 2022 the fares are extremely high (Covid impact) that now we can easily put a value of 1 INR per point even for economy redemptions and maybe lot more in few low demand sectors.
Milestone Rewards
| Spend | Milestone Benefit | Savings % (MS Benefit + Rewards) | Savings (Cumulative) |
| --- | --- | --- | --- |
| 1 Lakh | 10,000 CV Points | 10% + 3% | 13% |
| 2.5 Lakhs | 1 Biz Class Voucher | 8% + 3% | 14% |
| 5 Lakhs | 1 Biz Class Voucher | 8% + 3% | 11.5% |
| 7.5 Lakhs | 1 Biz Class Voucher | 8% + 3% | 11% |
| 12 Lakhs | 1 Biz Class Voucher | 4.5% + 3% | 8.8% |
1 Biz Class Voucher Value: ~20,000 INR
1 CV Point Value: 1 INR (taken as average for calculation)
Spend linked milestone benefit is the most important feature of the Vistara Infinite Credit Card as this benefit alone can get us a good ~8% value (excluding CV points) depending on the spends.
And then, if we add up the regular rewards (CV points) that we earn on ongoing spends, we get another ~3% or so, which is a nice cherry on cake.
That said, usually we get great reward rate upto 7.5L spend, after which the reward rate drops a bit when we go for the last milestone benefit which is 12L spend. However, that too gives one of the highest reward rate on a travel card.
Voucher Redemption
Redemption type: Domestic only (India)
Voucher Validity: 9 months (6 months + 3 months)
Applicable taxes on redemption: 400-1000 INR per ticket
Redeeming these milestone vouchers issued on Vistara Credit Cards is quick & easy and fortunately it can all be done online without the need of anyone's help.
It usually takes less than 5 mins for me to redeem a voucher. That said, you'll as well need to know a bit on how it works as there are TWO types of vouchers in this redemption process.
Here's a quick step by step guide,
As soon as you hit the required spend, you'll be issued the On-demand voucher
Login to Vistara A/c and find these vouchers under "My Vouchers -> On-demand voucher generation". Select & Redeem in few clicks.
Then navigate to "My Vouchers -> Redeem complimentary voucher". Choose voucher and redeem.
If for any reason the voucher is not redeemed during the process, not to worry, it will be available for redemption again in about ~20 mins. It's a user friendly system. But let's look at the validity of these vouchers.
Note that the On-demand voucher (issued on reaching milestone spends) is valid for 6 months after which it will automatically become regular voucher that carries 3 months validity.
If by mistake you redeem the on-demand voucher right away, you'll only be left with 3 months and not 9 months. So redeem on-demand vouchers only after you've decided to use.
If you want to check award seat "availability", you may use the "Redeem Now" button on dashboard, which deals with CV points redmeption, so that you don't need a voucher to check it.
You may call Gold support line as well to check the award seat availability.
Vistara Gold Membership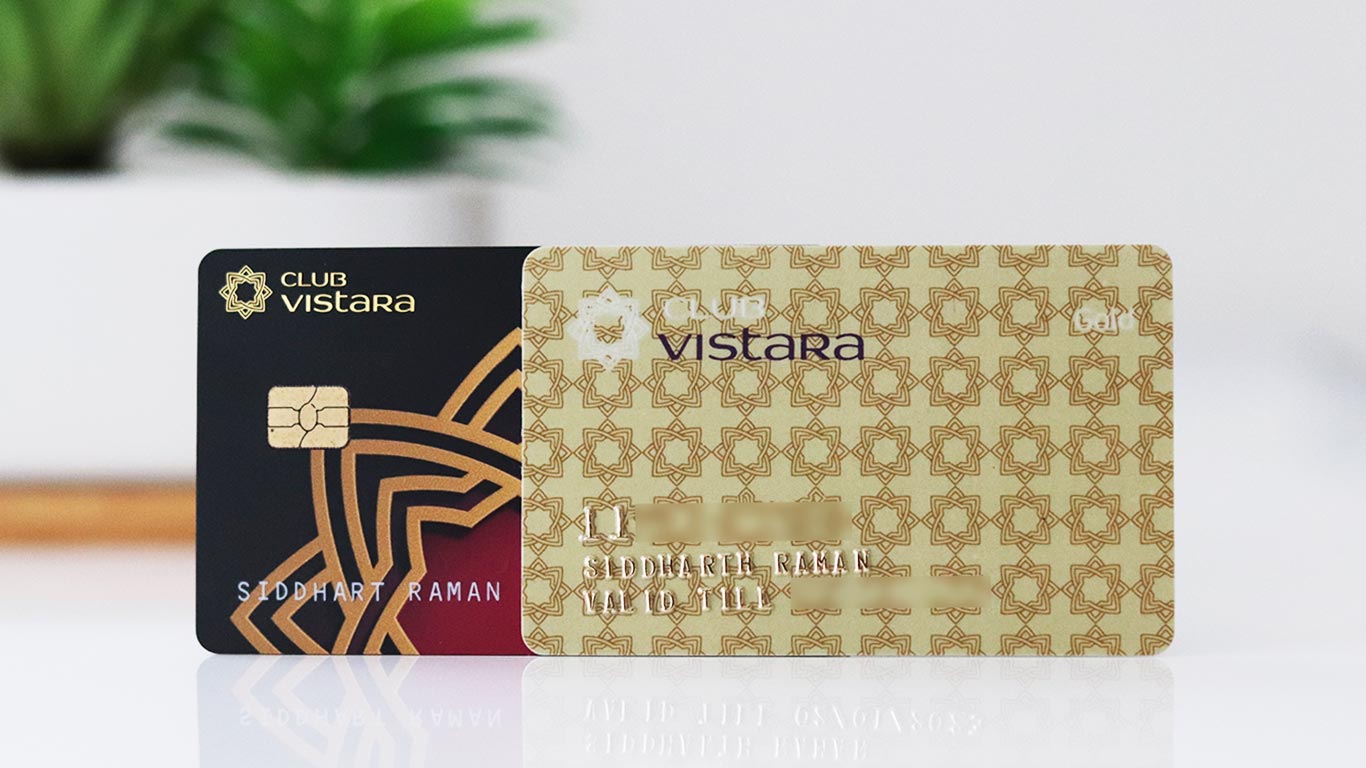 Apart from the amazing rewards & vouchers we get with the card, we also get the Club Vistara "Gold" Membership, as long as the credit card is active.
Gold tier is usually tough to get and is available only with 2 credit cards in India: This card (Axis Vistara Infinite) & with the other expensive Vistara Credit Card (IndusInd Explorer) that costs 40K INR!!
So it's undoubtedly an amazing value when you get it on First Year Free pricing (limited period offer till 31st Dec 2022). With Gold membership we enjoy the below benefits,
Priority Support line (for Gold/Plat)
Priority Check-in (in business class counter)
One Class Upgrade Vouchers (2 vouchers)
Airport Lounge Access
Additional baggage allowance
Priority baggage handling
Priority boarding & even more
The above benefits not only gives us convenience while flying but also carries a monetary value.
For ex, the upgrade vouchers are worth at-least 10K INR each. Most of my upgrade vouchers gets expired but it's useful if you're flying often.
Airport Lounge Access
| ACCESS TYPE | VIA | LIMIT | GUEST ACCESS |
| --- | --- | --- | --- |
| Domestic Lounge Access | Visa (Infinite) | 3/Qtr | – |
If you're flying Vistara (any class) your boarding pass will automatically come with the lounge access benefit via Club Vistara Gold membership as seen above.
But if you end up flying other airlines and need lounge access, then you can make use of the Visa Infinite offer that comes inbuilt with the card. Just swipe & get in.
Golf Benefit
Complimentary Limit: 6 rounds (games/lessons) / Year
If you play Golf, these complimentary rounds gives a pretty good value. Also, Axis Golf booking system is superior compared to most other banks, like HDFC.
It's interesting to see the golf benefit on an airline credit card, but well, I'm pretty sure most Business Class passengers know the game to an extent. So yes, it does make sense!
My Experience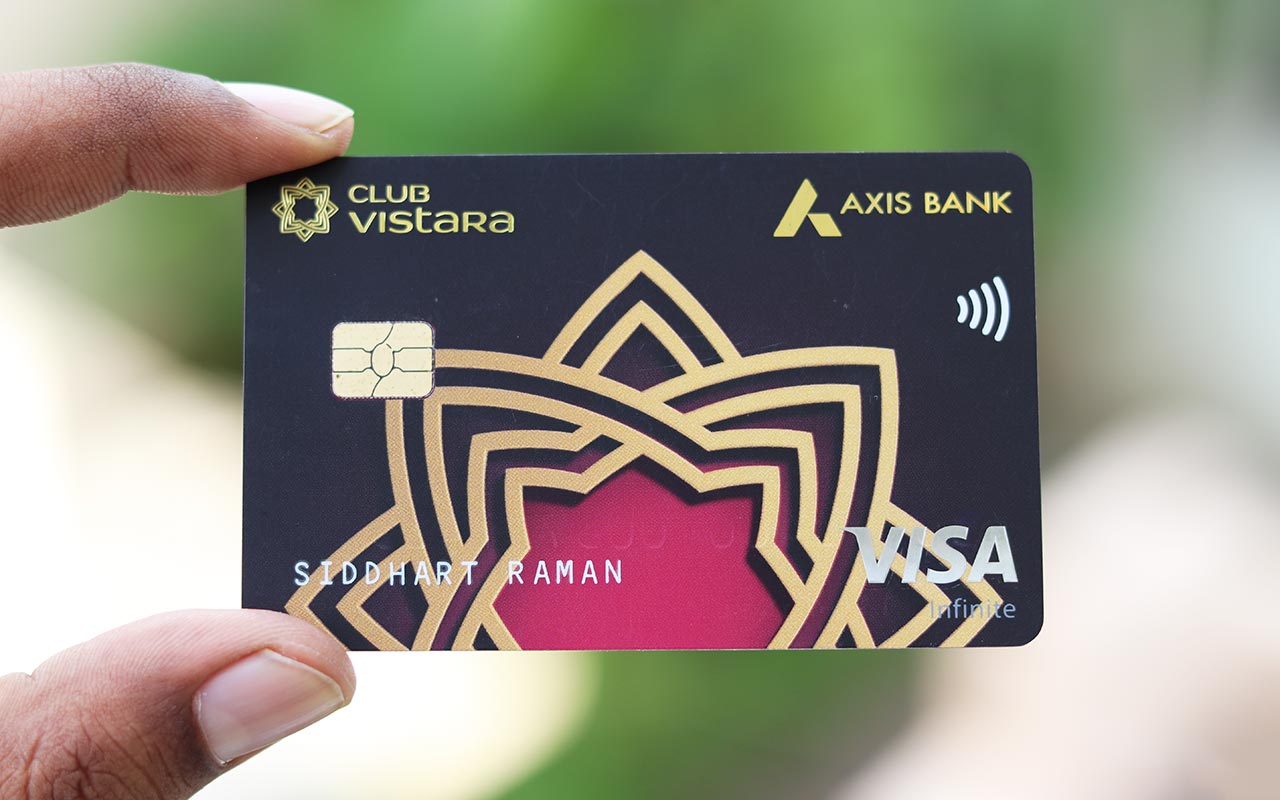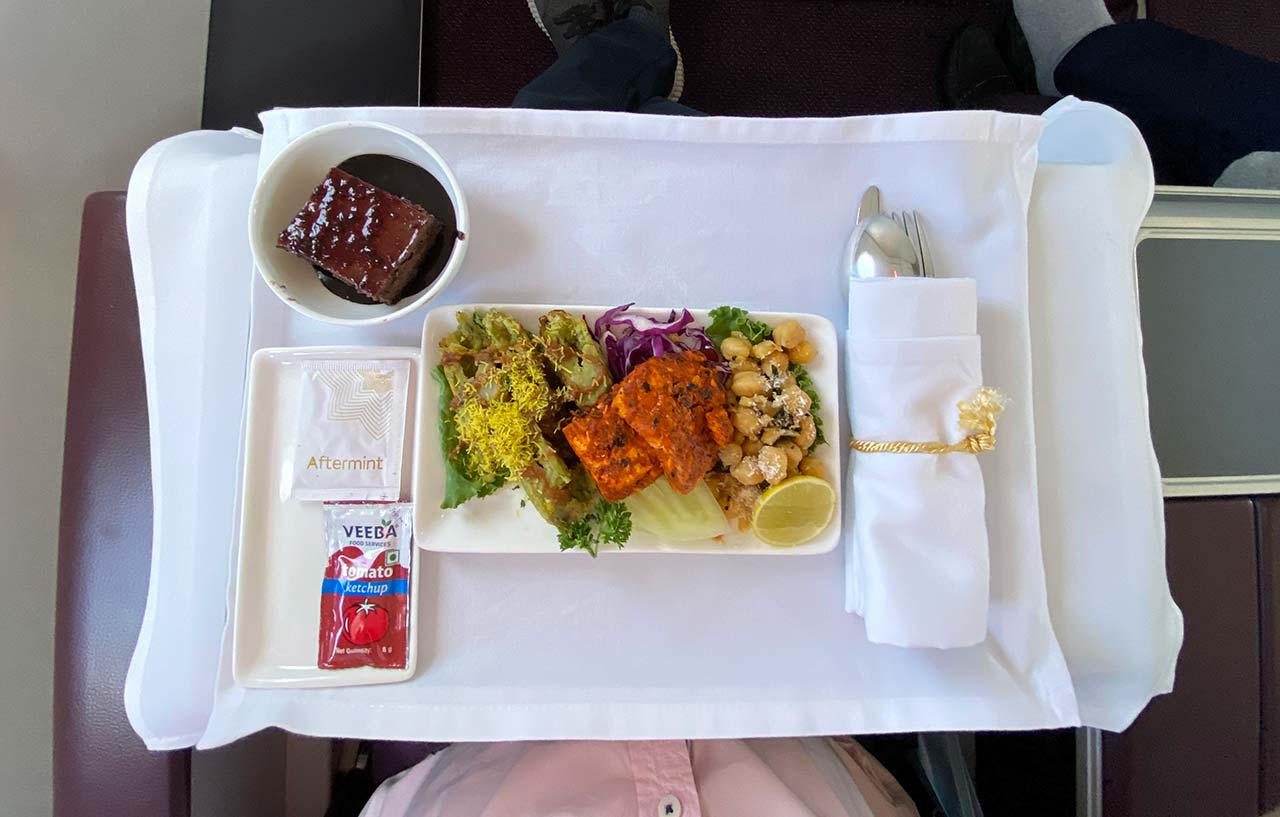 I've been using Vistara Credit Cards since past 4 years and it's always an amazing experience to fly Vistara business class.
If you were following Cardexpert for quite sometime, you would already know about it, if not here are some of the Vistara Business Class reviews that I covered in the past,
The only concern is, I wish the airline extends the vouchers post expiry in a "less expensive" manner. Otherwise, there is no other airline doing as good as Vistara in India both in terms of service and credit card products/miles.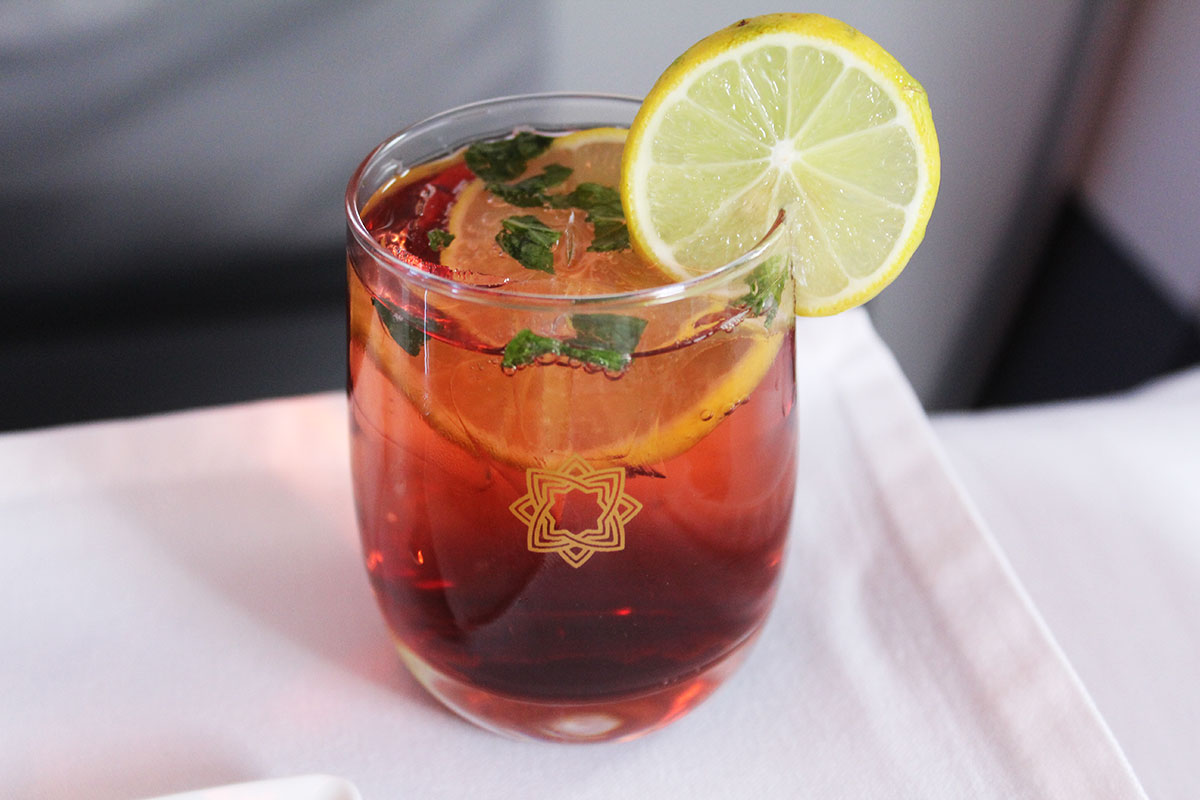 Axis Vistara Credit Card is undoubtedly the best thing happened to Indian Airline Credit Card segment and no wonder we all love it.
Whenever I fly, I try to find Vistara flights, thanks to all the CV points & vouchers.
In-fact I have 2 flights in Business Class as I write this article, both booked using the milestone vouchers received from this Credit Card. That's a sweet ~40K INR savings for the trip!

Eligibility
Annual Income: 9 Lakhs+
Existing Credit Card limit: 4 Lakhs+ (for Card to Card application)
The eligibility criteria is simple and straight forward and it works well without any complications, as long as as you meet one of the above eligibility criteria.
I've as well written a detailed guide for beginners just incase if you need to know all the nitty-gritty of getting onboarded smoothly into the world of Axis Bank Credit Cards.
How to Apply?
You may apply online through axis bank website in a matter of few clicks. Usually the card gets approved within a week from the date of application and one more week for delivery.
If you're new to bank, not to worry, you don't need to open any Axis Savings A/c to have an Axis Bank Credit Card. And before you ask, Axis allows upto 3 cards per person.
If you're getting an option to do VKYC (not all gets it), do it within 2 days, else the application will get delayed.

*** First Year FREE offer ends by 31st Dec 2022 ***
If you've applied for the card using above link and if the application is not moving for more than 10 calendar days, please use this credit card application support form to know the status & for further support.
FAQ's
1. How much time Axis takes to issue me these vouchers?
Once you reach the spend, Axis Bank takes upto a week after the credit card Stmt. generation to issue these welcome & milestone vouchers.
2. I travel with Family, is it useful for me?
Depends. If you're travelling with many, like 3 or 4 members, you can't get confirmed award seats for all as Vistara has only 2 award seats in business class. However, you maybe able to upgrade at the airport if the seats are still available.
3. How many days prior should I book? And are they any busy sectors?
At-least 10 days prior is what I would suggest. DEL-MUM and MUM-GOI are some of the busiest routes, though it depends on the season.
4. I couldn't spend this high, what other options do I have?
You may explore Vistara Signature Credit Card (60K spends for fee reversal) which gives complimentary Premium-Economy vouchers, or Vistara Basic Credit Card (30K spends for fee reversal) that gives complimentary economy vouchers. You shall use this same Axis link to apply for any of these cards.
5. I'm loosing track of vouchers, they're getting expired, what can I do?
If your vouchers are expiring, then consider going for the Magnus Credit Card, as you can transfer Axis Points to Club Vistara Points and redeem then whenever you wish to fly. But it's a paid card without any fee reversal.
6. What's the source of this offer?
The fee waiver offer for cards applied during 15th Nov – 31st Dec 2022 is running on all Vistara cards, here's the t&c link from Vistara. You may also use this image for reference if required. Applicable only for FRESH applications and not for UPGRADEs from existing Axis cards.
7. Can I use these vouchers for my parents/spouse/friends?
Yes. You can redeem points/vouchers for any registered nominee on the a/c. You can enrol upto 8 nominees (in few clicks) and once you enrol a nominee you cant remove for 1 Year.
8. When will I get my CV Gold membership?
Usually Gold membership along with all vouchers will be issued within 1 month post 1st stmt generation. You may raise a ticket with Axis if it's getting delayed, as sometimes they take about 2-3 months.
9. I've couple of doubts, where can I ask?
You may drop them in the comments below. Or, choose to buy my time by taking the one-on-one credit card consultation service.
Final Thoughts
Axis Bank Vistara Infinite Credit Card with it's ~11% return on spend (7.5L spends) is an exceptionally rewarding card in any angle and so it makes sense to grab one even if you fly only just once or twice a year.
It is one of the very few credit cards that gives us luxury experiences and I'm pretty sure you'll not forget these business class flights in your life.
And given that we're getting a waiver on Joining fee now, it's an amazing opportunity to take it before its gone, as such offers show up only once a year and I doubt if it will ever repeat in the future at current value proposition.
I'm sure many of you are already enjoying the benefits of the card. What's your take on the Axis Vistara Infinite card with FYF offer in 2022?