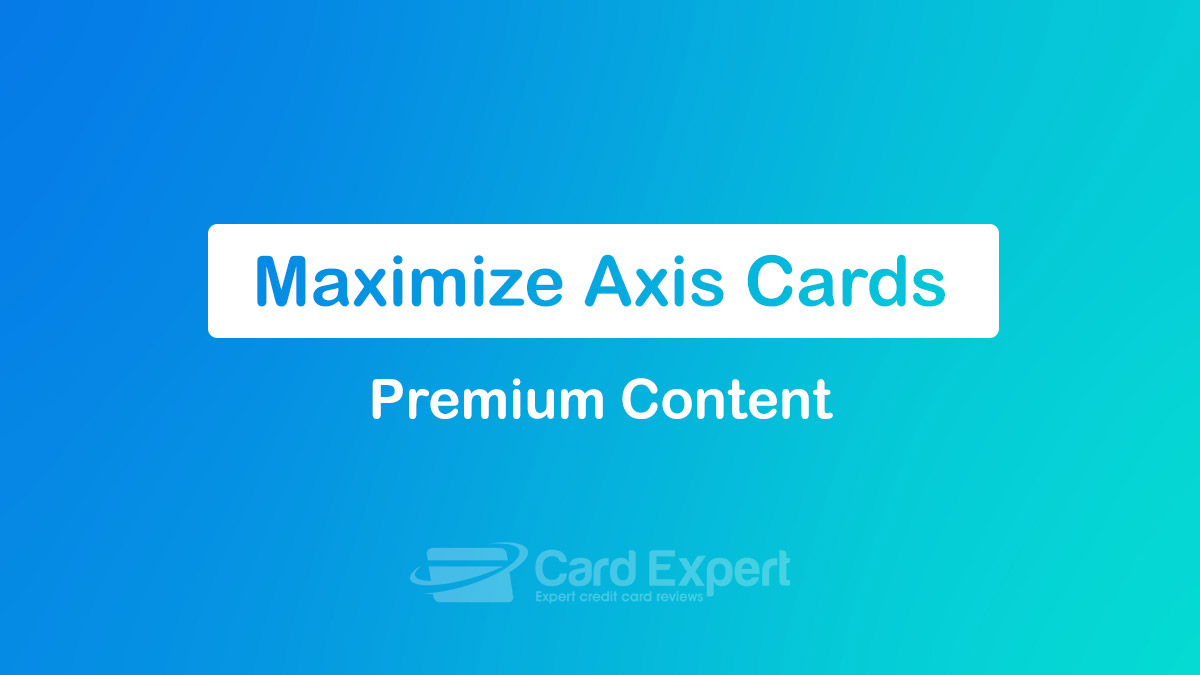 Disclaimer: Everything mentioned in this premium content are from my personal experience and in no way related to the bank or any intermediaries.
With so many rewarding credit cards from Axis Bank like Magnus, Vistara Infinite, Axis Ace, this 2022 is an amazing year to explore them. But if you're a newbie to Axis, you are likely to find issues at every step of the way.
So here I'm to get you the right credit card, the right way and also help you earn rewards & enjoy them at its best.
I have been experimenting on Axis cards a lot lately and this guide would primarily cover the solutions/best practices in applying/using the card as this is the outcome of experiences, understandings & findings with over 20+ Axis applications applied since late 2021.
What do you get?
Solution to low initial credit limit issues
Solution to credit limit enhancement issues
Solution to the offer fulfilment issues (to an extent)
Quick look at the USP of popular Axis credit cards
Insights into Atlas credit card miles redemptions with examples
Insights into retention benefits (on few cards)
Personalised response to your email query (once, if required)
and even more
Overall it's a nice guide that touches all the aspects of Axis Credit Cards so that you can get maximum value with less time spent in scratching the head.
It will be extremely useful for those exploring Axis Credit Card products for the first time. If you're already into it, you'll also be getting to know things that you might have missed otherwise.
Ideally it not only supercharges your understanding about Axis Credit Cards but also the entire cards industry as certain aspects of the content are common for other card issuers as well.
The Price
Actual Price: 3,999 INR
Current Price: 799 INR (80% OFF – Limited Period Offer)

Note: The limited period offer mentioned above ends by 31st March 2023.
If you had taken my VIP consultation (>9000 INR) anytime in the past, you can get it for FREE. Please contact me to avail the same.
If you have queries do check out below frequently asked questions and if your query is not covered please ask in the comments section below.
FAQs
1. I recently got my axis card and the limit is just 50K while my other cards have 3L or more. Can this guide help me?
Definitely, yes.
2. I'm having axis cards since past 5 years but my limit is stuck at 2L, can this guide help to increase it?
Absolutely, yes.
3. I'm not getting the points as expected, can this guide help?
Depends on the issue, but mostly yes.
4. I don't have time to go through all axis articles and read it's benefits. Can this guide help?
Very much, you'll find USP's of each in few lines. Saves you lot of time.
5. Do you have any secret tricks in the guide?
Unfortunately, no! The guide gives you the best possible way to optimise your axis strategy. It does not cover any tricks or loopholes to game the system.
6. My question is not answered in the guide, what to do?
Simply reply to the email from which you get the guide. The guide comes with one personalised response to your query.
7. I follow all articles on Cardexpert & its comments, should I still need this premium content?
Most of the content written in the guide are from my recent findings which I haven't covered on the blog yet. So it's valuable for regular readers as well.
8. How accurate is the guide?
99% I would say but it also depends on what you're looking for. Feel free to ask me before, just incase if you're looking for a specific detail.
9. I'm an expert already, do I need it?
The content gives exceptional value for beginners and moderate level readers. But if you're expert with most aspects and just stuck with the limit issues, that section alone is worth it in my opinion.
10. I know everything, should I still get the guide?
Did Cardexpert add anything for you to know few of that "everything" in the past couple of years? If so, maybe it's time to thank for that by purchasing the guide, if you believe in the fact that good content without ads running left/right & center has to be rewarded.