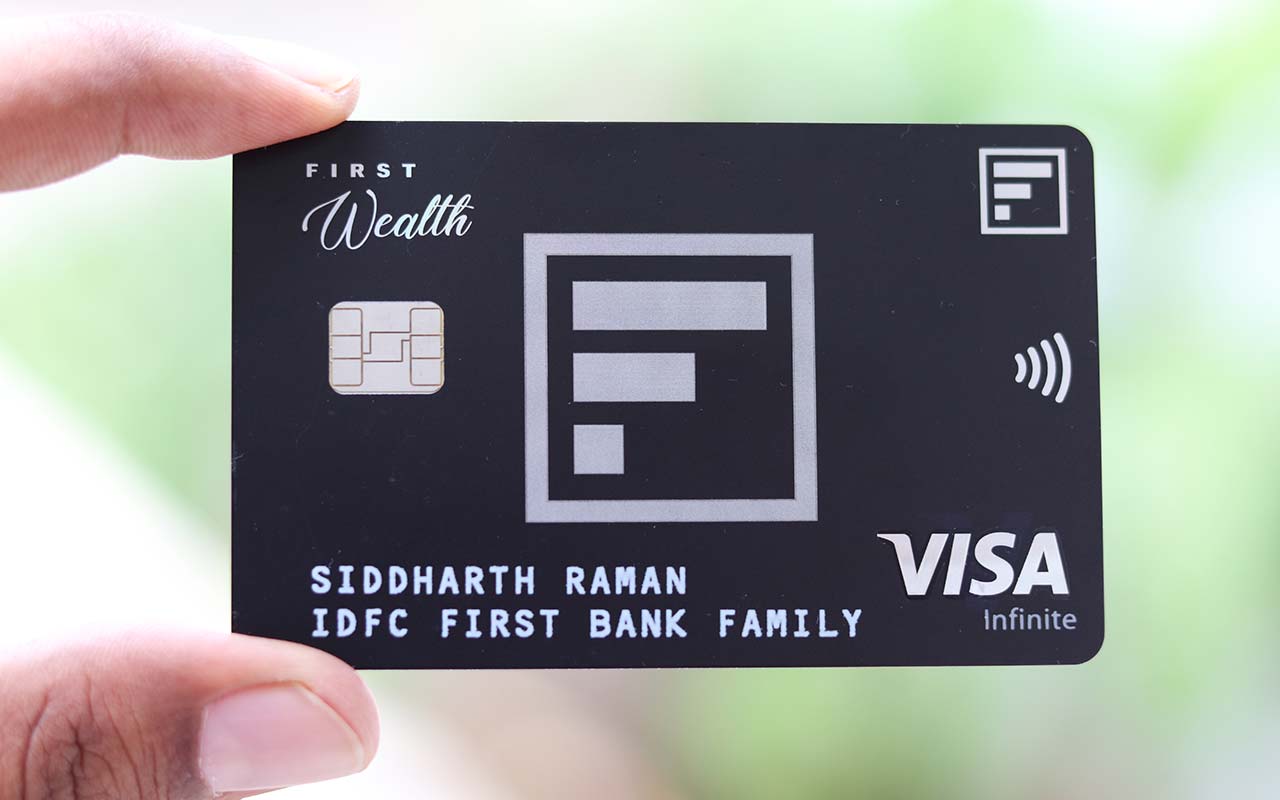 It's been more than a year since IDFC First Bank has launched their range of Credit Cards into Indian market and we've seen quite a bit of updates to the product since then. Here we'll see the detailed review of the IDFC First Bank Wealth Credit Card in its current form.
Overview
| | |
| --- | --- |
| Type | Premium Credit Card |
| Reward Rate | 0.75% – 2.5% |
| Annual Fee | Lifetime Free Credit Card |
| Best for | High value transactions |
| USP | Spa benefits & eVoucher redemptions |
While the card is portrayed as a super premium card by the Bank, I wouldn't call it so. Though, it's a good premium credit card with lifestyle benefits.

Fees
| | |
| --- | --- |
| Joining / Renewal Fee | Lifetime Free |
| Welcome Benefit | 500 INR voucher |
Welcome voucher worth 500 INR on spending >=15,000 INR within 90 days of card generation.
The advantage of this card is obviously the "Lifetime Free" benefit which comes with all the privileges. But don't forget the truth about lifetime free credit cards.
I personally feel that they shouldn't have issued this card as LTF as it's a well-known fact that it will eventually kill the product.
While the devaluation has already started, I just wish that IDFC don't follow the YesBank route and make all their premium cards useless in 2-3 Yrs of issuance.
Design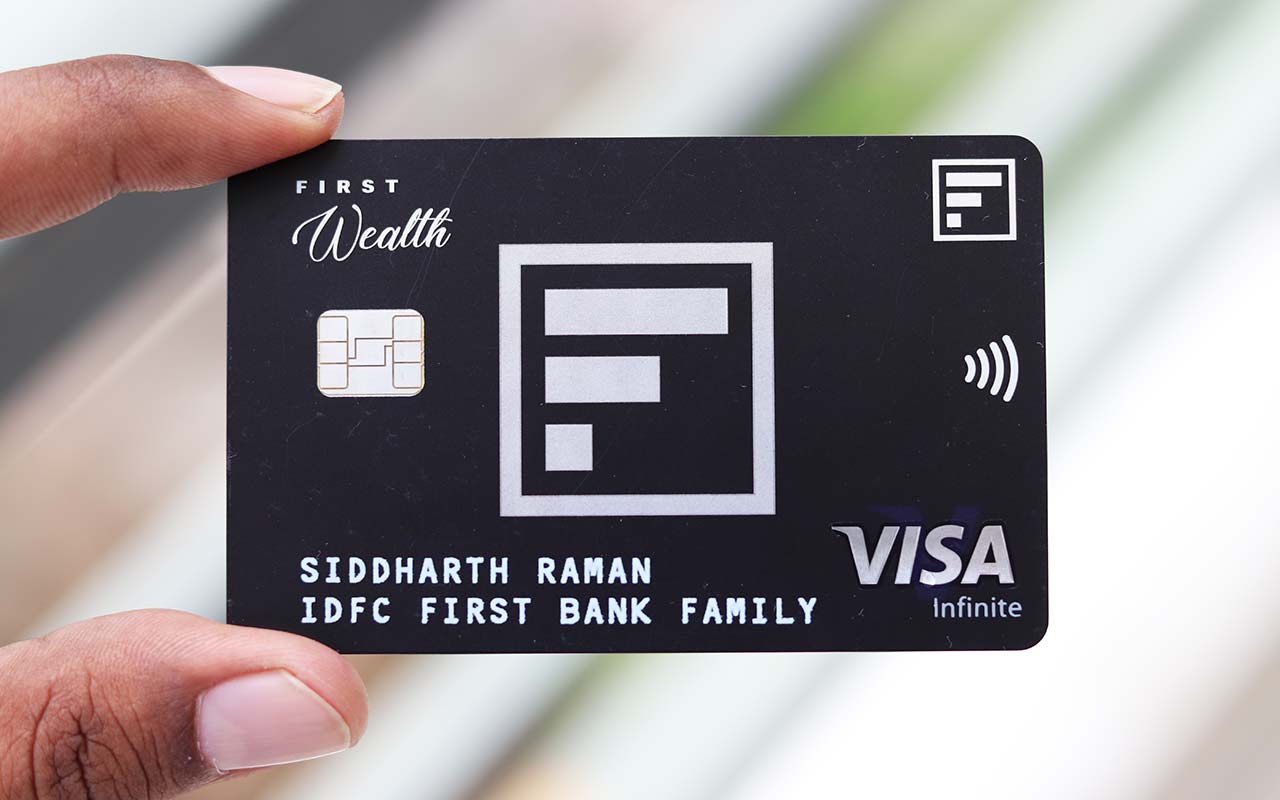 It's a neat & simple design with black backdrop that banks generally use to indicate a "super premium" product.
While the design is good, I don't feel the premium'ness in its design. This is partly because the front face doesn't have any creative elements in it. But well, we shouldn't expect too much from a LTF card.
Rewards
| SPEND TYPE | REWARDS | REWARD RATE |
| --- | --- | --- |
| Offline Spends | 3 RP / 100 INR (3X) | 0.75% |
| Online Spends | 6 RP / 100 INR (6X) | 1.5% |
| Spends >30K (per stmt) | 10 RP / 100 INR (10X) | 2.5% |
| Spends on Birthday | 10 RP / 100 INR (10X) | 2.5% |
1 Reward Point = 0.25 INR
Redemption Charges: 99 INR+GST (from 1st Oct 2022)
Rewards don't expire
IDFC has added quite a lot of restrictions lately to the rewards program. Looking at the trend, they would probably add more to it in the coming months.
Terms & Conditions:
Rewards not applicable on Fuel, Insurance & EMI transactions
Rental txns will accrue 3X rewards (0.75%) only and will not be used for 10X calculations.
Meanwhile, they don't like high value transactions on the card and have already started to cut the rewards for many cardholders whose spends went beyond the credit limit.
Airport Lounge Access & Spa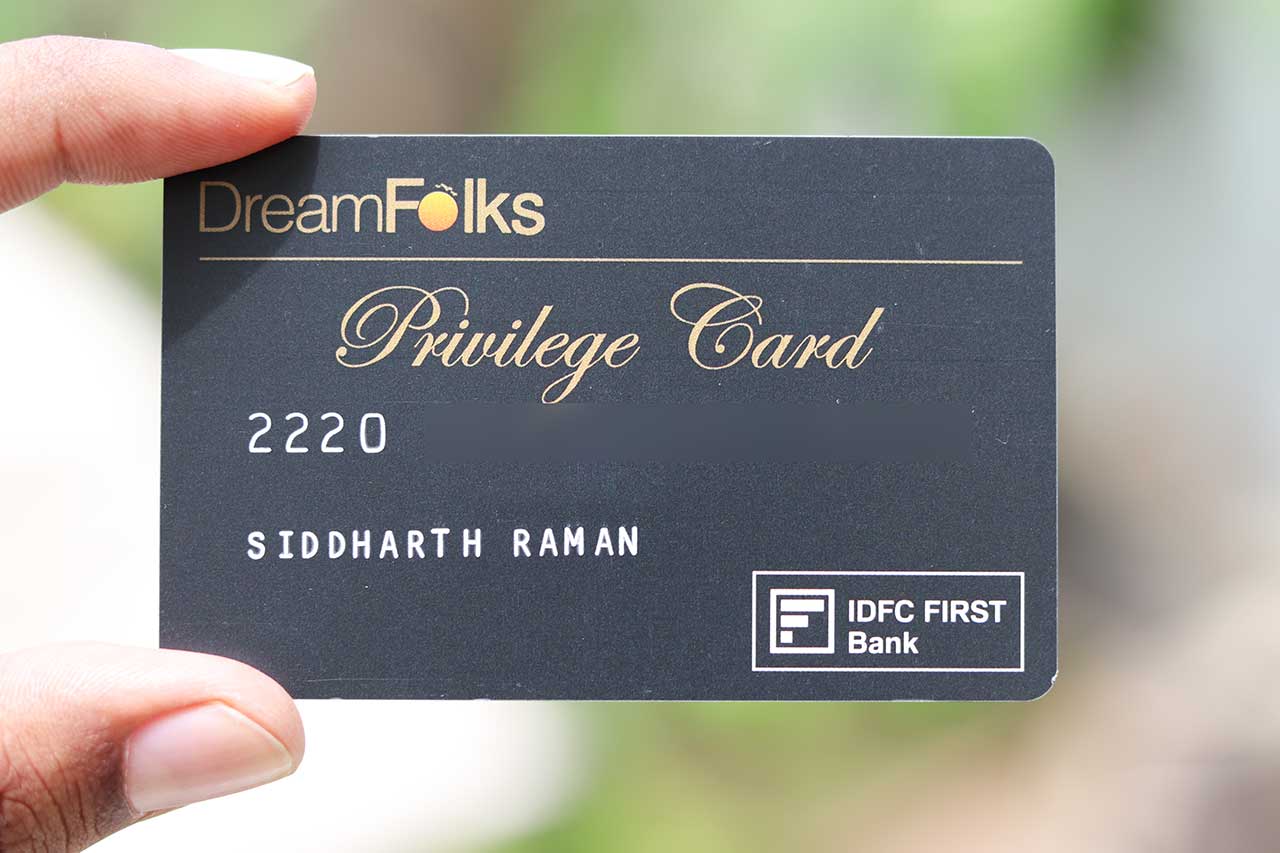 | ACCESS TYPE | ACCESS VIA | LIMITS |
| --- | --- | --- |
| Domestic Airport Lounges | Visa | 4/Qtr |
| Domestic Railway Lounges | Visa | 4/Qtr |
| Domestic Airport Lounges | Dreamfolks | 4/Qtr (shared) |
| International Airport Lounges | Dreamfolks | 4/Qtr (shared) |
| Domestic Spa Access | Dreamfolks | 4/Qtr (shared) |
The welcome letter and the website clearly states that we can use the Dreamfolks card issued by IDFC for accessing domestic & international lounges along with airport spas.
The quarterly limit for above is shared across the above services and I'm sure its good enough. You may consider using Dreamfolks Card only for Spa benefit, as you can anyway access the lounges with many other cards.
Update: Starting 1st May 2023, a minimum spend of Rs.5,000 during the current calendar month is required for you to be eligible for the airport lounge access benefit for the next month.
Golf Benefit
Complimentary rounds: Upto 2/month (games & lessons)
This benefit is linked to spend requirement.
Spends of 20,000 INR (or) 40,000 INR are required to unlock 1 (or) 2 rounds respectively. Spends done in a billing cycle are tracked for this domestic golf benefit.
All the complimentary rounds earned in a billing cycle will be eligible for redemption from 1st of next month and will be available for redemption upto 2 months (60 days).
ICICI Bank too follows a similar system and it's undoubtedly a poor system. They should have instead gone for quarterly limits based on spends.
Forex Markup
Forex Markup Fee: 1.5%+GST = 1.77%
Reward rate: ~2.5% (assuming ~2L spends)
Net gain: ~0.50%
If you're doing high value foreign currency transactions on IDFC First Wealth credit card, it will benefit you a little bit. But if you intend to spend only 10K or 20K a month, this card will give you only net loss.
Other Benefits
Complimentary Road Side Assistance(RSA) worth ₹1,399
Revolving Interest Rate: Relatively lower interest rate compared to other banks, usually 20% – 24% p.a. (I got 22% p.a. ROI)
Buy 1 Get 1 Movie Benefit: Upto Rs.500 per ticket via Paytm Movies.
Complimentary roadside assistance is one of the unique feature on this credit card. It maybe useful at times, for ex, to jump start your car on breakdown.
Revolving interest rate is one of the key benefit of the issuer but I hardly see anyone taking advantage of it, maybe the reason is that those who need a low interest rate are not getting it.
Getting the Card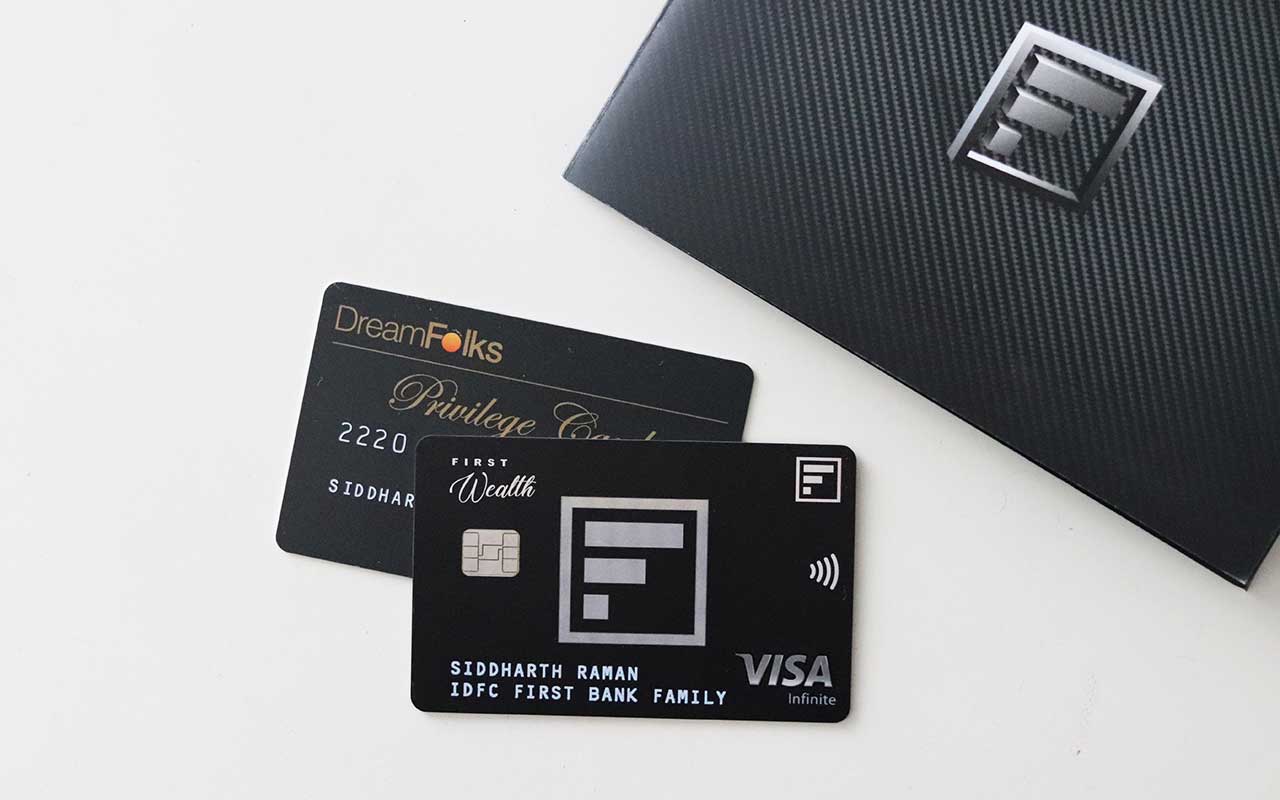 Eligibility: IDFC Wealth Ac (or) Other bank credit card with >5L limit
Apply online (Instant approval)
Fresh Card: If you've >5L credit limit on other bank credit cards, you can apply for the IDFC credit card online and you may likely be eligible for the wealth variant. If eligible, you can get the virtual card ready for use in matter of minutes.
If you've lower limits on other credit cards, you might need to get the Select credit card initially and then upgrade it later, likely after a year.

Upgrade: If you've IDFC Select Card with <=4L limit, you'll first need to increase your credit limit to >=5L and then request for an upgrade.
You may email/call IDFC customer care for upgrade. Here's my hands-on experience with the IDFC Wealth Credit Card.
Bottomline
It's a lifetime free credit card and so there is no reason for you to not take the card if you're eligible for the same. You get complimentary access to airport lounge/spa with decent reward rate, so they're totally worth it.
But if you intend to spend on the card, do remember that you get good rewards only on online spends and high value spends.
It's ideally suitable for those with monthly spends in the range of 1 Lakh or above, assuming that you don't want to pay for other premium credit cards.
Don't have IDFC Credit Card? Apply here
Do you hold IDFC First Wealth Credit Card? Feel free to share your thoughts in the comments below.