IDFC First Bank launched its First Wealth debit card on Visa Infinite platform about an year ago. It's a lifetime free debit card designed specifically for customers who are part of the Bank's First Wealth Program. Here's my experience with the IDFC First Wealth banking and it's debit card product.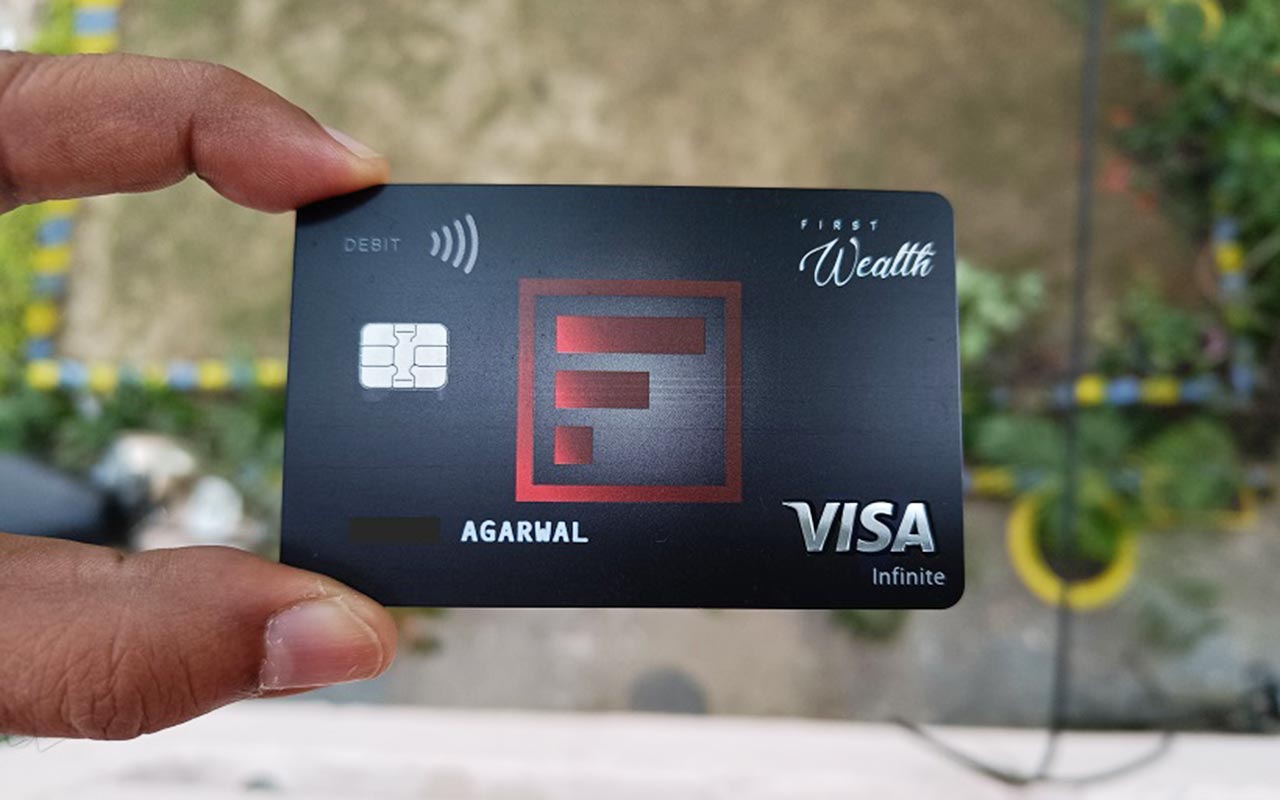 Eligibility Criteria
IDFC First Bank requires you to join its First Wealth Program by maintaining minimum NRV (Savings ac balance/ FD/ Investments etc.) in the range of 10 Lacs in order to be eligible for this card. This may vary a bit with location & time. If opening a new account with Wealth status in mind, its better to always clarify all doubts with the local RM/ BM before proceeding.
Note: It is also learnt that First Wealth Program has been offered to few old n loyal customers of the bank at lower NRV.
The program entitles you to various lifestyle benefits viz. 1 free locker (subject to availability) and some more.
Features & Benefits
There are some industry first features embedded in this debit card. Will try to list out as many as possible here–
Very high per day ATM withdrawal and Purchase limit of 7 & 12 lacs respectively

3 domestic airport lounge access along with a companion (thereby making it 3+3) each quarter, charged INR 2 everytime
2 international airport lounge access per quarter (charged 32$ and reversed within 10 days). The access is given directly by swiping the debit card.
Register your card by creating a LoungeKey account
Complimentary ID Sentry membership (Protects your cards from ID theft). Select debit card also offers this benefit
Good insurance cover for cardholder — Air Accident Insurance cover- 2.5 Cr, Personal Accident cover- 1 Cr, Lost Card Liability cover- 12 Lacs, Purchase Protection cover- 1 Lac (Minimum 1 POS transaction >= 500 in each of the previous 3 months immediately preceding the month of incident)
Complimentary Road Side Assistance (RSA)
Complimentary Golf access of 1 per month at partner Golf clubs across India
Upto 10X accelerated reward points program on debit card, delayed too much already (Currently under Beta testing)
Visa Infinite privileges
Welcome Kit Unboxing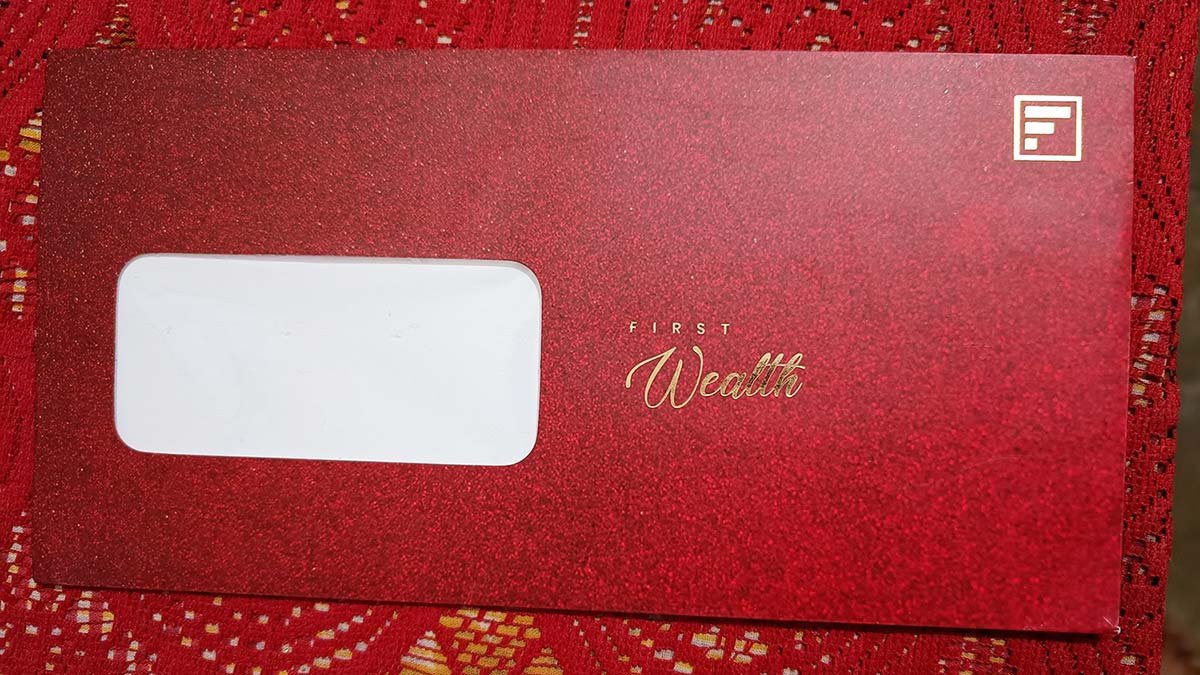 During initial onboarding phase, IDFC First bank Wealth debit card used to come in a good box containing a faux leather folder as well (similar to Yes First kit). Sadly the bank downgraded the welcome kit quite fast, which now comes in a simple envelope. Doesn't look n feel premium for that NRV level.
By the looks of it, IDFC First bank has a habit of downgrading its cards pretty soon after launch (Similar to their credit cards range).
Card look & feel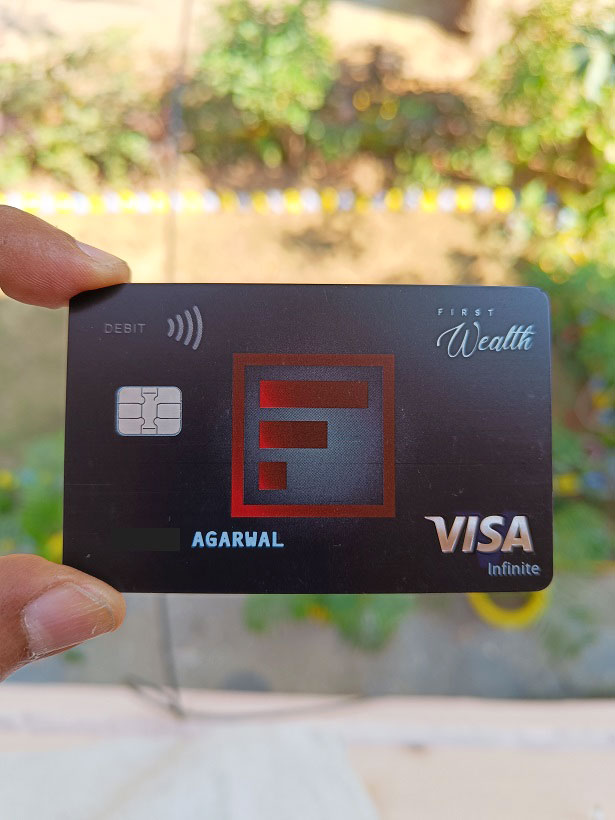 The card looks good in plastic Black mixed with bank's signature Maroon colour. Name is in front whereas card number is at the back.
Drawbacks
International eCom or POS transaction markup fee at 2% (thus competes poorly being a new bank). Even Indusind bank Exclusive debit card (requires just 1 or 2 lacs AMB depending upon location) provides with NIL markup fee.
No EazyDiner offers, which has become basic requirement of even Semi-Premium/ Regular cards now a days.
No movie benefits provided except Visa Infinite offer.
In comparison, most premium debit card offerings from Axis, AU, Indusind, Yes bank or for that matter even their semi- premium/ regular debit cards offer B1G1/ 50% off upto varied amounts.
Importantly, the much touted 10X RPs earn feature on Select/ Wealth/ Private debit cards with a lot of delay is now under Beta testing phase, even as more than 1 year passed since the launch.
Application Experience
Once on-boarding criteria was fulfilled by initiating adequate funding, the onboarding process started but took some time.
Remember once savings account is opened, Visa Platinum debit card welcome kit is delivered within a week or so. The relationship banking kit containing Wealth debit card comes later (in approx. 15-30 days) once your Wealth RM elevates the status to Wealth banking.
Bottomline
IDFC First Wealth Program is designed & positioned to take on HDFC Imperia/ Axis Burgundy/ Indusind Pioneer premium banking. Overall program features at best fare on par in comparison with industry peers.
Some of the features like RSA, domestic airport lounge access along with companion and international airport lounge access via card (using LoungeKey) itself standout.
Even though Wealth program customers maintaining NRV should get the Wealth credit card by default (as was advertised during initial launch), in practice this is far from happening smoothly in most cases.
My experience shows lack of co-ordination between IDFC bank & their Credit Card team thereby inordinate delay in getting the Wealth credit card or even rejection (HDFC bank managed its cross-selling business beautifully, the reason they are Leaders at it).
Absence of NIL markup fee, BookMyShow/ Eazydiner offers & too much delay in reward points on spend makes it another offering in market, unable to distinguish, hence missing the WOW factor!
Nonetheless in comparison to its Private Metal debit card, Wealth debit card offers near similar features & benefits at significantly lower NRV.
However post Beta testing phase, if the rewards on spend are as good as those mentioned, this card has the potential to be one of the most rewarding debit card in industry.