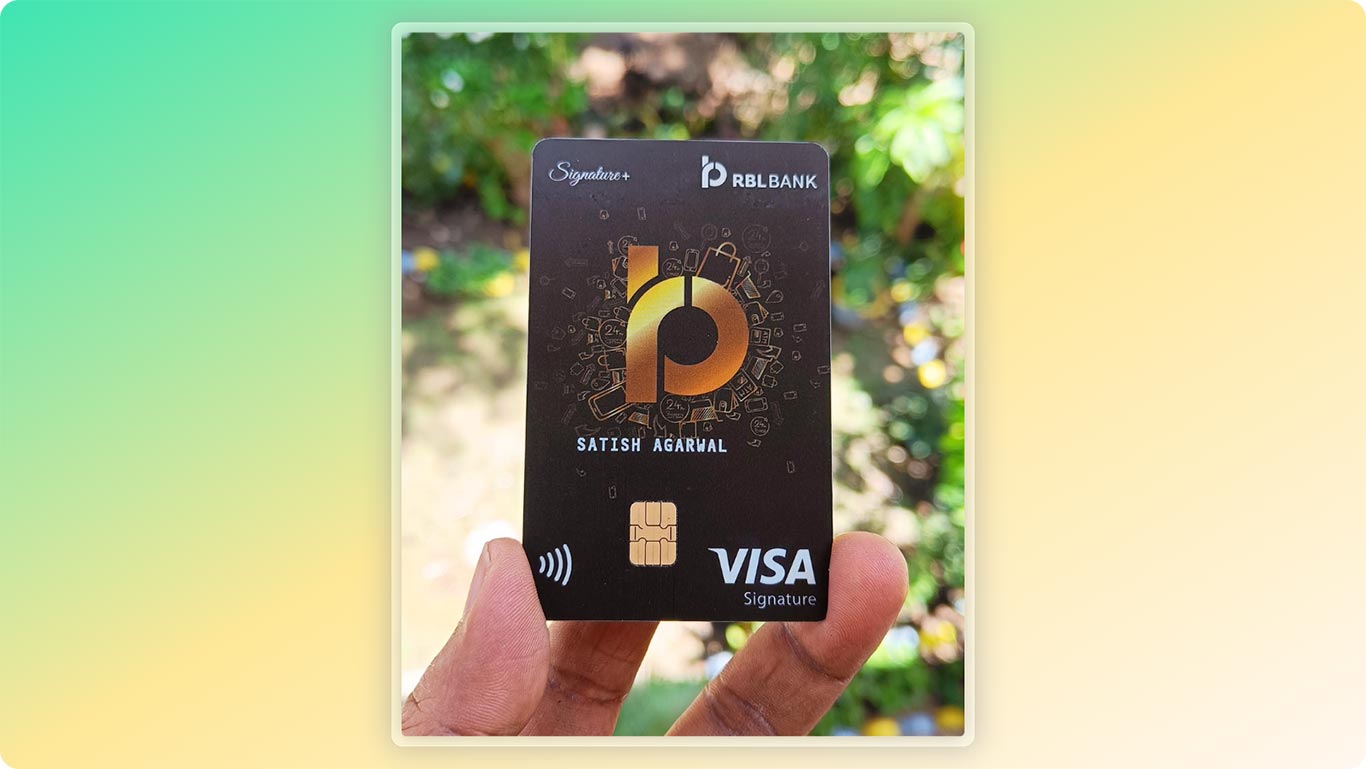 RBL Bank launched its standalone Signature+ debit card sometime back. As the name suggests, it comes in Visa Signature variant.
Interestingly by default this debit card is not issued with any of its savings account or relationship banking program.
Rather you can open any RBL savings account (even digital savings account having minimum 5K AMB will suffice) and apply for upgrade to Signature+ debit card via any RBL branch or even RBL MoBank app.
In this case default debit card issued with your newly opened savings account gets closed post the issuance of Signature+ debit card.
Remember this debit card is not to be confused with RBL Signature debit card, which is issued as a part of RBL's premium banking program.
Fee Structure
Joining Fee: 5000+GST = 5900/- (No Waiver Criteria)
Welcome Benefit: 5000 worth GV
Renewal Fee: 1500+GST = 1770/-
Renewal Fee Waiver Criteria: Spend 3L+ in previous year
Logical question:
Why would anybody pay such a high joining fee along with tapered down renewal fee, when you can get Premium to even Super Premium credit cards with that kind of fee.
Decide yourself post going through the Features section of this in-depth review.
Note: As I didn't receive any email for claiming the Welcome voucher, kept on checking the same almost on a daily basis via a link that will be shared with you over email.
One fine day it went through successfully. As per my experience I can say that– Welcome voucher of 5000 GV is available after ~ 1 month of paying the joining fee
Hands-on Experience
Opened RBL digital savings account (5K AMB) via an all app digital experience. VKYC was done within 1 hour of opening the account via Aadhaar authentication and PAN image capture as usual. Funded the account with 6000+, keeping in mind 5000+ GST joining fee.
Same day requested for Signature+ debit card upgrade and was processed instantly. Signature+ debit card joining fee charged immediately to account. Debit card visible in app within 48 hours, physical delivery took ~ 6-7 days though.
Card Look & Feel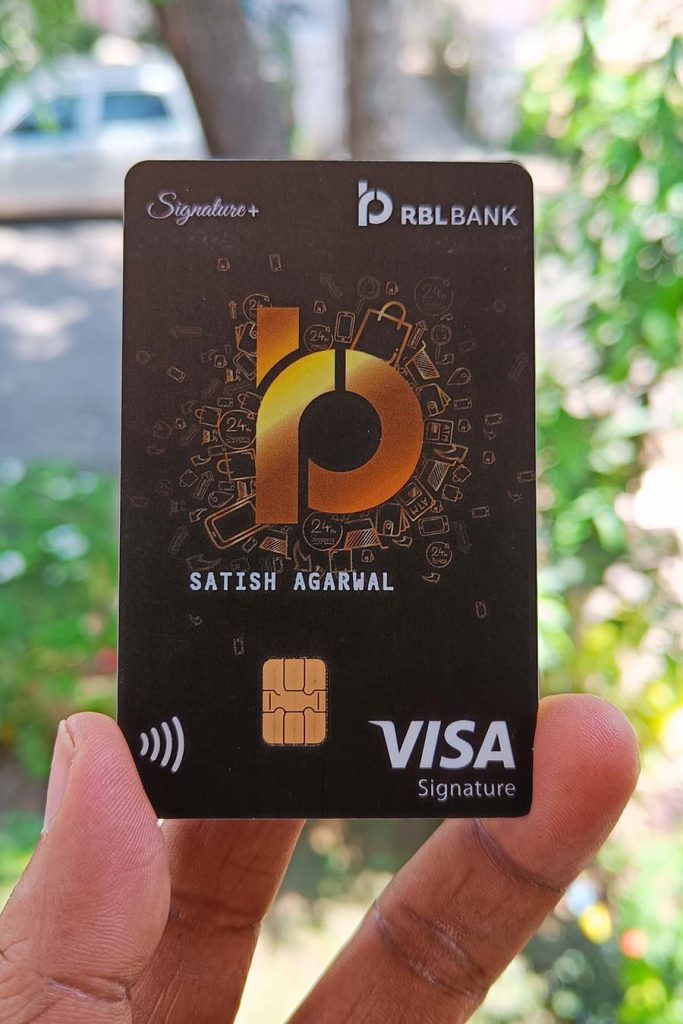 Card looks are decent. Its a normal card with below average print & plastic quality. Name is in front whereas all card details are at the back. Envelope containing the card was simple as well.
Milestone Benefits
Spend anywhere on POS/Online via RBL Signature+ debit card and get 1% value-back upto 1000 as GV.
Valid transactions currently include all kinds of Online/ Offline payments done via any payment platform. Can double dip via other bill payment apps too e.g. Paytm/Mobikwik/CheQ etc.
Disclaimer: Above payment apps/platforms is just for information purpose & not a recommendation in anyway.
Total spends in a month must be more than 10K to be eligible for this monthly USP benefit.
How to claim– You will receive an email with a link to claim the monthly benefit on 15-17th of the next month (For spends made in current month). Else above mentioned link is valid for claiming monthly benefits as well.
Annual Milestone: Spend above 5L in a year and get 5000 worth GV separately
Return on Spend
Return Ratio: If you max. out the spends, i.e. 1L per month X 12= 12L in a year, you receive:
1000 GV per month X 12 = 12K points
5000 GV per year X 1 = 5K points
Total= 17K on an effective joining fee of (5900-5000)= 900 INR. Renewal fee anyway will be Zero from next year upon spending 3L+ in previous year.
Return Percentage for 1st year= (17K-900)/12L ~ 1.34%
Return percentage next year onwards= 17K/12L ~ 1.41%
Best Value: If your spends aren't that high, hitting 5L in a year is the sweet spot.
In 1st year You get 5K Monthly + 5K Annual benefit = (10K-900)/5L ~ 1.82%
And next year onwards you get (5K + 5K)/5L ~ 2%
If you spend more than 12L in a year, return value goes downwards. As you can see, this card holds good till annual spends of 12L max only (preferably 1L per month spend with minimum 10K in a month to earn cashbacks as GV)
GVs available: Wide range of GVs with multiple price points are available for redemption against both Welcome/ Monthly benefits. Notable ones are Amazon, Flipkart, Croma, Bigbasket etc.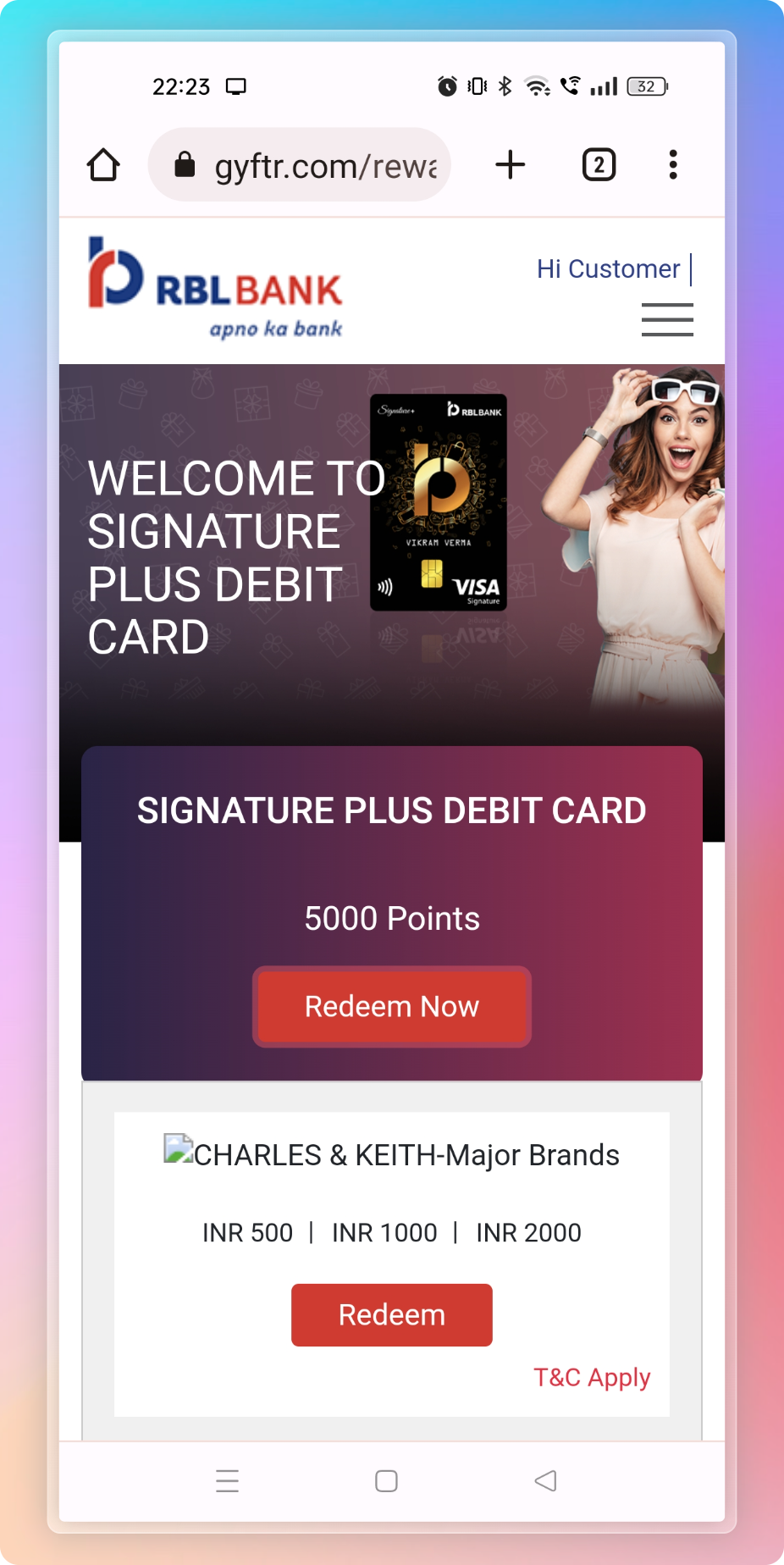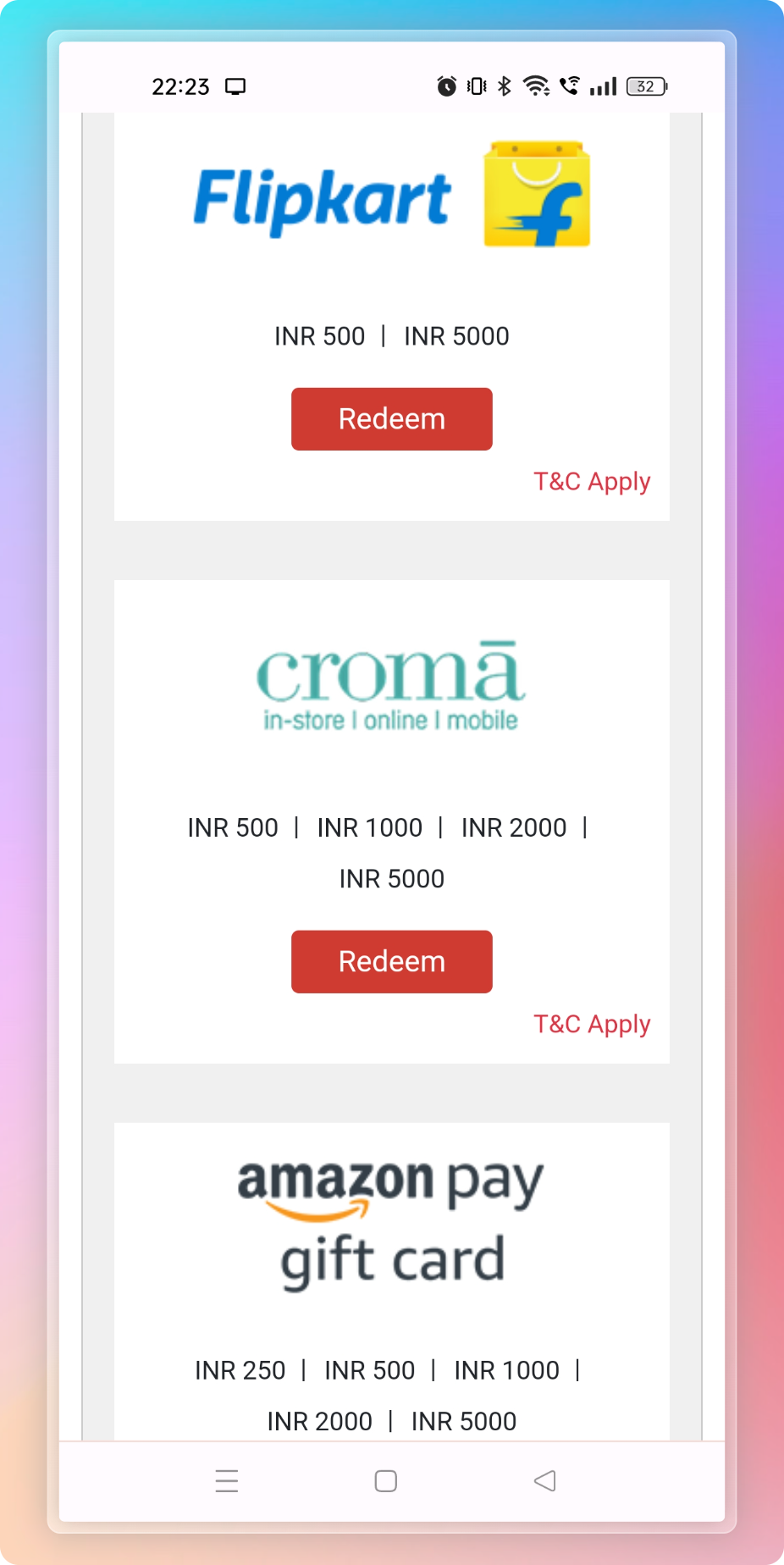 0% Forex Markup
Zero markup on Foreign currency transactions is another very useful benefit of this card (3.5% markup applicable for ATM cash withdrawals done in UAE via Signature+ debit card)
Other Features
Lounge Access: 2 Complimentary domestic airport lounge access per quarter (Large number of domestic lounges are covered)
Insurance Cover: Air accident & other covers available, comparable to other Premium credit cards in India.
Bottomline
Apart from the high joining fee, which is adequately compensated with equivalent GV value except for the GST part, this debit card ticks almost all the boxes.
Kudos to RBL bank for launching such a debit card, which can be termed as possibly best rewarding debit card in India currently.