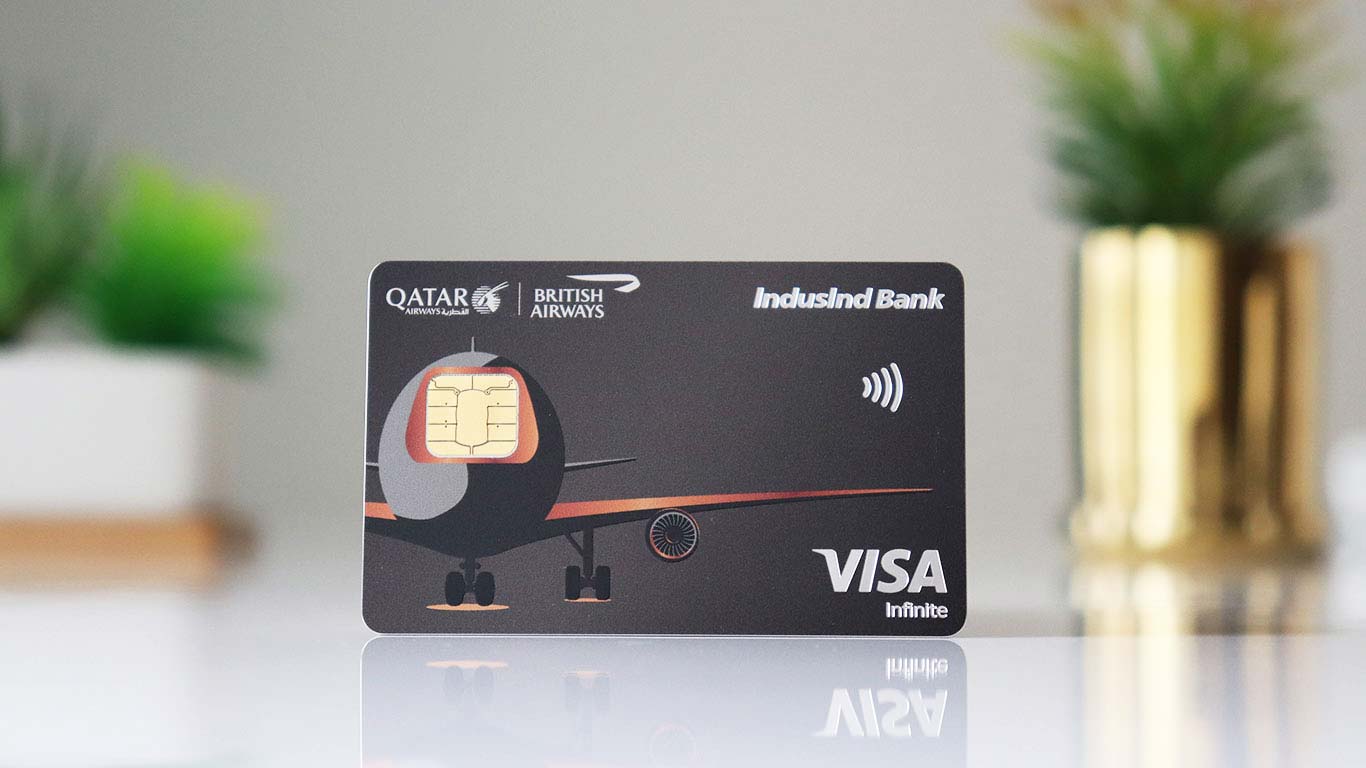 IndusInd Bank has some of the best Co-brand Credit Cards in the country at the moment that includes EazyDiner & Vistara Credit Cards. Now with Qatar & British Airways as international airline partners the bank has launched a multi-brand Credit Card called IndusInd Bank Avios Credit Card as announced few months ago.
The card works on the Visa Infinite platform and it enables one to earn and redeem Avios across Qatar & British Airways as it's the shared reward currency of both the airlines.
While the card might look complex at a quick glance, this article would make it simple for you to decide if you need to take one. Here's the detailed review of the card,
Overview
| | |
| --- | --- |
| Type | Multi-brand Credit Card |
| Reward Rate | ~3.5% |
| Joining Fee | 40,000+GST |
| Best for | Frequent travellers |
| USP | International Meet & Greet benefit |
While sharing the same plastic, technically the IndusInd Bank Avios Credit Card works like two different credit cards, depending on the preferred loyalty program you choose:
Qatar Airways Privilege Club
British Airways Executive Club
Note that Avios remain the same on both variants and one can also transfer Avios between the partners at 1:1 anytime.
Hence the difference ideally comes with the joining/renewal benefits linked to the respective variant.
Fees & Benefits
Joining Fee
40,000 INR+GST
Welcome Benefit
Qatar: Gold tier + 20,000 Avios
British Airways: 55,000 Avios
Renewal Fee
10,000 INR+GST
Renewal Benefit
Qatar: 5,000 Avios + Gold tier (3L Spend on Qatar Airways Website or mobile App)
British Airways: 10,000 Avios
Renewal Fee waiver
Nil
Note: Qatar variant also comes with 10% off on Qatar flights originating from India.
While the joining fee is quite high to begin with, the renewal fee is fortunately very much affordable for the benefits it comes with.
That aside, I wish the spend requirement for Gold tier renewal on Qatar variant is not just limited to spends on Qatar.
Design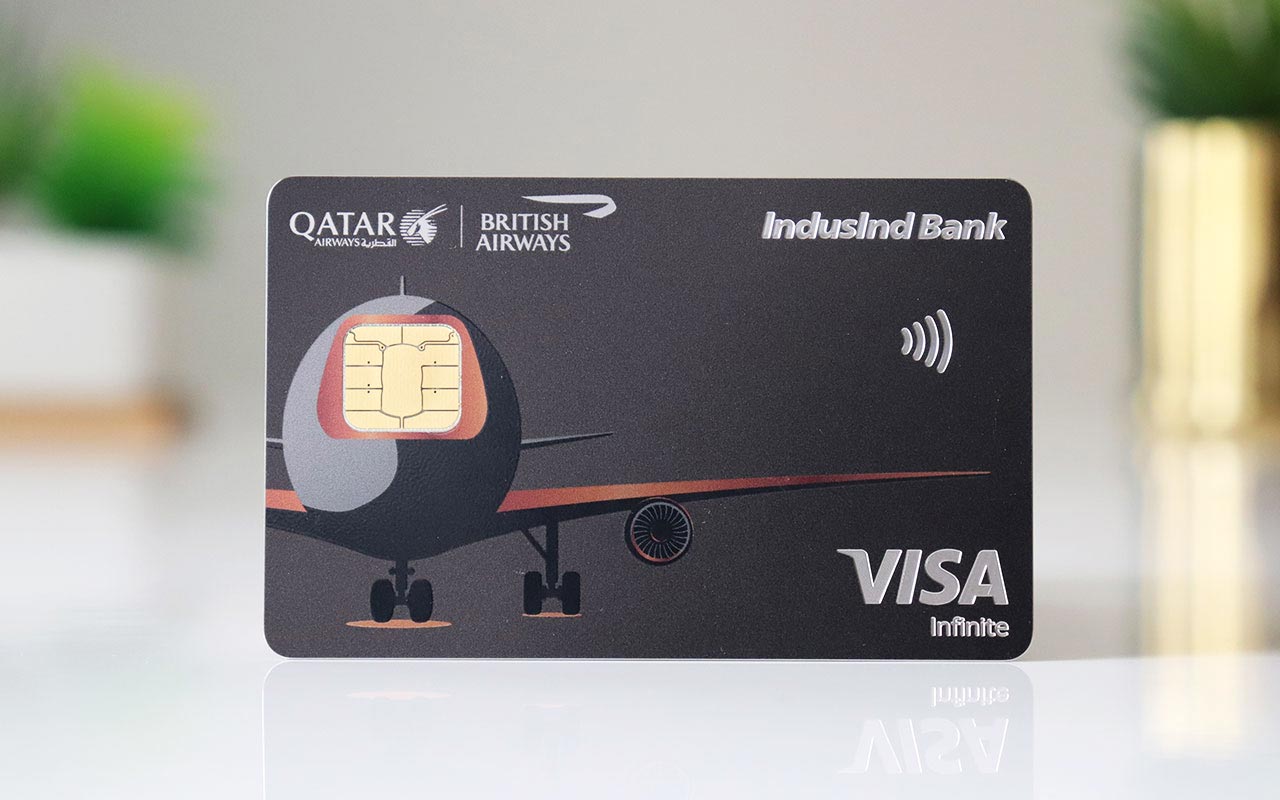 The design not only looks neat, elegant and simple but also the designer is quite clever to place the chip on flight's windshield. Otherwise, it feels like a typical heavy metal credit card while holding in hand.
Rewards
SPEND TYPE
Avios
(per 200 INR)
Regular Spends (Domestic & Intl)
1
Spends on Qatar & British Airways
2
Spends at Preferred international destination (POS)
5
Note:
Avios would be credited to the account within 10 days of statement generation just like the Vistara cards.
Avios will be earned only for spends up to the assigned credit limit in every statement cycle.
For International POS spends, the card comes with a concept called "preferred destination" which not only comes with better earn rate but also a lower forex markup fee of 1.5% instead of regular 3.5% which applies to all other destinations.
This preferred destination has to be chosen while applying for the card.
While the rewards on "regular spends" are on the lower side, the milestone benefit gives a very good push to these numbers, let's see that now.
Milestone Benefit
SPEND REQUIREMENT
MILESTONE BENEFIT
MILESTONE BENEFIT
(Cumulative)
8 Lakhs
25,000 Avios
25,000 Avios
16 Lakhs
25,000 Avios
50,000 Avios
The milestone benefit certainly gives a good push to the overall reward rate on the card. So if you're considering rewards, hitting milestone spends is essential to get maximum value out of the product.
Spending 16L on the BA variant would give you a total of 113K Avios (50K via milestone spends + 8K via regular spends + 55K via welcome benefit) which is sufficient to book 2 economy tickets (or) 1 Business Class ticket from Mumbai to London.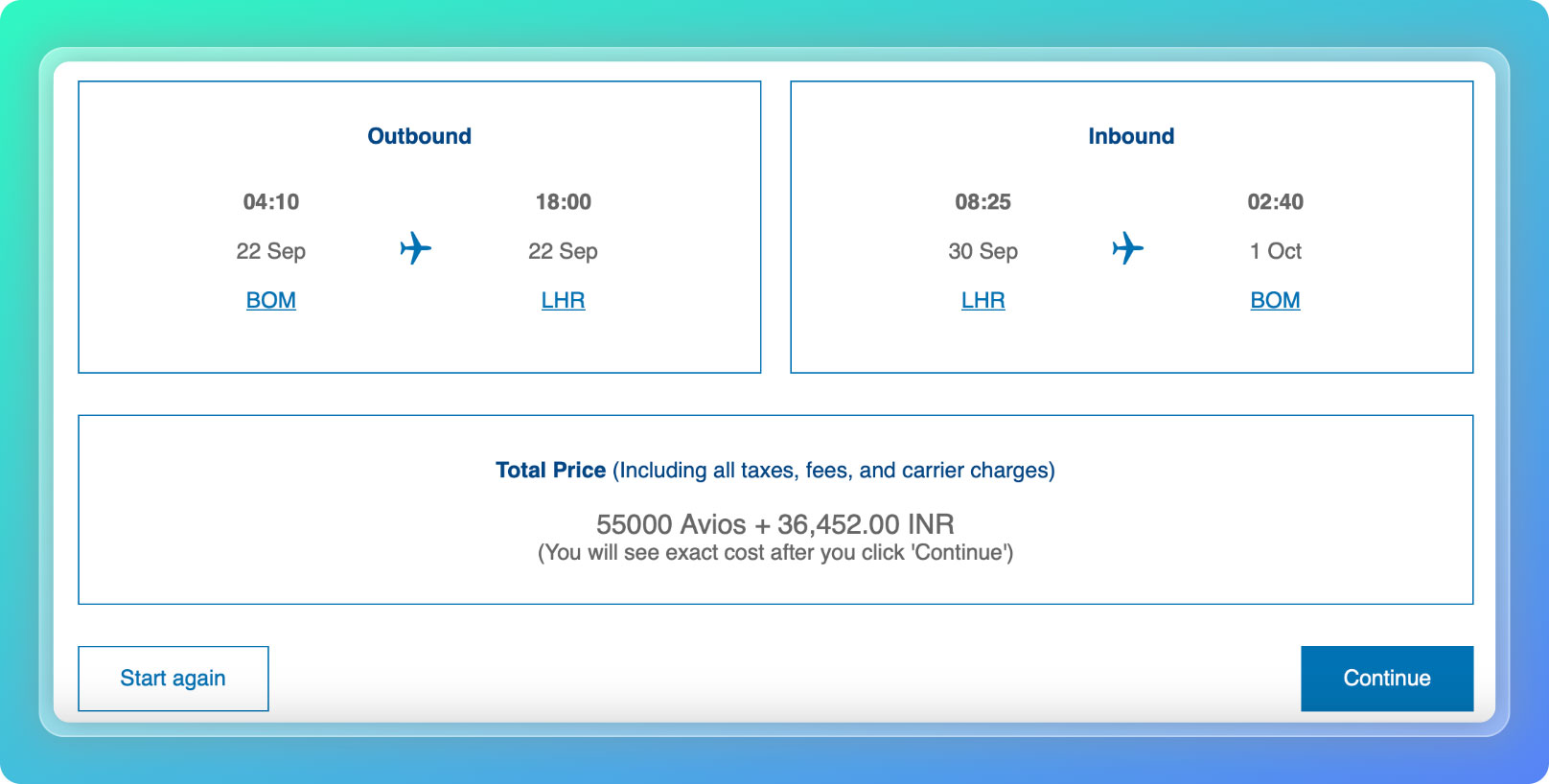 The downside is that Qatar & BA are known for their high taxes. But that's also primarily the reason for it's availability to be pretty good compared to others.
Qatar Gold Benefit
Here are the benefits we get via Qatar Gold membership when one chooses Qatar Airways Privilege Club as preferred loyalty program.
Meet & greet Service in Qatar for self +1 (at Hamad International Airport)
Priority Check-in at business class counters
Complimentary Seat Selection
Extra Baggage Allowance
Access to Business Class Lounges
Invite friends to lounge at Hamad International Airport, 4 per year
Receive 40 Qcredits to redeem for upgrades, extra baggage, etc
5% Off on Avios redemptions
Better award seat availability
Change or cancel your booking free of charge
For frequent travellers on Qatar, this is a wonderful benefit without a doubt as getting Qatar Gold is not easy by any means.
On top of that, with Qatar Gold one gets the "Oneworld Sapphire" status which gives access to additional travel benefits across all Oneworld partners.
Airport Lounge Access
| ACCESS TYPE | VIA | LIMIT |
| --- | --- | --- |
| Domestic Lounge Access | Visa / Mastercard | 2/Qtr |
| International Lounge Access (Primary) | Priority Pass | 2/Qtr |
While the limits are bit low, I think it makes sense for this card, as it's quite obvious that one might not do over 1 (or) 2 international trip in a quarter ideally.
Nevertheless, 8/Yr would have looked much better as lounge access at connecting airports consumes the limit faster.
Airport Meet & Greet Service
2 complimentary service per year (Card anniversary year)
Value: ~10,000 INR per service
With IndusInd Bank Avios Credit Card we get International Airport meet & greet service across the globe. Here are the list of airports covered.
This is the only card in India at the moment that provides international meet & greet services with no strings attached.
With this service, we get access to fast track security lane and quicker immigration clearance all while being accompanied by the airport staff & a porter.
I've covered the domestic airport meet & greet experience in India and its going to be largely similar.
Having used the domestic meet and greet services over 15 times at domestic airports in India in the last 4 years, I can say that it will be of immense value in a foreign country because domestic meet & greet services are more of a "luxury and fun" to fly like a celebrity but international meet & greet services are "essential" at times.
It saves a lot of time, energy and gives peace of mind while travelling to a foreign country.
Should you get it?
There could be various reasons one would get the IndusInd Bank Avios Credit Card. Here are few reasons as to why you would need this card:
If you fly Qatar economy often, Qatar variant with Qatar Gold tier benefit is a blessing, as it enhances your travel experience a lot.
If you're an airmiles enthusiast, spending 16L on the BA variant would give you a handsome 113K Avios to play with.
For most of us here, the #2 will be the reason and if you value international meet & greet service as much as I do, then it's no brainer.
Getting the Card
Fresh Card: Can be applied via RM/branch or on the website.
Upgrade: If you already hold an IndusInd Bank Credit Card, call customer support and request for an upgrade. Minimum credit limit for upgrade keeps changing from time to time.
IndusInd Bank takes 1-2 weeks to process the digital applications and upgrades are lot faster.
Note: While applying for the card, you'll need to mention: card variant, preferred destination & Qatar/BA loyalty account number (if you're already a member).
My Experience
I recently applied for "IndusInd Bank Avios Credit Card – BA" Variant as an upgrade from IndusInd Bank EazyDiner Credit Card and got the card delivered in a week.
The card comes in a premium package, securely covered in a layer of bubble wrap. I'm seeing such a care given to the outer card package for the first time.
The package contains the Card, welcome letter, card benefits guide & a wallet. Here are some unboxing pics: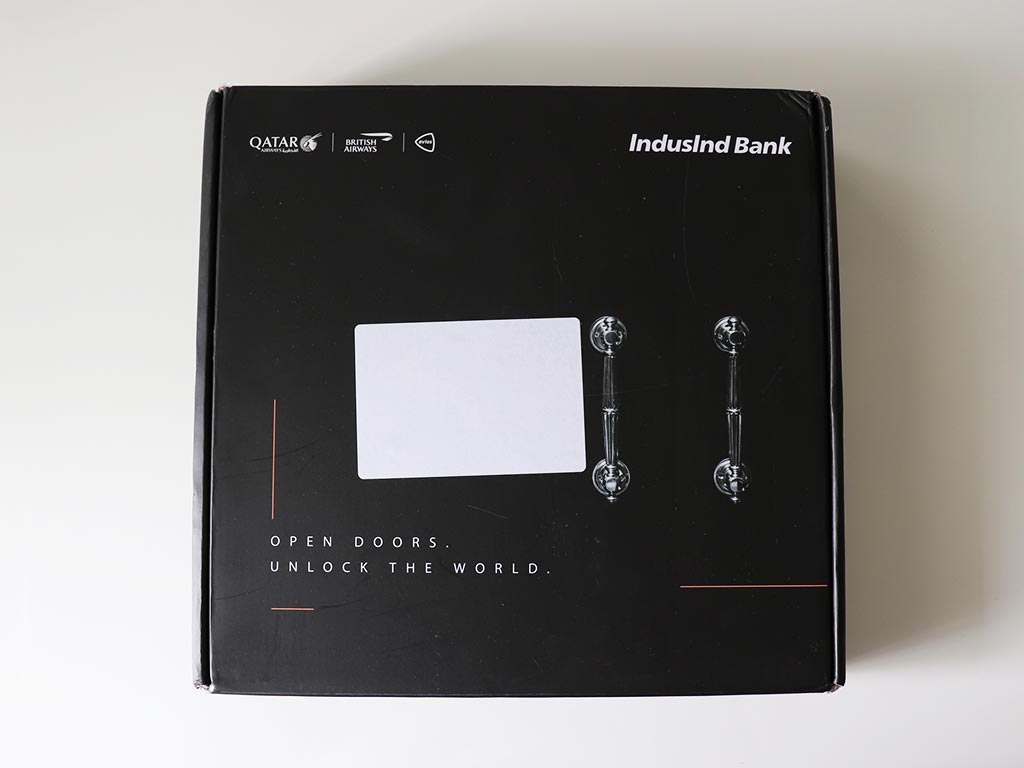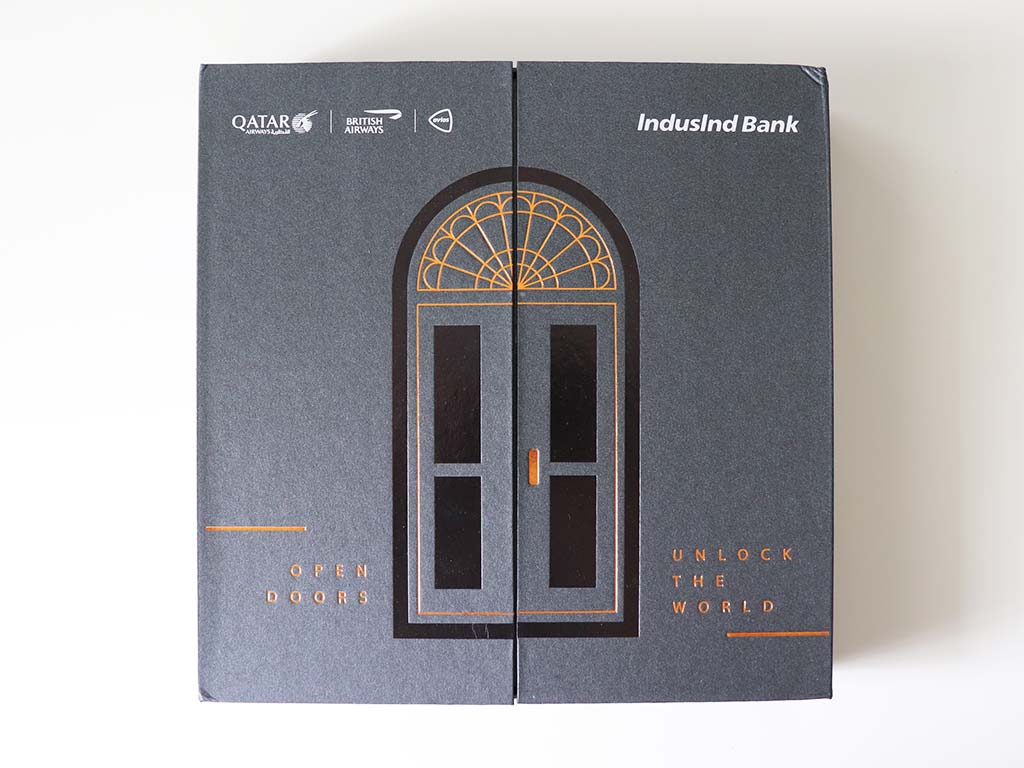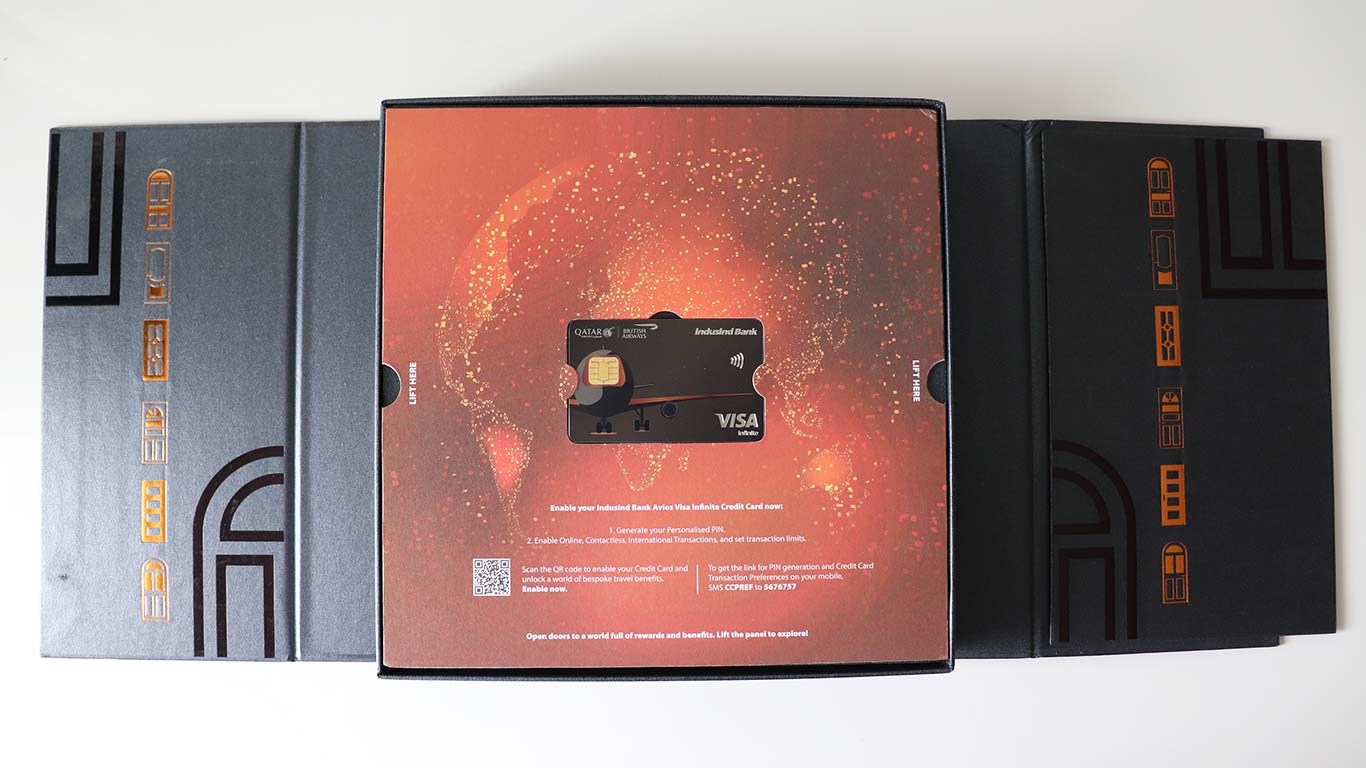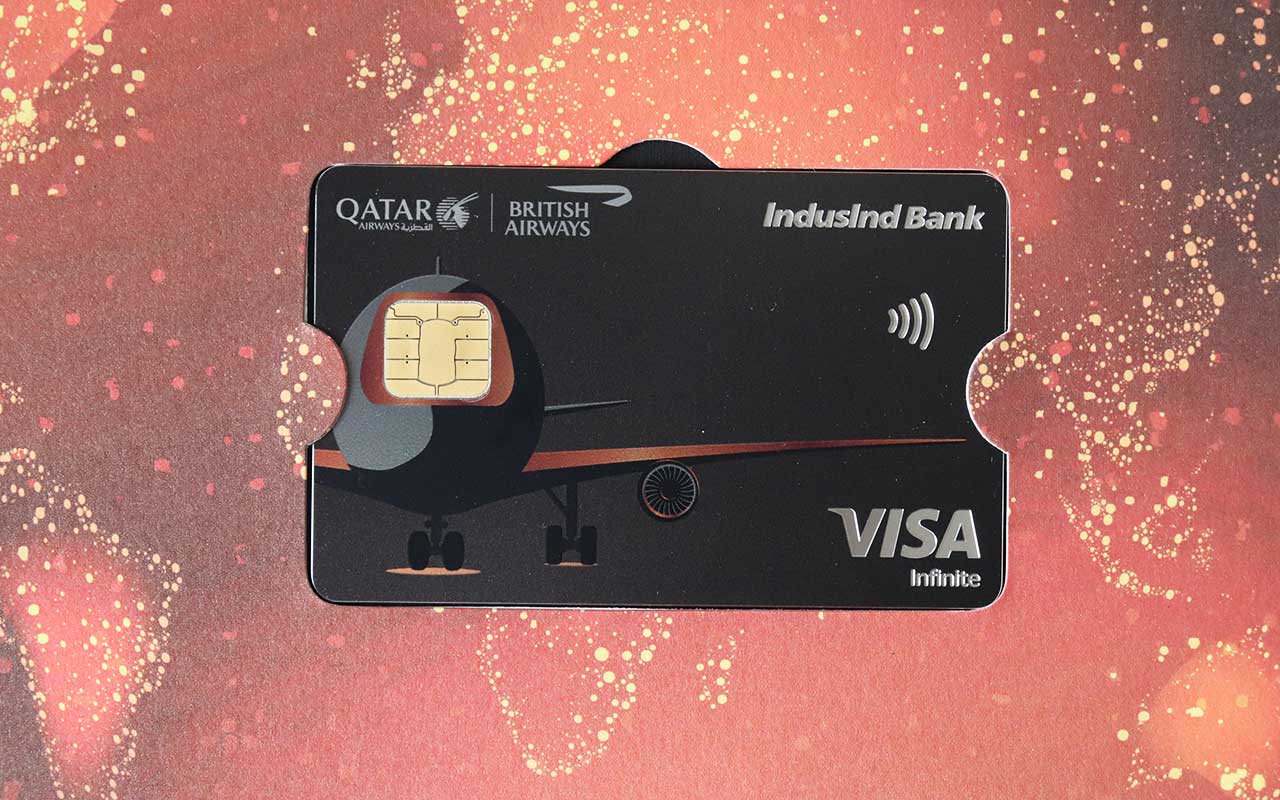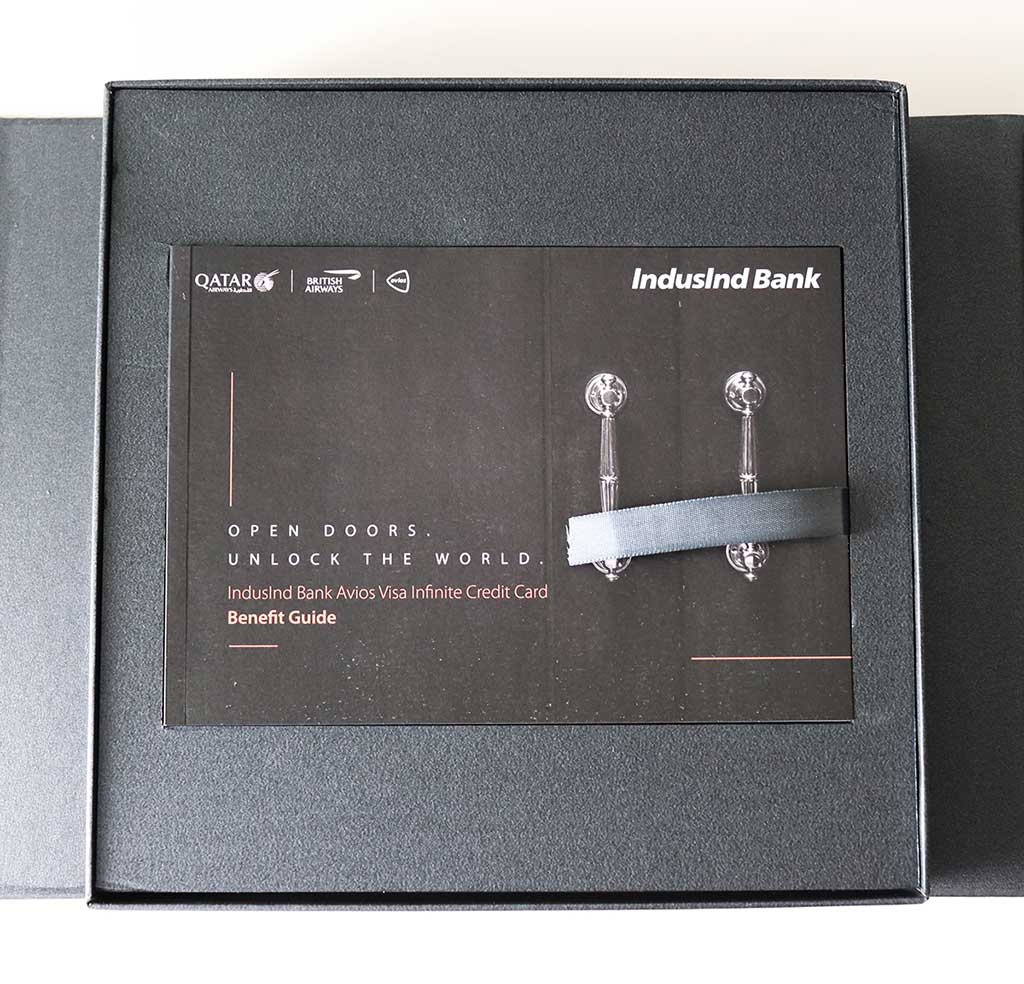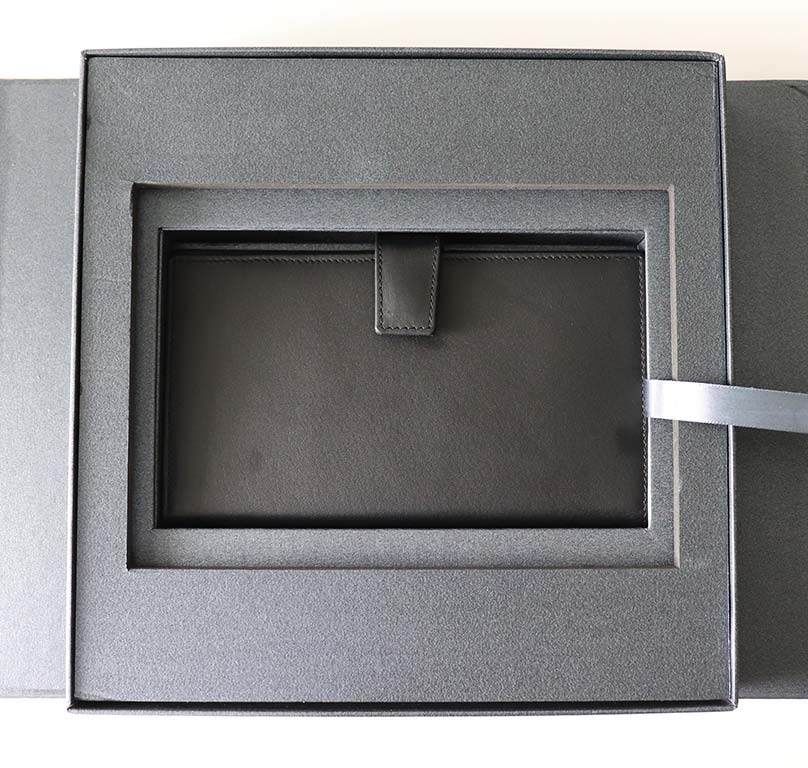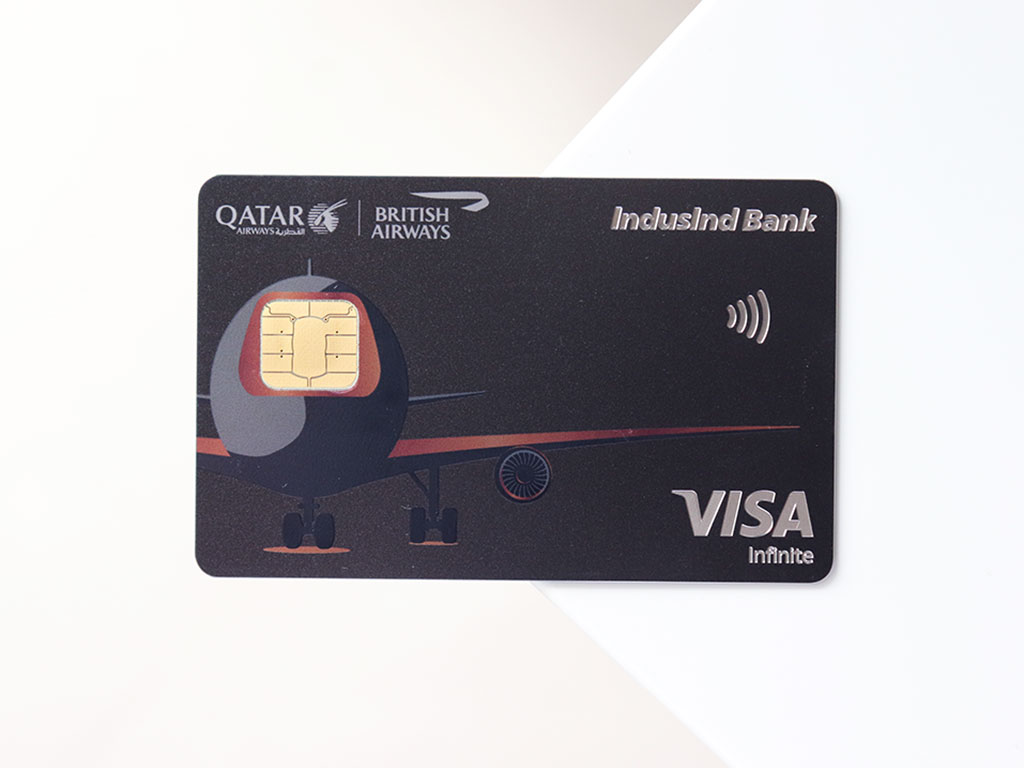 The card wallet in matt finish looks good, as you can see in the above image.
Bottomline
Overall the IndusInd Bank Avios Credit Card is a decent card to earn Avios and explore the unique card linked benefits like: Qatar Gold & meet and greet service.
The International meet and greet benefit on the card is quite a surprise to me and I hope to see it on other IndusInd Super Premium Credit Cards as well in the future.
That said, I'll cover the International meet & greet experience in a month (or) so once the Visa god's in Europe approve my Visa, which is in mid-way at the moment.
What's your take on IndusInd Bank Avios Credit Card? Feel free to share your thoughts in the comments below.