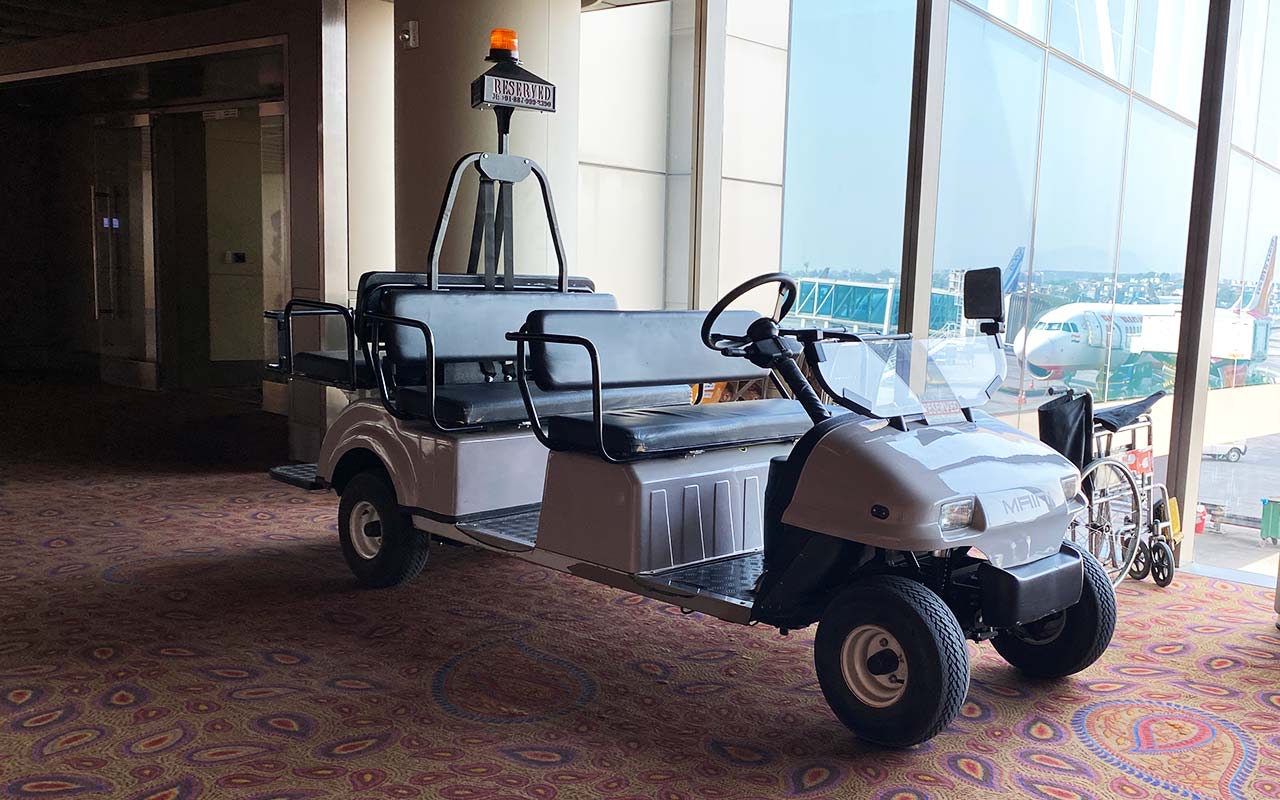 Do you know how celebrities breeze through the airport security and get to the flight in matter of minutes? They use airport meet & greet services. You too can avail the service at almost any airport, as long as you are ready to pay for it.
But not to worry, as we now have few credit cards that comes with complimentary meet and greet services at select airports within India. The service can be used both for domestic/international and also for arrivals/departures at Indian airports.
Here's everything you can expect from airport meet & greet services offered in India through card linked benefit. Let's begin with the departure experience,
VIP Gate Entry
As soon as you arrive at the airport, you'll find someone holding a placard with your name. The executive will greet you at the VIP gate and take you to the landside in no time.
This VIP gate varies from airport to airport. For ex, at Mumbai T2 they use "Gate 1" as VIP gate.
The executive is usually accompanied by his assistant who will be your porter to take care of the luggage. So you may walk handsfree and enter into the airport just like your favourite celebrity.
Sometimes they even keep a paper boarding pass of your's ready.
Everything is sorted, just make sure to enjoy and keep up your celebrity image intact (act like James Bond), else the executive might doubt and ask "did you actually pay for the service?" Just like how it happened with me once. 😀
Buggy transport
If it's a big airport, you may also expect a buggy to transport you and your luggage from VIP gate to the priority check-in counter. The porter and the executive will accompany you.
This buggy service is also available on arrivals to take you from aerobridge to the luggage collection area.
Priority Check-in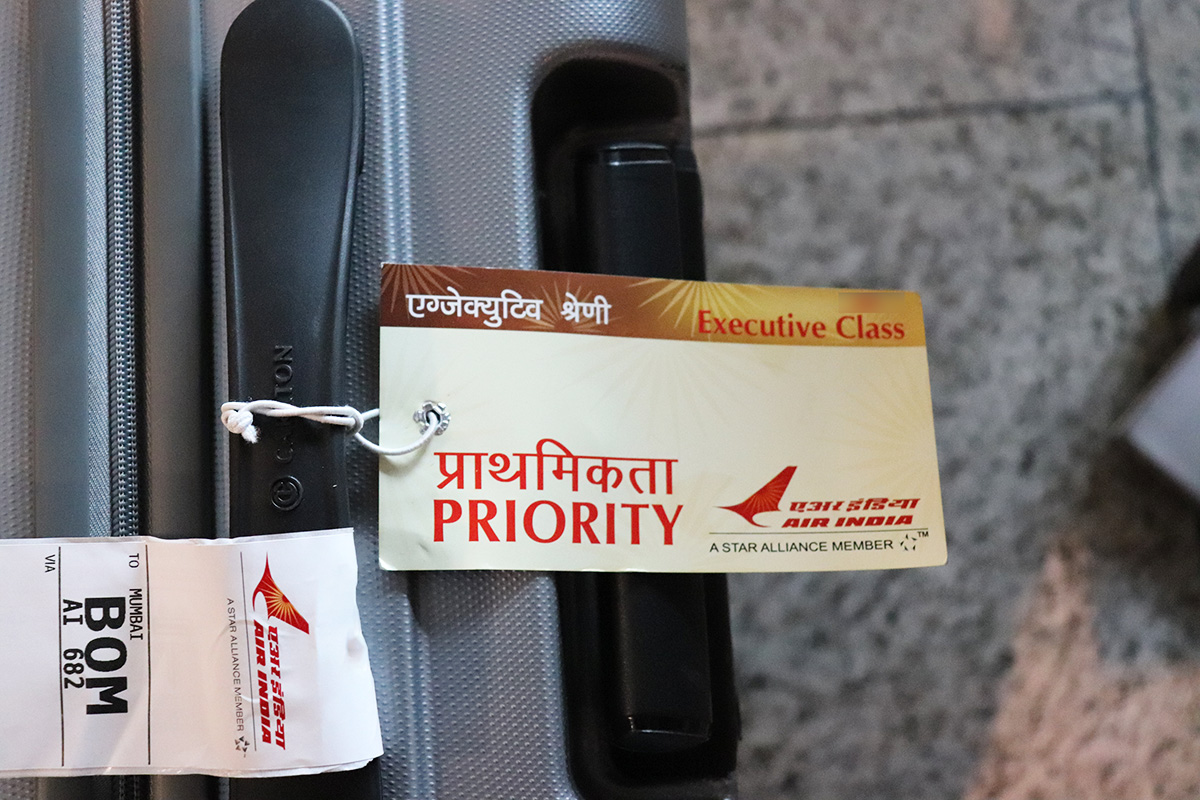 You no longer need to fly business class, hold a gold status or buy the 6E Prime add-on to get priority check-in.
The executive will take you straight to the priority check-in counter, which is basically the business class counter with most airlines (or) the Fast Forward counter in case of Indigo.
So you can drop your luggage in a minute or two and proceed to security.
This is a huge benefit if you're flying low cost airlines, especially Indigo as I haven't seen any Indigo counter without at-least 20 members ahead of me.
Fast track security
Some metro airports like Mumbai and Delhi has a separate lane for business class passengers.
Usually you'll be taken through that route, else you'll be escorted through the staff entry line. This is the line that the airport staffs, pilots and airline crew uses.
Note that this line will be mostly free. But if you see the crew, you're expected to make way for them.
Most of the time this can save you 10-20 mins and you don't need to deal with the crowd by standing with your laptop tray in hand.
I mostly see one or two ahead of me in this staff route but recently I had a situation where-in I was about to pass and then 5 pilots were rushing in back to back. I ended up giving way to them which is a loss of about 5 mins but it's okay, as it's a respect that I think we need to give them.
So once you pass the security, you'll be taken to the lounge (access not provided with this service) or wherever you want to go, after which the executive will leave but will make sure to remind you with a call so that you board your flight on time.
Immigration assistance
Most frequent luxury travellers use the meet & greet service for international travel as it deals with immigration, which may consume a bit of time.
So here too you'll be taken through the business class immigration counter and the executive will assist you with the immigration formalities like assisting you in filling the form, if any.
For those airports that doesn't have the priority immigration counter, I don't know "how" they would help. I haven't explored it personally, so will update when I experience it.
Arrivals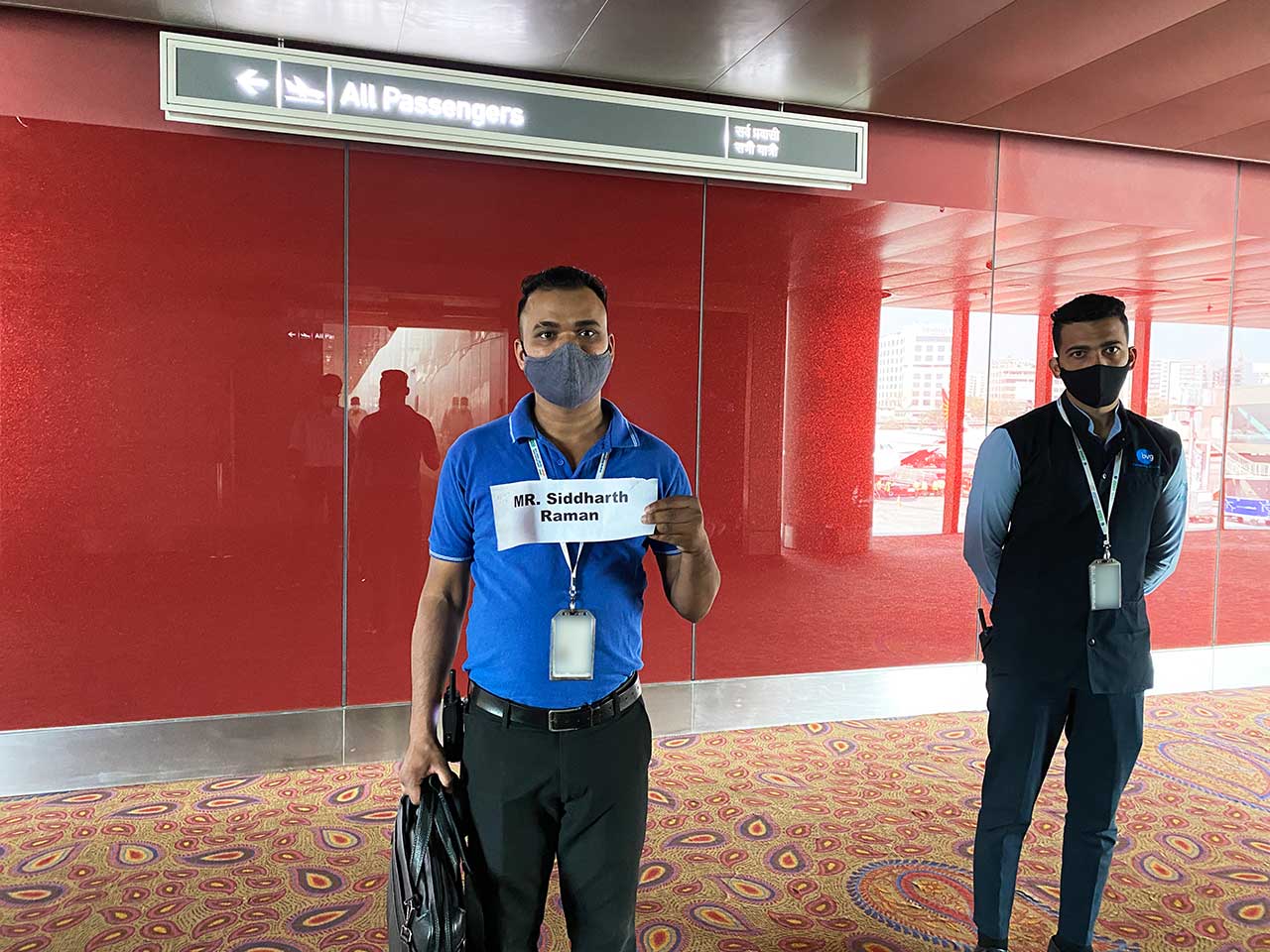 The meet & greet service is usually availed at departure level as that's where it takes a bit of time but you may also use it at arrivals. This service also comes with executive, buggy and a porter as we saw before.
While I thought that arrivals service may not be that useful, I gave it a try to see how it works and I'm surprised to see the benefit.
I availed the service at Mumbai T2 and they took me in a buggy from the aerobridge to the luggage collection area.
These guys are equipped with the airport walkie-talkie which helps them to check why the luggage is getting delayed (which was the situation in my case). I found it to be a pretty useful.
And at Hyderabad airport it was even more interesting when the executive already spoke to the driver of my rental car, which I booked using complimentary luxury airport transfer service through Axis Reserve. So it was an ultra smooth experience.
The Value
I would ideally value the service at ~2000 INR but they usually charge 3000 to 5000 INR depending on the airport. But how much it is valuable to you depends on where and when you avail the service.
For ex, most of the time when I availed this service, it saved me about ~20 mins each but if I had availed it during my Assam trip last year at the Guwahati airport to board Indigo flight, I would have easily saved ~1hr. So it all depends.
Complimentary Access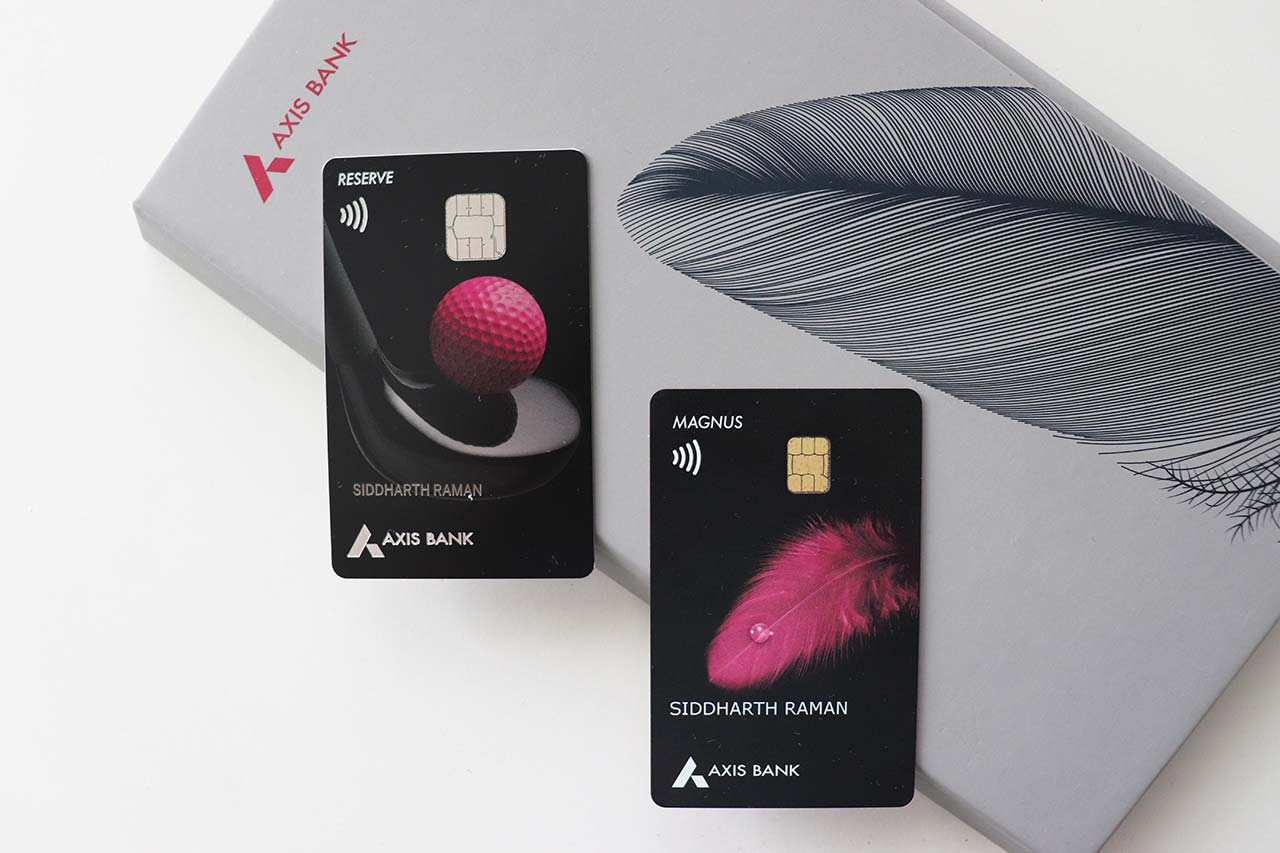 As of now there are only two credit cards in India that gives complimentary meet & greet service benefit. They are,
Axis Atlas (after spending >7.5L)
Note that Amex Platinum had this benefit (now revoked) but limited to Delhi airport and also they want you to book the flight on the card. Hmm, Amex need to relax this a bit.
That said, Axis cards are the only ones worth exploring for meet & greet benefit as of now. But remember that its limited to only Indian airports.
It would be another level if we have cards with complimentary international meet & greet services (without having to book flights on the card).
For ex, you can arrive in any country, pass through fast track immigration lane, get the SIM at the trusted counter with the help of the executive and get ready to explore the foreign country in no time.
Let's hope that dream comes true some day!
Cities Covered
AHMEDABAD
BANGALORE
COCHIN
NEW DELHI
HYDERABAD
LUCKNOW
MANGALORE
MUMBAI
KANNUR
CHENNAI
GUWAHATI
COIMBATORE (failed once even though they took the request)
TRIVANDRUM
JAIPUR
If you're using Axis Airport Concierge services to book meet & greet, above are the airports you can book meet & greet for.
Note that the newly added cities (last 5 of them) doesn't show in the list on the Axis booking form but can be booked by calling Axis Concierge.
I'll be experiencing the service at CJB in a week and report back in sometime. For latest updates about the Airport meet & greet services, do refer to the updates section below.
How to book?
As far as Axis Bank is concerned, they've a dedicated portal for this, which is "extraordinaryweekends.com" that has a super simple interface to get things done.
Just login using your card details & mobile number to book the service, it's a matter of few clicks. If you're travelling with family or friends, you may add them as guests as well.
If you're not travelling you wont be able to avail the service, as you can't change the booking name on portal.
Caution: Each guest will be charged 1 count from your quota of "8 complimentary access" or whatever is available at that point in time.
How it Works?
Here's a quick look at how the process works when you book for Airport meet & greet services via Axis bank.
Request: Book the service by filing the form on Extraordinary weekends website (or) by calling concierge. Keep your flight ticket ready as you need to upload it. This needs to be done at-least 2 days (or) 48hrs prior the flight. You'll receive the ack. email of this request.
Confirmation: You'll receive confirmation email of the service in 24-72 hrs prior to the travel date. Sometimes they might miss it. If so, you can call them and check.
The M&G executive or his manager will call from airport 4-8 hrs prior to the travel time. The executive usually will request you to inform them when you get closer to Airport, like 5 mins prior. You shall share your vehicle brand and vehicle # so they can spot you and get closer to you as you step out of the vehicle.
You need to take the VIP lane (lane 1) in most airports. This will be informed by the executive.
At airport you'll meet the executive along with the porter. You can spot them easily as the executive will be usually wearing a suit.
You maybe taken through a VIP gate and then for priority check-in, after which porter or executive will leave you so that 1 among them will stay with you.
Executive will usually take you through business class lane or staff security lane so you can be in airside ASAP.
Executive will mostly take you to the lounge if you're interested, else you may go wherever you wish. Service ends here most of the time.
Some executives may as well follow up until you take the flight.
The service totally depends on the agency/airport and how busy their schedule is. But largely it remains the same as above.
Updates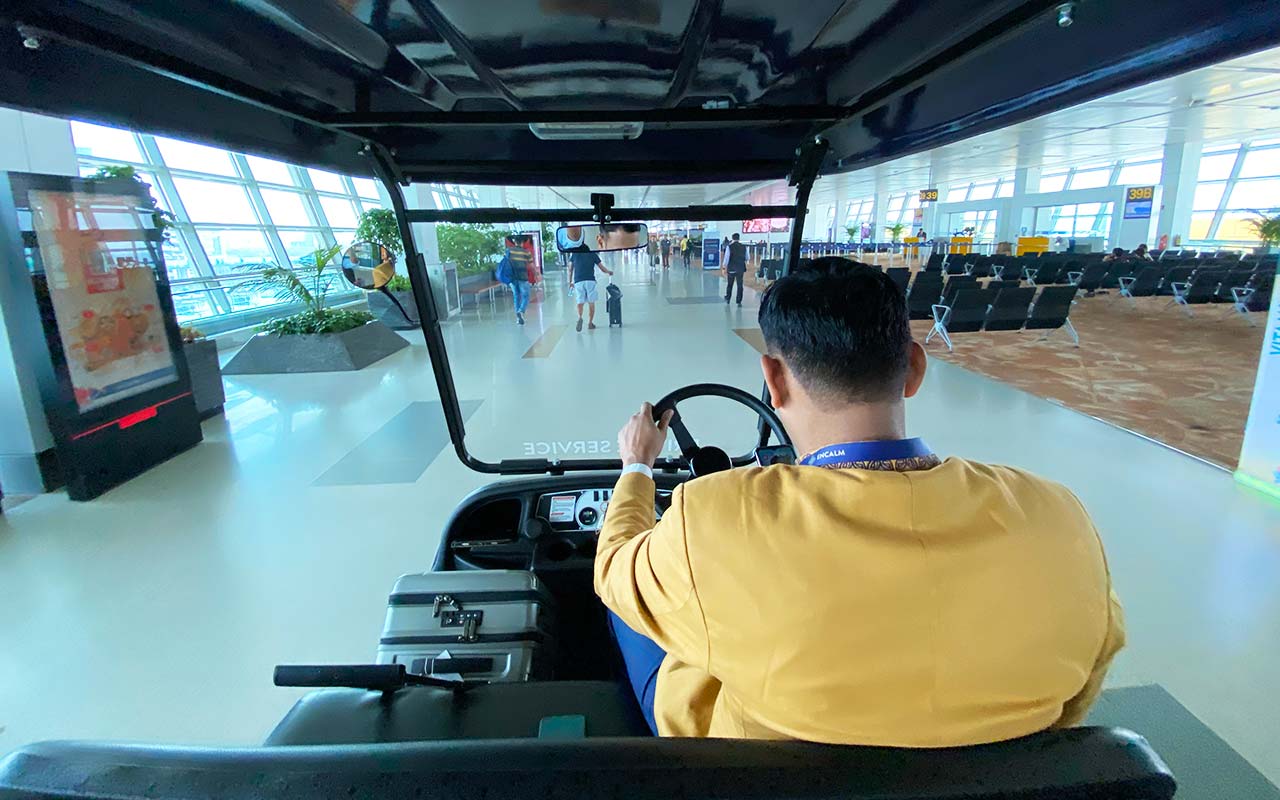 In both 2022 and 2023, I tried out this service and found it to be just as good as it used to be. However, the quality of the service largely depends on the airport you're using it at, as well as the executive who is assigned to you.
Mumbai: As usual, the process was seamless. In case you're unaware, the security screening for T2 domestic now takes place on the same floor as the check-in counters, before the escalator. The left and right ends of the floor area are reserved for business class lines.
Bangalore: I'm still wondering why they don't have dedicated lines for business class in Bangalore. During my recent trip, I was unfortunate to have to go through the regular line. However, the executive assisted me by handling the trays.
Delhi: Recently I availed the service at the T2 terminal of Delhi airport – domestic, and it turned out to be a seamless experience. The executive used a buggy to transport me from the Amex lounge to the Vistara gate at the far end, which helped me save at least 15 minutes of walking.
Bottomline
After experiencing the Meet & greet service at multiple airports both at departure and arrival levels, I would say that it's a wonderful service to have if you value your time or just wish to have a smooth airport experience.
It's largely functional but you may also call it a luxury for what it offers.
Irrespective of what you think it is, it's definitely worth giving it a try to see for yourself and know how it feels to travel like a celebrity.
I'm quite sure that this is going to be a standard benefit on most super/ultra premium cards very soon. It's only a matter of time.
Have you availed meet & greet services in India or abroad? Feel free to share your thoughts in the comments below.