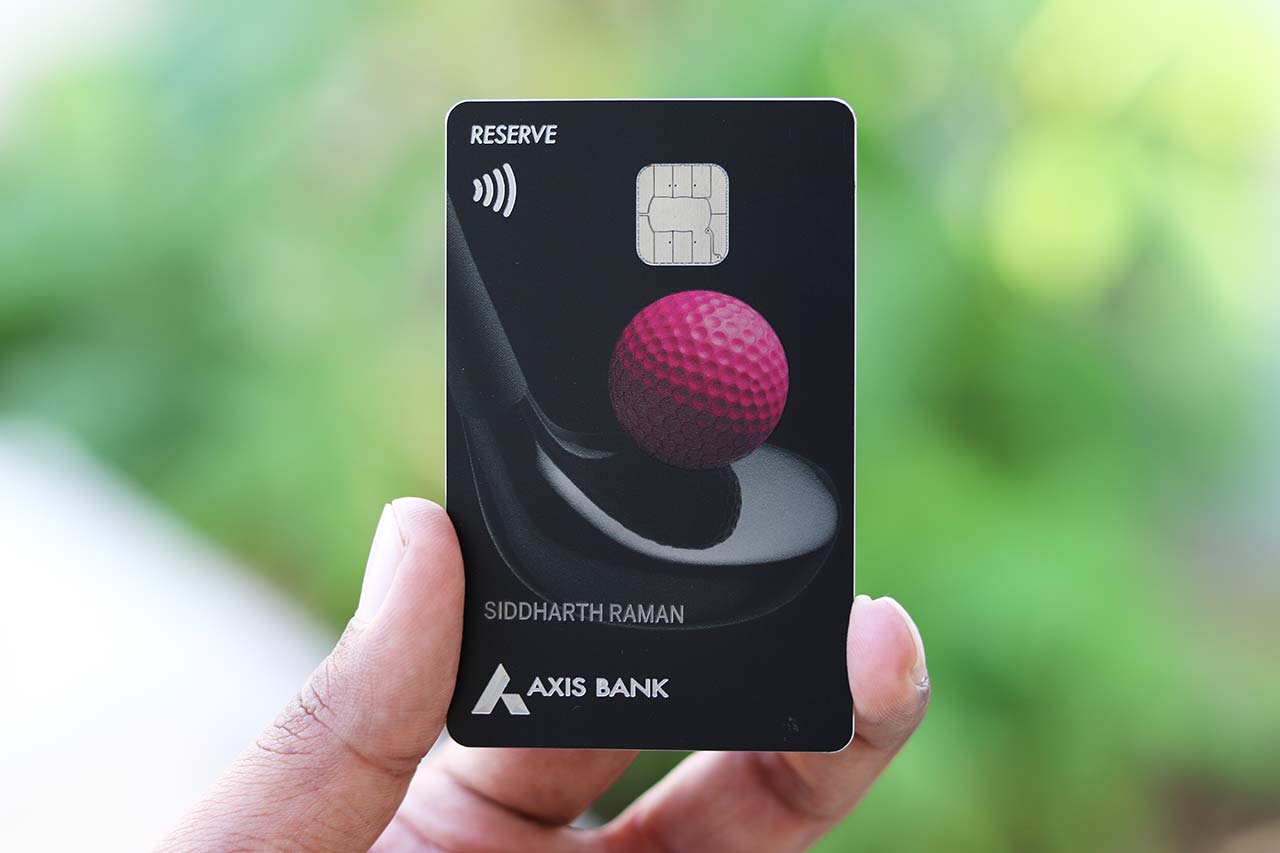 Axis Reserve is the Ultra Premium Credit card that stands above Axis Magnus and are issued to affluent customers of Axis Bank.
The Bank revamped the benefits on Reserve sometime during July 2020 by adding unique features like complimentary luxury airport transfers and few other benefits, after which the card does makes sense for some.
If you're wondering whether this expensive metal credit card has any value for the fee it comes with, you'll get to know that in next few minutes.
Overview
| | |
| --- | --- |
| Type | Ultra Premium Credit Card |
| Reward Rate | 1.5% – 3% |
| Annual Fee | 50,000 INR+GST = 59,000 INR |
| Best for | Golf & Airport concierge/transfer benefits |
| USP | Luxury airport transfers |
Axis Bank Reserve Credit Card is one of the few cards in India like Amex Platinum, the value of which has to be decided based on the lifestyle benefits it offers and not just by looking at the reward rate.
If you're looking for luxury airport experiences at metro airports, then you can't miss the Axis Reserve credit card.

Fees
| | |
| --- | --- |
| Joining Fee | 50,000 INR + GST |
| Welcome Benefit | 50,000 points |
| Renewal Fee | 50,000 INR + GST |
| Renewal Benefit | 50,000 points |
| Renewal Fee waiver | On spending >25 lakhs |
Those 50,000 reward points is valued at 10,000 INR (at 20ps) and so its obvious that the welcome benefit is nowhere close to the joining fee. Renewal fee waiver condition too is quite steep in my opinion.
Axis Bank does run sign-up offers with additional 50K bonus points once in a while. It used to be a decent offer back then but now it would be a lucrative deal.
Anyway, we will analyse the total "value" of the card with all its benefits shortly.
Card Design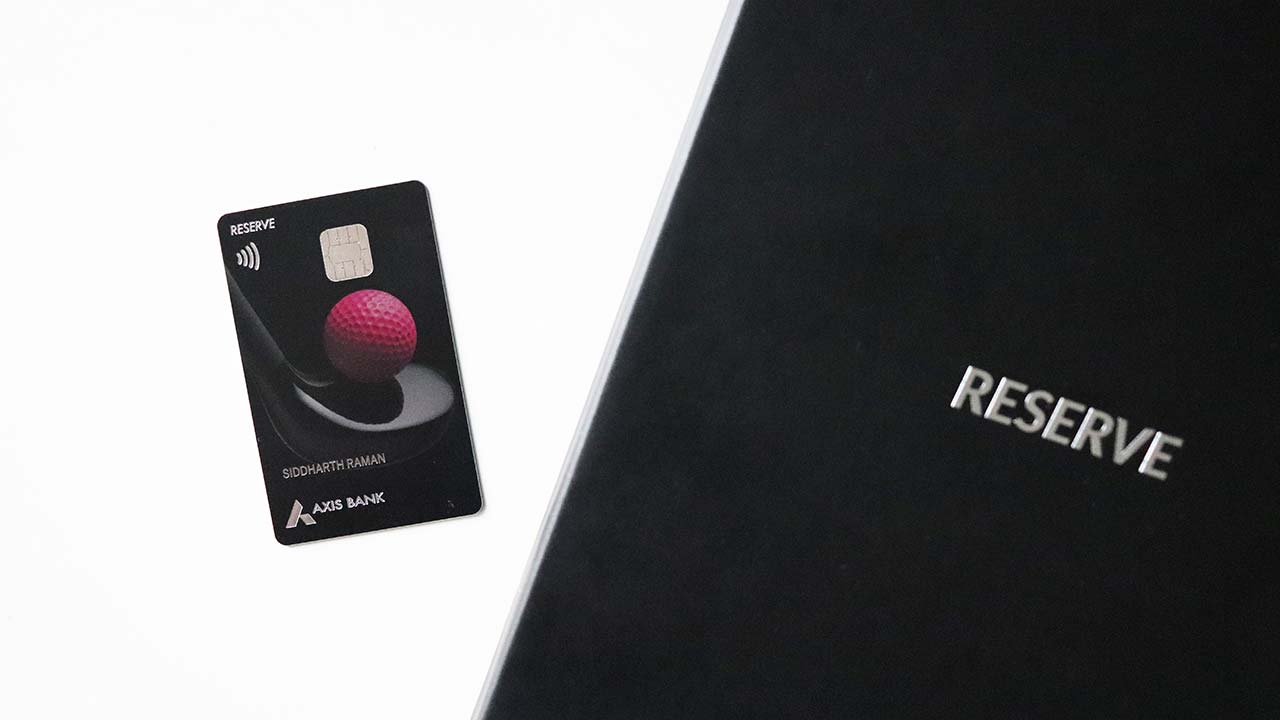 The metal card definitely looks premium but it is slightly dull because of the darker tint on that pink ball. If that's brightened, it would look so beautiful.
You can see that bright image in one of the pics below, as it looks like that in bright sunlight. That aside, it feels just like the metal Magnus to hold in hand.
Rewards
| Spend Type | Reward Points | Reward Rate (Edge Rewards) | Reward Rate (Points Transfer) |
| --- | --- | --- | --- |
| Domestic Spends | 15 RP's on every 200 INR | 1.5% | 3% – 6% |
| International Spends | 30 RP's on every 200 INR (2X) | 3% | 6% – 12% |
The reward rate on regular domestic spends is indeed bit low if you look at the edge rewards redemptions, for points transfers, it's decent.
I wish Reserve too comes up with some sort of monthly/quarterly milestone benefit like Magnus to boost the overall reward rate of the card.
That said, it is to be noted that the ultra premium cards are usually meant for giving more experiences over rewards.
Markup Fee
Forex Markup Fee: 1.5%+GST = 1.77%
Net gain: 1.23% – 4.23%
Its a very good credit card for international transactions as you gain over 1% of the spend even if you redeem for vouchers on Edge rewards portal.
If you're into points transfer partners, then there is no doubt that Axis Reserve "must be" reserved for all your international spends. Because no other card can get closer, even the 3X rewards on Amex Platinum metal card stands lower to Axis Reserve.
Redemptions
While you can redeem for anything under Edge Rewards, the new points transfer ability is just mind blowing. So on 1L spend, we get:
Domestic Spends: 6,000 partner points & miles
International Spends: 12,000 partner points & miles
The international spends are amazingly rewarded due to 2X rewards, but then it comes with a small 1.77% markup fee as well, as seen before.
Airport Lounge Access
| Access Type | Via | Limit | Guest Access |
| --- | --- | --- | --- |
| Domestic (Primary) | Visa / Mastercard | Unlimited | 12 |
| International (Primary) | Priority Pass | Unlimited | 12 |
Given that Axis is having complications in issuing Add-on cards (unless applied along with primary card), the complimentary guest visits are good to have for family travellers.
Luxury Airport Transfer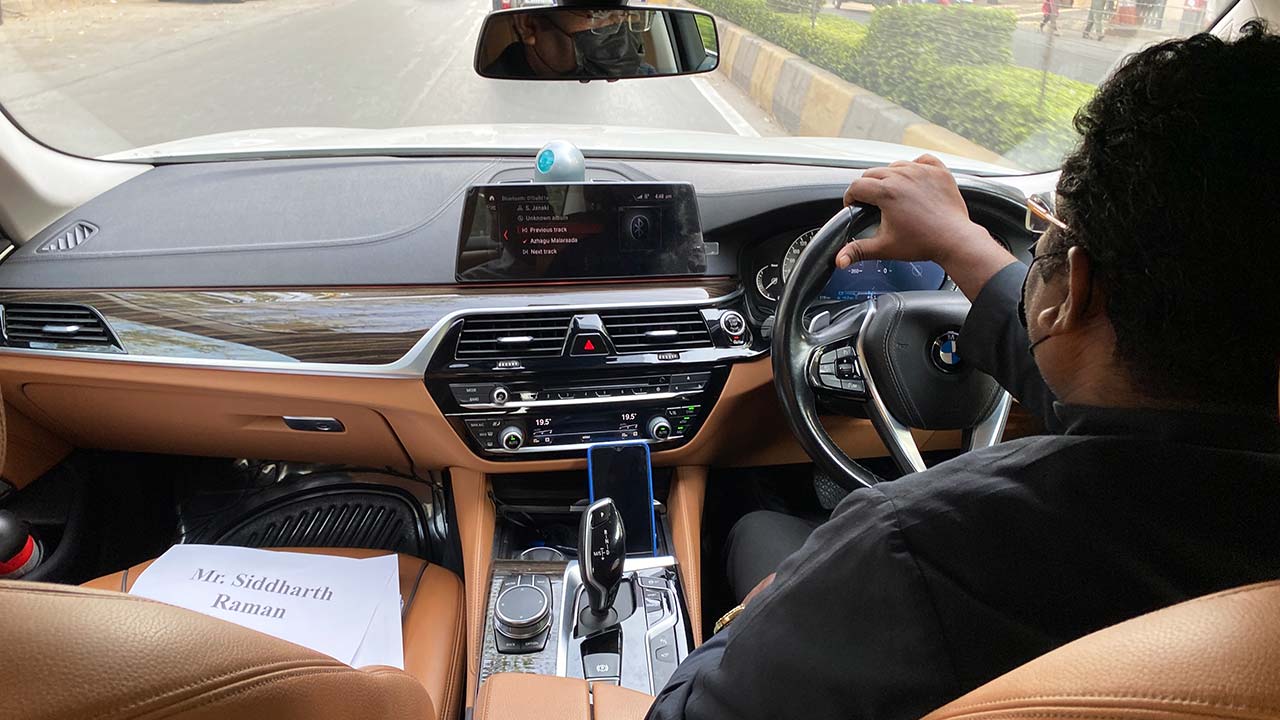 Limit: 4 complimentary rides / year
Car Type: Luxury Sedan (or ) Sedan
Luxury Airport transfer service is the Unique benefit of this credit card which is not present in any of the premium credit cards available in India.
It gives you complimentary airport rides in a luxury sedan (or) regular sedan as per the availability. Here's the detailed article on Luxury airport transfer service in India.
Airport Meet & Greet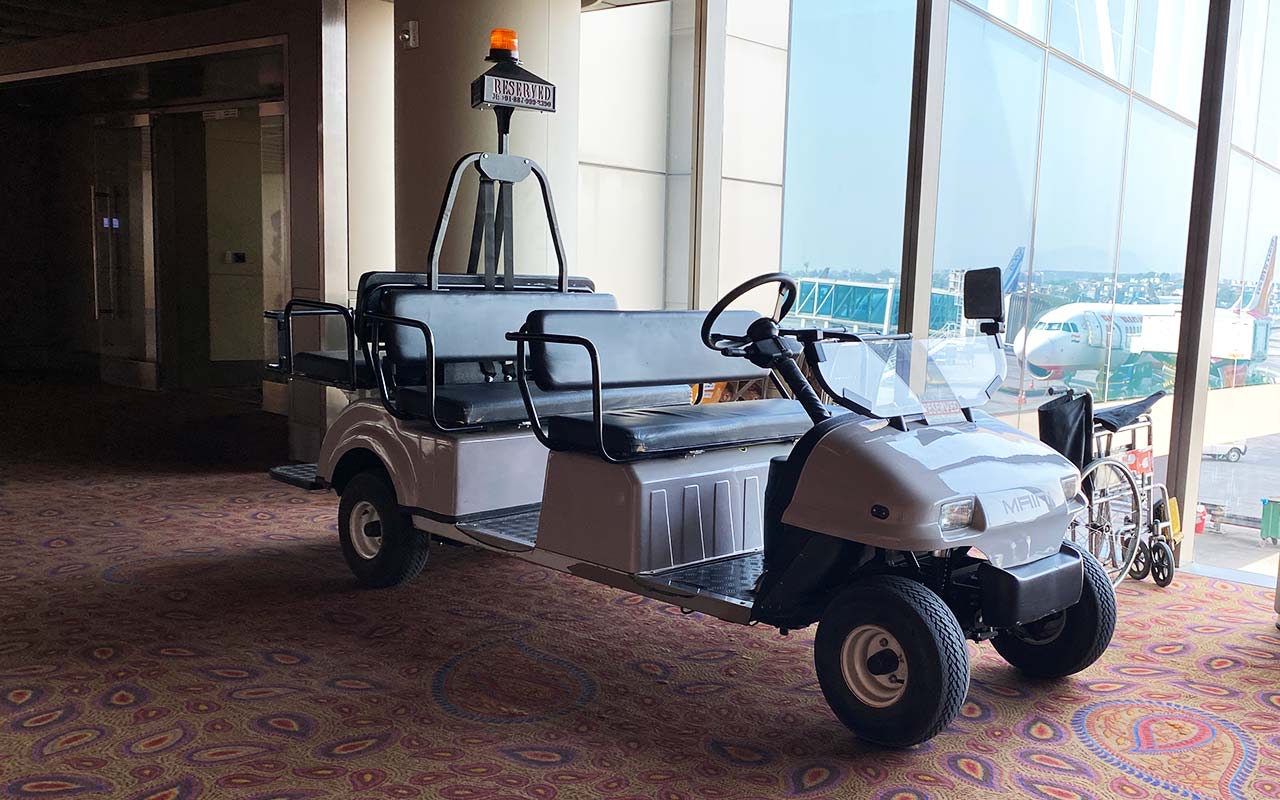 Limit: 8 complimentary access / yr
The airport meet & greet service – which Axis Bank calls as "airport concierge" service is available with Reserve. It gives VIP Assistance Services for a smooth and hassle-free airport transfers.
The services include assistance across airport processes, such as: express check-in, fast-track security check, immigration assistance, porter & buggy services.
I've availed this service at Chennai (MAA), Mumbai (BOM) & Hyderabad (HYD) and its quite useful. Here's a detailed article on the airport meet & greet services in India.
Golf Benefit
Complimentary Limit: 50 rounds (games/lessons) / Calendar year
Golf is one of the most important benefit on this card. If you play Golf quite often, like 50 times a year then this is a great card for you.
Also, Axis Golf booking system is superior compared to other banks like HDFC.
No wonder that Axis Bank knows their target customers for this card and so they've put the golf image on the card's front face.
But if you're playing only once in a month or so, never mind, most premium cards does that work for you.
Accor Plus
2 Nights Complimentary Stay (from June 2022)
2 Complimentary dining vouchers (lunch for two)
1 Complimentary Cake (1kg)
Lot more dining discount vouchers
Silver Tier with Accor ALL
"Stay Plus" is the name of the complimentary night benefit given at select Accor properties. At a quick glance, you might think that this is a wonderful benefit. But if you dig deeper, you would find that the offer is limited to only few countries.
Eligible for redemption at: Australia, Cambodia, China, Fiji, French Polynesia, Hong Kong, India, Indonesia, Japan, Laos, Macau, Malaysia, Maldives, Mongolia, Myanmar, New Zealand, Philippines, Singapore, South Korea, Taiwan, Thailand and Vietnam.
There are definitely some sweet spots in SE Asia that could give you 30,000 INR value (~15,000*2) but most other properties in India give you only 15,000 INR value (~7,500 INR*2).
And if you're planning to redeem it at Fairmont Jaipur, well, I've a sad news for you. Because I'm unable to find availability in that property for next 2 months.
But given that most Accor properties are typical business hotels, this doesn't really excite me as much as a typical Marriott (or) Taj.
Bookmyshow Offer
Offer: Buy one Get one
Valid on: movie/non-movie bookings
Max. Cap: Rs.500 off on movie ticket; Rs.1000 off on non-movie ticket
Monthly limit: 5 bookings per month
Boomyshow offer is a pretty good one indeed and if you're in metro cities where the ticket cost is about 500 INR, this makes sense. Else, Visa Infinite offer is sufficient for most.
That said, Visa offers may get maxed out pretty fast compared to the direct BMS offers. So the separate Reserve offer still makes sense.
Is it worth 59,000 INR?
So now we're coming to the tricky question.
To find an answer to this, let's analyse the total value of the card by placing an "average" price on each of the benefit we saw above. Here we go,
| Benefit | Description | Value (INR) |
| --- | --- | --- |
| Welcome benefit | 50K points @ 0.20 INR | 10,000 |
| Luxury Airport Transfers | 5000 INR * 4 rides | 20,000 |
| Airport Meet & Greet | 3500 INR * 8 | 28,000 |
| Accor Plus Benefit | 2 nights in India + other benefits | 20,000 |
| | Total | 78,000 |
Total Value: 78,000 INR + Golf
So you get about 18,000 INR or more above the fee you've paid. But if you play golf, 50 rounds is easily valued at 1L-2L INR, which is a massive value.
Now after the addition of points transfer partners, I would easily value 50K points at 20K INR instead of 10K INR, so that changes the math again, on a positive side.
Note that I've calculated only the most tangible benefits with its approx. average cost price. I've not calculated the ITC / Marriott benefits, which also carries a decent value, about 5,000 INR – 10,000 INR each if you're not already into Marriott/ITC Gold.
But in most cases these additional benefits doesn't matter much, for ex, those 50% dining certificates can only save little in India as we can anyway save 40~50% on dining via EazyDiner/Dineout.
So coming back to the question, is it worth 59,000 INR? Well, it depends. Below points should help depending on your profile.
No – If you don't: play golf (or) travel to metro cities (or) value airport services
Yes – If you play Golf a lot (or) value airport & hotel benefits
Yes – If you can redeem points for a better value with points transfer partners
But then if it's available with attractive bonus / signup offer, then it makes sense even to those who don't play Golf. You'll basically need to decide based on how you value the benefits, considering all of the above.
My Experience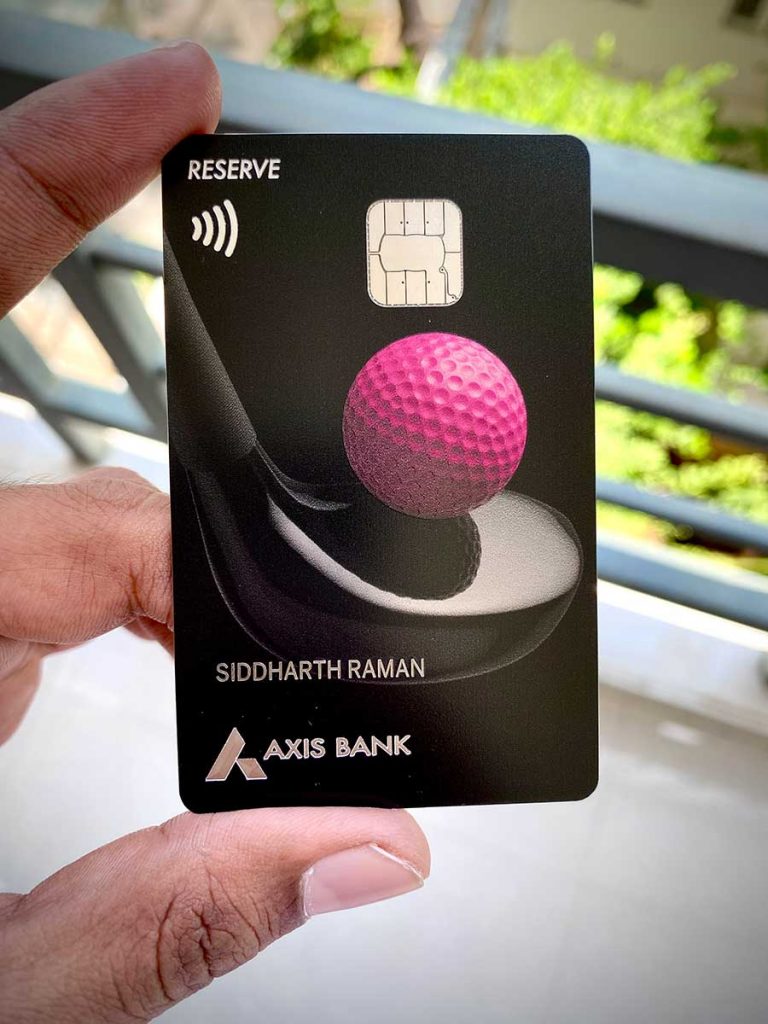 I was interested in exploring Luxury Airport Transfer Service and so applied for one. It has been a wonderful experience so far and I've just renewed it for 2nd year.
The complimentary airport rides in BMW & Merc along with the meet & greet benefits are just absolutely amazing.
Here's my detailed hands-on experience with Axis Reserve Credit Card.
Maximizing Axis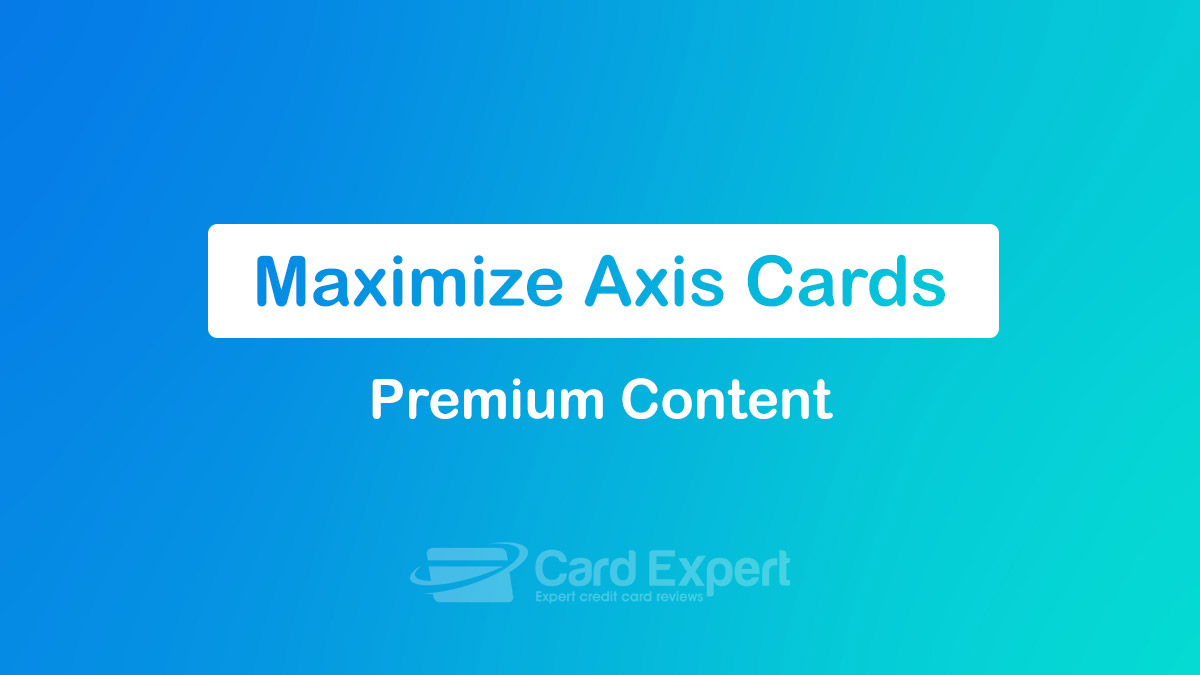 The Year 2022 is an amazing year to explore Axis Bank Credit Cards. However, there are various issues with the bank: from application, credit limit to service and support.
If you prefer to have a smooth ride with the lucrative Axis Bank credit cards, do check out this beginners guide: Maximizing Axis Bank Credit Cards.
How to Apply?
You may apply online on Axis website in a matter of few steps. Axis Bank is recently known for processing fresh credit card applications pretty fast.
You may get the card approved usually within a week from the date of application. If you're new to bank, not to worry, you don't need to create Axis Savings A/c to have an Axis Bank Credit Card.

Bottomline
The Axis Bank Reserve credit card has the first mover advantage when it comes to introducing the concept of luxury airport transfer services to Indian Credit Card industry.
However, looking at the fee and the welcome benefits, it doesn't excite most, unless one can really make use of the points, the right way.
I would personally recommend Axis Reserve only when your spends are well over 1L a month, as otherwise Axis Magnus can give what you need: rewards, lots of rewards!
Having said that all, Axis Bank Reserve Credit Card is definitely "reserved for few".
If you think you need further professional advice for your profile, you may consider going for the one-on-one credit card consultation service.
What's your take on the Axis Bank Reserve Credit Card? Feel free to share your thoughts in the comments below.