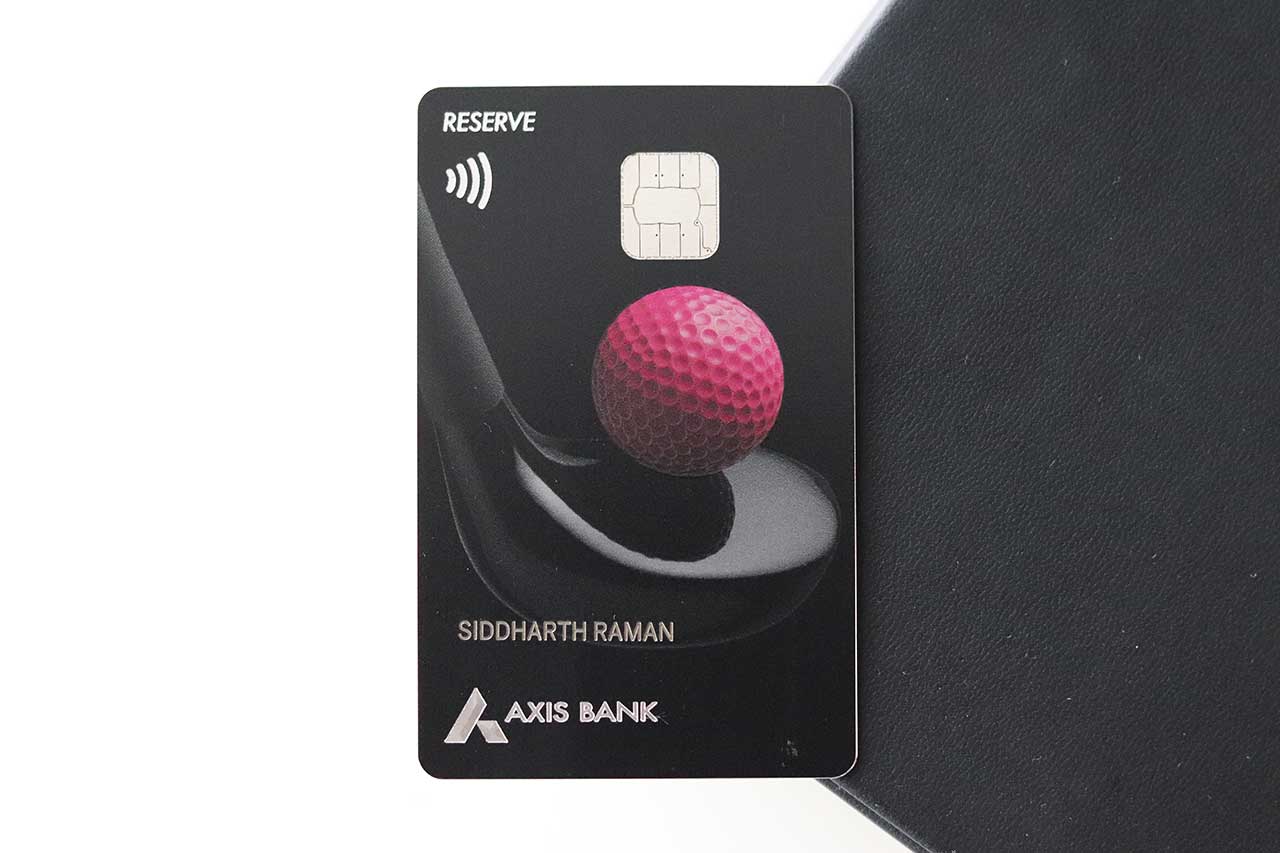 This article covers only the hands-on experience with the Axis Bank Reserve Credit Card. If you're looking for a detailed review of Reserve, please check out this article: Axis Reserve Review
Application process
Day 1: Applied Offline
Day 2: Got an email that application is being processed
Day 3: CIBIL enquiry happened. Surprise, because it was Sunday.
Day 4: Card approved and I can see the card on app and marked as transit.
Day 10: Card Delivered.
I was super surprised to see that this fresh application got approved in under 72 hrs despite a weekend in between.
Back in time Axis used to take ~15 days to process a fresh application, but due to some of the recent changes in Axis onboarding system certain applications gets ultra fast approvals.
That said, it was not just another application, I meticulously planned for it and executed with all the best practices that I've mentioned in the premium content. So it all went as expected.
Not to forget that "upgrades" however are processed almost instantly – I've covered this along with all other Axis application routes in detail in the Premium Content.
But I'm not sure if they take upgrade requests for Reserve Credit Card.
Unboxing
While the approval was ultra fast, the card took a while to reach though, not sure why because the recent Magnus arrived in 4 days from the date of application.
Anyway, Reserve comes in a super premium leather box which feels good both inside and out. It's as good as a premium jewellery box. Here are some unboxing images,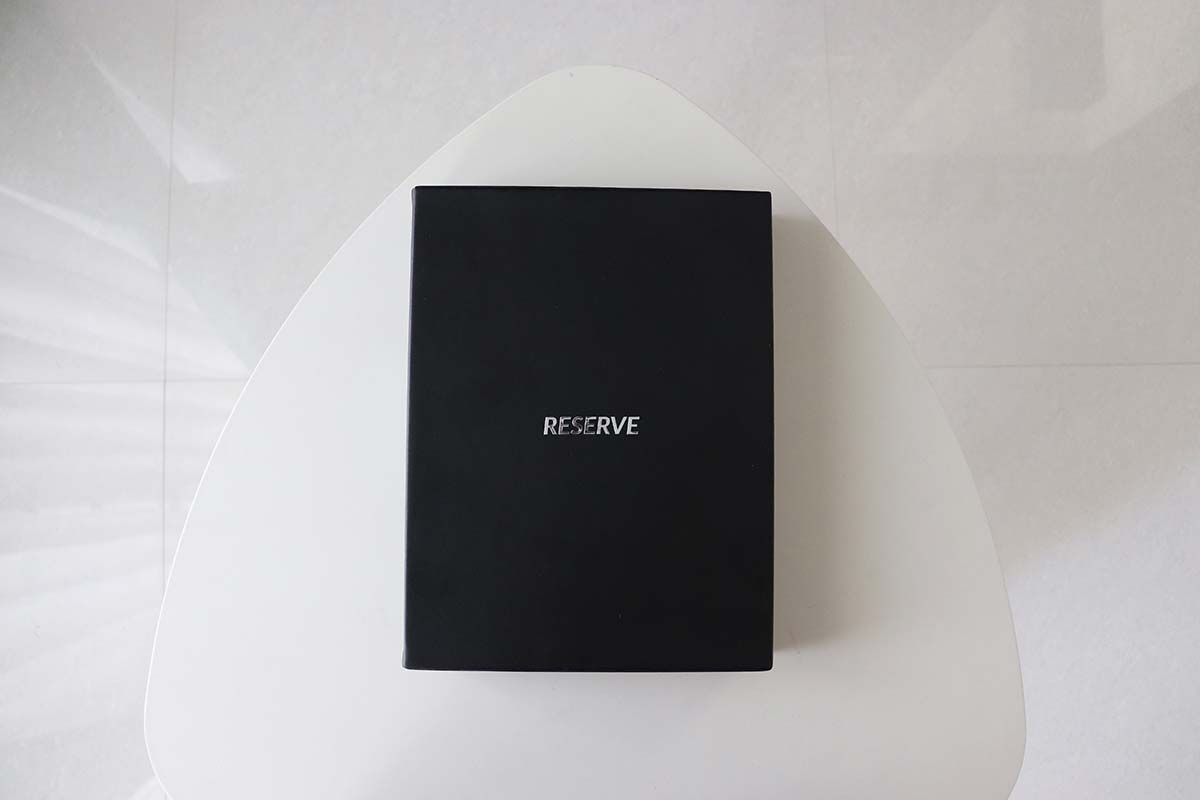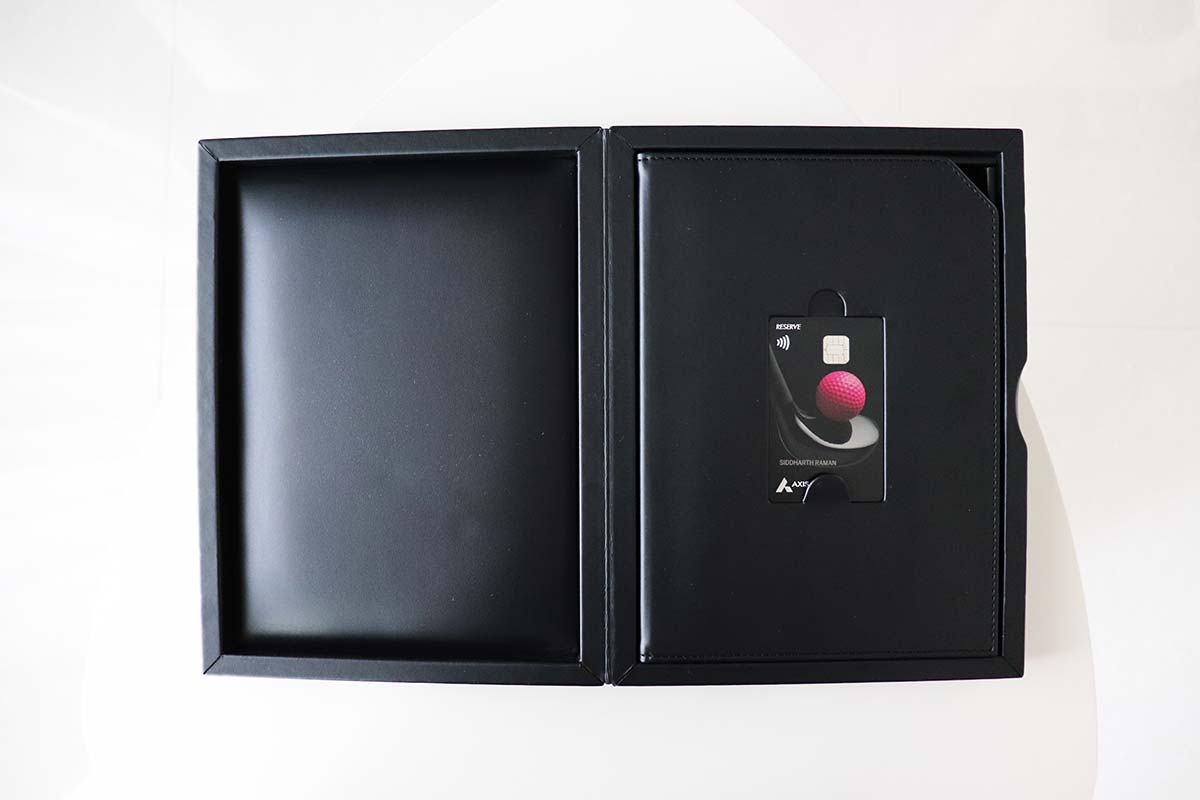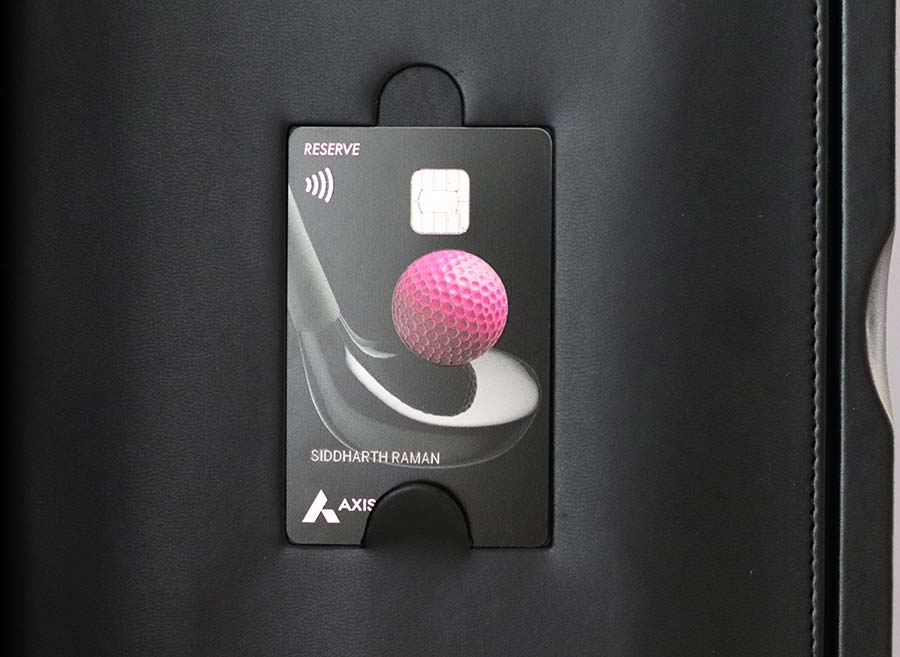 The leather feels so good to touch and the material is definitely premium that even after many months it still looks the same. Though it attracts fingerprints.
That aside, just like Magnus, Reserve also has these simple leaflets that covers the primary product features, card details and a hotel benefits activation form.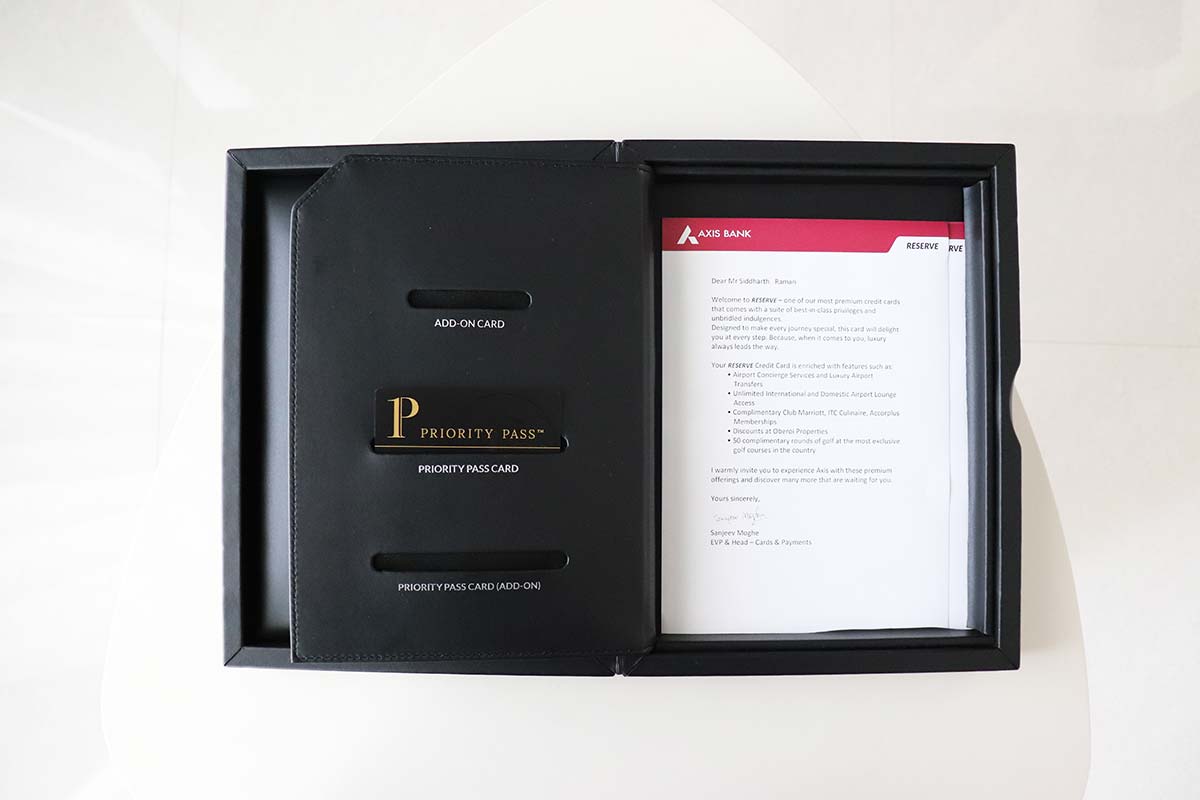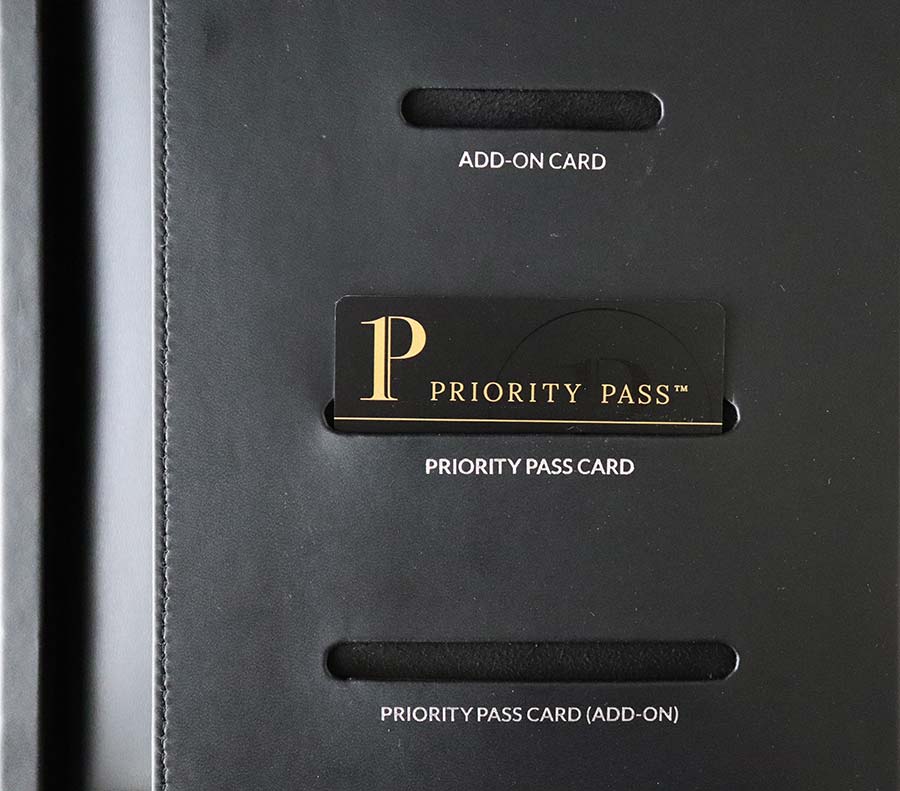 That aside, you also get a card features booklet in full black. The pages are like 200 GSM each. Pretty good.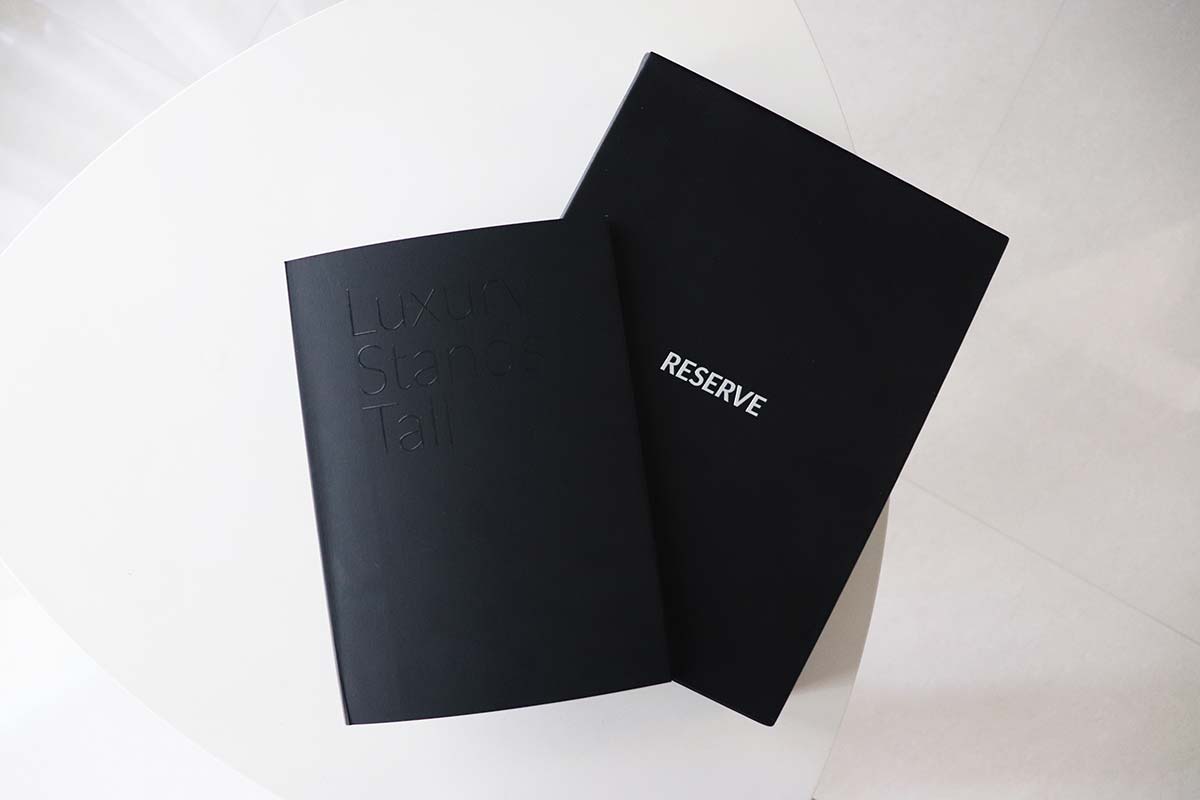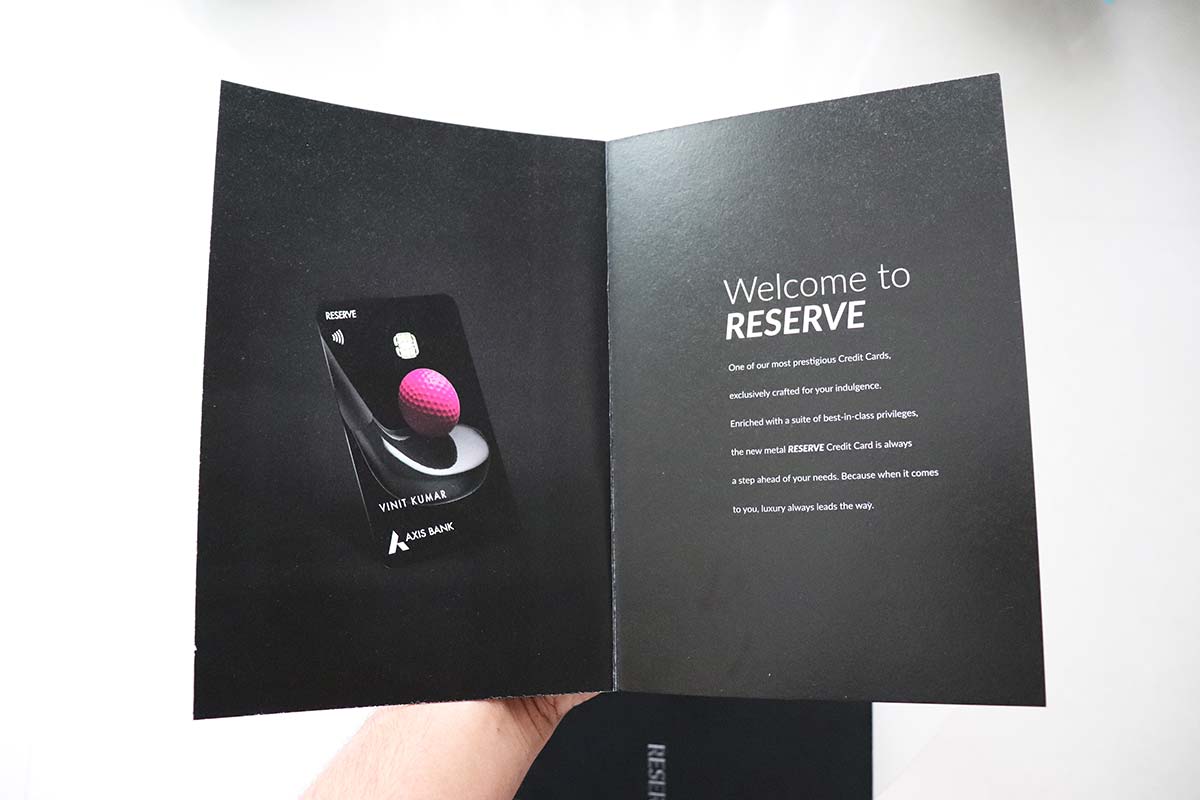 Support
Their Premium/burgundy support gets basic things done but poor for escalations. Hope they fulfil the bonus points issues when a customer raises an escalation, which HDFC is very good at, even-though their fulfilment system is not accurate.
Holding on to the request for months together with same "will be done soon" response is totally irritating and I've gone through that once.
I wish the bank gives more power to support to close the requests in ~3 days, at-least for the requests coming from premium cards that costs >10K INR.
Rewards
While the inbuilt rewards system is bit low, I was lucky to grab 2X & 3X rewards which improved my overall reward rate to an extent that I'm no longer complaining about the rewards on the card.
I think if they do it couple of times a year, it's more than enough to get >2% reward rate, but whether they will run them again or not is a tricky question.
Also, the grab deals system with 10K cap even for reserve is too low. It deserves at-least 50K cap. Remember, its still a hit or miss though!
Hotel Benefits
To activate Marriott/ITC/Accor benefits, they need you to email a scan copy of the signed leaflet that comes with the card.
The Marriott & Accor benefits were activated in under a week but the ITC benefit is still not activated for me for unknown reasons. (Update:ITC physical vouchers delivered on 2nd request)
Club Marriott is completely digital while Accor sends like 20+ physical coupons to the address. Physical coupons in 2022. Hmm! Anyone paying 60K for a card have no time to spend in going through physical coupons.
I tried my best to spend couple of days exploring Accor Plus and these dining vouchers only to say that its not worth it. I see very low value in India but if you fly to SE Asia you get wonderful value.
Concierge
Their concierge line is easy to reach as well, though the lifestyle requests sent to concierge takes about 2-3 days to get actioned.
I tried their medical concierge to find a dermatologist in Bangalore. They did find a nice doctor but the costing they shared was quite high.
I sent the details of the same doctor to Amex Platinum Concierge and got an appointment for almost half the rate. 🙂
Final Thoughts
The experience with Reserve has been overall good and I hope it to get lot better in the coming years as Axis would absorb Citi Credit Card customers and hopefully implement Citi grade support systems in place.
A bit of fine tuning the product might help in improving the true value of benefits offered, which would also result in more takers. For now though, its a wonderful product only for a select few.