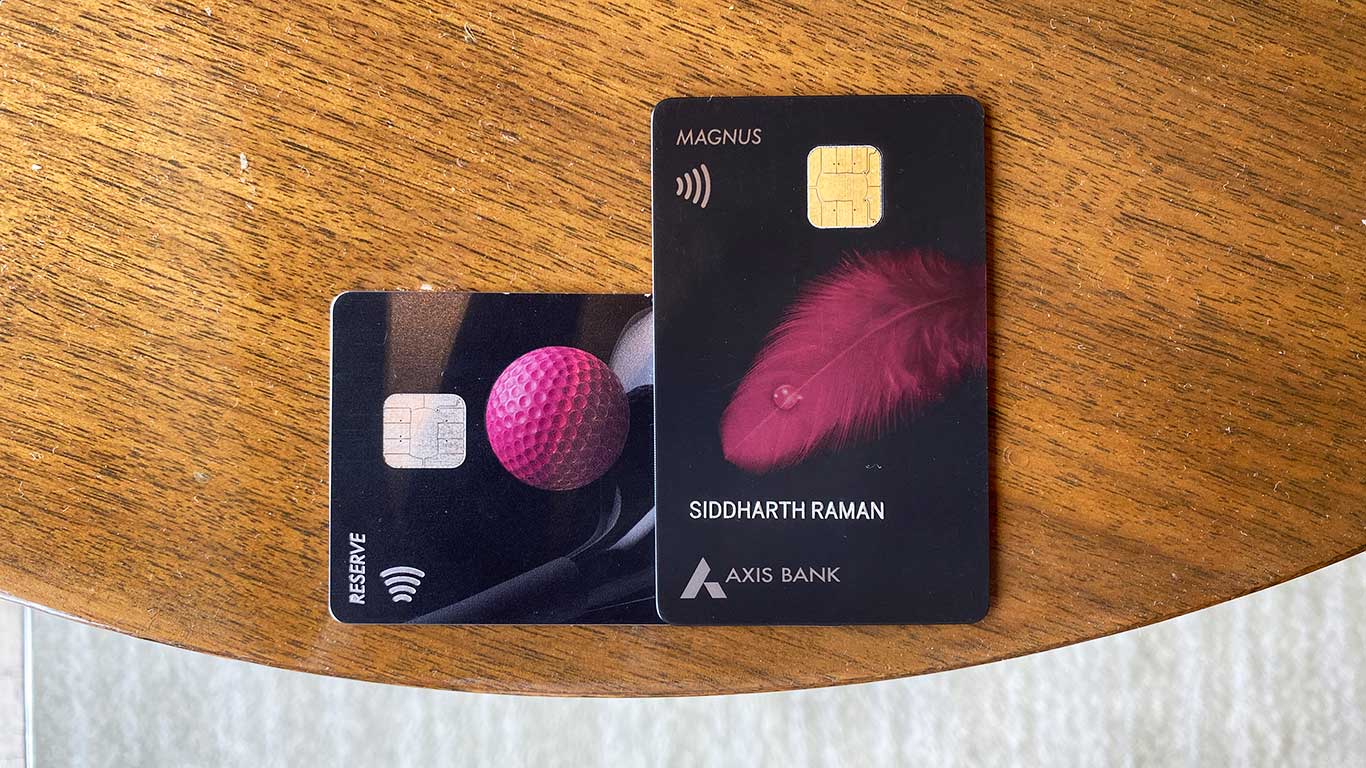 Unless you're living in a cave, you would know that Axis Bank Magnus & other Axis Super Premium Credit Cards in its current form (till 31st Aug 2023) are not only the best credit cards in India but perhaps in the entire world.
No one ever had (or) will ever have a card that's as lucrative as Magnus & Reserve. This is primarily because, in an industry that runs at ~7% max. optimised reward rate, Axis Magnus has the ability to give as good as ~25% or even ~50% and more reward rate if you know where & how to redeem the points.
Speaking of which, Axis Bank has decided to alter the transfer ratio of edge reward points to its partners.
From its current 5:4 transfer ratio, it's moving to 5:2 but also have an option to stay at 5:4 with a condition. While this is the primary change that's going to affect us all going forward, there are also few other restrictions going live along with it.
Let's have a look at it all in detail,
Axis Magnus Changes
Here's a quick look at the upcoming changes:
Monthly milestone benefit of 25,000 bonus points is removed.
Accelerated Rewards of 35/200 INR (~14% beyond 1.5L spend a month)
Transfer ratio to partners drops from 5:4 to 5:2 (the major devaluation)
Transfer ratio can be held at 5:4 if you've Axis burgundy account with required NRV (30L NRV or 10L balance)
Annual fee hiked to 12,500 INR and renewal fee waiver only on 25L spend
No renewal benefit
The removal of Monthly milestone benefit is the major hit for most going forward, as earning points at that rate (like 24%) is no longer possible.
However, introduction of accelerated rewards over 1.5L is good for some, which will be helpful during the upcoming Diwali shopping season.
My personal thoughts: Honestly it's a good move taken by the Bank, as we still have the option to stick to 5:4 with burgundy account – this is a temporary offer and it may get dropped too if people get into account churning after availing the benefit.
But asking for higher fee & no renewal benefit for those with 5:2 is quite unfair in my opinion. They could have applied this 12.5K fee to 5:4 accounts alone to easily differentiate between the two.
Axis Reserve Changes
Here's a quick look at the upcoming changes:
Transfer ratio to partners drops from 5:4 to 5:2
Transfer ratio can be held at 5:4 if you've Axis burgundy private account (5Cr NRV) with Axis Burgundy Private Credit Card
Renewal fee waiver only on 35L spend
It's quite a surprise that Axis Bank has decided to do away with 5:4 for Reserve and there is no option to stick to it unlike Magnus. If you wish for 5:4 at reward rate of Reserve, you'll need to go for BP Account + BP card. With more than 10X NRV requirement compared to Burgundy, this is not everyone's piece of cake.
My thoughts: This is one of the worst move I would say as it's unfair to devalue Reserve without a "reasonable" option to hold on to 5:4 transfer rate unlike Magnus.
However, as a temporary workaround, it's still possible to have 5:4 on Reserve as long as one is holding the Magnus+Burgundy combo along with Reserve, as it belongs to same pool of points.
This workaround may probably be actioned if it goes beyond control, which I doubt it would, because of the 5L annual redemption cap. Also, anyway there is "far better" earn rate on Magnus itself for those who spend beyond 1.5L, so not a big deal for those who take advantage of this workaround.
Common Changes
Gov. spends & utilities will no longer earn rewards.
Annual redemption cap of 5,00,000 edge rewards per Cust ID.
Multipliers on Axis GiftEdge Portal has dropped from 5X/10X to 2X/3X for most partners.
High Value Business Spends are not tolerated.
Axis Bank has already started sending emails to those with high value business spends and for those having spends with merchants falling under potential "manufactured spending" category.
My Thoughts: It was quite a major move and it's first of its kind in the industry to see banks suspend rewards account because of the type of spends.
While this usually happens on accounts with very high value txns (high 7 figure) in other banks, here, the notices were sent even to those with lower annual spends on those merchants. I wish Axis releases those small scale accounts from suspension at least post Sep 1st. Let's see how generous Axis is about the suspended accounts.
So what to do?
You'll have to do 2 things going forward if you wish to exit Magnus/Reserve or just to feel safer about 5:2 redemption rate,
Transfer all your points before 25th Aug 2023. (just to be on safer side)
Divert spends elsewhere from 25th Aug 2023 if you wish to exit (as sometimes Axis may not credit points for a week)
If you ask me where to redeem, here are the most common and useful options:
ITC – redeem ITC points at 1 INR per point at ITC hotels. You may also redeem at same rate for ITH travel vouchers and redeem them for any flight/hotel etc.
Accor – redeem accor points that gives a value of 1.8 INR per point, which is the highest of all and stay at accor hotels across the world. Can also be transferred to airlines like Quantas at 1:1 from accor. Points expire in 1 yr if no activity is there on Ac.
United & Turkish airlines – while my favourite is united for star alliance redemptions, you may also go with Turkish if that works for you. You can ideally get 1-2 INR per point and sometimes even lot more depending on the redemption.
There are of-course many more options to it if you're sitting on too many points, like Avios to access one world network, yet comes with high tax.
Hence, above works for most. Ideally you may spread it across 3 or 4 partners, as you wish. Note that moving all points to single partner is "risky" because the partner programs too might get devalued any-day.
Where else to spend now?
Axis cards may still serve good as mentioned above with options to stick to 5:4 transfer ratio.
If that doesn't help or need options for more spends, then it's time to explore our good old friends from HDFC, which can get you a reward rate of 3.3% – 6% depending on where you redeem. Here are the suggestions going forward:
If you need more cards, you may as well explore IDFC first wealth credit cards and many other co-brand cards. Have a look at the best cards list for 2023, expect an update to the article in a week time.
For those who can't make it to 5:4 on Magnus will eventually move to Axis Atlas and it's only matter of time before it's touched. But as Atlas might not give catastrophic loss to bank like Magnus, it may continue to live longer in it's current form.
Final Thoughts
I think we've to say a big thank you to Axis Bank for what they did so far with Magnus and the launch of transfer partners at attractive transfer rates.
It was 1 year of pure Joy!
This has helped 10,000+ cardholders enjoy massive rewards within a year which would otherwise take a "decade" or more to earn & experience the joy of rewards.
It has helped many enjoy the finest luxuries in life, for example, I'm writing this article from a beautiful ITC property by redeeming ITC green points transferred from Axis.
At the same time, I'm sure Axis Bank has enrolled highest number of super premium cardholders in the country, in a very short time.
It was talk of the year across various platforms, people and places. The card was so lucrative that almost everyone I know have 1 (or) more Magnus credit cards in the family. It has become like a hot "stock pick" of the year, so much so that even financial influencers started becoming credit card experts.
And all that is now coming to an end (for most) as the primary Wow factor of monthly milestone benefit has ended.
That said, it's also going to be tough for the incoming Citi Prestige cardholders to adapt to the NRV requirement to enjoy similar transfer rate as Prestige. Or maybe Axis has to put all Citi Prestige customers on Magnus 5:4 to keep them without cancelling.
Overall it's a painful change just like any other change in life, but it's fine that they at-least settled with a reasonable option for those who wish to give Axis some good business via regular banking.
The Lesson
It's essential to understand that such devaluations are obvious when reward rates are unimaginably high. So it's important to burn off points from the card & loyalty accounts "at the earliest".
This devaluation also means all the time spent in exploring too many airline programs are now almost pointless, as earning points at that rate is no more feasible. That's part of our life very well wasted!
So perhaps it's the right time to go through life beyond credit card rewards article. But what if I say even that is useless beyond a point? That, we'll discuss some other day.
Until then, enjoy the 5:4 transfer rate with revised options!