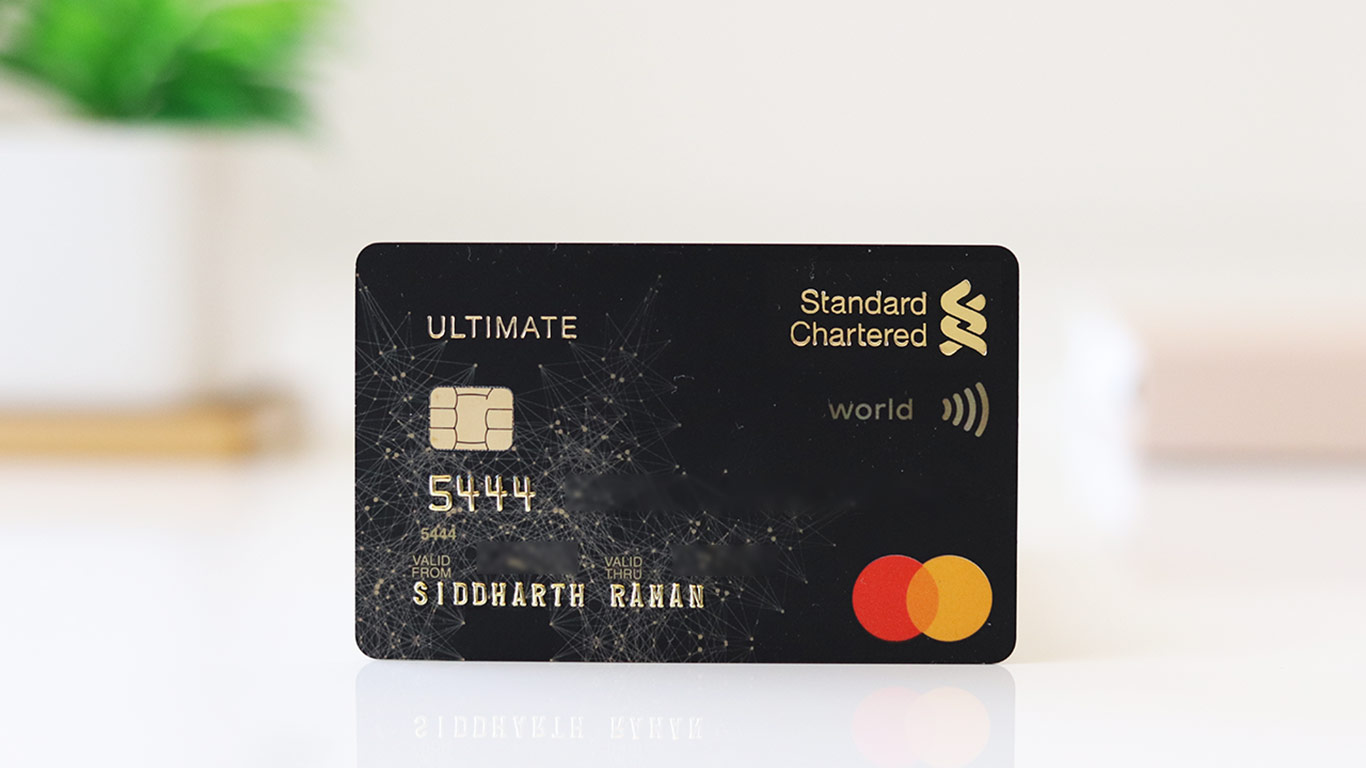 If you're looking for a Super Premium Credit Card that gives rewards on "any" type of spend, then you've landed at the right place. In the current scenario where most credit card issuers impose limitations on spending categories, Standard Chartered Ultimate Credit Card comes to rescue not only for those types of spends but also beyond.
Here's everything you need to know about this infinitely rewarding credit card,
Overview
| | |
| --- | --- |
| Type | Super Premium Credit Card |
| Reward Rate | 3.3% |
| Annual Fee | 5,000 INR+GST |
| Best for | Voucher redemptions |
| USP | Rewards on all type of spends |
With a reward rate that matches HDFC Infinia and without any redemption limitations, Standard Chartered Ultimate Credit Card is one of the best option for high spenders.
Fees
| | |
| --- | --- |
| Joining Fee | 5,000 INR + GST |
| Welcome Benefit | 6,000 points |
| Renewal Fee | 5,000 INR + GST |
| Renewal Benefit | 5,000 points |
| Renewal Fee waiver | Nil |
The welcome rewards you get is equivalent to the joining fee you pay. It even covers the GST part for that matter for first year but unfortunately not on renewal, as you'll be short of 1K points.
Anyway, reward points as welcome benefit is a good move compared to the previous welcome benefit that used to give MMT voucher.
Card Design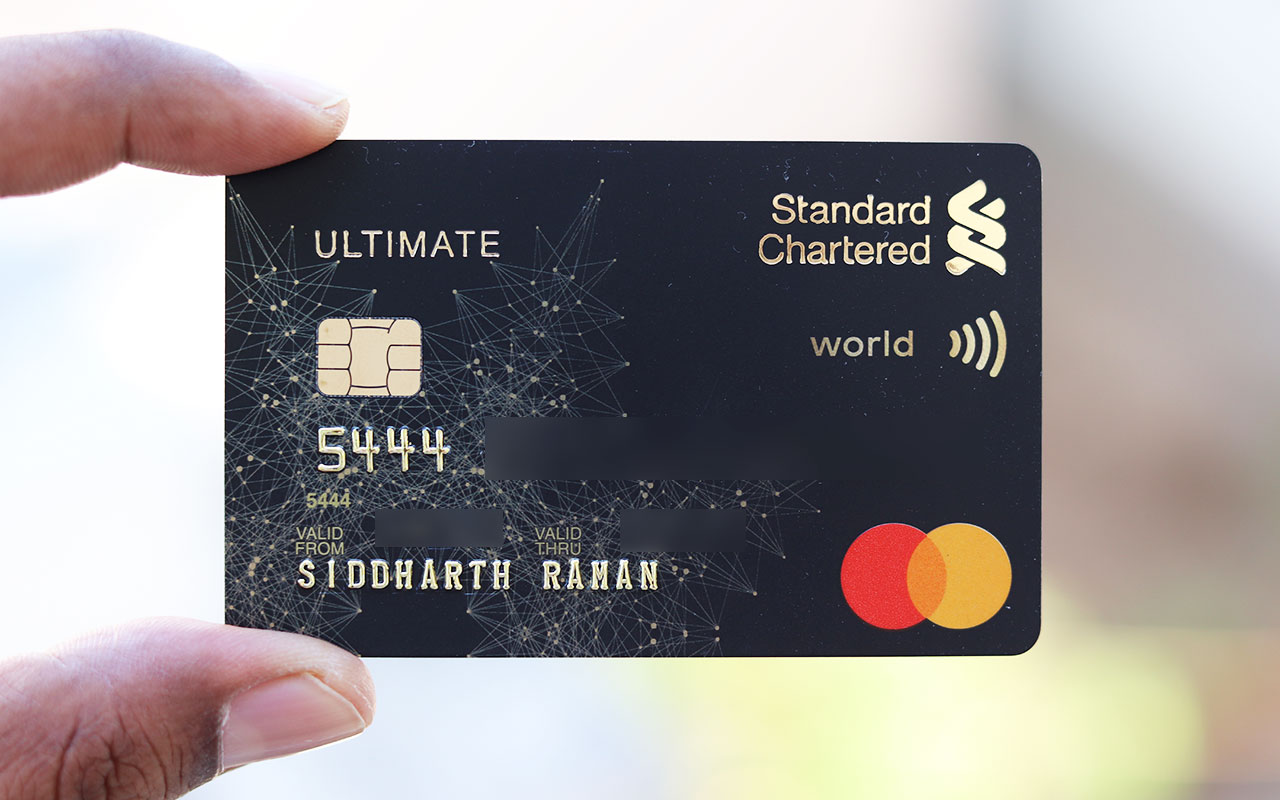 The card looks pretty good with those golden elements shining on a black background. It looks premium for sure in reality. Moreover, the Mastercard logo adds a nice touch to the overall design.
Rewards
Reward Rate: 3.3% on most spends
Rewards expire in: 3 years
As mentioned previously, the USP of the Ultimate card is that it gives rewards on all types of spends irrespective of whether it's online (or) offline spend. There is no cap whatsoever both for earning and redeeming.
However, SCB has finally come up with revision of rewards on select categories (as below) which will only earn ~2% rewards going forward (eff. 2nd April 2023).
Select Categories: 2% as rewards
Rent Payment fee: 1% + GST will be levied additionally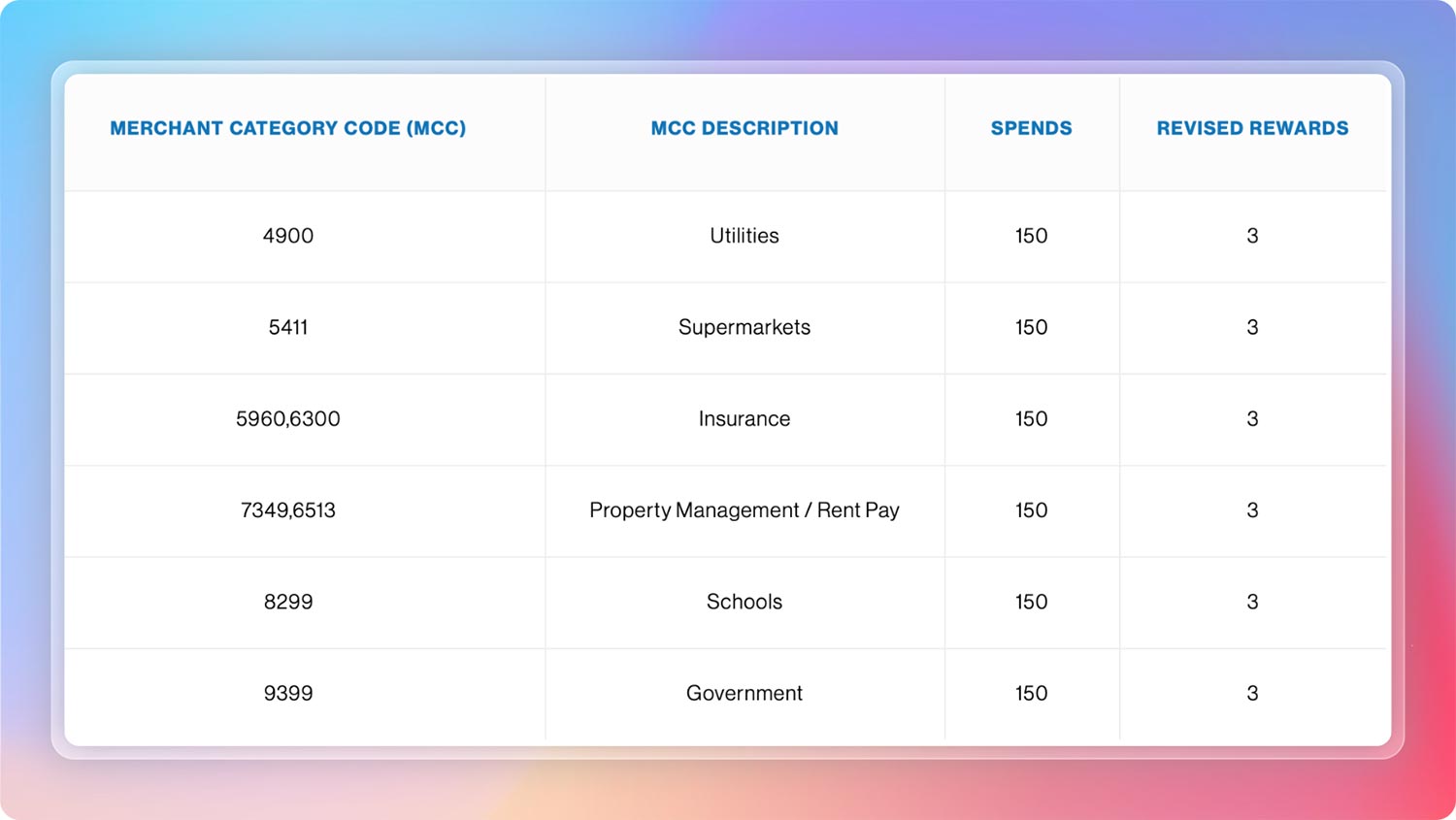 Redemptions
Redemption type: Vouchers
Redemption Fee: 99 INR +GST
While we don't have any "airline/hotel" transfer partners with SC Ultimate credit card as of now, we can redeem points for a long list of vouchers at 1:1 ratio.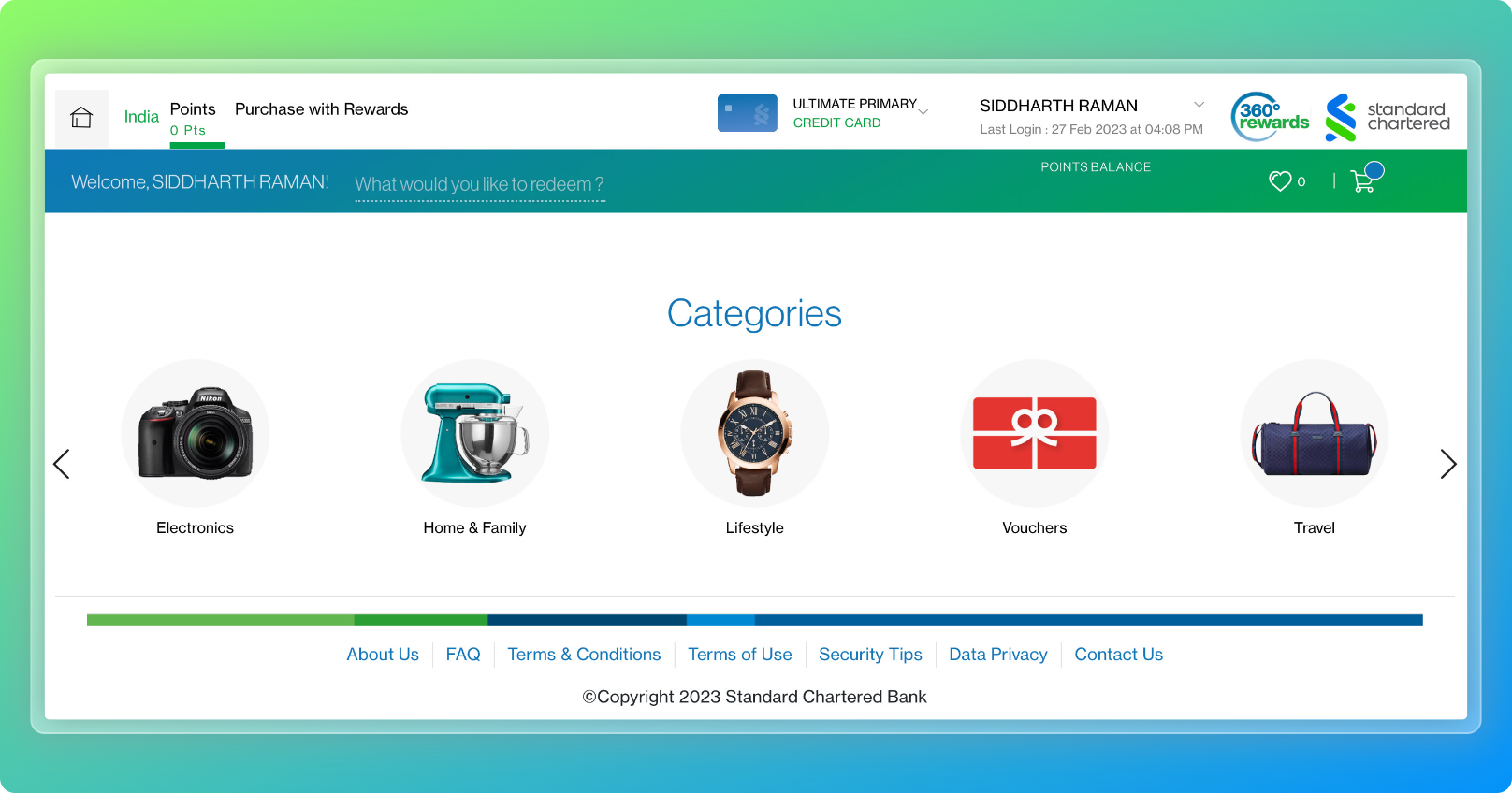 Here are some of the vouchers you can expect to redeem using reward points on Standard Chartered Ultimate Credit Card.
Shopping: Myntra, Nykaa, Pantaloons, Levis, etc
Electronics: Croma
OTA: MakeMyTrip, EaseMyTrip
Hotels: Marriott Hotels, Taj Hotels, ITC Hotels
Cabs: Uber
Airline: Vistara Voucher
Luxury brands like Luxe, Armani, etc.
Note: the voucher brands keeps changing from time to time.
Generally, cardholders redeem points for Croma vouchers, as this is probably the only card that gives pretty good value for shopping electronics. But if you're into travel, you can explore whole lot of options.
Forex Markup Fee
Forex Markup Fee: 2%+GST = 2.36%
Net gain: 0.94%
While its not an outstanding gain, it's still fine for those who doesn't have HDFC Infinia or Axis Reserve Credit Cards, as you don't loose anything for doing foreign currency spends on Standard Chartered Ultimate credit card.
Airport Lounge Access
| ACCESS TYPE | VIA | LIMIT |
| --- | --- | --- |
| Domestic (Primary) | Visa / Mastercard | 4/Qtr |
| International (Primary) | Priority Pass | 1/month |
Spend criteria for Intl lounge access: 20,000 INR spend in previous month
A true Super Premium Credit Card usually comes with an unlimited lounge access benefit across the globe not only for primary but also for add-on cardholders.
However, with Standard Chartered Ultimate it's quite limited when it comes to lounge access. Moreover, to enjoy the complimentary international lounge access, a minimum spending requirement has to be met, as mentioned above.
Golf Benefit
While above is the inbuilt Golf benefit available on Standard Chartered Ultimate Credit Card, you can also avail additional games & lessons if you're holding the Mastercard variant of SC Ultimate.
Mastercard World Golf benefit gives you additional 4 golf games per year and 1 golf lesson per month.
Other Benefits
Duty Free Spends: Get 5% cashback on duty-free transactions at over 1000+ airports across the world, with a max. cashback of 1,000 INR per month.
Movie Benefit: You can get the Buy1 Get 1 Visa Infinite Offer if you're holding Visa variant of the SC Ultimate Credit Card.
Fuel surcharge waiver: 1% waiver & no rewards on fuel spends (eff. 2nd April 2023).
Eligibility
ITR: 24L p.a.
Other Bank Credit Card: ~5L Credit Limit
Existing SC Credit Card: ~4L Credit Limit
The eligibility criteria for the Standard Chartered Ultimate Credit Card may vary from time to time. However, the information above can provide you with an idea of what Standard Chartered bank is typically looking for from a prospective customer.
How to Apply?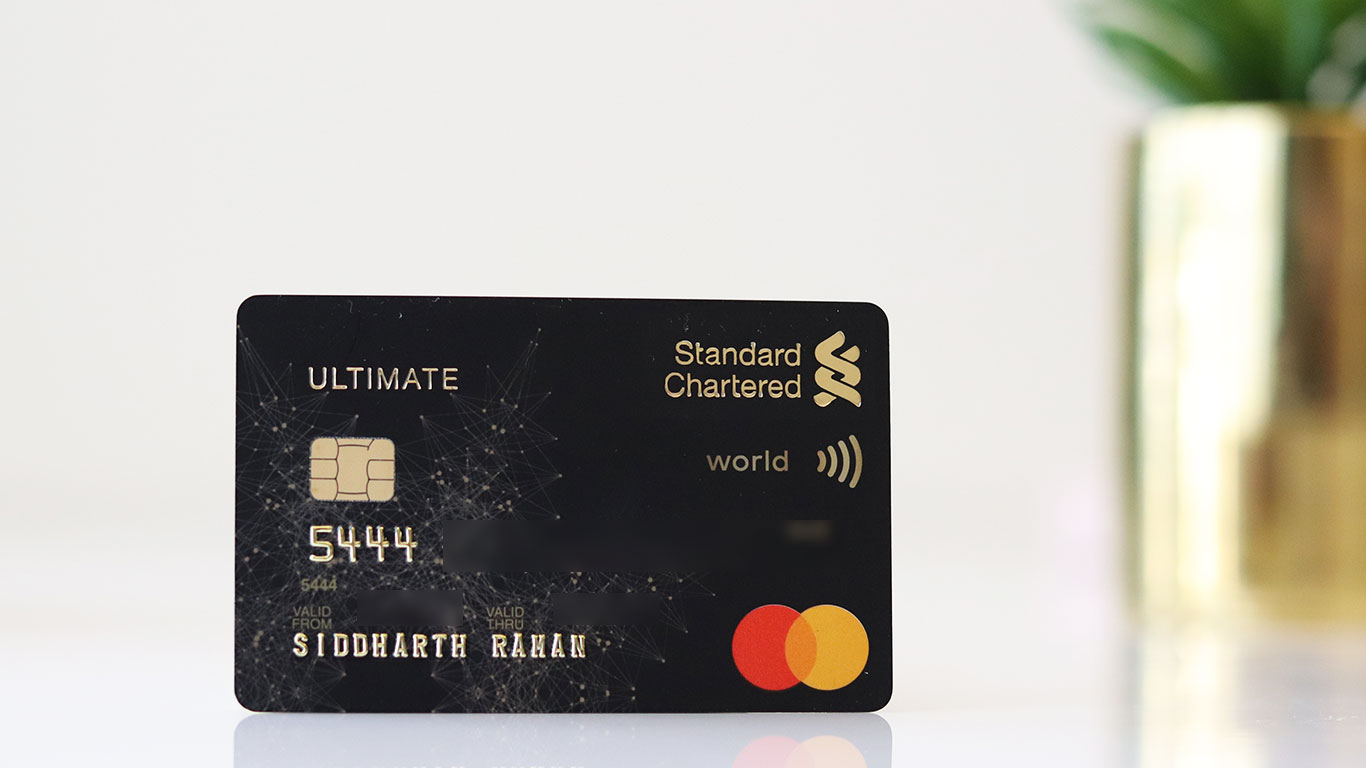 You may apply online on Standard Chartered bank website, but chances of rejection is high recently.
So the easiest way to get Standard Chartered Ultimate Credit Card is to first get Standard Chartered Smart Credit Card and then apply for SC Ultimate using the existing credit card relationship with the bank.
You'll just need to authenticate your existing SC credit card to get 2nd card from Standard Chartered and its just a matter of few clicks.
You'll however need to be approved for a good credit limit for this to work, which is very much possible if you've higher limits on other credit cards.
If the application is stuck and not responding beyond a point, worry not, you'll likely get a call from backend in a week or two.
If everything fails, the only option left is to open Standard Chartered Priority Savings Account (30L balance) and apply for the card based on the banking relationship.
Bottomline
Standard Chartered Ultimate Credit Card has been one of the best credit cards in India for many years in a row and it continues to shine in 2023 as well.
It certainly remains as a truly Ultimate Credit card in the super premium segment, especially for those who are primarily looking for non-travel reward redemption options on ongoing spends.
Got queries? Get answers to all your questions around credit cards, rewards, airmiles, etc with the One-on-One Credit Card consultation service.
Do you hold Standard Chartered Ultimate Credit Card? Feel free to share your experiences in the comments below.