Important Update: YesBank is unstable as a bank and hence their credit cards are no longer suggested for primary/secondary usage. Kindly update your credit card strategy accordingly. Here are some of the other best credit cards in India for 2020 to choose from.
Ever since Yesbank has stepped into the Credit Card sector, it has been stocking up it's arsenal of credit card portfolio steadily. Yes Bank has a card for all segments of people. Be it the Yes Prosperity Rewards/Cashback Credit Card for the beginners to Yes First Preferred/Exclusive Credit Card for the relatively High Net Worth Individuals. And we have seen in past that Yesbank is running some aggressive offers from time to time and it's really worth having it in your wallet in days to come.
However, it seems Yesbank has taken Credit Cards to a whole new level by introducing never before seen MasterCard World Elite Platform in India through their Yes Private Credit Card.
Eligibility & Fees:
This card is exclusively for Yes Bank Private banking customers who have relationship value of ₹5 crore or more with Yes Bank.
Joining Fees: ₹50,000 + 18% GST
Renewal Fees: ₹10,000 + 18% GST. (The renewal fees is waived off if the total spends in previous year is more than ₹25 Lakhs.)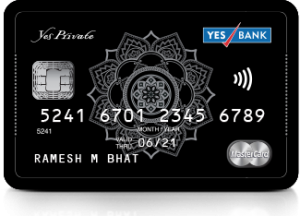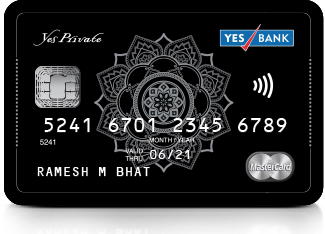 *Note: This is an invitation-only credit card that'll only be available for a select Ultra HNI 2500 customers. This makes it one of the most Elite/Selective cards in India after American Express Centurion(The Black Card) and HDFC Infinia Credit Card both of which are also by-invitation-only products.
Reward Points on YES Private Credit Card
Welcome Rewards: 50,000 RPs on your first transaction. This effectively suffices for the high joining fees as the value of each RP is ₹1. This makes it ₹50,000. However, you still end up paying ₹9000 as GST on that joining fees.
Milestone Bonus Rewards: 10,000 RPs on total retail spends of ₹10 Lakhs in 1st 90 days from Credit Card opening date.
International: 3 RPs on each ₹100 spent (3%)
Domestic: 2 RPs on each ₹100 spent (2%)
Note: No RPs on fuel transactions.
Features of YesBank's YES Private Credit Card:
Benefits:

Complimentary Lounge-Key membership for Primary and each Add-on Card member. 10 complimentary guest visit accesses per calendar year. This means that you can also bring one guest along with you. These 10 visits for guests who don't hold either the primary or the add on card is over and above the unlimited lounge access that they enjoy.
VIP Meet and Greet Services: You receive a personal, dedicated Meet & Greet agent to escort you through the airport experience – from curbside to aircraft gate. You get 15% discount on this service
Airport by Invitation Services:

For departures, Yes Private credit cardholders can enjoy:

Private departure lounge with refreshments and wait staff; a personal shopper can be arranged.
Airline check in and all security procedures carried out in the privacy of your own lounge.
Luggage checked in and taken from the lounge.
Private, chauffeured car to take you from the VIP suite to the aircraft.
Option to board the flight first or last.

On arrival, Yes Private Credit Cardholders can get:

Private, chauffeured car waiting on the tarmac to take you from the aircraft to the VIP suite.
Private arrival lounge with refreshments.
Customs and immigration clearance carried out in the privacy of your own lounge.
Luggage delivered directly to you in your private lounge.

Bookmyshow: Buy one get one free up to max of 4 complimentary tickets (No Cap on Max Value) & ₹1000 max discount on Events, Experiences, Plays and Sports in one calendar month which can be used multiple times.
Golf Benefits:

12 rounds of complimentary green fees for a year not exceeding 3 rounds of complimentary green fees in a calendar quarter.
4 complimentary green fee access for guests not exceeding 1 complimentary guest green fee in a calendar quarter.
12 complimentary golf lessons every year not exceeding 3 lessons in a calendar quarter

Insurance:

Air Accident Cover – Cover of Rs. 3 Crores in case of death due to flight accidents.
Emergency Hospitalization – Protection of up to ₹50 Lakhs on medical emergencies, while travelling overseas.
Credit Shield – The outstanding amount on your card is covered up to ₹10 Lakhs in case of accidental death of Primary Card member. These insurance benefits are similar to Yes First Exclusive Card.

Global Emergency Services: One of the very unique propositions of this card is the emergency services.

Emergency Card Replacement: On request, an emergency replacement card will be delivered to your address, in India or overseas.
Emergency Cash Advance: On request, emergency cash advance can be provided to you through our Global Network Partners. This service is available for overseas locations only.
Note: This service is very unique as this service of emergency card replacement is not provided to any other Yes Bank Card for overseas or India location including the Yes First Exclusive Card. In those cases the card can be blocked on request but the new card will only be delivered to the official registered communication address only. This service is therefore of great importance for people who travel for work related purpose overseas and stay there for few months to few years. Similarly this service is provided only in HDFC Infinia Card. However, other banks like Amex and Citi Prestige also provide this service. When it comes up to Amex, its the best for these things. They can arguably deliver the replacement card to anywhere in the world.

Other than these there are many more discounts on luxury travels and dining.
How does it stack up against Yes First Exclusive Credit Card?
In terms of reward rates, Yes First Exclusive Provides 2.5% cash back. Apart from the high joining fees for the Yes Private Card, which is partially compensated by the welcome RPs, the renewal fees is similar to Yes First Exclusive. The main difference is the range of luxury services that are provided on this card which sets it apart from any card in the country.
This card oozes royalty for the super rich individuals placing it above the likes of Yes First Exclusive, HDFC Infinia, Citi Prestige or Amex Platinum Charge Card. For such individuals who can afford this card, savings relatively matter less, what matters more is the experience and this card provides plenty of it.
CardExpert Rating : 4/5 [yasr_overall_rating]
What do you guys think of this elite card? Is it worth the hype? Have you been invited? If Yes, do you want to hold this card? We would love to hear your take on this card. Please let us know in the comments section below.