Note: Please refer to this latest article for updated info: HDFC Diners 10X Program Gets Further Extended through March 2018
Ever since the 10X program of Diners Club was launched in India, it has been the eye candy of people like us who try to make the most of it. HDFC has been adding and removing a lot of partners from time to time. But one of the major revamps was when Flipkart Snapdeal and Myntra were removed.
But, everyone was totally okay with the move as a new partner was added in their place which promised to make up for all the loss- Amazon.in. It was a biggest addition simply by the range of items that you could order on the shopping portal, in plain and simple language- Almost Everything!! But it seems the golden days are finally over.
Amazon knocked out from 10X List: Amazon.in seems to have been removed from the list of partners for the 10X programs as of today (1st Nov 2017). This is a big bummer as a lot of Diners Card holders were big fan of amazon and this deal of getting 10X points made it sweeter every time they ordered things from the latter. To be honest, we always saw this coming. It was bound to be removed because when the Amazon Pay was launched, these 10X points became the new hack for spending and getting the benefit on a lot of other merchants too where amazon pay was accepted.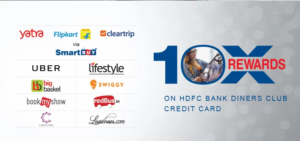 Changes Eff. Nov 1st 2017: But it seems HDFC Bank has now decided to pull amazon.in off the list for 10X partners. Obviously, most, if not all Diners Club card owners would be surely disappointed by the move considering the fact that amazon is a very reputed e-commerce website among the other e-tailers and this 10X points offer was the icing on the cake.
The 10X program has now been extended to 31st March, 2018
A new partner "Caratlane" has been added. This partner is also available among the 5X partners with other HDFC Credit Cards. But, with Diners it'll add 10X points to your arsenal. The points will though get credited within 90 days of statement generation date.
Amazon.in has been removed as of now as the 10X partner.
To be honest, even though the validity of 10X program has been yet again increased as was expected till 31st march 2018, still it is sure to leave a lot of readers disappointed due to the removal of amazon.
UPDATE: New terms and conditions for merchant "CaratLane":
Gold Coins won't be counted for 10X program.
Both in-store as well as online txns on caratlane will be considered for 10X program.
The 9X incremental spends for November 2017 will be credited within 90 days from November 30. However, from 1st December 2017, on any spends on Caratlane except Gold coins, the incremental points will be credited in the very next cycle just like other merchants.
What is your take on this whole change saga? Please let us know about your views in the comments below. What will be your strategy now considering the recent changes that has been made by HDFC bank?