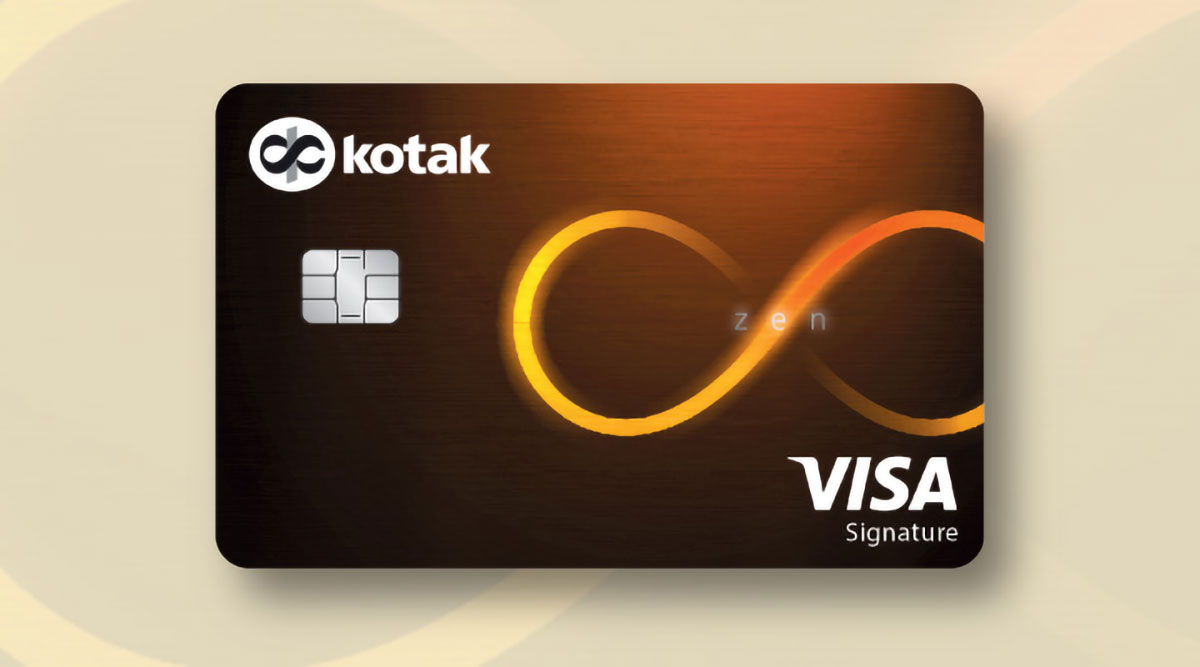 There are only few credit cards in India that would give you the "Love at first sight" moment and Kotak Zen Credit Card is one such card with a beautiful, meaningful & modern design.
Yes, people take cards for rewards & benefits and not for design but this one is not worth missing if you're a lover of art. Here's the complete review of the Kotak Bank Zen credit card.
Overview
| | |
| --- | --- |
| Type | Premium Credit Card |
| Reward Rate | 0.83% – 2.2% |
| Annual Fee | 1,500 INR+GST |
| Best for | Shopping & card design |
| USP | Milestone benefits |
The Zen Credit Card caters to a small segment of Kotak customers who needs a premium credit card at low fee point but don't have premium banking relationship with Kotak, as that will anyway get them Kotak Privy League (or) Kotak White card as complimentary.
Fees
| | |
| --- | --- |
| Joining Fee | 1,500 INR+GST |
| Welcome Benefit | 1,500 Zen points (worth 375 INR) |
| Renewal Fee | 1,500 INR+GST |
| Renewal Benefit | Nil |
| Renewal Fee waiver | On spending >1.5 lakhs |
While the world is giving an equivalent welcome benefit for the joining fee paid, I wonder why Kotak is not willing to do it on their premium credit cards.
Design
Undoubtedly a beautiful design to express the Zen in you.
While I'm not really evolved enough to understand why the wealthy buy a piece of art for such a high premium (assuming from the promos on art I receive via Amex offers), I can very well convince myself to spend just for this design.
That's because it not only refers to infinity but much more, known only to very few who reached the highest levels of spirituality and to those who got to know about them.
Rewards
Regular Rewards
| SPEND TYPE | REWARDS / Rs.150 | REWARD RATE |
| --- | --- | --- |
| Regular Spends | 5 | 0.83% |
| Shopping Spends | 10 | 1.66% |
1 Reward Point = 0.25 INR
Shopping Categories: Apparels, Lifestyle goods, Departmental Stores & Jewellery.
Milestone Rewards
| Spend | Bonus Rewards | Value | Savings |
| --- | --- | --- | --- |
| 3 Lakhs | 7,500 RP | 1,875 INR | 0.62% |
| 6 Lakhs | 15,000 RP | 3,750 INR | 0.62% |
Only one of the Milestones will be eligible.
Bonus Zen points will be credited to your card account at the end of an anniversary period.
Relaxing the above rules could have made this card a super hit, but with 0.62% milestone reward rate it's unfortunately only an above-average product.
Airport Lounge Access
| ACCESS TYPE | ACCESS VIA | ACCESS LIMIT |
| --- | --- | --- |
| Domestic | Visa | 2/Qtr |
| International | Priority Pass | 3/Year |
It's quite interesting that Kotak Bank has mentioned Dreamfolks instead of Visa for domestic lounge access. Though, not to get confused here, as you can continue to use the credit card directly for domestic lounge access.
Other Benefits
All Kotak Credit Cards comes with few other benefits like:
Fuel Surcharge Waiver: Applicable on transactions between 500 INR and 3000 INR. Maximum fuel surcharge waiver is 3500 INR / calendar year.
Railway Surcharge Waiver: Maximum railway surcharge waiver allowed is 500 INR / calendar year.
Getting the Card
Kotak's branch banking is poor in sourcing credit cards from my experience. I was checking for this card back in time when I was applying for the Privy league credit card, but no one had the proper info about its availability, so just skipped it.
The Premium support too is handled by newbie executives most of the time but they can give the information if you've patience to ask them the same query again and again.
I recently checked with the support and they said that they can indeed take an upgrade request for Zen card, if required.
Bottomline
If you're a shopaholic, Kotak Zen Credit Card might certainly serve your purpose with a decent reward rate of 2.2% on spending (shopping) upto 6 Lakhs in a year.
But the hassle of tracking the proper spend type and fulfilment of rewards after an year is not something worth the time just for 2.2% return. Still, that works for some but not for most.
So, if you're looking for premium cards in this range that rewards for broader type of spends, the list of best premium credit cards may help you choose the right ones.
But if you wish to stick to Kotak, then Kotak White Card & Kotak League Platinum Credit Cards are some of the best.
Do you have Kotak Zen Credit Card? Feel free to share your thoughts in the comments below.