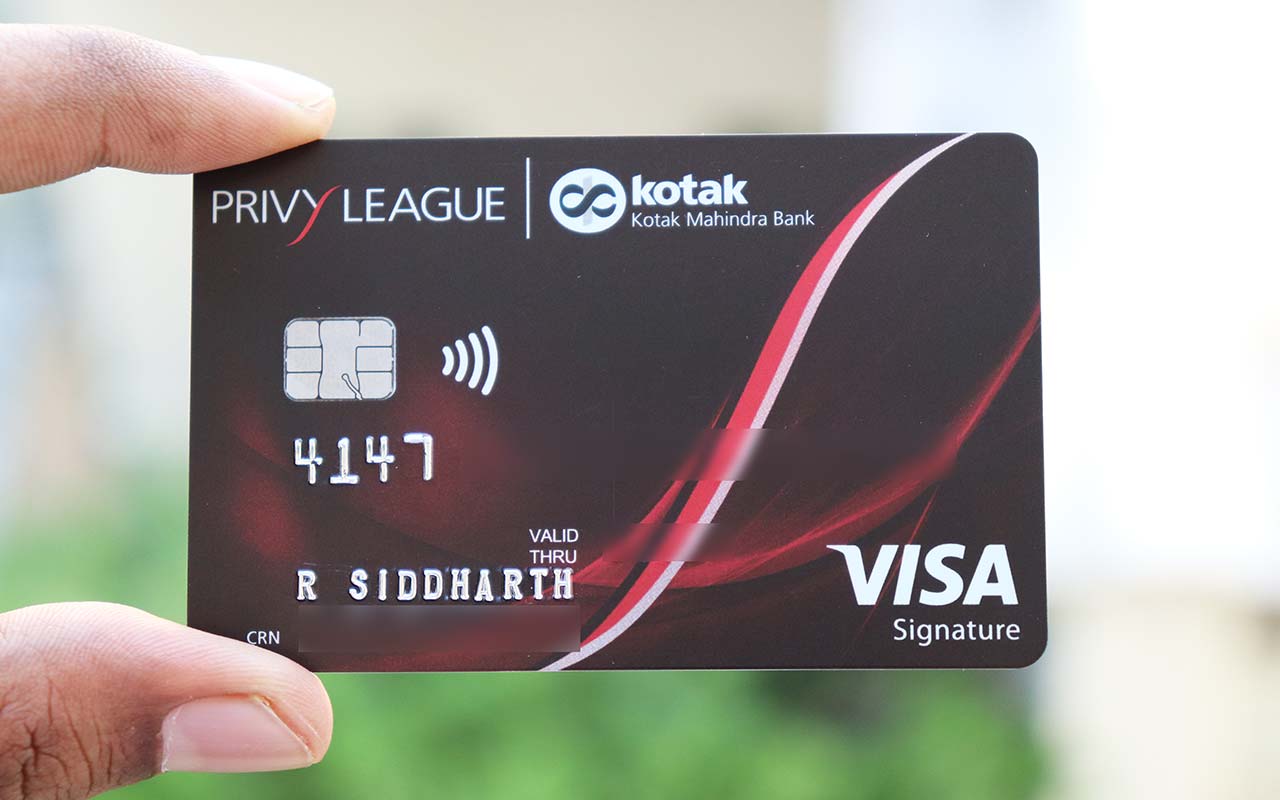 We at Cardexpert don't usually prefer Kotak credit cards in the past because of its very low reward rate but it appears that the things are changing a bit lately so I decided to explore Kotak credit cards finally.
Here's a quick review of the Kotak Privy League Signature credit card, the card that's issued to Kotak's premium banking customers.
Overview
| | |
| --- | --- |
| Type | Premium Credit Card |
| Reward Rate | 0.5% – 2.2% |
| Annual Fee | 2500 INR + GST |
| Best for | Accelerated category spends |
| USP | Quarterly rewards benefit |
If you can hit the spends required for quarterly milestone benefit, this is a nice card for Privy League customers. I don't see any value on paid variant as there are so many others cards in industry to choose from.
Fees
| | |
| --- | --- |
| Joining Fee (for all) | Nil |
| Renewal Fee (Free card) | Nil |
| Renewal Fee (Paid card) | 2500 INR + GST |
| Renewal Fee Waiver | Spend 5 lakhs |
The card is free for the Kotak Privy League Customers, Prima (2L balance) & above. It also comes as a paid version (renewal fee applicable) but its not worthy to pay for most in my opinion.
Design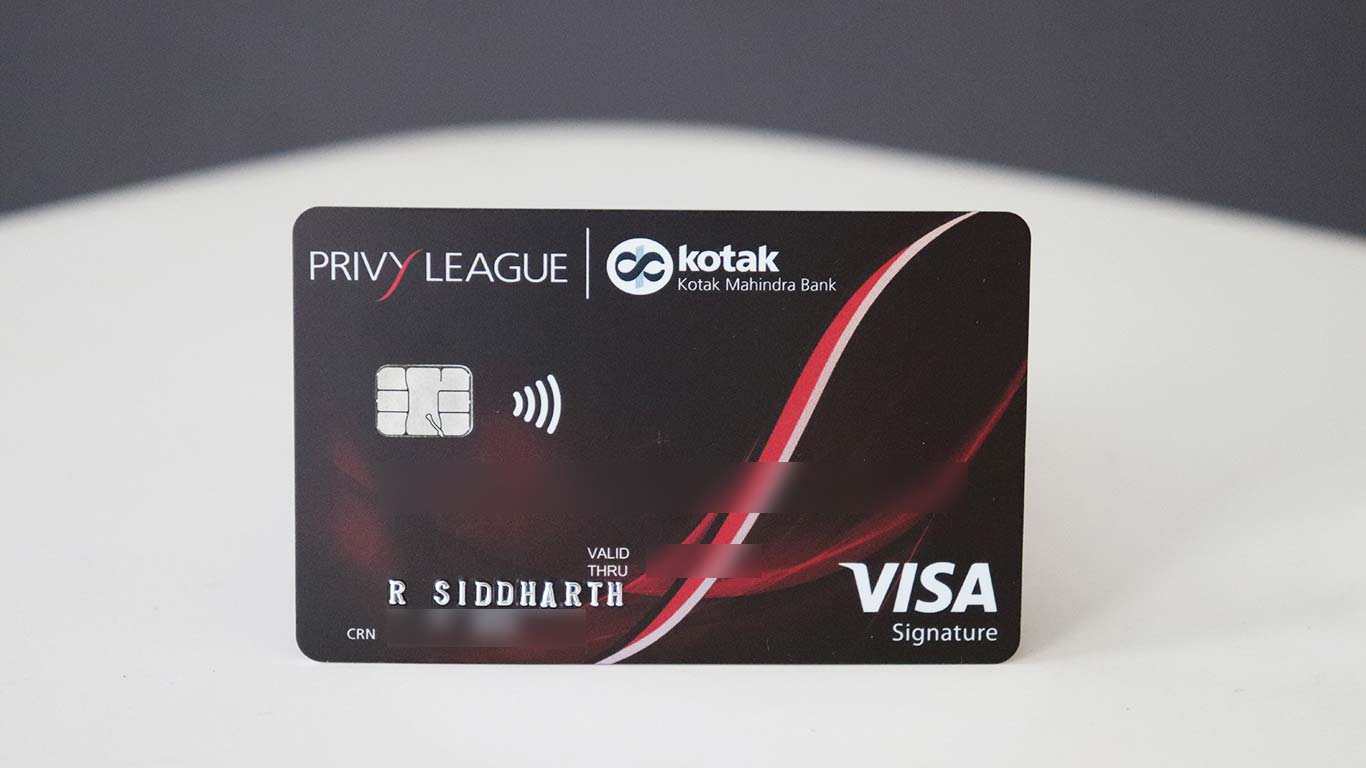 With the Privy League branding on the card, the design looks quite elegant without a doubt. It actually looks better in reality than on picture.
Rewards
Ongoing Rewards
| Spend Type | Rewards | Reward rate |
| --- | --- | --- |
| Regular Spends | 2X | 0.50% |
| Spends on Accelerated Category | 5X | 1.25% |
RP value = 0.25 INR

Accelerated Rewards Plan: You can choose either shopper's (or) traveller's plan
Shopper's plan includes spends done on: apparels, jewelry, consumer durable, restaurants, departmental stores
Traveller's Plan includes spends done on: airlines, hotels, restaurants, international spends and travel agencies
Milestone Rewards
| Spend | Reward Points | Value | Return on spend |
| --- | --- | --- | --- |
| 4,00,000 INR | 10,000 Points | 2,500 INR | 0.64% |
| 8,00,000 INR | 30,000 Points | 7,500 INR | 0.94% |
You'll be eligible for either one, not both.
So if you manage to spend 8L under accelerated rewards, you would end up getting reward rate as good as ~2.2% which is as good as HDFC Regalia.
But that's quite tough to attain because you can't always spend under accelerated rewards at that spend range.
Hence, if you spend 8L in non accelerated category, you would end up with 1.44% reward rate, which is poor for a premium card.
Quarterly Rewards
6400 Reward Points every Quarter (Value: 1600 INR)
Requirement: Spend Rs.1000 every month
This benefit is a recent change during the pandemic, otherwise you would get 4 PVR tickets, each 400 INR.
This is the main attractive benefit of this card lately as the returns on spend is pretty generous.
This benefit however maybe short-lived, as they may switch to PVR tickets in sometime, which will anyway be good as well if you're into PVR.
Note: This benefit maybe eligible only for paid variant.
Airport Lounge Access
| ACCESS TYPE | ACCESS VIA | ACCESS LIMIT |
| --- | --- | --- |
| Domestic | Visa | 2/qtr |
| International (free card) | Priority Pass | Nil |
| International (paid card) | Priority Pass | 4/yr |
They could have given Priority pass for free cards as well, as anyway they have the banking relationship with them. But as of now you only get the PP membership without complimentary access on free card.
Bottomline
You get an outstanding value of Rs.6400 every year just by spending Rs.1000 every month. That's the primary reason for anyone to have this card (as paid variant), apart from Kotak Merchant offers and other benefits.
Ideally the Kotak Privy League Signature credit card is good for anyone who's new to Kotak and wishes to explore their premium credit cards.
Given that Kotak is gaining some traction with the new launches like the Indigo credit card, I wish Kotak soon comes up with a nice super premium credit card. The white card is not that great for various reasons which we will talk sometime soon.
Do you have Kotak privy League Signature credit card? Feel free to share your thoughts in the comments below.