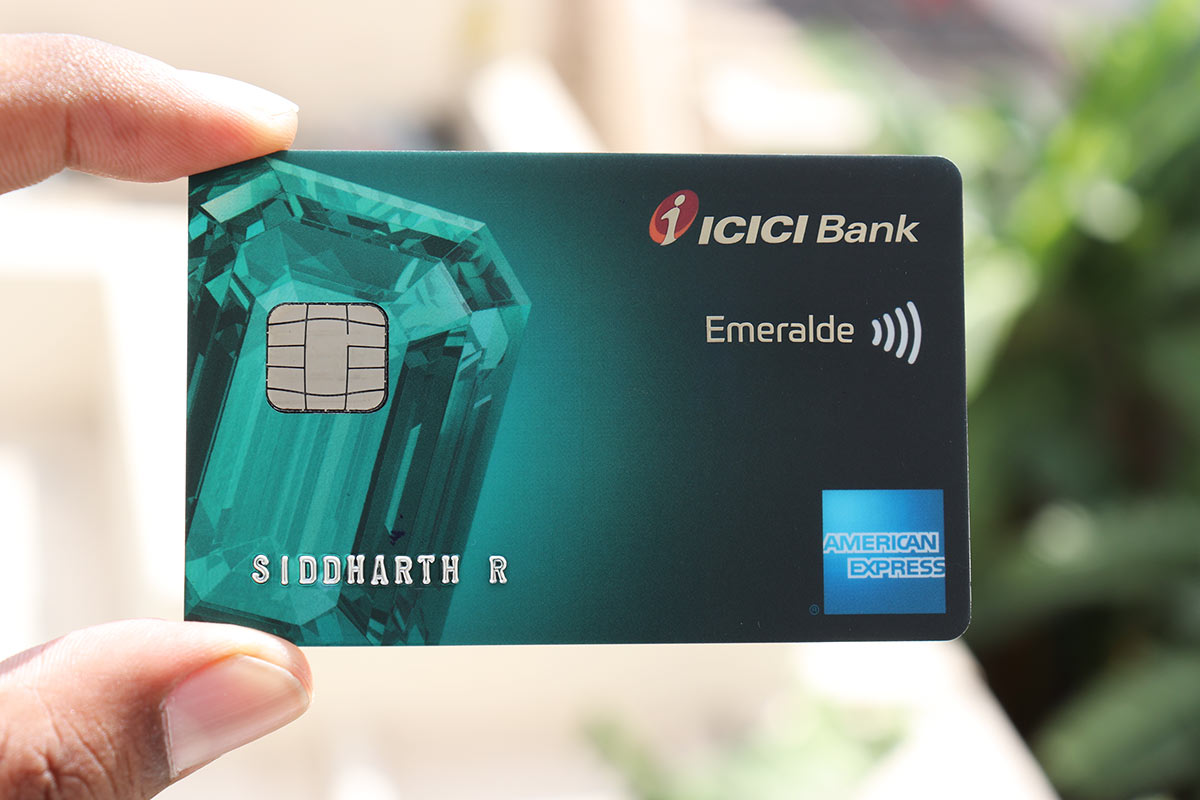 For a very long time ICICI Bank never had a compelling product in super premium credit card segment. While they have gemstone cards they're poor when it comes to rewards & benefits.
So finally ICICI Bank woke up to reality with a nice product and decent reward rate on their newly launched super premium credit card offering with Emerald Credit Card.
With Emeralde Credit card the benefits part is sorted. Rewards still need to get better. Here's a detailed review of the same.
Overview
| | |
| --- | --- |
| Type | Super Premium Credit Card |
| Reward Rate | 1% |
| Annual Fee | 12,000 INR + GST = 14,160 INR |
| Best for | Airport Spa / Lounge & Bookmyshow benefits |
| USP | Airport Spa benefit |
ICICI Bank Emeralde Credit Card is good for its airport benefits with its unlimited access to Airport Spa's in India and lounges across the world.
Joining Fees
The Emeralde credit card comes in two fee options for you to choose from: Monthly/Annually. Here is the fee structure:
| | |
| --- | --- |
| Monthly membership Fee | Rs. 1,000+GST |
| Monthly membership Fee Waiver | Spend Rs.1L in previous month |
| Joining / Annual Fee | Rs.12,000+GST |
| Annual Fee Waiver | Spend Rs. 15L in the card anniversary year |
Annual plan is the best in my opinion for most card holders. Yet, monthly plan would still fit in if you intend to do regular spends on the card.
Also, it's given as first year free for select individuals both as an upgrade and also as a fresh card, based on the profile.
While monthly fee is a nice idea, I would rather expect something like a quarterly fee instead. That will reduce a lot of pressure on our minds.
Variants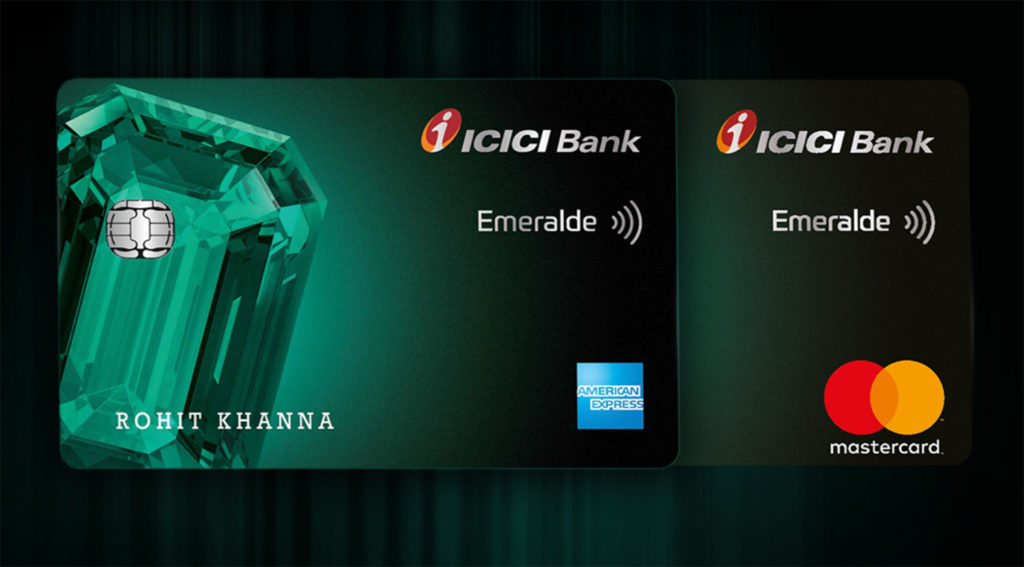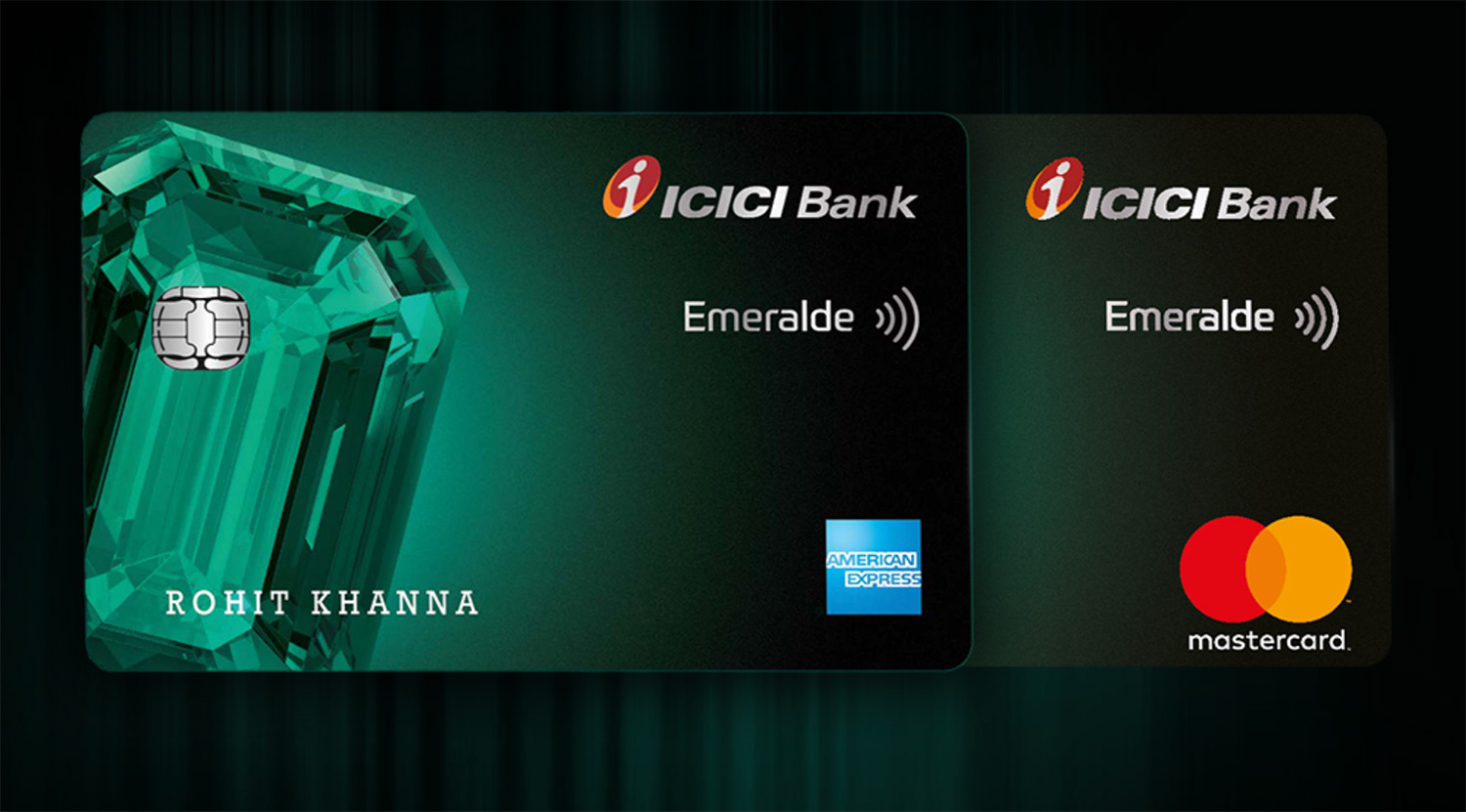 American Express
Mastercard (world)
Visa (Infinite)
You can choose only one variant. If you plan to take this card, you should probably be taking the Amex variant because both the Da Milano & Tata Cliq voucher comes only with the Amex variant.
You can also change the variant to the other just incase if you took the wrong one by mistake. However switching the variant isn't easy most of the time.
Design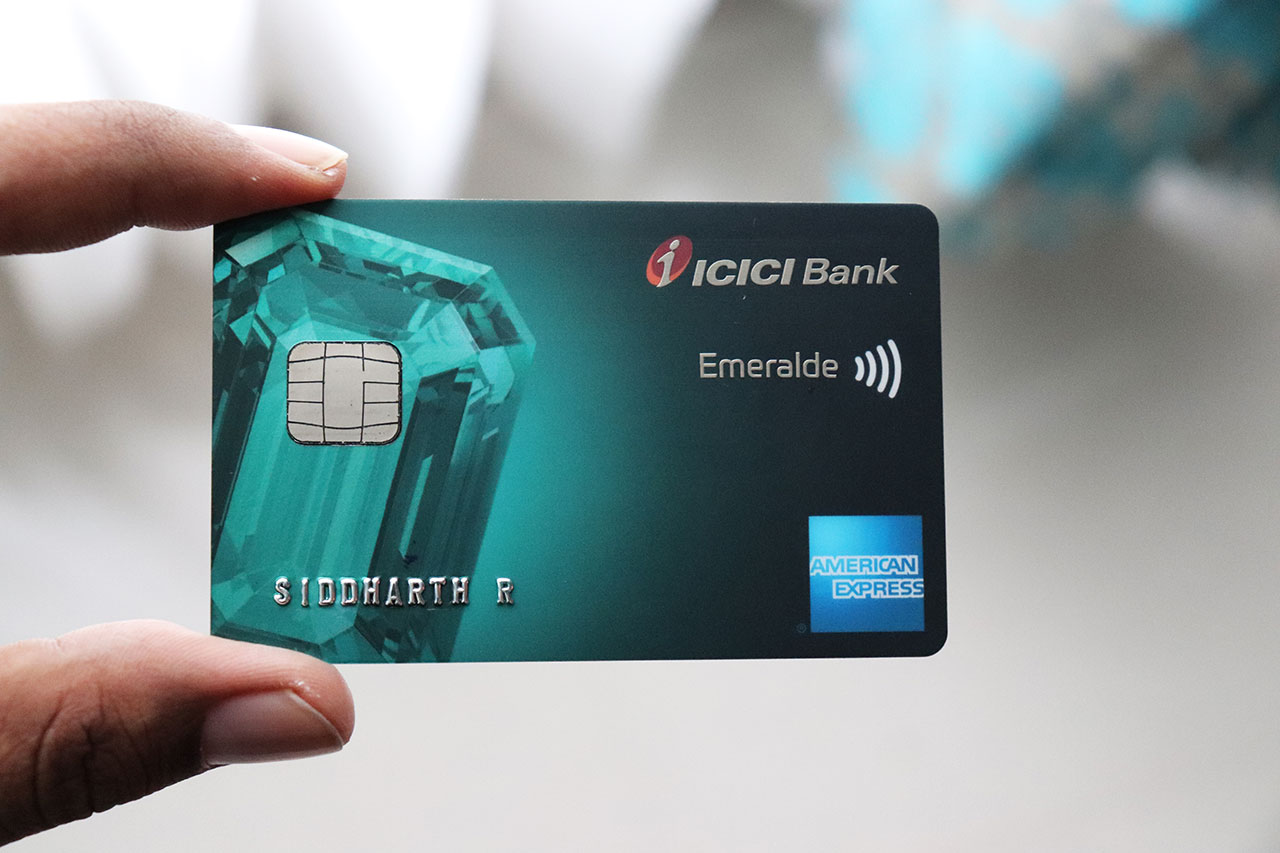 The green gemstone design on ICICI Emeralde Credit Card looks absolutely beautiful without a doubt. If you're taking Mastercard variant, it would be even more beautiful with the Mastercard logo standing out of the green field.
Rewards
Regular Rewards
4 PAYBACK Points on every ₹100 spent, except fuel (1% Value)
1 PAYBACK Point on every ₹100 spent on utilities and insurance categories (0.25% Value)
This is the most disappointing part of this card – POOR reward Rate on regular spends. So high spenders >15L might need to switch to other cards.
But the good thing about Payback rewards is that you can convert the points to cash credit on statement.
Moreover, you can expect decent spend based offers on the Amex variants occasionally that will raise the overall reward rate a bit.
Milestone Benefit
Spend 2L to get Rs.5,000 worth of Da Milano voucher. [Amex Variant only]
Decent option. I was able to redeem it at Da Milano outlet at Mumbai Airport T2 – Domestic departures.
Birthday Benefit
Tata Cliq voucher worth Rs.5,000. [Amex Variant only]
Nice value again.Glad that they replaced the trident hotels dining voucher with Tata Cliq voucher, but they reduced the voucher value from 7.5K INR to 5K INR.
You get birthday benefit not only for the 1st year but also for the remaining period, as long as you hold the credit card.
Airport Benefits
Lounge Access
| ACCESS TYPE | ACCESS VIA | ACCESS LIMIT |
| --- | --- | --- |
| Domestic (Primary) | Amex / Mastercard | Unlimited |
| Domestic (Add-on) | Amex / Mastercard | Unlimited |
| International (Primary) | Dreamfolks | Unlimited |
| International (Add-on) | – | – |
They haven't mentioned anything about add-on cards but chances are you may be able to access at-least domestic lounges with add-on cards.
Also, now Visa variants are in circulation but I doubt if it would bear unlimited lounge access as Visa usually limits to 4/qtr max for Infinite variants.
Airport Spa
Unlimited Spa Access via Dreamfolks
This is the most lucrative benefit of this card. If you're flying frequently within India, this will get you unbelievable value.
For Ex, if you fly once every month for an year, that's 2*12 = 24 Spa visits. Even if you assume cost at just Rs.1k per visit, this alone gives you 24k value.
The surprise is, this is not the first card in India to get unlimited spa benefit. ICICI silently has been already issuing unlimited spa access to Diamant card holders.
Bookmyshow Benefit

Buy one ticket and get up to Rs.750 off on the second ticket, up to four times every month through BookMyShow
That's technically 750*4=Rs.3000 value per month. But a typical person living in non-metro can't get that much value.
Yet, this is an AMAZING benefit as it includes non-movie tickets too. Good to see ICICI (or BMS) being so generous here.
Golf Benefit
Complimentary rounds: 4/month (games & lessons)
One complimentary round/lesson of golf can be availed on every 50,000 INR or more spent on the card in the previous calendar month.
All the complimentary rounds earned in a month will be eligible for redemption from 10th of next month and will be available for 2 months (60 days).
I honestly feel ICICI asks too much for golf benefit. Instead of 50K, they could have made it 25K or lesser for a super premium card.
Wifi Access
Unlimited complimentary access to Boingo Wi-Fi across the globe. Amex benefit.
This is again a wonderful benefit if you travel often internationally as every airport shows like 10 wifi hotspots around and you never who which is legit one to connect to. Problem solved!
This is first of its kind in India and we must truly appreciate ICICI for bringing this benefit to us. But well, from my experience it never works anywhere in India.
Other Benefits
Credit Shield: Rs.50,000 (!)
1.5% Markup Fee on Intl Txns
No late payment fee, no overlimit fee
Discounts on Gym/salon & health clubs across India
American Express Privileges
Eligibility
Fresh Application: Salary: Rs. 3L/m (or) Annual Income: Rs. 30L
For Upgrade: Existing ICICI Card Limit of 6 Lakhs
Upgrade route is the easiest way as always but you may as well apply via branch for the Emeralde credit card.
My Experience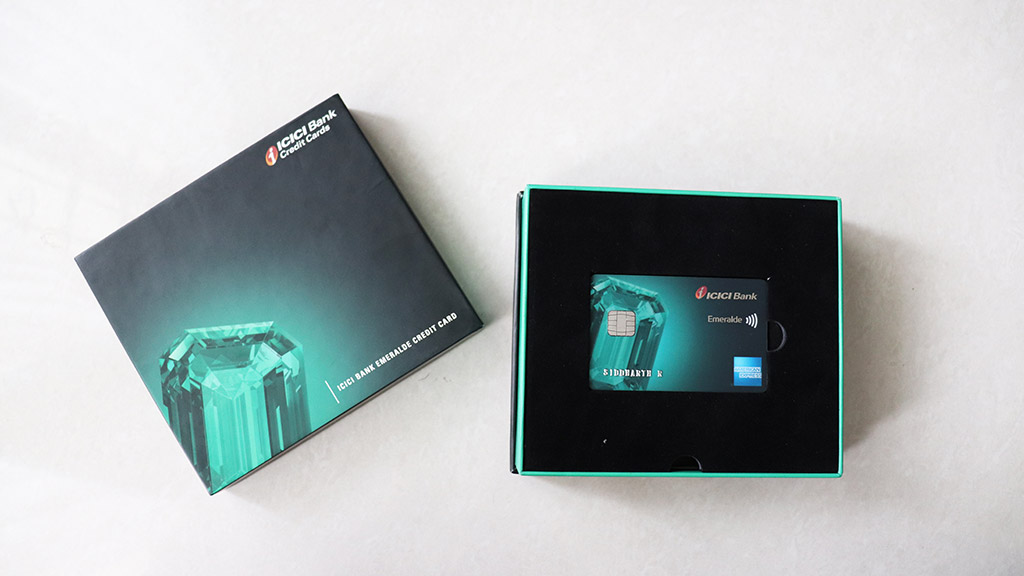 I was able to extract a value of Rs.15,000 in my first year of membership. This includes benefits such as: Da Milano voucher, Trident dining voucher & Bookmyshow benefit. Check out my Hands on experience with ICICI Emeralde credit card in detail.
Verdict
Except the poor regular reward rate on spends, everything else has been crafted well to position it in the super premium credit card segment.
If you put a value to the benefits like Spa/BMS/Wifi among others, you'll find the overall return to be reasonably good.
Note: If you donot avail airport spa benefits, the rating will go as low as 3/5.
Yet, if you're a very high spender, you may simply use this card as a Spa/BMS card and continue with other super premium credit cards for rewards.
What's your take on ICICI bank's Emerald Credit Card? Anyone planning to apply anytime soon?