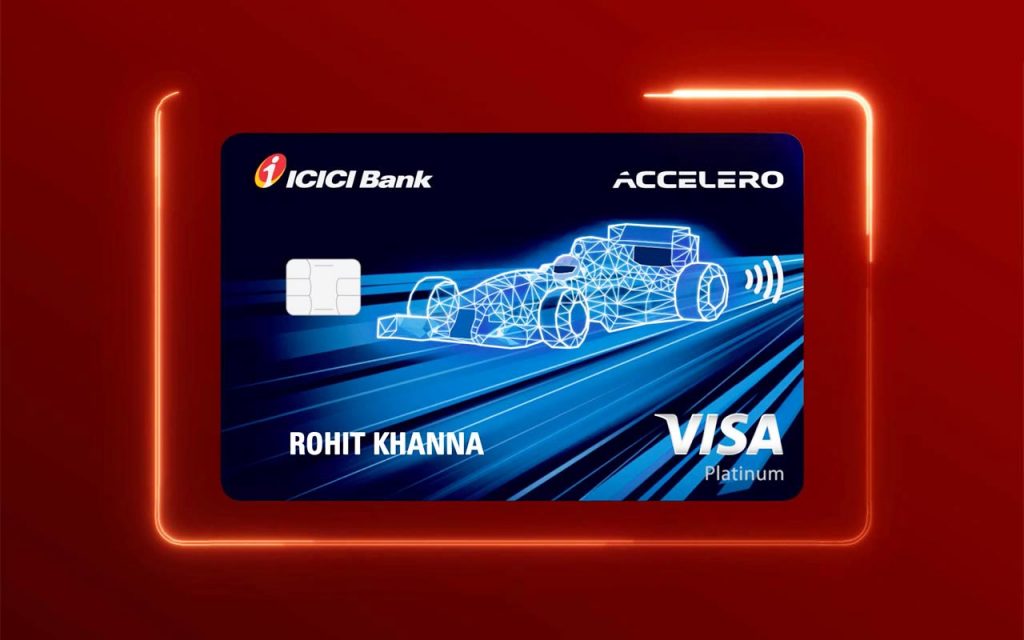 ICICI bank is probably the first and the only bank serving automobile enthusiasts. While they have been issuing Ferrari credit cards since past 5 yrs, they've now come up with a new product with benefits that one can avail within India, without flying to Italy for that matter.
Here's everything you need to know about the newly launched ICICI Bank Accelero Credit card.
Overview
| | |
| --- | --- |
| Type | Automobile Credit Card |
| Reward Rate | Upto 0.5% |
| Annual Fee | 499 INR+GST |
| Best for | Lounge access, complimentary car wash |
| USP | Sponsored road trip experience |
Not a worthy card to have in your wallet unless you're very much excited about the fully sponsored road trip experiences that the card promises to offer.
Joining Fees
| | |
| --- | --- |
| Joining Fee | 499 INR+GST |
| Welcome Benefit | 1500 Points (worth ~Rs.375) |
| Renewal Fee | 499 INR+GST |
| Renewal Fee Waiver | Spend 1,25,000 INR |
To start with, the welcome benefits are not equivalent to the joining fee you pay. But I think they have decided so given the fact that you may get a free car wash on spending just 3K INR (1K*3) in 3 months.
More on the later. Before that let's have a quick look at the rewards,
Rewards
Reward Rate = 0.5% (2 points on INR 100)
ICICI Bank doesn't seem to work on improving the return on regular spends in this lifetime. In the year of 2022, 0.5% is way too low to accept.
They should have rather added these below complimentary road trip benefits as a milestone benefit instead.
Features & Benefits
Fully sponsored & partially sponsored road trip – once a year each (for top spenders)
Exclusive access to Auto Expos & Test Drive Experiences

2.5% fuel Cashback (upto Rs.200/m – no fuel surcharge waiver)

Airport lounge access: 1/qtr provided Rs.5k is spent on previous quarter.
Complimentary 24×7 Roadside Assistance with complimentary key car parts*
Complimentary Car Wash & general checkup*
Car Loan benefits: better interest rates, 50% waiver on processing fees, 100% waiver on foreclosure charges after 24 months
Note: Customers will be eligible to avail the Roadside assistance, car wash, general checkup services for the first year on making 3 transactions of at least INR 1,000 each within the first 3 months of card issuance, and on payment of joining fee.
Is it worth it?
No – according to me.
There are some who have won such top spender offers with ICICI Bank on their similar credit cards like the one with Ferrari credit cards.
Even if you don't participate in the spend campaign, you may extract some value just by availing the car wash benefit.
So its totally upto you to decide whether to get the card just for RSA & car wash or "gamble" with their top spender program.
Somehow I've no interest in anything that look-like gambling after I've seen my friend lose his money (small though!) at Deltin Royale, Goa.
Final Thoughts
ICICI Bank is pretty good when it comes to launching innovative products, for ex, they're the first to add airport spa benefits, railway lounge access, wonderful products like the Amazon Pay credit card, etc.
But when it comes to the overall product, they just remove the concept of "rewards" from their offering – ICICI Amazon pay fortunately is an exception to this.
While Accelero is a nice concept, I wish they had a premium version of it with a better value.
I wish there exists a card that gives complimentary access to a premium car for a week or two so that one can enjoy a road trip in style.
It's sad to see almost all of their premium & even super premium credit cards giving 1% or lower return on spend while the competition is at 2% or 3% range.
Given that most of their premium products are affected due to Mastercard & Amex RBI ban, I'm hoping to see some good value on their upcoming credit cards.