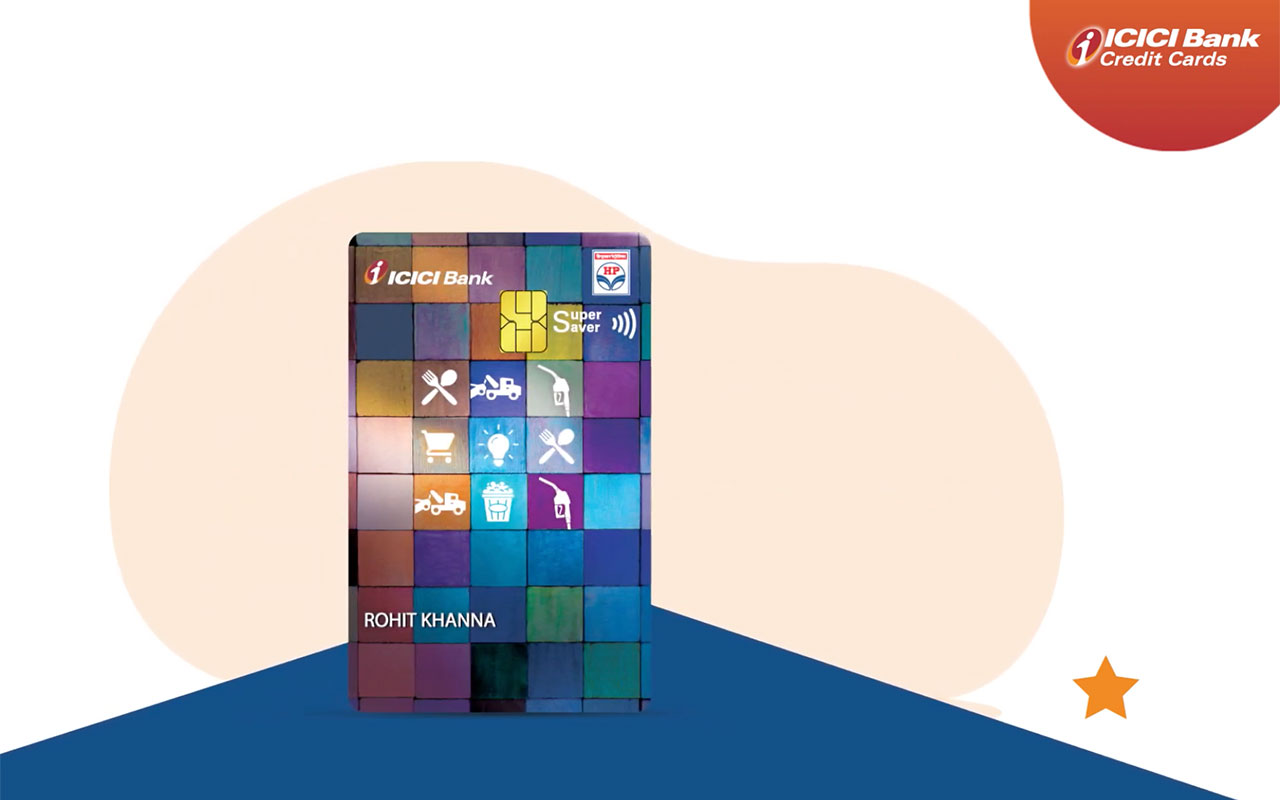 ICICI Bank recently added a new fuel credit card to their portfolio and they call it as ICICI Bank HPCL Super saver credit card.
It's quite similar to their other HPCL credit cards lineup like ICICI HPCL Coral credit card with minor changes. Here's everything you need to know about the same.
Joining Fees
| | |
| --- | --- |
| Joining Fee | Rs.500+GST |
| Welcome Benefit | 2000 Payback Points |
| Renewal Fee | Rs.500+GST |
| Renewal Fee waiver | Rs.1,50,000 in annual spends |
Additional welcome benefit of Rs. 100 on HP Pay after first successful recharge of min. Rs. 1000 on HP Pay mobile app.
Joining fee and the welcome benefits look decent. So you're definitely not paying anything additional to hold this credit card. Let's look into the rewards now,
Rewards
| Transaction Type | Rewards | Max. Cap |
| --- | --- | --- |
| Fuel Spends & HP Pay | 5% Cashback | Rs.200/m |
| Utility, grocery & departmental store | 5% (as points) | Rs.100/m (400 Points) |
| Other Spends | 0.5% (as points) | – |
| HP Pay Fuel Spends | 1.5% (as points, additional) | – |
Max. Cap: Rs.500 per month (in value) across all accelerated categories.
My blood pressure is already raising while I go throw these tiny capping (Rs.100 ?!) across various categories. Its safe to say that it's not a "rewarding" card just incase if you're looking for one.
Features & Benefits
Here are few other benefits that comes along with the HPCL Super Saver credit card:
Complimentary Lounge Access – Rs.5K spend required in previous quarter
Complimentary Roadside Assistance (RSA) – Some new stuff
25% discount (up to Rs 100 per transaction) on movie ticket bookings on BookMyShow and INOX movies individually, twice a month
The lounge access limit too is being revised back to back by ICICI and is currently standing at 1/qtr on coral range of cards.
Is it worth it?
No, totally not worth it!
This newly launched HPCL super saver credit card is just as conservative as other ICICI HPCL cards when it comes to rewards.
They could have simply done these changes to existing HPCL credit card and save time in setting up a new product altogether.
Final Thoughts
Cardexpert Rating: 3.5/5 [yasr_overall_rating]
Among the long list of fuel cards in India, Citi Indian Oil Credit Card and ICICI HPCL Coral Amex card are the only ones that used to offer a decent value on fuel spends.
But now as Citi's future is unpredictable and as ICICI HPCL coral Amex has fulfilment issues, its better to load your e-wallets "the right way" and use it for all your fuel spends.