Looking for a fuel credit card? Citibank Indian Oil Credit Card might serve the purpose but only if you're happy to fuel your vehicle with Indian Oil petrol pumps. Its normal for Credit card companies to tie up with a single company and give some rewards for that.
For example, ICICI and Amex has tie up with Hindustan Petroleum(HP) due to which Amex is able to give 3% extra cashback on fuel (temporarily) on top of Full surcharge waiver. HDFC has tie up with Bharat Petroleum (BPCL), due to which you can get 5x rewards which has the capacity to save upto 16.5% on fuel on HDFC Credit Cards. Yes, Unbelievable numbers if you hold super premium cards.
Similarly, Citi bank has tie up with Indian oil and they promise to give about 5% value back, which is 2.5% surcharge waiver and another 2.6% cashback as points. So you actually get 2.6% cashback and don't be driven by the marketing tactics that say 5% or so 😀
Annual Fee: Rs.1,000+Tax ( Spend

Rs.

30,000/Yr for Waiver)
Citibank Indian Oil Credit Card Reward Points:
While 2.6% as a inbuilt feature of a card appears nice, do note that they have an upper ceiling. Lets look into all the in & outs of the card.
Fuel: 2.5% surcharge reversal + 2.6% cash back as points
4 Turbo Points for every Rs.150 spent on Fuel
Upper Cap: Rs.10,000 (or 267 Turbo Points) per transaction
Note: IOC pumps only, swiped on Citibank EDCs only
4 Turbo Points for every Rs.150 at our featured partner.
2 Turbo Points on every

Rs.

150 spent at groceries and supermarkets [ capped to spends up to

Rs.

5,000 (or 67 points) per month ]
1 Turbo Point = Rs.1 worth of fuel.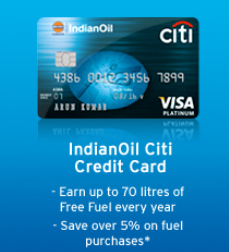 Lets see the real life scenario. Most of us would fuel for about Rs.5000 and that would give us about Rs.132 worth of points for which you need to go through all tiny terms every single time. Moreover, Citi terminals are nowhere located out of metro cities. That means less acceptance of the card to get points. Also, too much of restrictions to earn too small points.
Will i take a card for earning Rs.132 a month? Damn, never. I will rather stick to my other cards and use cash for fuel or use any of the other cards with just fuel surcharge waiver.
Features of Super Value Titanium Card:
CardExpert Rating: 3/5 [yasr_overall_rating]
Reward rate: 2.6% (fuel)
Complementary Airport lounge access: Nil
Foreign Exchange Markup fee: 3.5% + Service Tax
As you can see, its a decent credit card if you live in a metro city and just want one card for fuel, provided IOC pump is nearby your location. Else, forget it. Its just a marketing gimmick with which Citi is selling the card. You can get far better value from your spends with other cards, considering Fuel expense is minimal for most of us.
Looking for a better Fuel cashback credit card?
Check out my latest list of 5 Best Fuel Credit Cards in India with full Reviews.
Whats your take on Citibank Indian Oil Platinum Credit Card? Holding it? why?