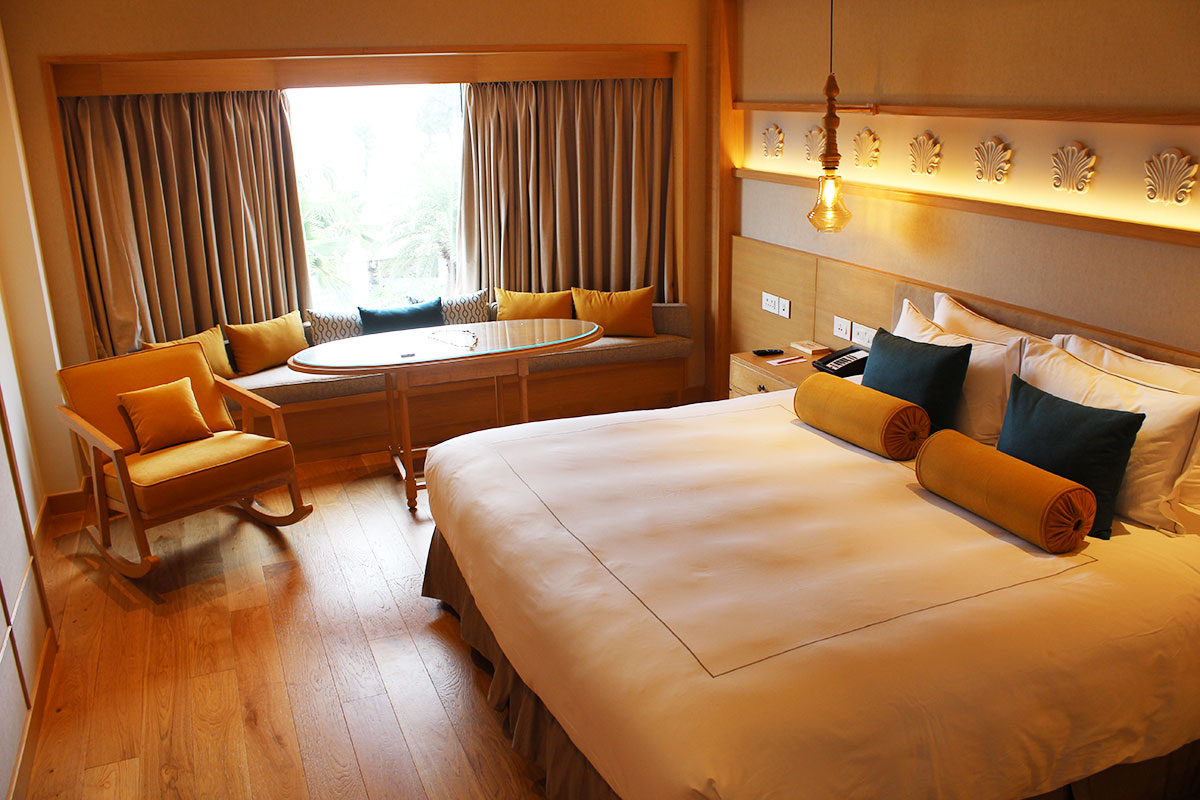 With my limited experience in the stock market (equity), IHCL is the only company I know that values the shareholders with "amazing" discount coupons.
These coupons are usually like 25% Off on stay/dining/spa, etc., with some limits. Here are some of the offers that I received recently in the last year.
25% Off on all Spends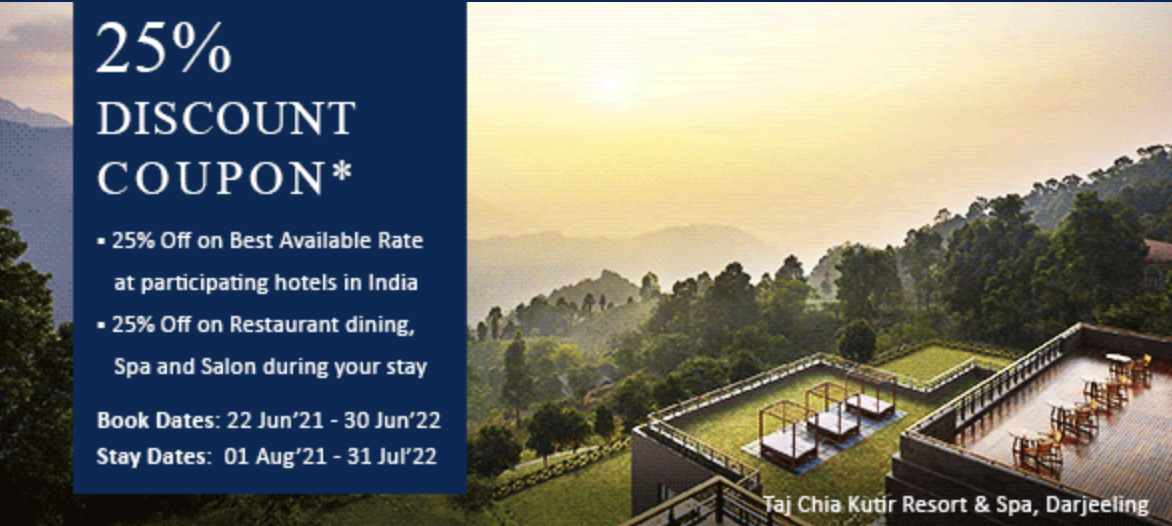 Offer: 25% OFF on the Best Available Rate across all our participating hotels in India. Also 25% OFF on spends at select restaurants, spas and salons.
Discount mode: Digital Coupon
Offer Period: valid for stays until 31 July 2022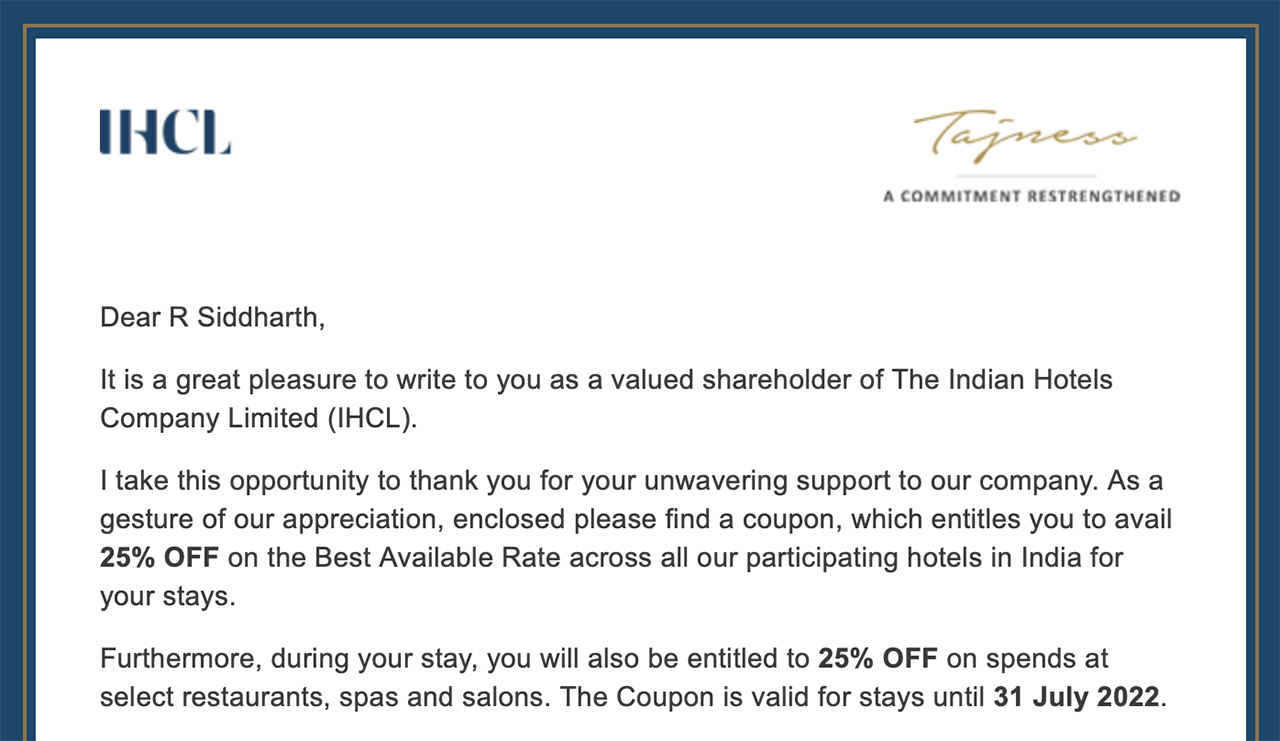 25% Off on Dining
Offer: 25% OFF on dining spends, discount upto Rs.2500. Some 10 such coupons were sent out via post.
Discount mode: Physical Voucher
Offer Period: valid for stays until 31 Dec 2022
I intend to use them sometime later next year, but problem is they don't clearly mention how to use these coupons. I wish they make it much simpler.
But never mind, just show it to the executive, he will apply the respective discount.
Discounted Epicure Plans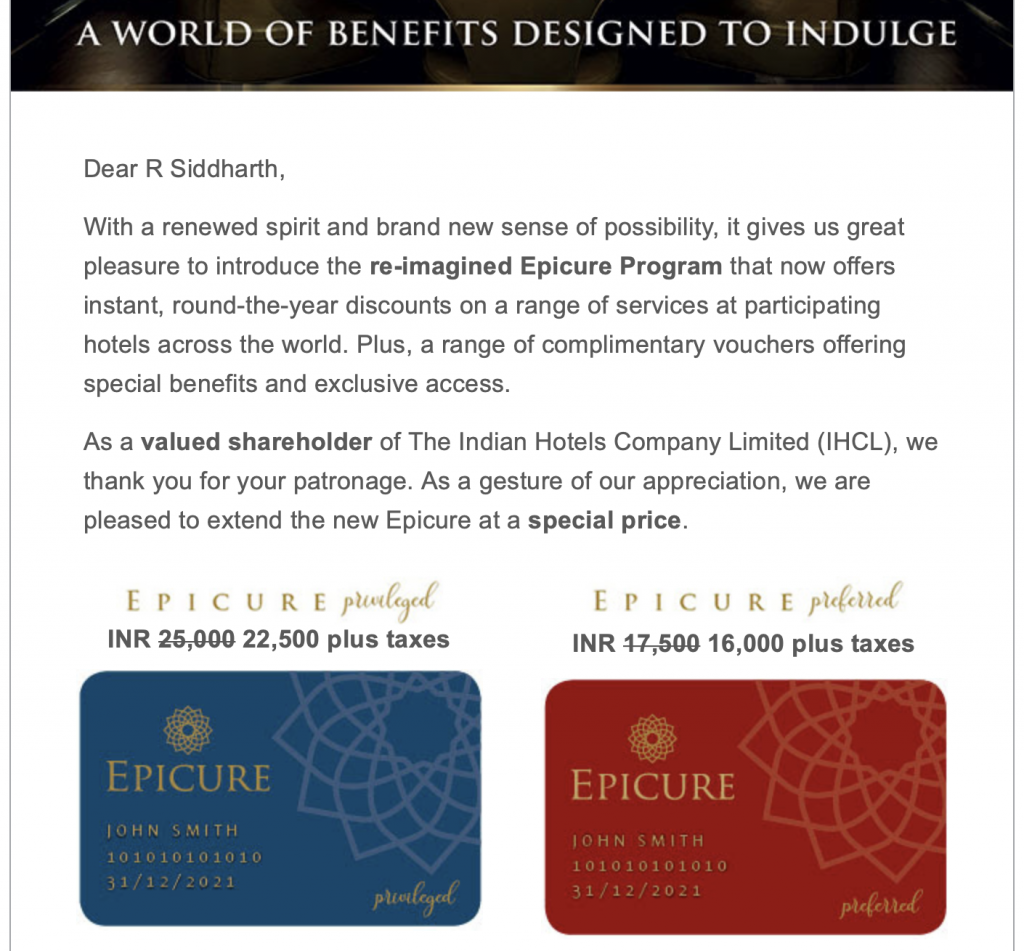 This one is truly an amazing idea to send discounted Epicure plans for shareholder, but I feel the discount is bit on lower side, not even 10% on the regular price.
A 30% discount on these would be AMAZING. Isn't it?
Are they useful?
These coupons can save you a LOT if you stay/dine often at Taj hotels. While Gold members get 25% Off on stays anyway, the dining benefit is pretty useful in my opinion.
Moreover, most Taj properties are not part of the dining apps like Eazydiner & Dineout, so in such cases, these vouchers can help you save quite a good amount.
I've received all of the above offers but personally not any of used these yet, because anyway I get a cheaper room rate by being a gold member and for dining I use the other dining offers, like this one for November.
Criteria for receiving coupons
So how to get these coupons?
I'm not really sure what system they follow to send out these coupons.
However, someone reported that they've got these coupons even with # of shares in single digit.
Otherwise, from what I see from my circle, all of them have got these coupons and they were holding approx. ~100 IHCL shares each, for an year or more.
I wish they have better discounts for those holding shares like 10K or so. Maybe they already have, I'm not sure of that. Have you heard of any?
Bottomline
Apart from dividends, it feels truly great to see such amazing shareholders offers from IHCL. It's definitely a blessing for those who prefer Taj properties for travel. Who can ignore the pampering Tajness anyway?!
That said, it would be nice if other listed companies too take similar measures to thank shareholders with such offers. Maybe Zomato can send 30% (or) 50% off on food coupons based on the shareholding pattern, among others. What say?
Have you received any other better offers from Taj or any other listed company for that matter? Feel free to share your experiences in the comments below.