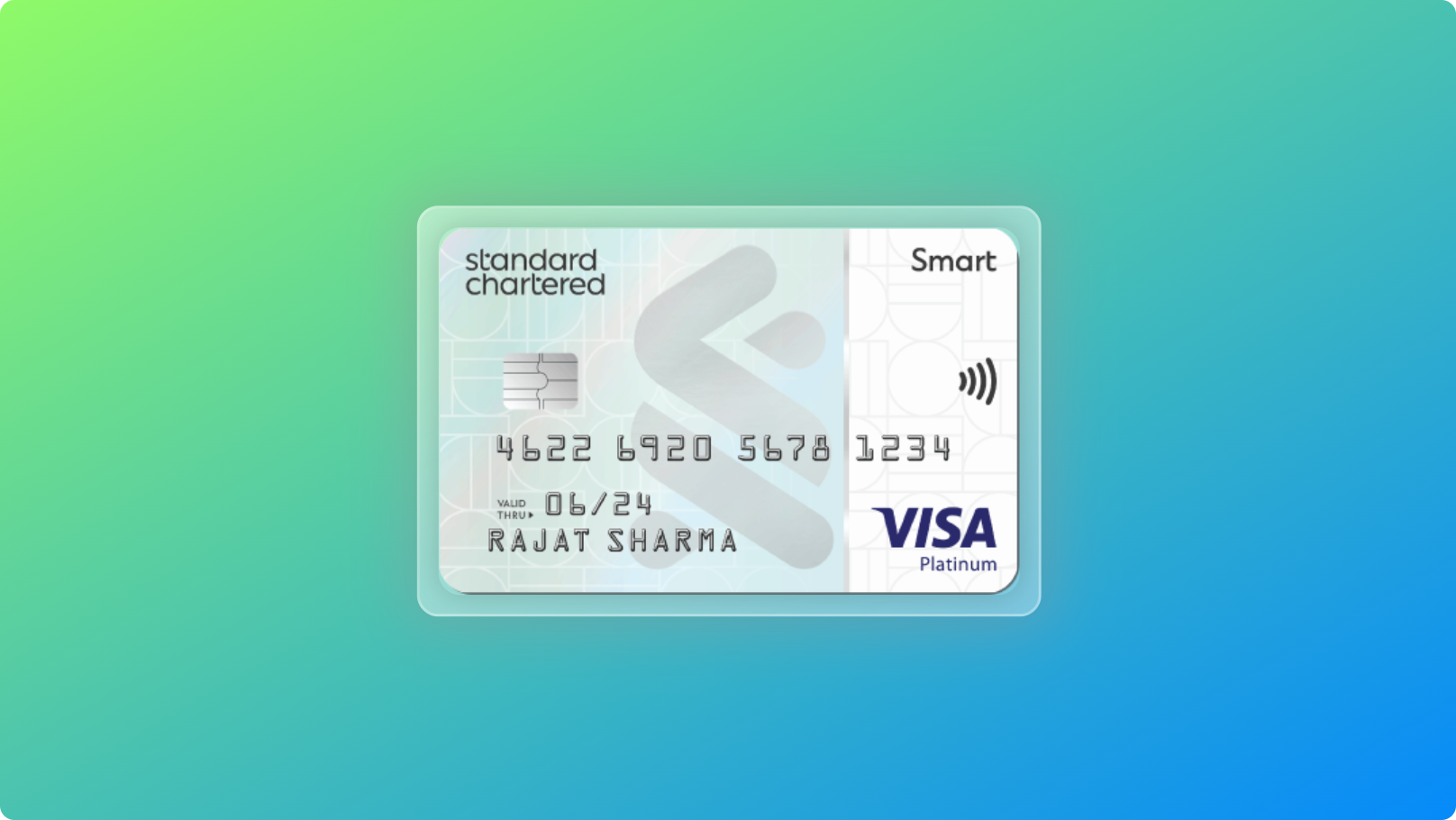 If you're looking for a good entry-level cashback credit card with Standard Chartered Bank, then Standard Chartered Smart Credit Card is the one to consider. While it's not the best cashback credit card around, it's still good for accessing Standard Chartered credit card offers and for other indirect benefits associated with the card.
Here's everything you need to know about the Standard Chartered Smart Credit Card,
Overview
| | |
| --- | --- |
| Type | Entry-level Credit Card |
| Reward Rate | Upto 2% as Cashback |
| Annual Fee | 499 INR+GST (First Year Free) |
| Best for | Online Spends |
| USP | Low interest on EMI |
While cashback benefit looks like the primary benefit on the card, it is also one of the best credit cards for those who take EMI on credit cards.
Fees
| | |
| --- | --- |
| Joining Fee | 499 INR+GST (First Year Free) |
| Welcome Benefit | No interest for first 90 days |
| Renewal Fee | 499 INR+GST |
| Renewal Benefit | – |
| Renewal Fee waiver | 1,20,000 INR spend in previous year |
While there is no renewal benefit on the card, it's still a good one for those who really make use of the benefits that the card comes with.

Joining / First Year Fee of INR 499 + GST waived as a Special Limited Period Offer (Not applicable for existing SCB credit card holders)
Rewards
| SPEND TYPE | Cashback | Max. Cap / txn / month | Spend Equivalent |
| --- | --- | --- | --- |
| Online | 2% | 1000 INR | 50,000 INR |
| Offline | 1% | 500 INR | 50,000 INR |
No cashback on fuel spends
Min. Cashback for first-time cashback redemption: 1000 INR
Min. Cashback for subsequent cashback redemption: 500 INR
All Capping are per CALENDAR month.
While the maximum cap on cashback is indeed low, it's still good enough for an entry-level segment. Moreover, you can get cashback even on wallet spends.
Cashback can be redeemed via Reward 360 portal. Being a cashback card, there is no reward redemption fee at the moment.
Benefits
Interest Free for 90 days
SC Smart credit card comes with a new and noteworthy welcome benefit that allows one to keep spending without paying the bill for first 90 days.
However, note that You're expected to pay the minimum amount due every month, which is only 5% of the bill anyway.
EMI @ 0.99%
Interest: 0.99% p.m.
Tenure: 3 months
Processing fee: Nil
If you got used carried away by the above no-interest welcome benefit and started spending beyond your means, worry not, as now you can convert them into EMI at lowest possible rate in the industry and that too without any processing fee.
Gateway to SC Ultimate
As you might know, getting Standard Chartered Ultimate Credit Card isn't easy for most because SC doesn't issue their only super premium credit card easily for everyone.
That said, getting Standard Chartered Smart Credit Card is the easiest way to get SC Ultimate Credit Card.
It works like this: Get Standard Chartered Smart credit card with a higher limit (>4L), Upgrade to Ultimate Credit Card just in few clicks.
How to Apply?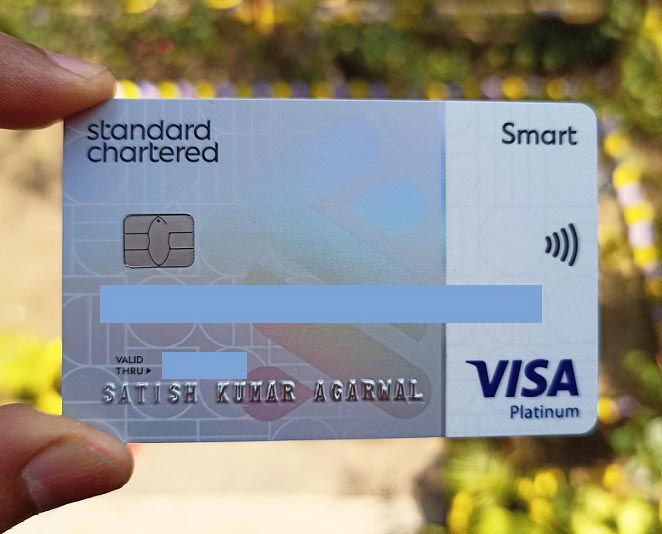 You can apply online on Standard Chartered Bank website. It takes about 2-3 weeks for SC to process the application and deliver the card in hand.
While Standard Chartered doesn't have a strict eligibility criteria for SC Smart Credit Card, it's essential to have a min. income of 25K INR a month to begin with, just as most credit card issuers.

Here's the hands-on experience with SC Smart Credit Card by Satish which might help you understand more about the application process in detail.
Bottomline
While Standard Chartered Smart Credit Card might not look great at first look, the direct and indirect benefits that comes with this decent cashback credit card is worth considering for those in need.
The interest-free concept and low interest on EMI are truly amazing benefits for this segment and I hope many are making use of it.
Do you hold Standard Chartered Smart Credit Card? Feel free to share your experience in the comments below.