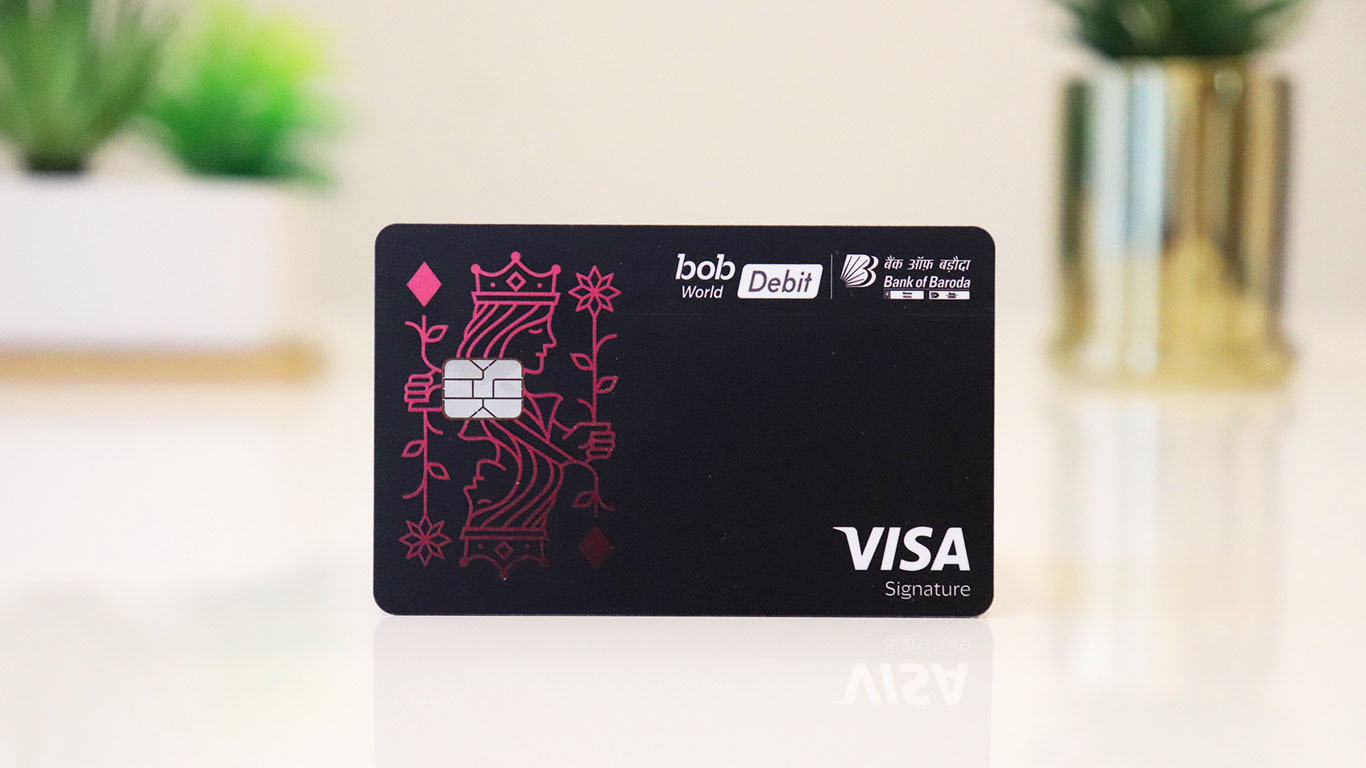 To attract the premium customers, Bank of Baroda recently launched a couple of premium & super premium debit cards in the name of Sapphire & opulence respectively.
The BOB Sapphire debit card is targeted at the premium segment with affordable annual fee and the Opulence debit card with metal form factor is targeted at the affluent segment with 9.5K INR annual fee.
Here we're gonna have a look at the quick review of Bank of Baroda Sapphire debit card which is already live and is in the circulation at the moment.
Overview
| | |
| --- | --- |
| Type | Premium Debit Card |
| Reward Rate | Nil |
| Joining / Annual Fee | 750 INR +GST |
| Welcome Benefit | 750 INR Lifestyle Gift Card |
| Eligibility | BOB SB Ac with AQB >10K INR |
| USP | Airport transfer benefit |
BOB Sapphire debit card is the first debit card in India (or) in the world for that matter that gives airport transfer benefit at affordable pricing and NRV.
Design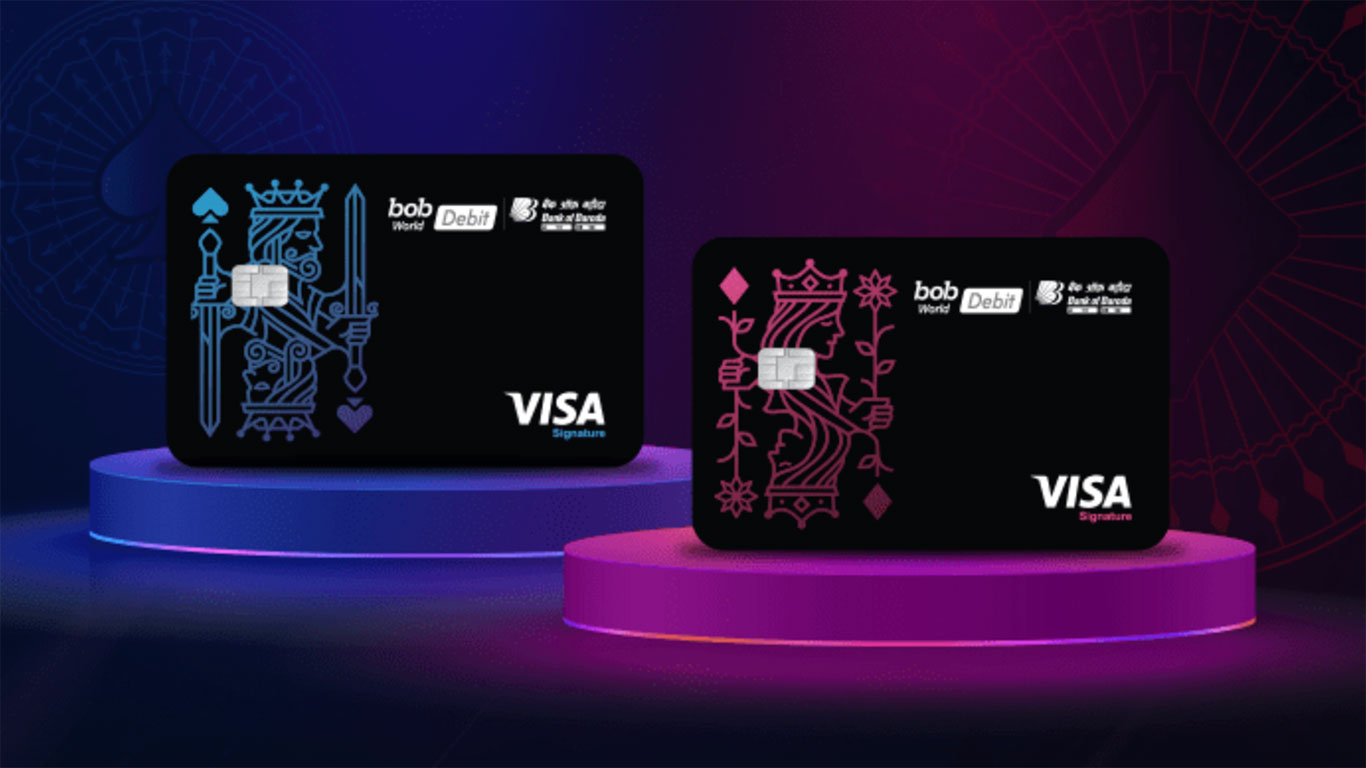 BOB Sapphire debit card comes in 2 designs: one for "him" and the other for "her". Here's a closer look at the "her" design.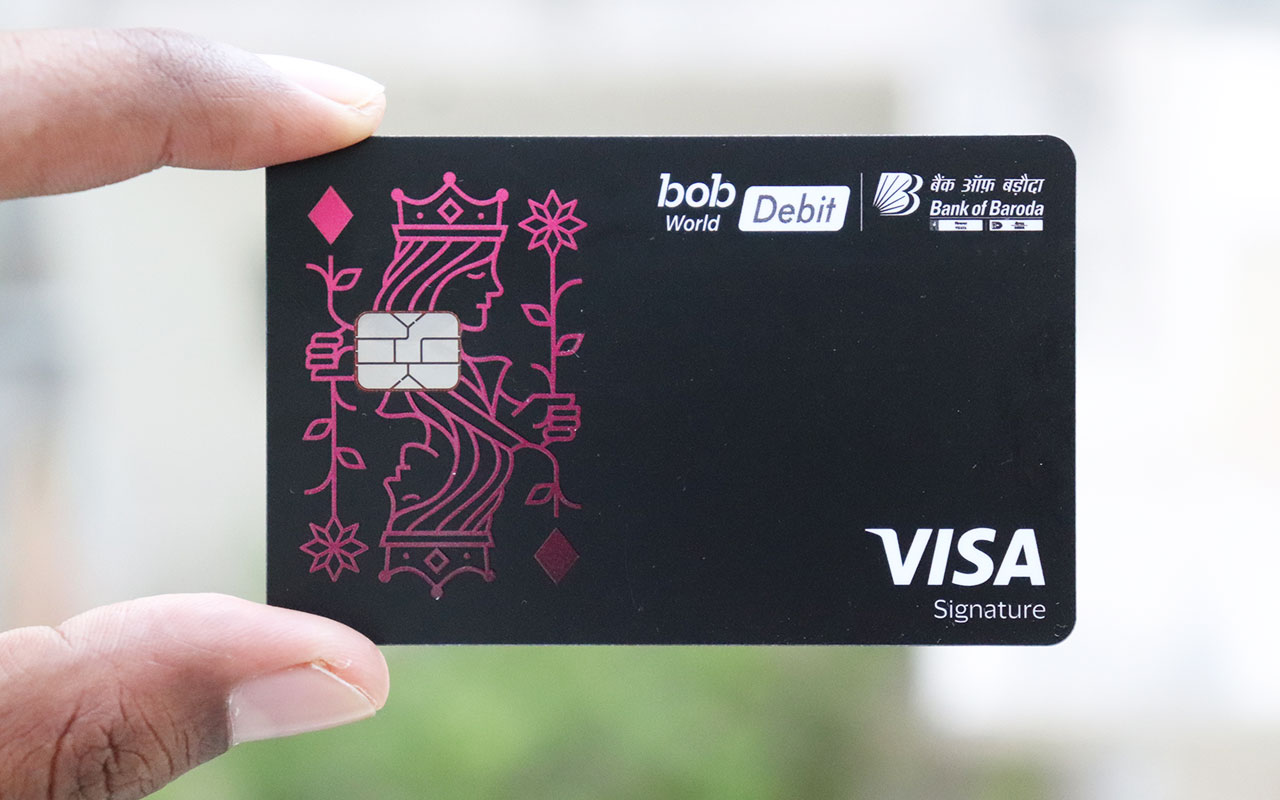 It looks classy without a doubt but the "bob world" logo feels unwanted and the big "debit" section could have been smaller.
And it seems going forward we won't be seeing the name in the front of the card, as I noticed the same with the recently launched IndusInd Avios Credit Card as well, probably because they wanted to simplify the printing process.
Airport Lounge Access
| ACCESS TYPE | VIA | LIMIT |
| --- | --- | --- |
| Domestic Lounge Access | Visa | 2/Qtr |
Just like most other Visa Signature credit & debit cards, this debit card too comes with 2 airport lounge access per quarter.
Airport Transfer Benefit
| ACCESS TYPE | VIA | LIMIT |
| --- | --- | --- |
| Airport Transfer Service | Visa | 1/Qtr |
While Airport lounge access benefit is quite common on debit cards, airport transfer service is rare to find even on credit cards.
So it's quite an aggressive move by BOB & Visa to introduce the airport transfer service on a debit card.
Point to note is that the service is taken care by Visa Concierge directly and it means we may likely see more Visa cards with this benefit in the coming days.
Booking Airport Transfer
You can either book over Whatsapp Chat (or) by Calling Visa Concierge line. Here are the contact details just incase if you're wondering.
I've already tried the service and it's quite smooth. The service was provided by "Eco Rent a Car" and the concierge calls up to verify if the pick-up/drop was done.
If I've to compare it with the airport transfer service on Axis Reserve that uses the same Cab service most of the time, I would say that BOB is slightly better, because I had the driver details like ~12 hrs prior to the trip, while Axis sends it only 2-3 hrs prior. This may of-course vary with airport and other factors, which I'm unsure of.
I got a Swift Dzire for my booking, as it was a "Tier 2" City. But if you're booking in a "Tier 1" City, you may expect a luxury Sedan. Here are the list of cities covered under the service.
BOB A/c Opening Process
If you're interested in this debit card and wanted to apply for the card along with the new BOB savings account, below is the procees:
Apply for the savings account with the help of BOB branch executive, digitally via Aadhaar authentication. Takes about 15 mins.
Account will be activated by the branch within few hours, else ask.
Fund the account with >10K INR, via NEFT/IMPS
Ask the same branch executive to apply for the Sapphire card for your account
Virtual card will be visible on the app (without CVV) within 3 days of applying. They take a week or more to deliver the physical card.
In my case, they did not send the card even after 3 weeks, so I had to call branch to issue it.
However the virtual card was sufficient to book the airport transfer, so didn't care much about the delay.
That said, better don't try to setup the internet banking account, as it lacks most features which are otherwise available on the mobile app.
Welcome Kit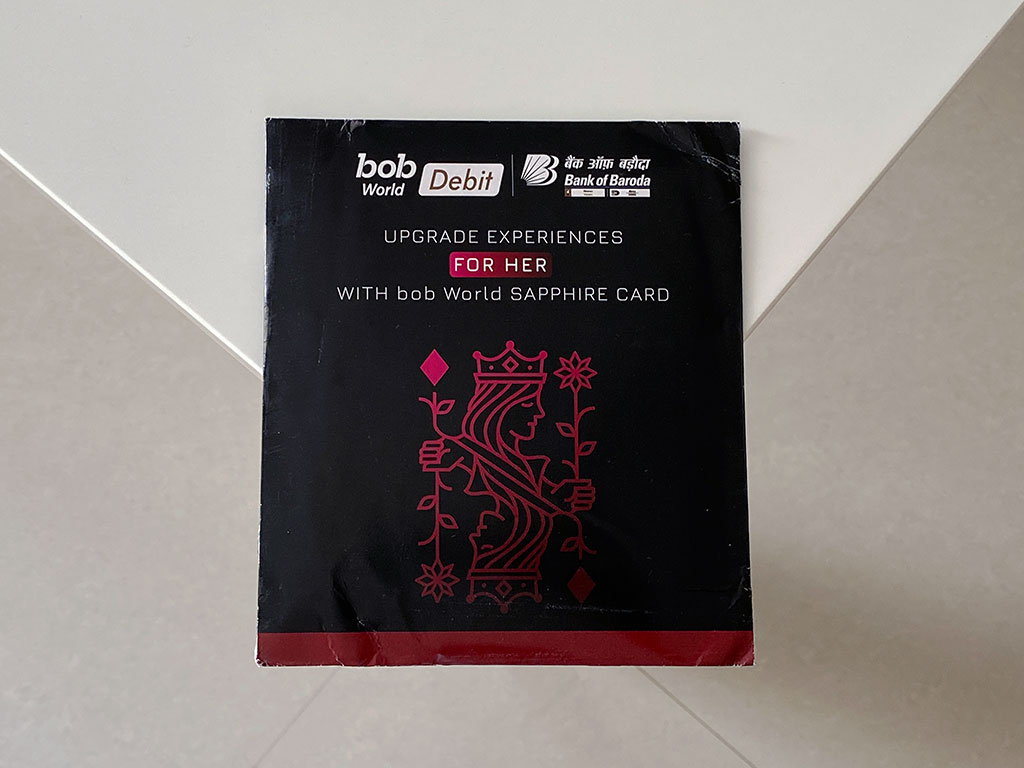 The debit card comes in a small welcome kit with a mini catalog & a welcome voucher (750 INR Lifestyle gift card). The gift card can be redeemed online (or) offline.
The PIN for the gift card is sent over SMS, which they should as well send over email, as SMS might not get delivered at times which often happens with SBICard.
Bottomline
Overall BOB Sapphire debit card is easy to get and easy to use. If you're new to BOB, opening an a/c is pretty quick as well.
It's quite a surprise to see Bank of Baroda launching premium debit cards with aggressive benefits which even the private banks doesn't have.
That said, I'm hoping to see new BOB "Credit" Cards with similar features soon. Until then, enjoy the benefits!
Make hay while the sun shines!
Do you hold Bank of Baroda Sapphire debit card? Feel free to share your experiences in the comments below.