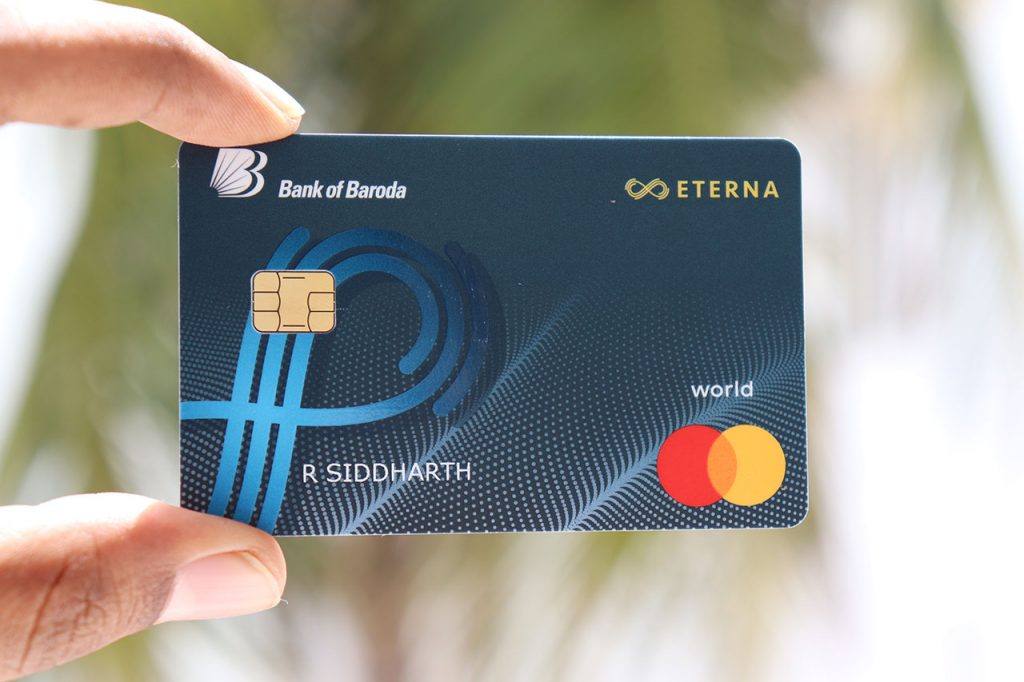 Bank of Baroda which runs credit card business under the entity BOB Financial Solutions Limited (formerly known as Bobcards Limited) recently launched a new premium credit card named Eterna.
It is one of a kind due to its high reward rate on accelerated categories like: online spends among others. Here's everything you need to know about BOB Eterna Credit card,
Overview
| | |
| --- | --- |
| Type | Premium Credit Card |
| Reward Rate | 0.75% – 3.75% |
| Annual Fee | 2499 INR + GST |
| Best for | Online Spends |
| USP | Redeem points for Stmt Credit |
While BOB Eterna is ideally a premium credit card, it can reward you as good as a super premium credit card. More on rewards to follow shortly.
Joining Fees
| | |
| --- | --- |
| Joining Fee | INR 2499+GST |
| Joining Fee Waiver | Spend INR 25,000 in 60 days |
| Welcome Benefit | 6 Months FitPass Pro |
| Renewal Fee | INR 2499+GST |
| Renewal Fee Waiver | Spend INR 2.5L in 1 yr |
| Eligibility | Rs.12L Income p.a. |
The concept of fee waiver is very good to see, especially the joining fee waiver which is not common with most premium credit cards.
Rewards
Ongoing Rewards
| | | |
| --- | --- | --- |
| Spend Type | Reward Rate | Max. Cap (monthly) |
| Online / Travel / Dining / International | 3.75% | 5000 |
| Regular spends | 0.75% | Nil |
3.75% return on spend is the highest ever we know of on regular online spends on credit cards. Note that we only get regular rewards of 0.75% on online wallet loads, verified as of April 2021.
Capping of 5000 Bonus points is decent considering other BOB cards. For ex, with BOB Premier the max. cap on accelerated rewards is 2K/month and for BOB Select its 1K/month.
Milestone Rewards
10,000 RP's on spending Rs.50,000 within 60 days
20,000 RP's on spending Rs.5,00,000 in a year
Return on spend: 1.5%
So on spending Rs.5L, you get 1.5% on milestone itself and you may also get points as per regular rewards.
Even if 5L is spent on non-accelerated categories, one can get 2.25% return, which is quite attractive.
And not to forget, these rewards can be transferred to cash credit on statement, so they're highly valuable.
That of course sounds mind blowing and I hope it works the way they promise.
Design
It looks decent but lacks the wow factor. It might have looked better if they had gone with a different colour combination.
Airport Lounge Access
Domestic: Unlimited (via Mastercard)
International: Nil
Good to have unlimited access to domestic lounges. Add-on cards too likely to get unlimited domestic lounge access, but can't comment unless one actually uses them & confirms the same.
No international lounge access though, which is fine in my opinion.
Other Benefits
Paytm Movie benefit: BOGO, Max Cap: Rs.250, once per month
FitPass Pro: 6 months complimentary membership
Golf: Mastercard Golf Benefit
Forex markup Fee: 2%+GST
Good to see lower markup fee on the card among other benefits. Not sure who's using Paytm to book movies though, I never used it.
Maximising Eterna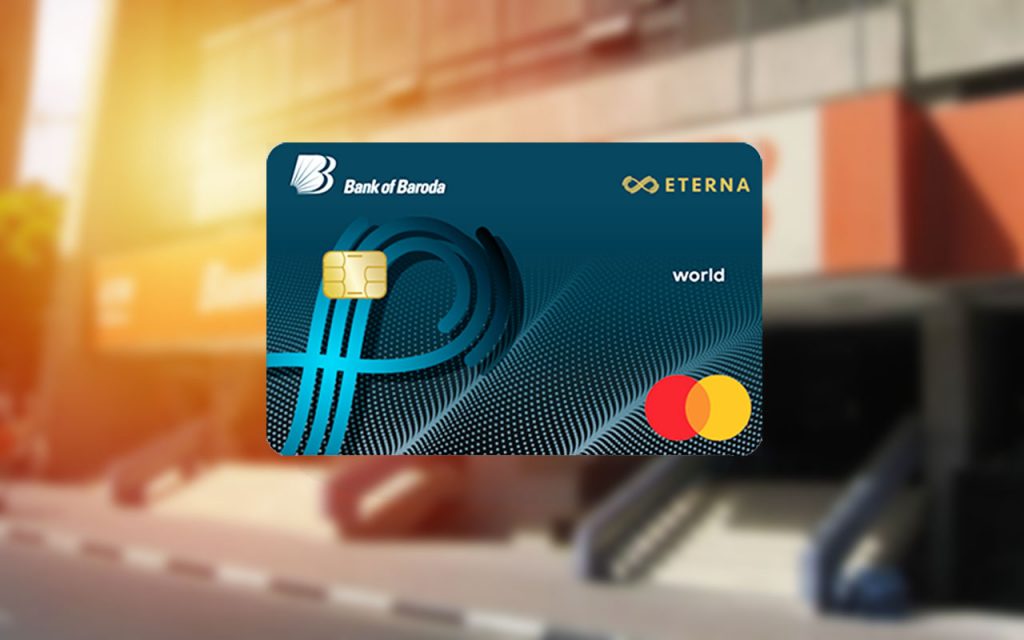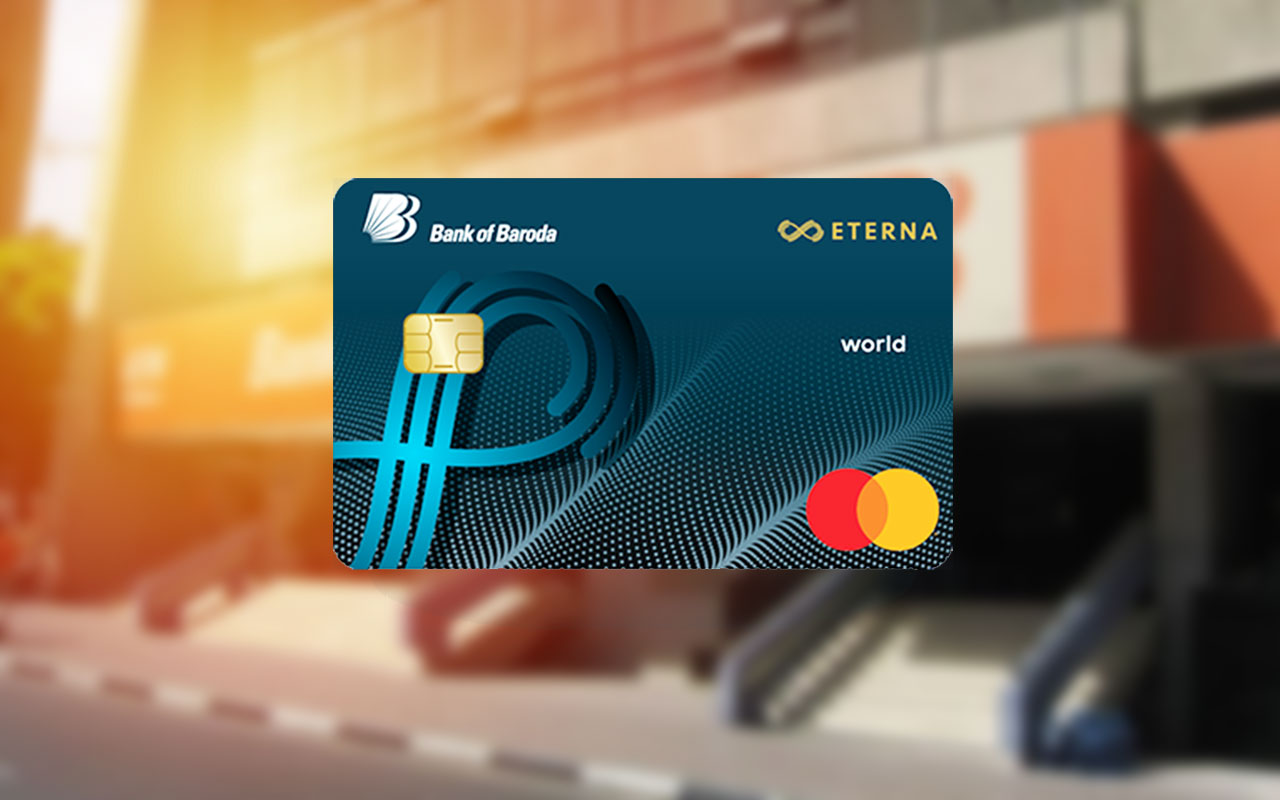 The sweet spot to maximise the benefit is by spending Rs.41,667 a month (Rs.5L a year, online only) doing which you can grab all of the following:
Reward Points: 95,000 points (75K+20K) equivalent to Rs.23,750 cashback
First year free
Renewal fee waiver
Overall, you can get a maximum of net 4.75% reward rate on 5L spend, which is very generous to see from Bank of Baroda.
There is nothing more you can ask for. 🙂
My Experience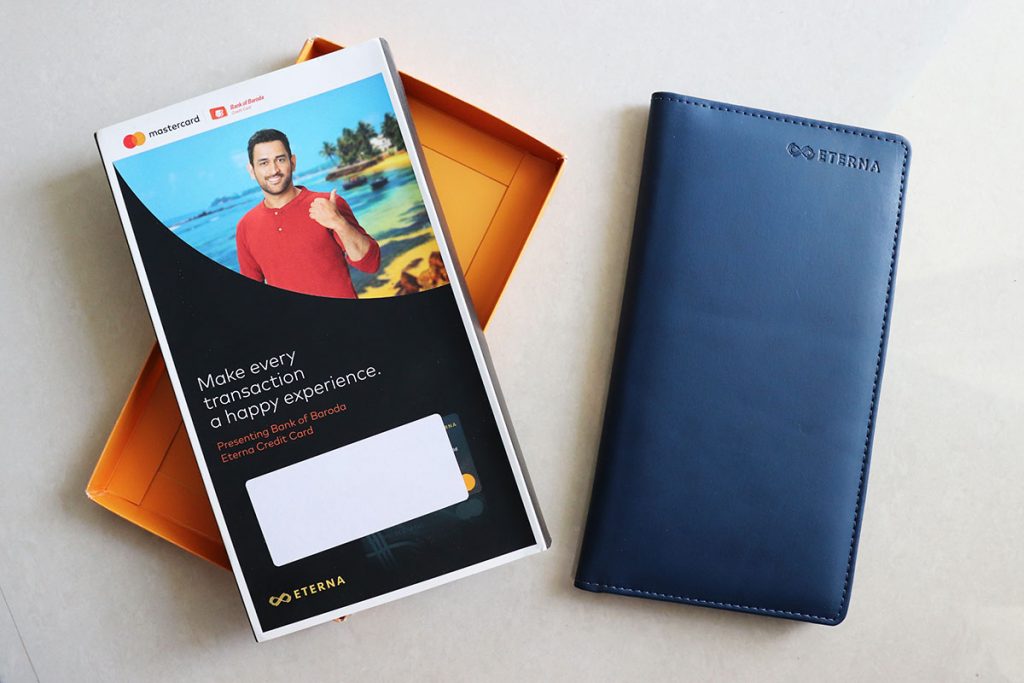 I recently applied for the BOB Eterna Credit card to experience BOB services as its my first BOB card.
You may check out the detailed article about my hands-on experience with BOB Eterna Credit card for more info.
How to Apply?
You may apply Bank of Baroda Eterna Credit card offline through branch (or) through the online portal.
Bottom Line
Its undoubtedly a wonderful premium credit card product for those who know how to make use of it, as 3.75% return is highest ever one can get on regular online spends in India.
However, with the capping of 5K a month on bonus points, it may not suit high spenders. I rather wish they had 10K or higher capping, or at-least a quarterly cap instead.
Anyway, its really great to see such aggressive products from a public sector bank and this makes me wonder if BOB is planning to take BOB Financial that runs their credit card business for an IPO.
What's your thoughts on Bank of Baroda going very aggressive with Eterna Credit card? Feel free to share your thoughts in the comments below.