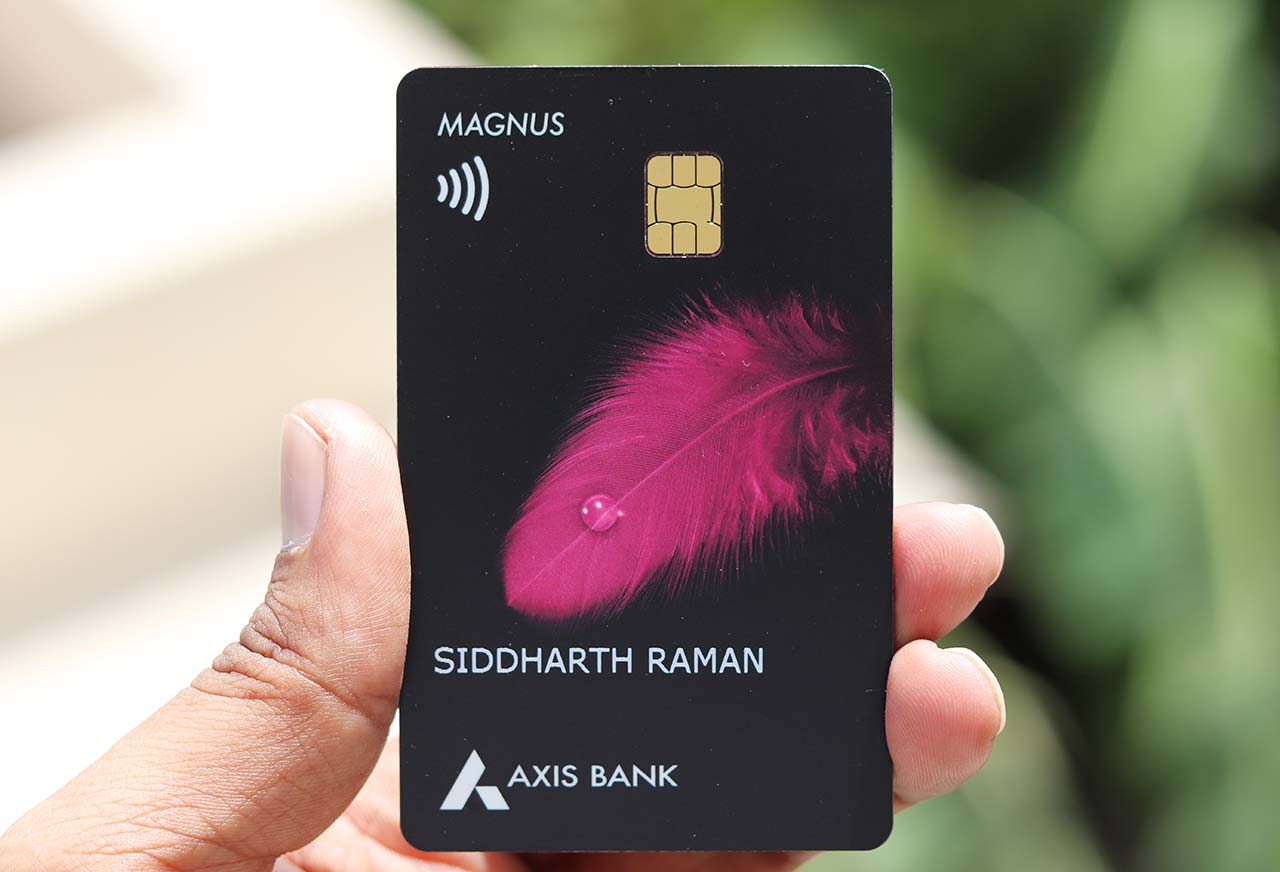 Axis Bank has so many wonderful credit cards in their portfolio and Magnus is one of the best rewarding credit card without a doubt. Axis Magnus Credit Card is the HOT pick of the year 2022 for a super premium credit card holder with good spends.
Here's everything you need to know about this most popular Credit Card in India at the moment.
Overview
| | |
| --- | --- |
| Type | Super Premium Credit Card |
| Reward Rate | 1.2% to 12.4% |
| Annual Fee | 10,000+GST |
| Best for | Monthly spends of 1 Lakh |
| USP | Airport meet & greet services |
With all the new benefits, Axis Magnus Credit Card can be called as the best super premium credit card not only in India but in the world.
Because no card in the world can get closer to the rewards it gives on spends of 1L a month, which fits well for most cardholders in this segment.

Fees
| | |
| --- | --- |
| Joining Fee | 10,000 INR+GST |
| Welcome Benefit | 10,000 INR TataCliq voucher (or) flight ticket |
| Renewal Fee | 10,000 INR+GST |
| Renewal Benefit | 10,000 INR TataCliq voucher (or) flight ticket |
| Renewal Fee waiver | On spending >15 lakhs |
Note that TataCliq voucher is the new option given as welcome benefit temporarily and it maybe discontinued anytime. Otherwise, if you choose one-way economy flight ticket, the price will be capped to Rs.10,000.
As long as TataCliq voucher is available, it's the best option to go with, as it almost covers the welcome fee, except the 1800 INR GST portion.
Once you do your first txn you'll get a link on SMS, accessing which you can redeem the desired welcome benefit in a matter of few clicks. If not received, call Axis Concierge (18001034962) post generation of 2 statements.
The Card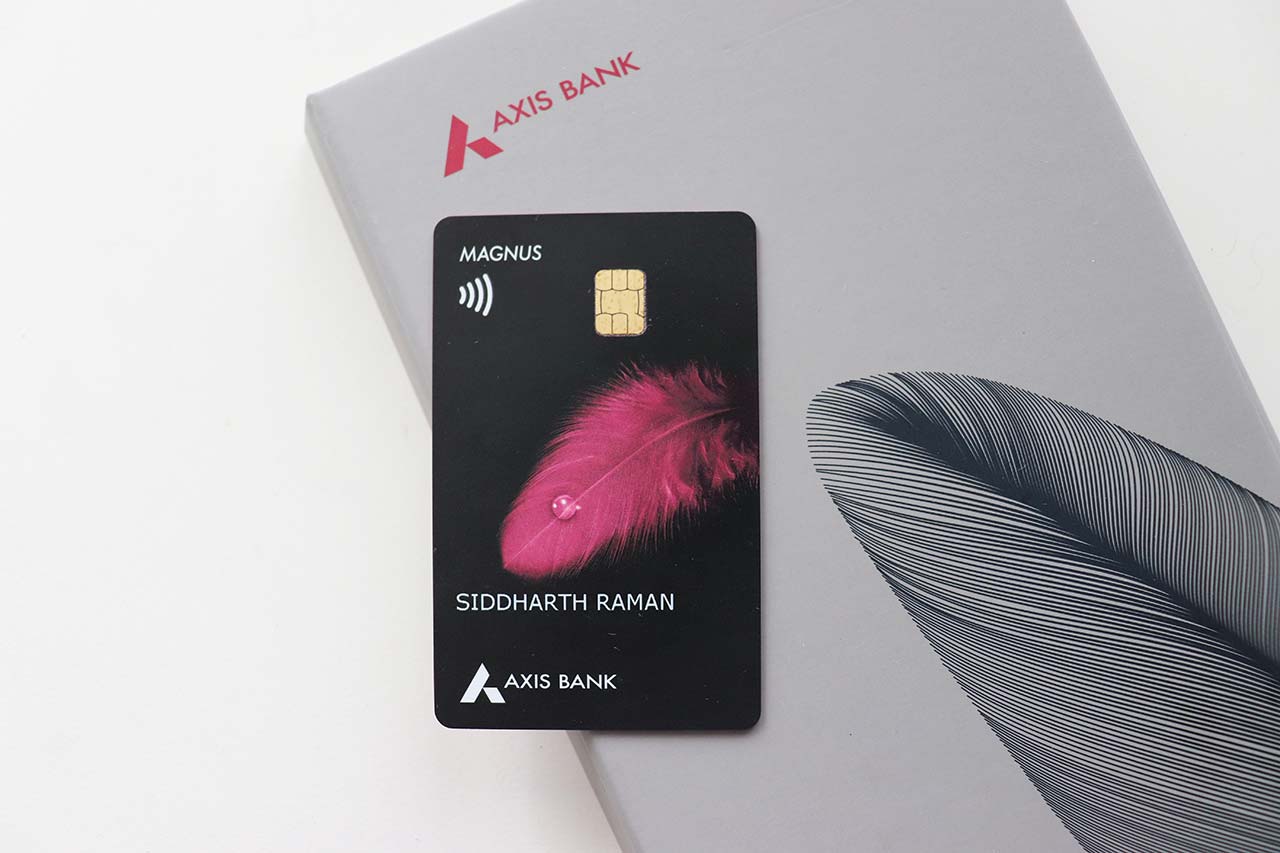 The Axis Bank Magnus Credit Card now comes in a metal form factor on Visa Infinite platform. The card looks definitely premium even without the metal form factor.
Anyway you can't differentiate metal Magnus from a non-metal Magnus that easily. So if you're holding the previously issued plastic card under Mastercard platform, there is nothing to worry.
Rewards
| SPEND TYPE | REWARDS | REWARD RATE (Edge Rewards Portal) | REWARD RATE (Points Transfer) |
| --- | --- | --- | --- |
| Regular Spend | 12 RP / 200 INR | 1.2% | 2.4% – 4.8% |
| Axis Travel Edge Portal | 60 RP / 200 INR (5X) | 6% | 12% – 24% |
The regular reward rate on edge rewards is indeed not exciting on Magnus. However, with 2X promo & 3X promo which comes once in a while, it's easy to save well over what HDFC Infinia and other super premium cards offer.
5X on Travel Edge portal is the new and nice benefit which you may find it useful for flight bookings.
Ideally, converting your points to the newly introduced Points transfer partners is the best way to get maximum out of Axis Rewards.
What this does is that it increases the "point value" from the usual 20ps (Edge rewards portal redemptions) to 40ps (Marriott/ITC transfers) or even 80ps if you explore airline partners.
Milestone Rewards
Rewards: 25,000 points on 1L spend (per calendar month)
Fulfilment: 90 days from end of txn month
Monthly milestone benefit is the newly added feature from Feb 2022 and this is the reason why it makes sense for high spenders to get Magnus Credit Card.
This is because no card gives 6.2% value just like that with easy redemption options. And if you decide to play with points transfer partners, that's minimum ~12.4% savings.
While it's a great benefit, the fulfilment period is bit longer which may bother some short term points players.
25K reward points can get you 2 nights at Marriott hotels through points transfer.
Caution: If you're applying for the card & approved this month, note that the milestone benefit is applicable only from the upcoming month. Your approval month (or) the card setup date is the date when you receive the "card approved" sms.
Easy way to double check on this is to look at the issue/expiry date printed on your card, just add +1 to it. If your expiry date is something like 05/27 (May / 2027), ideally your spends are eligible from June.
For those who're wondering how long they take to credit the milestone rewards, here's a quick look into the past:
25 March 2023 for Dec 2022
15 Feb 2023 for Nov 2022
07 Jan 2023 for Oct 2022
09 Dec 2022 for Sep 2022
16 Nov 2022 for Aug 2022
22 Oct 2022 for July 2022
26 Sep 2022 for June 2022
10 Aug 2022 for May 2022
08 July 2022 for April 2022
02 June 2022 for March 2022
Airport Lounge Access
| Access type | Via | Limit | Guest Access |
| --- | --- | --- | --- |
| Domestic Lounge Access | Visa / Mastercard | Unlimited | – |
| International Lounge Access (Primary) | Priority Pass | Unlimited | 8 |
Guest access on Priority Pass (for International lounge access) is a good one to have and it is limited to 8 access per "card anniversary year". That's sufficient to cover the access for your family.
Wish they had given the complimentary guest access for domestic as well, as Axis has technical challenges in issuing Add-on cards as of now.
But as long as you are able to get add-on cards (hit or miss as of now), it comes with unlimited domestic lounge access as well.
Airport Meet & Greet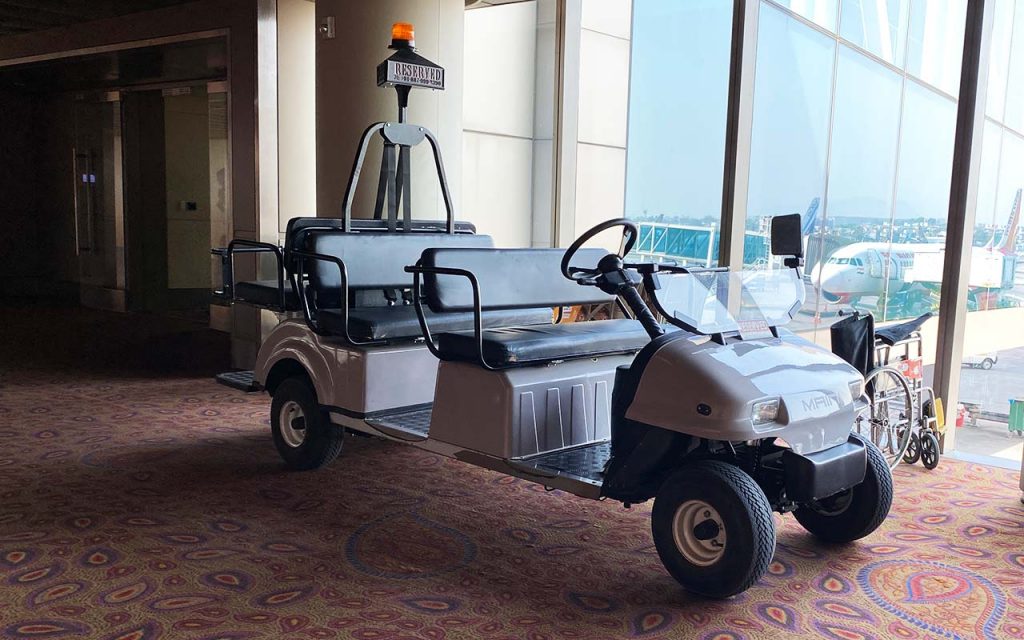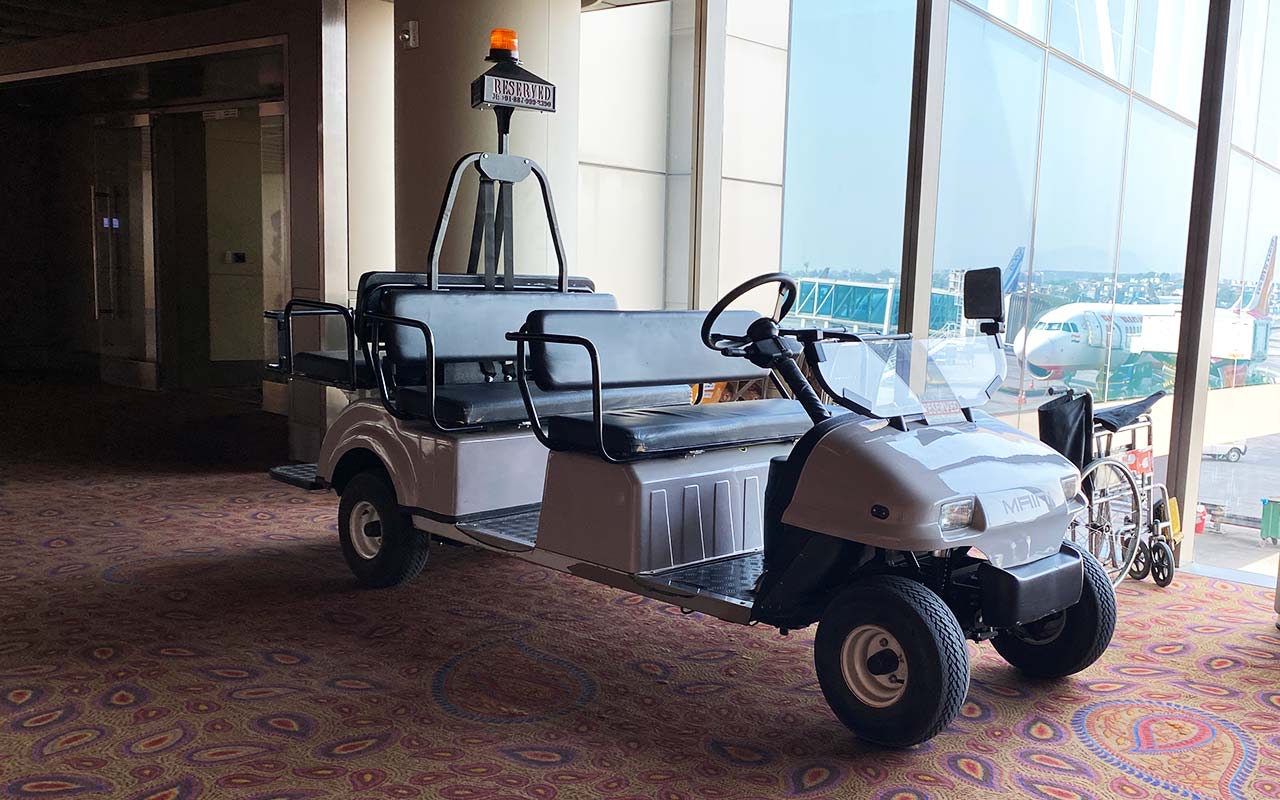 Complimentary Access: 8 / year
The airport meet & greet service – which Axis Bank calls as "airport concierge" service is the USP of this product. It gives VIP Assistance Services for a smooth and hassle-free airport transfers.
The services include assistance across airport processes, such as: express check-in, fast-track security check, immigration assistance, porter & buggy services.
I've used this service at MAA/BOM/HYD airports both for arrival & departure and its quite useful. Here's a detailed article on the airport meet & greet services available at Indian airports.
Golf Benefit
Complimentary Courses/Lessons: Nil
Unlike most other premium and super premium credit cards, Axis Magnus doesn't have the complimentary Golf benefit.
This is because they basically replaced the Golf benefit with Airport Meet & Greet services to reduce their costs, which definitely makes sense.
However, if you're holding the Mastercard variant, you're eligible for the Mastercard World Golf benefit that gives 1 complimentary lesson a month and 4 games max per year.
Add-On Cards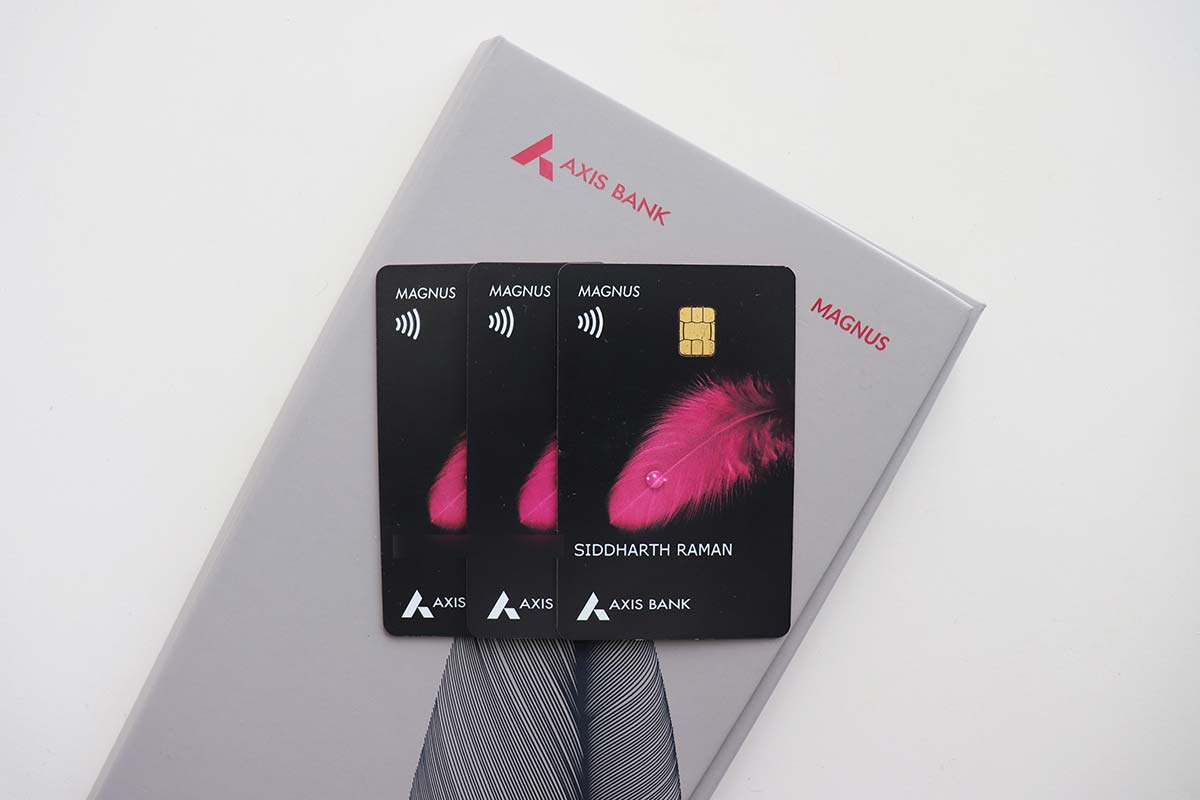 Getting add-on cards with any Axis Bank credit card is tricky as of now but is getting better. It can't be applied independently either unless there are additional approvals.
However, it can still be applied while applying for the primary card but it may or may not get processed as expected.
I wouldn't suggest taking add-on cards if you're looking for peace of mind. Because even if you get it, you need to call support every-time to change pin, etc, as add-on cards can't be accessed online.
Hope Axis Bank fixes this Add-on cards issue soon.
Bookmyshow Offer
Offer: Buy one Get one
Valid on: movie/non-movie bookings
Max. Cap: Rs. 500 off on the second ticket
Monthly limit: 5 bookings per month
Boomyshow offer is pretty good indeed and if you're in metro cities where the ticket cost is easily 500 INR, then this is a very good benefit. Else, Visa Infinite offer is sufficient for most.
That said, Visa offers may get maxed out pretty fast compared to the direct BMS offer on Magnus, so the separate Magnus offer still makes sense.
Forex Markup Fee
Foreign Currency Markup Fee: 2%+GST = 2.4%
Rewards – Markup Fee = 4.8% – 2.4% = ~2.4%
If you redeem your points for points transfer partners, you'll ideally end up at no-profit / no-loss. If you play the air-miles game, you'll gain about 2.4% which is not for all though.
But if you spend 1L in a month, you will definitely end up in overall gain as you get the milestone benefit.
Maximizing Axis Cards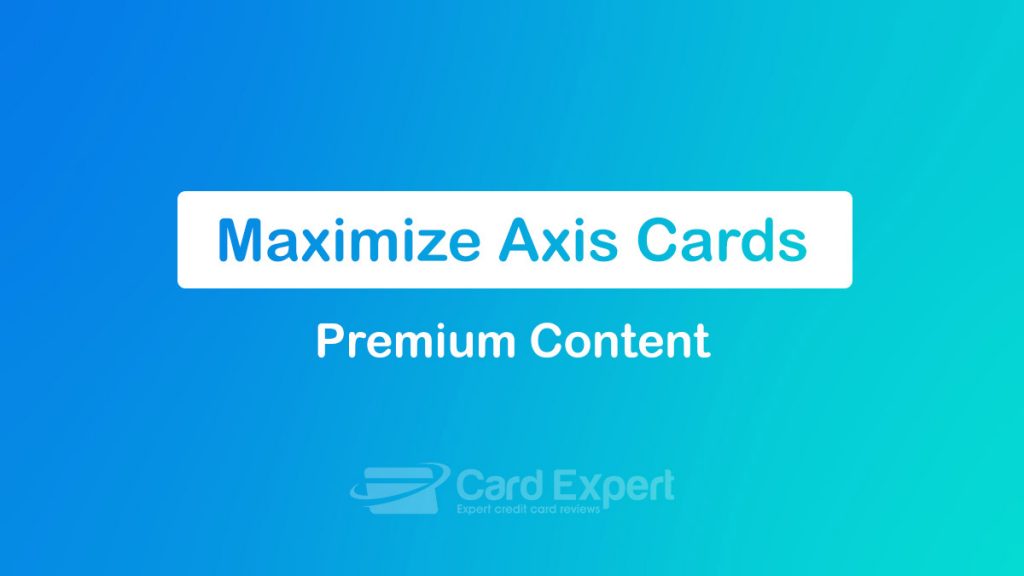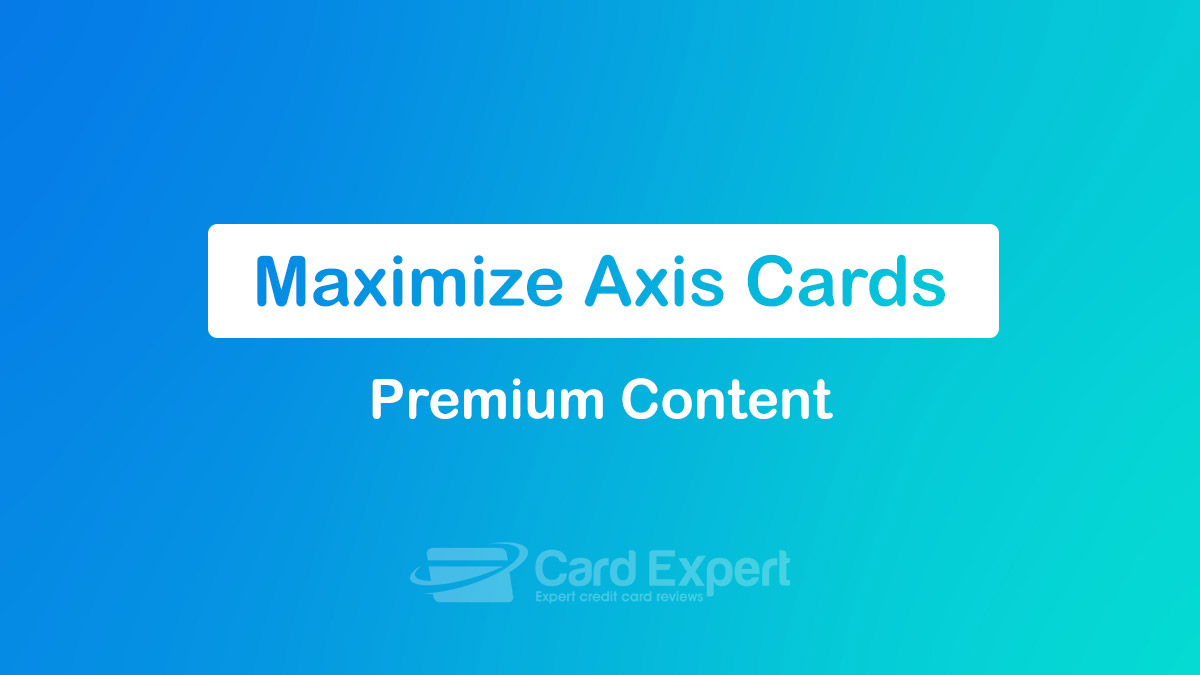 The Year 2022 is an amazing year to explore Axis Bank Credit Cards. However, there are various issues with the bank, from application, credit limit to service and support.
If you're facing various issues (or) if you prefer to have a smooth ride into a rewarding year with the lucrative Axis Bank credit cards, do check out this beginners guide to Axis Bank Credit Cards: Maximizing Axis Bank Credit Cards.
How to Apply?
You may apply online on Axis website in a matter of few steps. Axis Bank is recently known for processing fresh credit card applications pretty fast.
You may get the card approved usually within a week from the date of application. If you're new to bank, not to worry, you don't need to create Axis Savings A/c to have an Axis Bank Credit Card.

Bottom line
Magnus Credit Card is one of the amazing credit cards that Axis Bank has ever created. It's a must have card for those who're spending ~1L a month, as it's the highest rewarding credit card in India at that spend level with easy redemption options.
With unlimited lounge access, milestone rewards and airport concierge service, Axis Magnus is worth having in the wallet in 2022 if you're looking for attractive rewards and premium experiences in life.
The only downside is the service and support, which I hope will get better when the Citi merger goes live.
Do you hold Axis Magnus Credit Card? Feel free to share your experiences in the comments below.