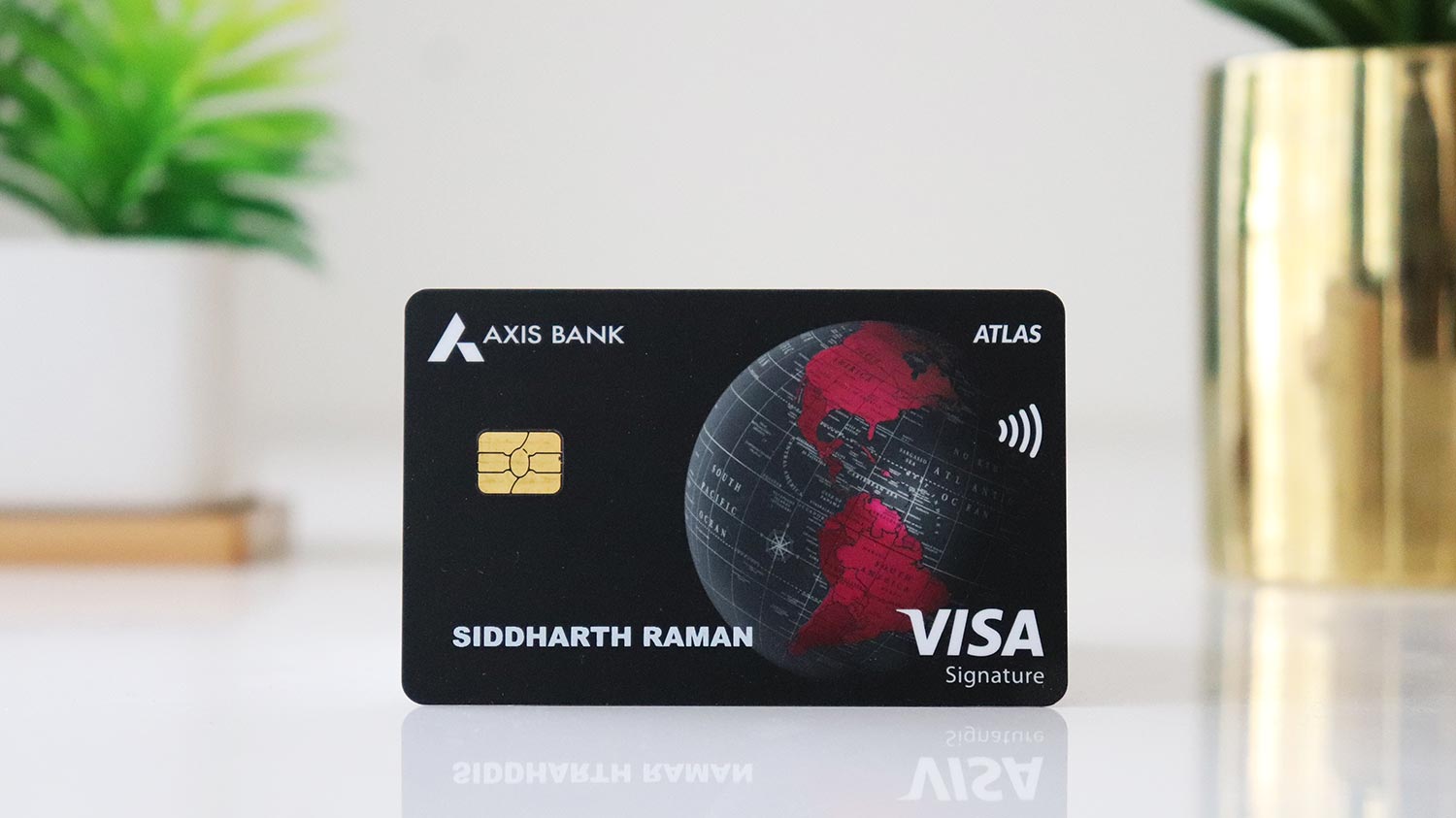 Axis Bank has very many premium and super premium credit cards and also the Atlas Credit Card which serves multiple segments at once: from travel to super premium (or) even an Ultra premium segment, based on spends.
Axis Bank Atlas Credit Card is one of a kind, quite unique the way it works but at the same time looks complicated for most. That said, here's a simple guide to help you understand it better and use it effectively, if you choose to apply for one.
Overview
| | |
| --- | --- |
| Type | Travel Credit Card |
| Reward Rate | 2% to 10% |
| Annual Fee | 5,000+GST |
| Best for | Direct Hotel & Airline Spends |
| USP | Tiered benefits based on spends |
Axis Bank Atlas credit card has been recently face-lifted by increasing the regular reward rate and adding more spend categories that earns accelerated rewards.
Ideally its best suited for those who pay a lot of hotel bills (or) airline charges. But it can also be used for other benefits. Let's begin with the fee.
Fees
Joining Fee
5,000 INR+GST
Welcome Benefit
5000 Edge Miles (10,000 INR value easily)
Renewal Fee
5,000 INR+GST
Renewal Benefit
2,500 Edge miles (Silver)
5,000 Edge miles (Gold)
10,000 Edge miles (Platinum)
Renewal Fee waiver
Nil
The welcome benefit of 5K edge miles can be transferred to ITC (among others) and can be redeemed for 10,000 INR worth of stay, food, etc at ITC hotels.
That means you're paying 5K and getting 10K value – doubling the value of your money just like that.

There are more partners with a good conversion rate and we'll explore them later below.
While there is no renewal fee waiver option on this card, the good thing about the Atlas Credit Card is that it gives better renewal benefit if you spend more during the card anniversary year.
The renewal benefit is quite lucrative, especially with the platinum tier. But remember that even gold tier is sufficient to get 2X value of the renewal fee paid.
Design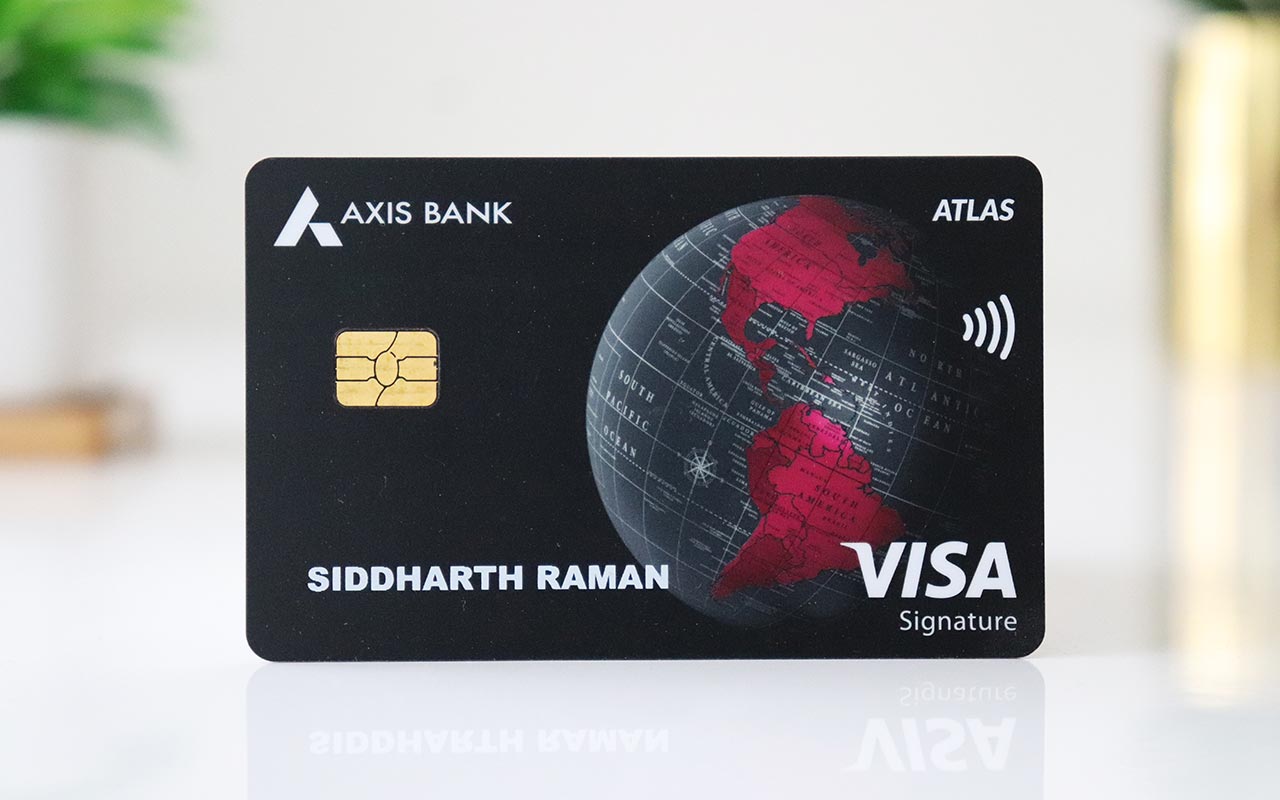 The design looks not only neat, simple and beautiful but also relevant to the type of card, so is the choice of name: Atlas.
If you've had the card in hand, you would agree that the card looks and feels as good as you see in the image above.
Rewards
Unlike all other Axis Credit Cards, Axis Atlas doesn't earn "Edge Rewards", but it earns "Edge Miles".
It's a separate miles balance that reflects on the Axis Edge Rewards account and is not linked with any other product so far.
| SPEND TYPE | Edge Miles | REWARD RATE (EDGE REWARDS PORTAL) | REWARD RATE (POINTS TRANSFER) |
| --- | --- | --- | --- |
| Regular Spends | 2 / 100 INR | 2% | ~4% |
| Axis Travel Edge Portal | 5 / 100 INR | 5% | ~10% |
| Airlines & Hotels (Direct) | 5 / 100 INR | 5% | ~10% |
It is to be noted that if you intend to pre-pay for flights/hotels using travel edge portal, Axis Magnus is a lot better option than Atlas Credit Card.
Redemption
There are multiple options to redeem edge miles, broadly divined into two, as below:
Redeem on Travel Edge portal: 1:1 (for flights/hotels)
Transfer Edge miles to airline/hotel partners
While redeeming on travel edge portal is the super simple option with a static value, we don't get great value there.
Instead, one can transfer the points to airlines and hotels and get pretty good value. Here's a quick look at the transfer ratio.
| Airline | Conversion Rate (Edge Miles:Partner Miles) |
| --- | --- |
| All Airlines* | 1:2 |
| Hotels: IHG & ITC | 1:2 |
| Hotel: Marriot Bonvoy | 2:1 |
Airlines: United, Singapore Airlines, Turkish, Etihad, Qatar, Air France, Ethiopian, Vistara & Spicejet
As you can see, the transfer ratio is 1:2 across all airlines & hotels, except for Marriott Bonvoy which is at 2:1. So it's not wise to transfer these points to Marriott from Atlas Credit Card.
If you're into Marriott, you can however transfer your points to ITC and then to Marriott (2 ITC points = 3 MB points), but this is limited to 60K points per year.
Generally, ITC is the goto option for most cardholders to get better value, as it's lot less complicated and also allows to transfer the points further to Marriott Bonvoy.
If you wish to explore international airline redemptions, our simple guides are here: Singapore Airlines – KrisFlyer & United Airlines – MileagePlus (more to follow soon).
Milestone Benefit
| Spend Requirement | Milestone Benefit |
| --- | --- |
| 3 Lakhs | 2,500 Edge Miles |
| 7.5 Lakhs | 5,000 Edge Miles |
| 15 Lakhs | 10,000 Edge Miles |
Assuming you're able to do "regular" spends of 15 Lakhs, you'll get 40,000 Edge miles that can be easily valued at 80,000 INR or even 1,60,000 INR (airline sweet spots), with reward rates as good as 5.3% to 10.6% respectively.
But remember that wallet & rental spends wont be considered for milestone benefits.
Membership Tiers
| Annual Spends | Membership Tier |
| --- | --- |
| < Rs. 7.5 lacs | Silver |
| Rs. 7.5 lacs to Rs. 15 lacs | Gold |
| Rs. 15 lacs & above | Platinum |
Axis Atlas Credit Card comes with membership tiers and it's a unique system in the credit card industry.
The membership tiers are purely based on credit card spends with Platinum tier on top that gives access to most of the airport benefits, including luxury airport transfers which is available only with the expensive Axis Reserve.
Airport Services
Axis Bank Atlas Credit Card gives you access to below airport services depending on the membership tier you're in:
Here are the complimentary limits on respective tiers for airport services.
| Membership Tier | Airport Meet & Greet | Airport Transfer |
| --- | --- | --- |
| Silver | – | – |
| Gold | 2 | – |
| Platinum | 4 | 2 |
However, note that these airport services can neither be booked on the Extraordinary weekends portal nor through concierge line, unlike the other cards like Magnus & Reserve.
With Atlas, airport services can be booked only through the Atlas Dashboard on app/website and that's not something you would enjoy doing.
Airport Lounge Access
The complimentary lounge access limits on Axis Atlas Credit Card also works as per the tiered system mentioned below.
| Membership Tier | Domestic Visits | International Visits |
| --- | --- | --- |
| Silver | 8 | 4 |
| Gold | 12 | 6 |
| Platinum | 18 | 12 |
Note: Above visits covers both Primary cardholder + guests, if any.
So, as you see above, the good news about the Atlas Card is that we can avail these complimentary lounge access both for primary cardholder & guests, just like the Axis Reserve Credit Card.
However, note that it's not well implemented both at terminal & with QR system, for ex, if you add 1 guest to the visit, you'll be charged, which is not the case with Reserve.
So as of now, you'll be charged the fee for guests and the charges will be auto reversed as confirmed by Axis customer support.
Should you take Atlas?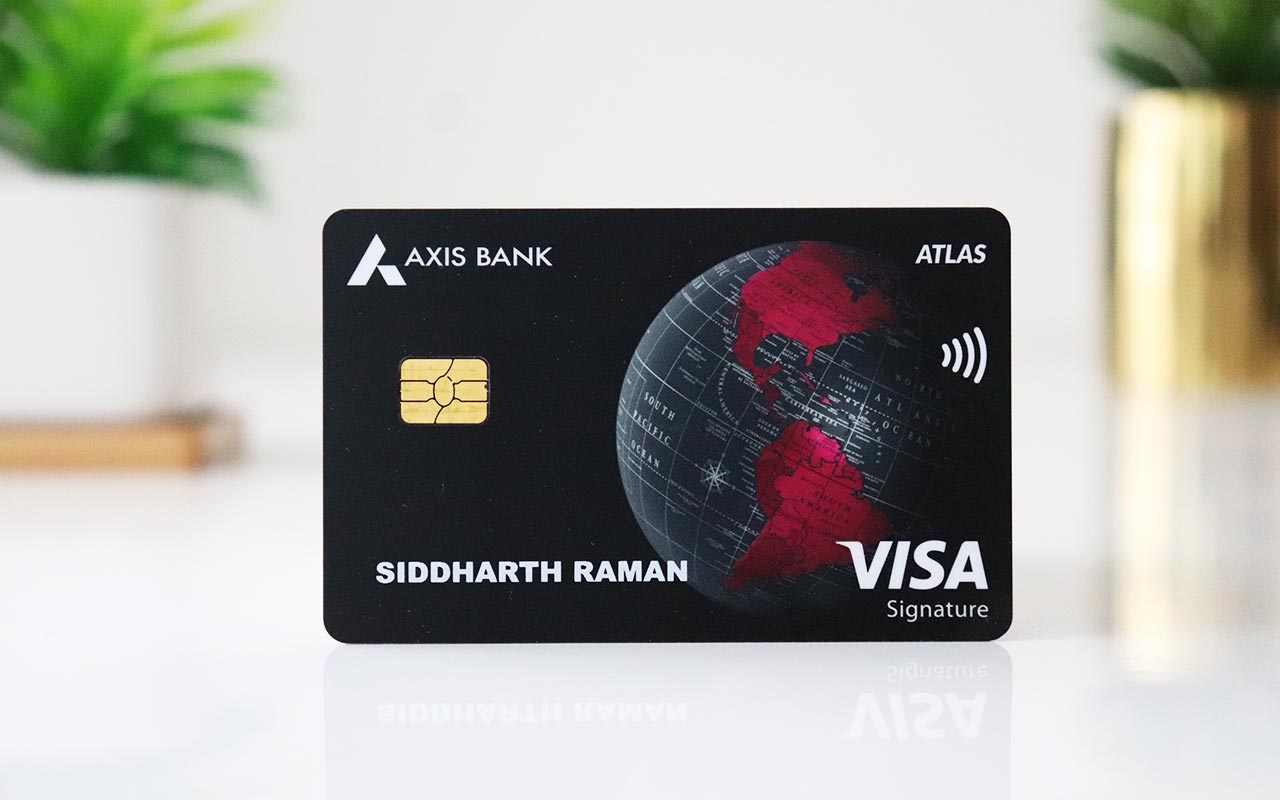 For most people, Axis Magnus (or) Axis Reserve credit card would do.
But here are some reasons why you need to have Atlas in your wallet, even if you have other Axis credit cards.
Your direct airline & hotel spends are high (>5 Lakhs a year).
You can spend 15L easily, so as to get higher reward rate.
You need lounge access for guests.
You want to experience the USP of Magnus and reserve and yet light on pocket.
You do lot of direct international hotel spends, as this gives a good net gain (~5.8%) on forex hotel spends.
While we can give more reasons, the only reason that I generally see across many Atlas cardholders is the #1 reason listed above.
For ex, on spends of 5L with hotels & airlines, you would get 50K worth of miles with atlas, whereas with Magnus you would only get ~25k miles. So higher the spends in this category, higher the reward rate.
But Note that you can also use travel edge and get 5X rewards on Magnus for prepaid hotels/flights and get a lot higher reward rate. So Atlas is largely reserved for incidental hotel spends or for airline charges.
My Experience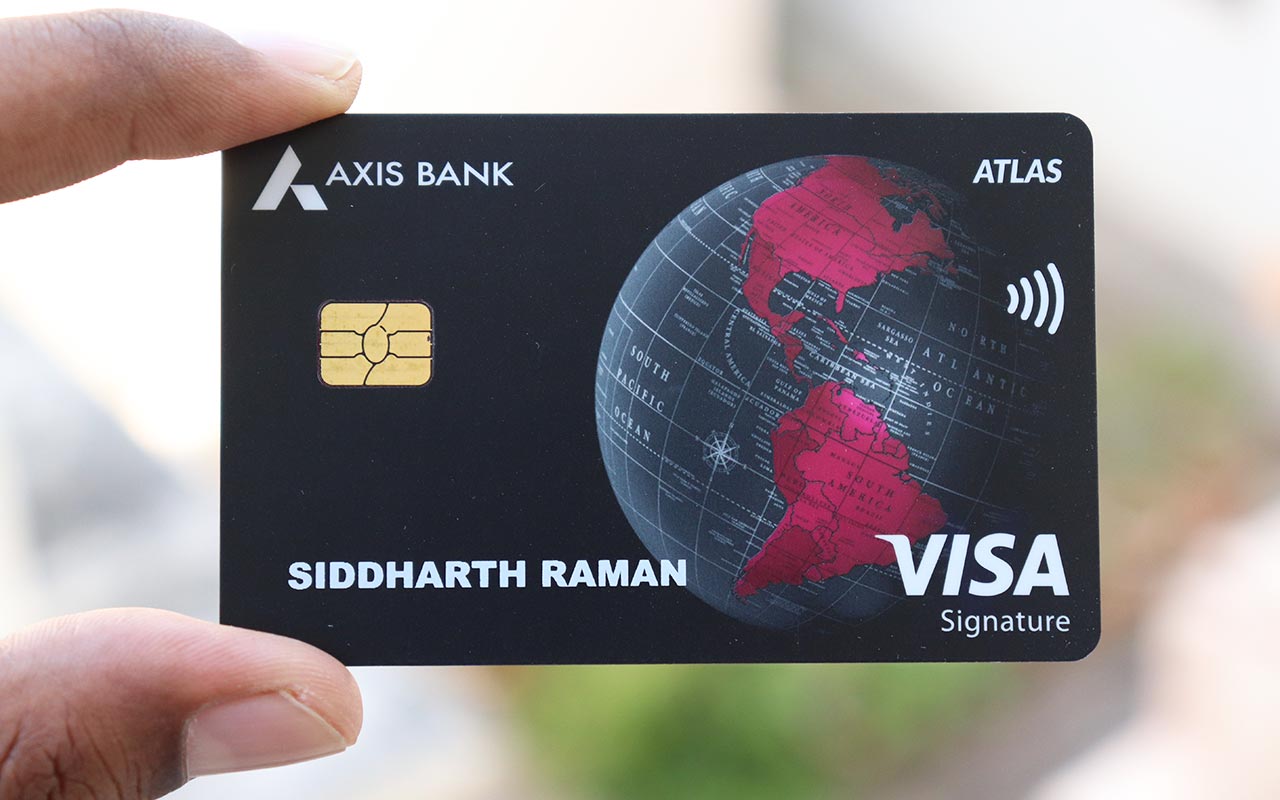 I got the Axis Atlas Credit Card few months ago, primarily to experience the product as it's quite unique in the industry.
They've a dedicated card management dashboard for Atlas on Mobile & net-banking because of the membership tier system and other benefits.
Apart from that, the 5X rewards gets credited for hotel spends on time, hopefully so for airlines. I did a small txn few months ago to check the same and it does work as expected.

Eligibility
Annual Income: 9 Lakhs & above
Existing other Bank Credit Card: ~3 Lakhs (or) above limit
If you're facing any issues (or) if you prefer to have a smooth ride into Axis Credit Card Ecosystem, do check out this beginners guide to Axis Bank Credit Cards: Maximizing Axis Bank Credit Cards.
How to Apply?
You may apply online on Axis website in a matter of few clicks. Axis Bank is recently known for processing fresh credit card applications pretty fast.
You may get the card approved usually within a week from the date of application.

If you're new to bank, not to worry, you don't need to open a fresh Axis Bank Savings A/c to get an Axis Credit Card.
Bottom line
Overall Axis Atlas Credit Card is a fully loaded card at this fee range and has the ability to give experiences that only an ultra premium credit card can offer – all you need is the high spend potential.
If you intend to have 3 best premium credit cards from Axis Bank, this can be one among – others being Axis Magnus & Axis Vistara Infinite.
Do you've Axis Bank Atlas Credit Card? Feel free to share your experiences in the comments below.