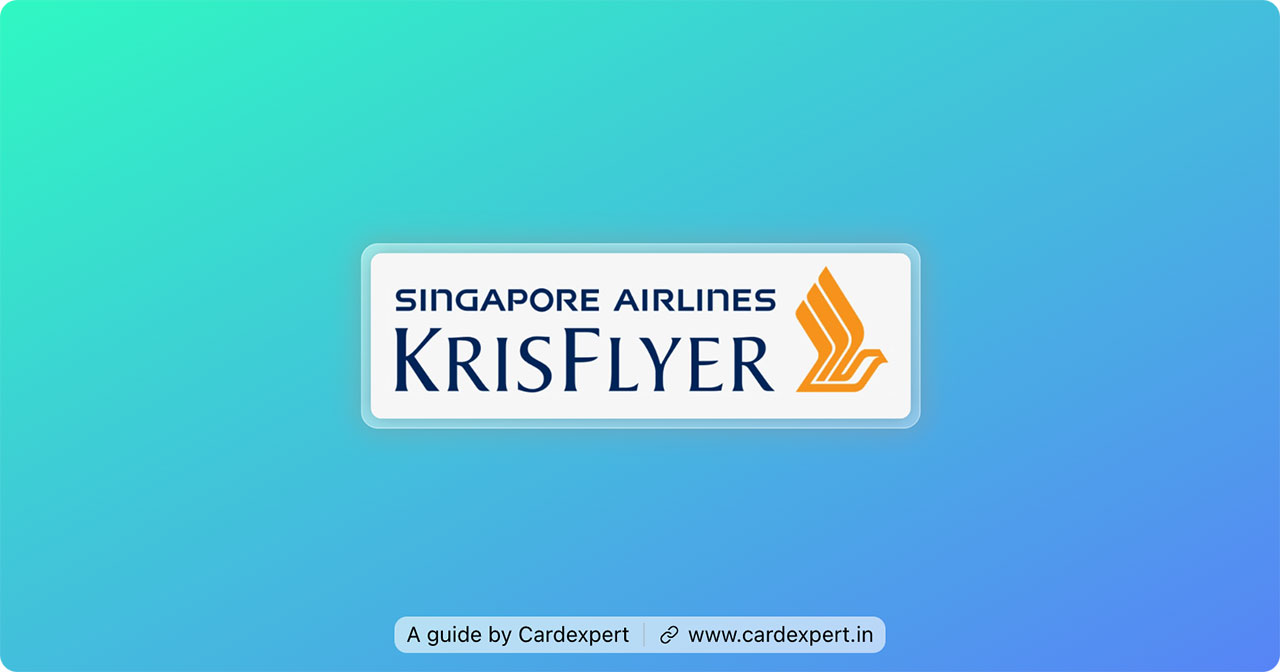 KrisFlyer by Singapore Airlines is one of the most popular International Frequent Flyer programme for Indians as you can transfer points from many of the Indian Credit Cards like HDFC, CITI, AXIS & HSBC to KrisFlyer.
While the attempt is to highlight some of the popular routes, they need not be the best of the redemptions for everyone, as one program doesn't suit all and for all routes.
If you're new here, please check out the Intro to airmiles article for better understanding. Here's everything you need to know about the Singapore Airlines KrisFlyer program as an Indian,
Overview
| | |
| --- | --- |
| Airline [Code] | Singapore Airlines [SQ] |
| Home Country [Hub] | Singapore [SIN] |
| Loyalty Program | KrisFlyer |
| Airline Alliance | Star Alliance |
| Validity | 3 Years |
| Value / mile | ~ 1 INR |
| Best for | SE Asia Redemptions |
| USP | Free Stopovers |
| Award Availability | Decent |
Singapore Airlines is renowned for its luxurious Business and First class cabins and is an excellent choice for Indians traveling to Southeast Asian countries.
Why KrisFlyer?
There are two things that make for a great flight.
The hard product, meaning the items that cannot be easily changed, such as the seat.
The soft product, which is the food, amenities and service.
In the case of Singapore Airlines, both products are nice and rated one of the best products out in the sky.
Wide body planes are preferred for medium and long haul flights and what better airline to choose than SQ which is the "first" airline to fly the Airbus A380 and Boeing 787. It has a big fleet of wide body's Boeing 777 & 787, Airbus 380 & 350, etc
Membership Tiers

There are three membership tiers with KrisFlyer as above and the real benefit like lounge access kicks in only with Gold tier. Here's the complete list of tier benefits.
While getting to Gold tier is quite tough, SQ recently ran one-of-a-kind promo that could get you to Gold/Silver tiers on transfer of X amount of KrisFlyer miles from credit card transfer partners.
Such promotions are rare and was possible before because of the Covid scene but we can expect some sort of "bonus points" offer instead.
Taxes & YQ
One of the most important factor when analysing a right airline loyalty program is the tax component.
Singapore airlines doesn't pass on carrier-imposed fees, sometimes called fuel surcharges (YQ). The taxes on redemption are quite nominal on Singapore Airlines.
However, it should be noted that taxes for redeeming partner airline flights are steep, as the fuel surcharge (YQ) is passed on to the customer.
Earning KrisFlyer Miles
Axis Credit Cards: Magnus, Reserve & Atlas are the most popular credit cards in the country at the moment to earn KrisFlyer miles.
Citi Credit Cards: Premier Miles and Prestige are quite good as long as it lasts.
HDFC Credit Cards: While Infinia & Diners black are good, it's not wise to use these cards for miles transfers, as the earn rate is not that great as Axis cards.
Amex Cards: While Amex allows transfers to SQ, earn rate is so poor and it's usually better to avoid.
HSBC Cards: While it's mostly reserved for Taj (Neu Coins), it can as well be transferred to SQ.
While the list maybe big, most cardholders prefer the Axis Magnus Credit Card because of it's attractive milestone benefits.
Redeeming KrisFlyer Miles
To use KrisFlyer miles for award flights, you'll need to login to your KrisFlyer account. Once logged in, go to the "book flights" tab. Make sure to select the "Redeem Flights" option to search for award flights.
Here's a sample award seat search for your reference: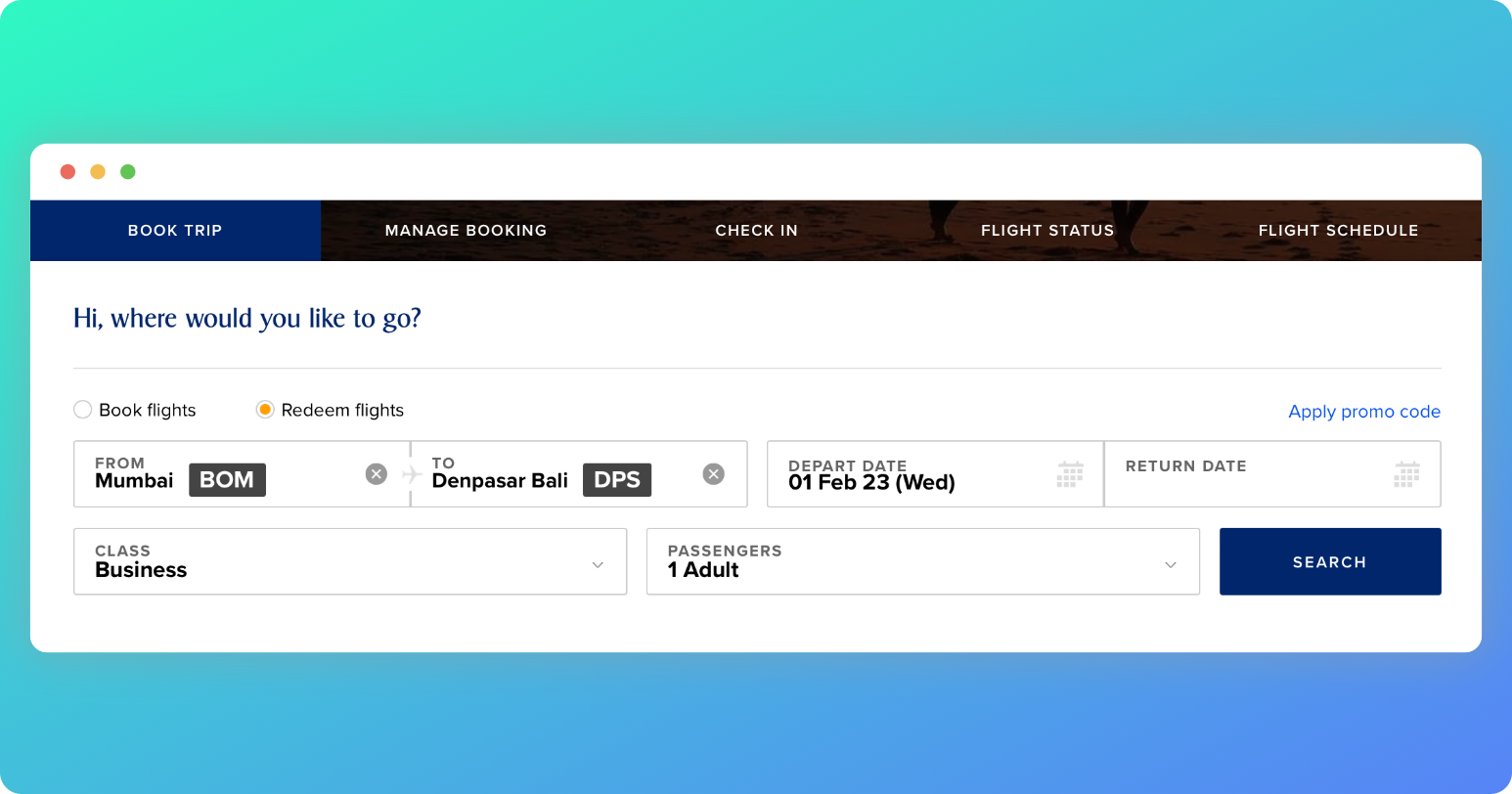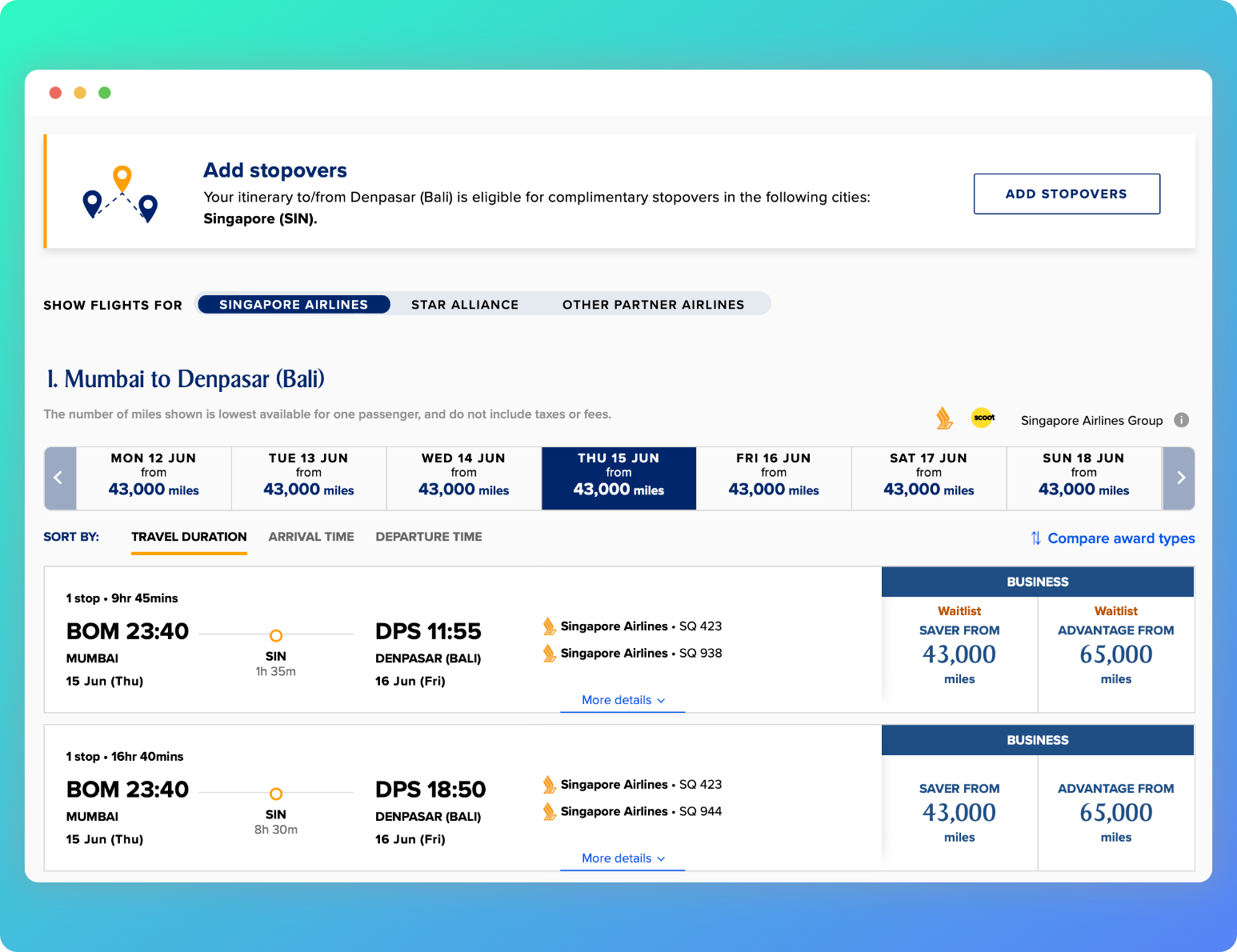 You will see two types for fares,
Saver
Advantage
Saver award fares require less number of miles compared to Advantage. Saver is also hard to come by unless you plan to book the flights in advance (at-least 1 month) on most of the popular routes.
Note: Singapore's award chart is based on thirteen zones and each zone requires a different number of miles. Here is the chart for your reference.
Stop Overs
| Ticket | Saver Awards | Advantage Awards |
| --- | --- | --- |
| One Way | – | 1 |
| Round Trip | 1 | 2 |
Validity of award tickets: 12 months
Please refer to table for stop over requirements. Two separate redemption bookings will be required for stopovers of more than 30 days for award redemption tickets issued on or after 1 August 2022.
Many travellers visiting destinations like Bali will also be interested in exploring Singapore during their trip. In these cases, StopOvers can be a valuable option.
Upgrade Award Seats
SQ miles can also be put to good use by upgrading revenue ticket. Please note that one you can only upgrade to next cabin. The miles required for upgrade is based on the fare class booked.
Please refer to below SQ calculator for the route you wish to know.
That aside, we can't upgrade a SQ Partner airline ticket using KrisFlyer miles.
Cancellation / Date Change
Charges for date change and cancellation are very reasonable for KrisFlyer program as shown below.
| Fees for awards/upgrades | Saver ($) | Advantage ($) |
| --- | --- | --- |
| Change of date on Singapore Airlines | 25 | 0 |
| Change of route, cabin class, award type or add a stopover on Singapore Airlines | 25 | 25 |
| Change of date, route, flight or carrier on partner airlines | 50 | – |
| Redeposit of miles for award / upgrades | 75 | 50 |
Infant Ticket
Infant passengers are issued what is termed an 'Infant-in-Lap' or 'Lap Infant' ticket. This ticket must be tagged to a booking reference number of an adult (>18 years old) traveling on the same flight. An adult can only have one infant tagged to him/her.
If you are making your award redemption on the SQ website, you will not be able to buy an infant ticket online. Simply make your redemption booking as usual.
Once you're done and have a confirmed ticket, call up SQ KrisFlyer and provide your booking reference number and explain that you would like to add on an Infant-in-Lap ticket to your booking.
Miles required are typically 10% of the miles required for adult booking. Its advisable to check with SQ upfront to know the actual miles requirement for adding infant.
Partner Redemptions
Singapore Airline is part of Star Alliance and it has tons of partners, however as mentioned before, it does pass on fuel charges while redeeming miles on partners.
So expect to pay high taxes on these redemption's. However, some options are pretty good to explore as miles required is pretty decent. We'll see some examples later in the article.
Family Pooling
This 'family pooling' feature allows parents to access the KrisFlyer miles of their children so that the parents can enjoy the miles earned on child's account.
However, that's not useful for most as the definition of family pooling with SQ is more between Parent-Child, wish it's lot broader. Not sure how it's useful in reality though.
Note that transferring other members CC points to your a/c is not allowed (transfer gets reversed and an alert email gets sent as well) and your KrisFlyer account might even get blocked if repeated attempts are done.
Redeeming for others
A member may nominate up to five individuals as nominees at any one time to be in his/her Redemption Group. A child or infant nominee is treated the same as an adult.
Members may replace or delete nominees in their Redemption Group for a flat fee, regardless of the number of changes or deletions.
Once a change or deletion has been carried out, further changes or deletions to the Redemption Group can only be carried out after six months.
There is no fee for adding new nominees to a Redemption Group
Waitlist
If you're searching for award seats, you might as well come across the "waitlist" status. This means your booking goes to the queue and it may or may not get cleared.
The concept behind this is that award seats tend to open up closer to departure (1-2 weeks prior), and being on the waitlist saves you from having to keep checking.
Here are some key points:
You must have sufficient miles to add yourself to the waitlist
No miles are deducted when joining the waitlist
Waitlists are open up till three weeks before departure. All unfilled waitlists will be automatically cancelled two weeks before departure
Should the waitlist clear, you'll usually have 72 hours to confirm your booking. There is no obligation to do so.
Waitlist clears within one month of departure
Elite status improves your chances of clearing the waitlist.
But generally waitlist on SQ is not a wise option for most.
Spontaneous Escapes

Singapore Airlines offers Spontaneous Escapes promo every once in a while, wherein we can get significant savings (30%) on award tickets in select regions.
It's a "Promo" fare and so it comes with it's own disadvantages like: non-cancellable, non-changeable ticket. It also doesn't allow stop-over even on roundtrip awards.
But it's still the easiest way to reduce your miles requirement, useful for those with confirmed plans.
KrisShop, Vrooms & Pelago

There are times when you don't have any plans or your miles are expiring, you can considering using the miles for shopping, booking hotel or experiences. Here's a quick look into the same.
KrisShop: You can shop gadgets on KrisShop portal using Miles. Getting anything above 50ps per mile is usually hard.
Vrooms: This service helps to book hotel rooms using KrisFlyer miles. Try to use for hotels only if you get a value of 50ps per mile.
Pleago: This service helps to book local experiences like tours and more using KrisFlyer miles. While we did explore this in the past, its hard to get value more than 40ps per mile for the Pelago experiences.
During the pandemic, I was in a situation where I felt I need to burn some miles off and then I saw a sale on apple products. I went ahead and purchased apple SE watch which gave an approximate value of 65ps per point which I felt was a good deal.
I had this item shipped to US as there wasn't any custom duty to USA below $800.
Redemption Ideas
SE Asia
| Country | Route | Economy (Miles) | Business (Miles) | Tax (INR) |
| --- | --- | --- | --- | --- |
| Singapore | BOM-SIN | 20,000 | 43,000 | ~2200 |
| Vietnam | BOM-SIN-SGN | 20,000 | 43,000 | ~2800 |
Note: You're seeing points required for One way saver awards. Advantage awards are in the range of 37K (economy) & 65K (business) miles for the mentioned routes.
As you can see above, it requires same amount of miles to fly from India to Singapore (or) to other SE asian countries (REP/SGN/HAN/MNL).
So the best idea is usually to book a round-trip saver award and put one stop over in SIN so that you can explore 2 countries in a trip.
Note:
In the above example, you may replace BOM with any other city in India from where SQ flies, like MAA/BLR/HYD.
You may also replace SGN with other airports in SE asian countries like Vietnam, Cambodia, Indonesia, Philippines, etc.
SE asian routes are the preferred ones for most people exploring air-miles as a beginner, because its relatively easy to earn these many miles and it's also best for family travellers as one can find upto 4 biz class award seats in these sectors, which is generally rare in the industry.
Australia / New Zealand
| Country | Route | Economy (Miles) | Business (Miles) | Tax(INR) |
| --- | --- | --- | --- | --- |
| Australia | BOM-SIN-SYD | 43,000 | 92,000 | ~4,500 |
| New Zealand | BOM-SIN-AKL | 43,000 | 92,000 | ~5,500 |
This is a great program to visit either of these countries and more so for New Zealand as there are no better options to visit New Zealand from India.
Good thing is you can find up to 3 award seats even in Business class for these routes. The availability for SYD is pretty good across the year but AKL is usually tough unless you book few months in advance.
UK
| Region | Route | Economy (Miles) | Business (Miles) | Tax(INR) |
| --- | --- | --- | --- | --- |
| Zurich | BOM-SIN-ZRH | 62,000 | 146,000 | ~1,800 |
| Germany | BOM-SIN-FRA | 62,000 | 146,000 | ~1,800 |
While the options are decent, the problem is one needs to goto Singapore to take these flights, which feels like an unwanted roundtrip for most Indians.
So in such cases, partner redemptions are useful, some examples on that later.
USA
| Region | Route | Economy (Miles) | Business (Miles) | Taxes (INR) |
| --- | --- | --- | --- | --- |
| New York | BOM-SIN-JFK | 60,000 | 136,500 | 4K-6K |
| West Coast | BOM-SIN-LAX | 51,000 | 123,000 | 4K-5K |
SQ does operate a direct flight to New York (JFK) from its base in Singapore but finding availability is hard and you need to book in advance to really find saver awards. Miles required for west coast (LAX/SEA/SFO) is quite reasonable as well.
But generally it's not easy to find more than 2 saver awards on the US routes.
Overall its a great way to travel to USA using KrisFlyer miles, I believe miles required are decent and the tax is very reasonable. Sooner you plan, chances of getting saver award is higher.
Personal Experience
Here are some personal experiences with SQ by Puneet,
Asia:
While I haven't taken SQ flights to Asia, this program is one of the best and preferred ones for trips like Bali, Vietnam etc and doing a stopover in Singapore.
I have seen up to 4 business and economy award saver seats available for this route and it's a great way to have a family trip with decent balance of miles accrued from card spends.
UK:
I have personally travelled to UK back in 2019 on Swiss air business class (partner) redeemed using Kris Flyer miles. The experience wasn't great, and it was underwhelming.
Most of the star alliance partners like Lufthansa and Swiss air fly out of Delhi.
Miles required for Delhi to Zurich (partner redemptions),
Economy roundtrip Saver award : 61,000 miles + INR 16,815
Business roundtrip Saver award : 123,000 miles + INR 18,369
Another option to Europe is to take AirIndia direct flights which is also a Star Alliance partner.
Miles required for Bombay to London (partner redemptions),
Economy roundtrip Saver award on AI: 61,000 miles + INR 16,729
Business roundtrip Saver award on AI: 123,000 miles + INR 27,143
This is quite on the higher side and we have other Star Alliance programs which will cost less miles and tax for the same route and we will talk about this in the coming articles.
As the star alliance has a very big list of partners, the award redemptions covers almost the entire world, one can book intra Europe flights like Paris to Zurich or a Sydney or Auckland.
USA:
I have personally taken the long route to US along the east coast, Ahmedabad -> Singapore -> Frankfrut -> Newyork on business class.
While it's not the optimal way to reach US with a long layover in Singapore, being my first experience with SQ I really enjoyed both the soft and hard product as well the "Book the Cook" option to prebook some of their signature dishes.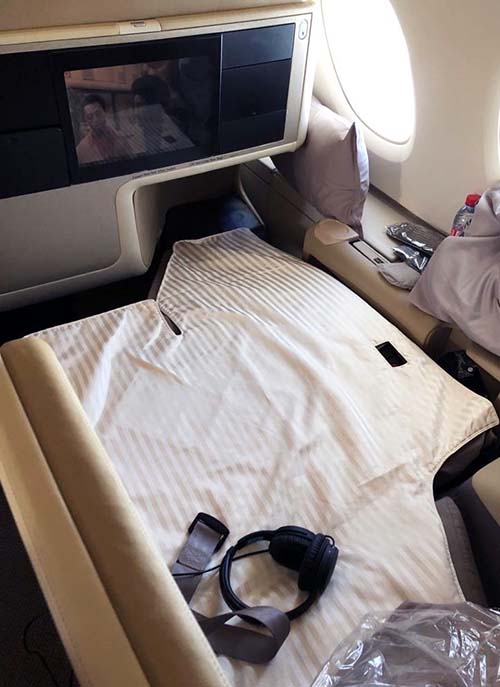 For long haul, SQ mostly uses widebody planes, Boeing 777, Airbus A350 and A380 and its always a pleasant experience flying business class on these products.
We will stop here with some of the above examples which we believe will help most of the folks to get started and plan for most popular routes.
Support
You may connect with Singapore Airlines KrisFlyer team through below phone lines.
1800 121212 (local calls)
+91 22 501 66046 (calls from outside India)
Bottom line
The Singapore Airlines KrisFlyer program is undoubtedly an amazing option for Indians exploring nearby foreign countries in style, as the points requirement for business class award seats are fair enough.
That said, it would be nice if we have some co-branded credit cards with Singapore Airlines in India just as they have a few in Japan, Malaysia and few other countries.
Have you flown Singapore Airlines or it's partners? Feel free to share your experiences in the comments below.