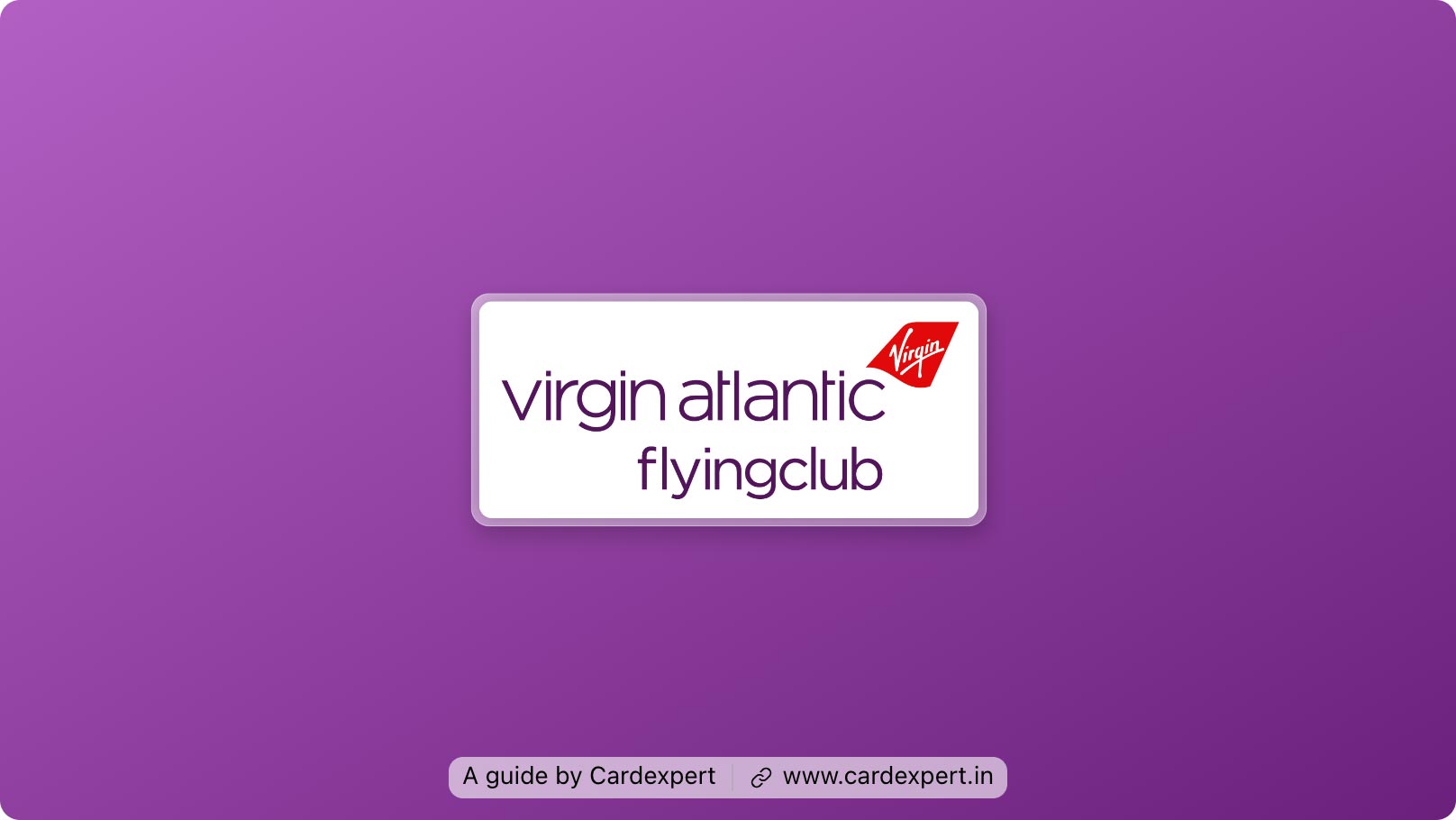 Flying Club is the frequent flyer program of Virgin Atlantic, which is a member of "Sky Team". Flying club is a popular program among small set of Indians especially with those flying to London and connecting to European countries.
One of the reasons to do the in-depth coverage on Virgin now is to help some of the Citi Credit Card holders who are planning to move their points out before Axis merger.
If you're new here, please check out the Intro to airmiles article for better understanding. Here's everything you need to know about the Virgin Atlantic's Flying Club program as an Indian,
Overview
| | |
| --- | --- |
| Airline [Code] | Virgin Atlantic [VA] |
| Home Country [Hub] | United Kingdom [UK] |
| Loyalty Program | Flying Club |
| Airline Alliance | Sky Team |
| Validity | Miles never expire |
| Value / mile | ~ 1 INR |
| Best for | Redemptions to London & more |
| USP | Lower miles on Economy |
| Award Availability | Decent |
Lower miles requirement on economy is the USP of Virgin at the moment, for example, it only costs 10K miles for London on Economy.
Why Flying Club?
Most regular family (or) business travellers prefer taking direct flight to the destination without any stop overs. It's an additional advantage if the program had very good availability and lower miles requirement.
This is where Flying Club comes handy, especially when travelling from Bombay/Delhi to London. We personally see travellers prefer with this option, especially for London as even the last minute availability (1~2 weeks) is pretty good.
On top of it, availability for multiple passengers are also very good, as many a times you can find 3+ seats available in economy.
Membership Tiers
Flying Club is a 3-tiered membership:
Red
Silver
Gold
Every time you fly with Virgin Atlantic or its airline partners, you'll also earn Tier Points. And with three tiers of membership, the higher you go, the more benefits you'll enjoy.
We are not going to talk more on this, as there is no major sweet spot with the benefits on higher tiers.
Intro to SkyTeam
SkyTeam is one of the world's three major airline alliances. Founded in June 2000, SkyTeam was the last of the three alliances to be formed, the first two being Star Alliance and Oneworld, respectively.
Here is a list of Sky Team members: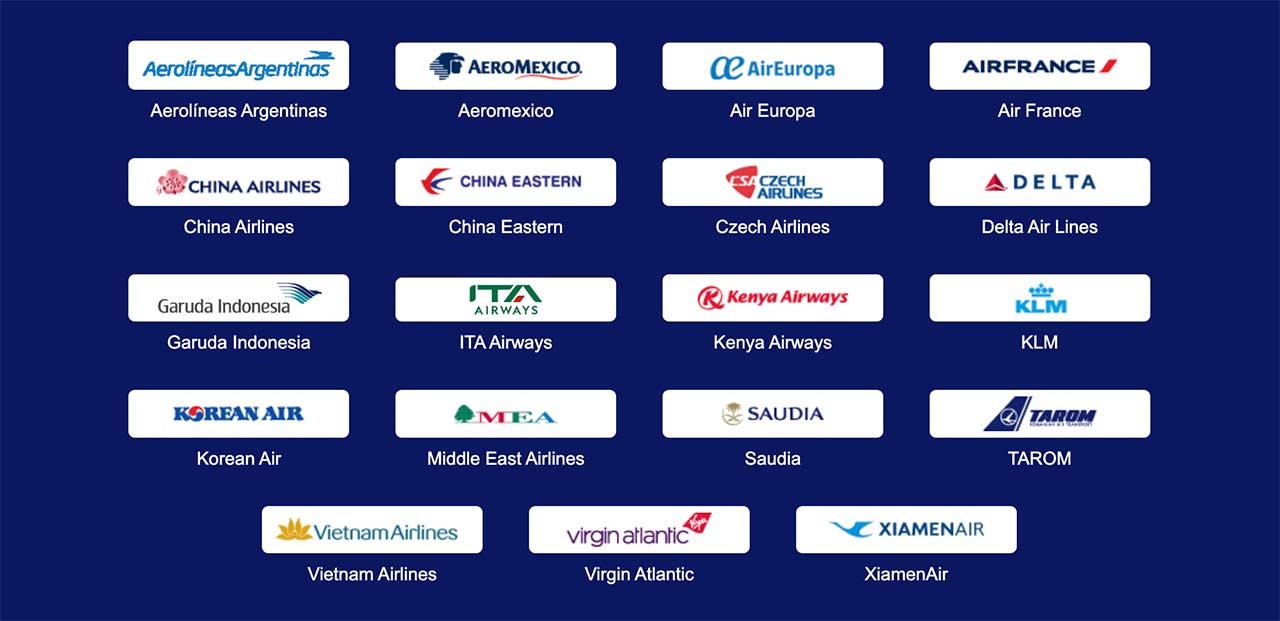 Taxes & Fuel Surcharge
Fuel Surcharges are passed on to the redemptions for Virgin Atlantic flights however they are not passed on to some of the partner bookings like Delta.
Miles required are relatively lesser than other programs but Fuel surcharge does add up a lot when redeeming for premium cabins.
Earning Miles
Citi Bank: Prestige and Premier Miles
American Express India: You may transfer points from Amex at 2:1 in the blocks of 800 MR : 400 miles
Marriott Bonvoy: Transfer at 3:1 and (get 5k more on every transfer of 60k Marriott Bonvoy points). As Axis don't directly transfer to Virgin, you may first transfer to Marriott (or to ITC and then to Marriott) and then to Virgin.
If you wish to book quick, Amex is the option for you as it allows you to instantly link & transfer, just like Marriott Bonvoy.
If you're looking to accumulate Amex MR points, Amex Gold Charge & Amex MRCC will help with small monthly milestones but if you don't have time for that, Amex Platinum Charge is perhaps the only option.
And if you're high on Axis points balance because of Axis Magnus for obvious reasons you may go through the Marriott Route as mentioned above.
While its not very common, virgin does come out with transfer bonus once in a while when transferring points from credit cards.
Note: Accor transfers only to Virgin Australia and not Virgin Atlantic. Tricky names, be careful!
Redeeming Miles
In order to search for award flights, once you login you have to click on advanced search and choose "points". Here are the sequence of pages you'll go through: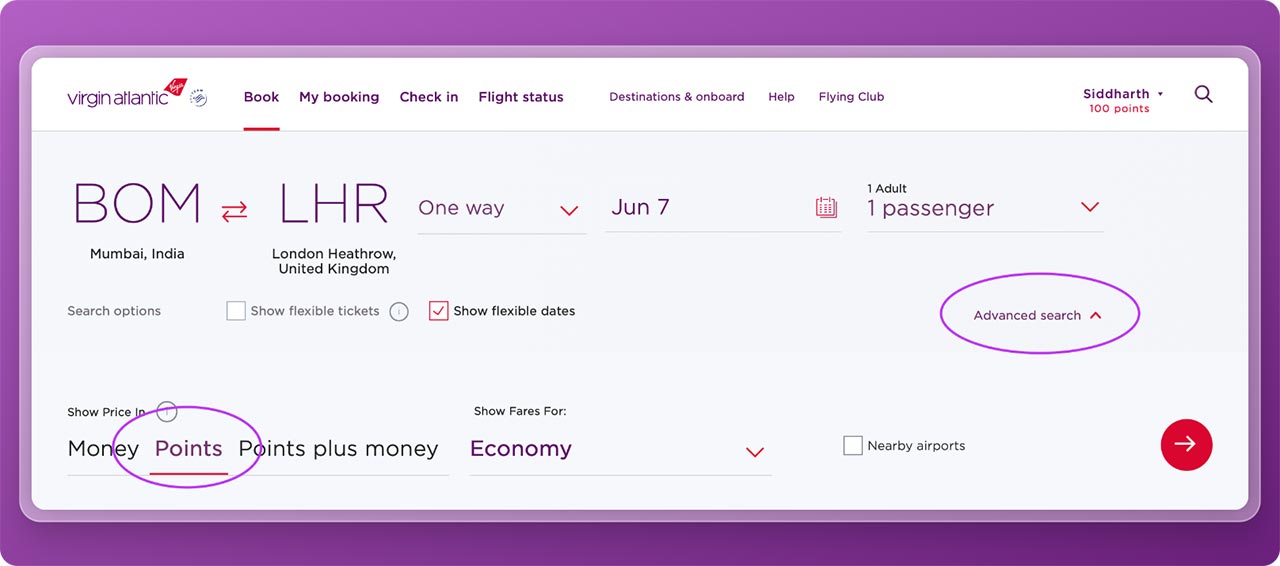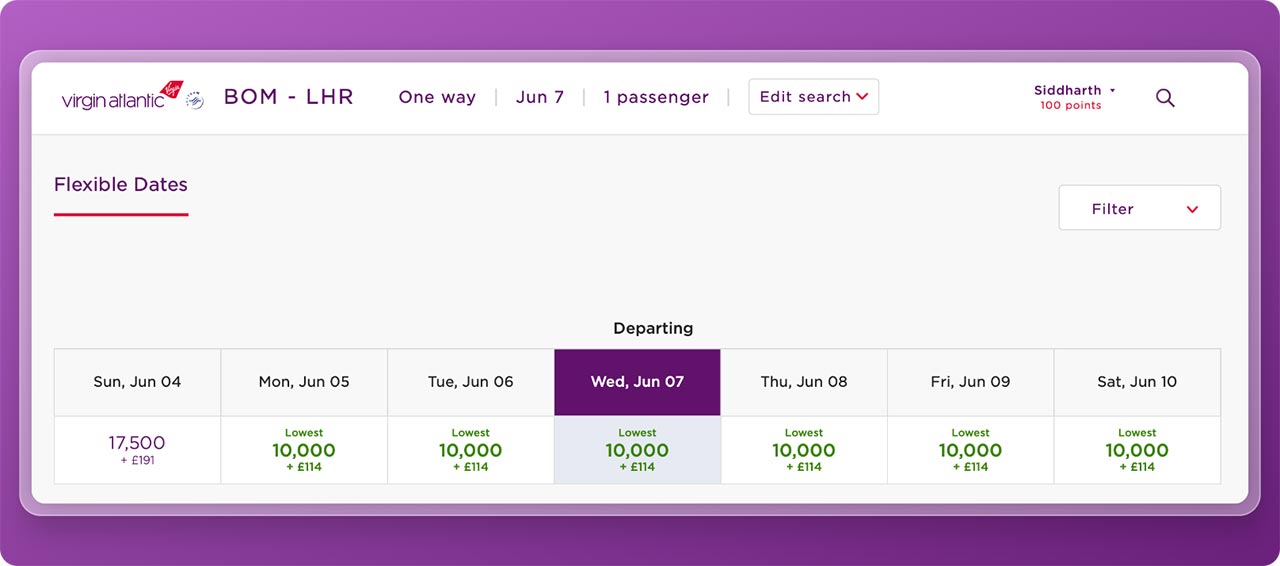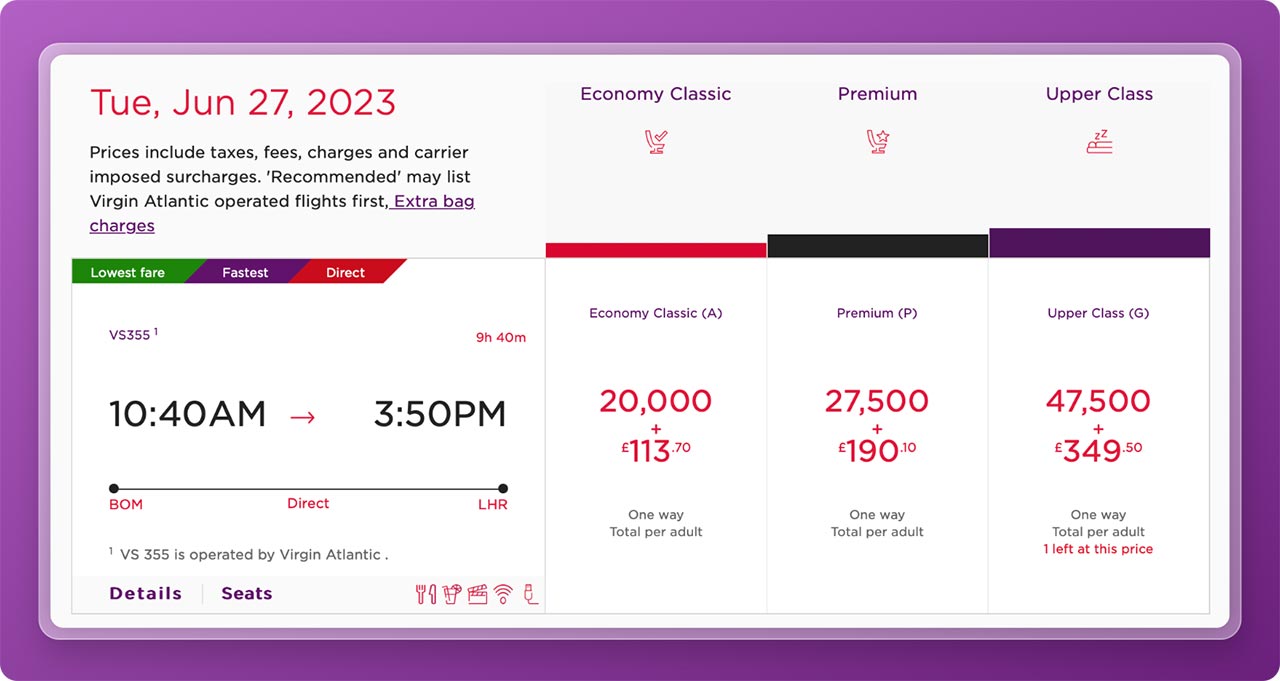 So if you look at it closely, you'll find a new term called "Upper Class" which is the Virgin's way of calling "Business Class".
Along with it you would also notice that taxes increase with the class of cabin. This is sad to see, as it makes business class a costly affair even with lower miles requirement.
Peak Season: Note that Virgin has peak season dates & rates where-in you'll need to spend a lot more points for the seats, usually 2X the regular points rate.
Ideally, it's a common sense to avoid these dates unless you're sitting on lot's of miles.
Other than that, Virgin has recently introduced a new tool called Reward Seat Checker which will help one to have a bird's eye view of the award availability for the entire month.
It's similar to the monthly calendar view on United Mileage Plus, but here it's bit better as it shows cabin wise availability.
The only flipside with this tool is that you can only check award availability for flights either to or from UK.
Partner Redemptions
Virgin Atlantic has introduced a new Sky Team award chart. Award costs are distance based and one-way costs can be found on their website.
Partner Airlines bookable online: Delta, KLM, Air France, China Airlines, Korean Air, Middle East Airlines, Xiamen Air.
ITA Airways and China Eastern redemptions will be available for redemptions by late 2023.
Redemption Ideas
India to UK (London)
In standard season, you'll need as little as 10,000 points for an Economy Classic one way flight to London, and in peak season you'll need 20000 points in Economy.
We've seen London route already above, but here's one more with Air France.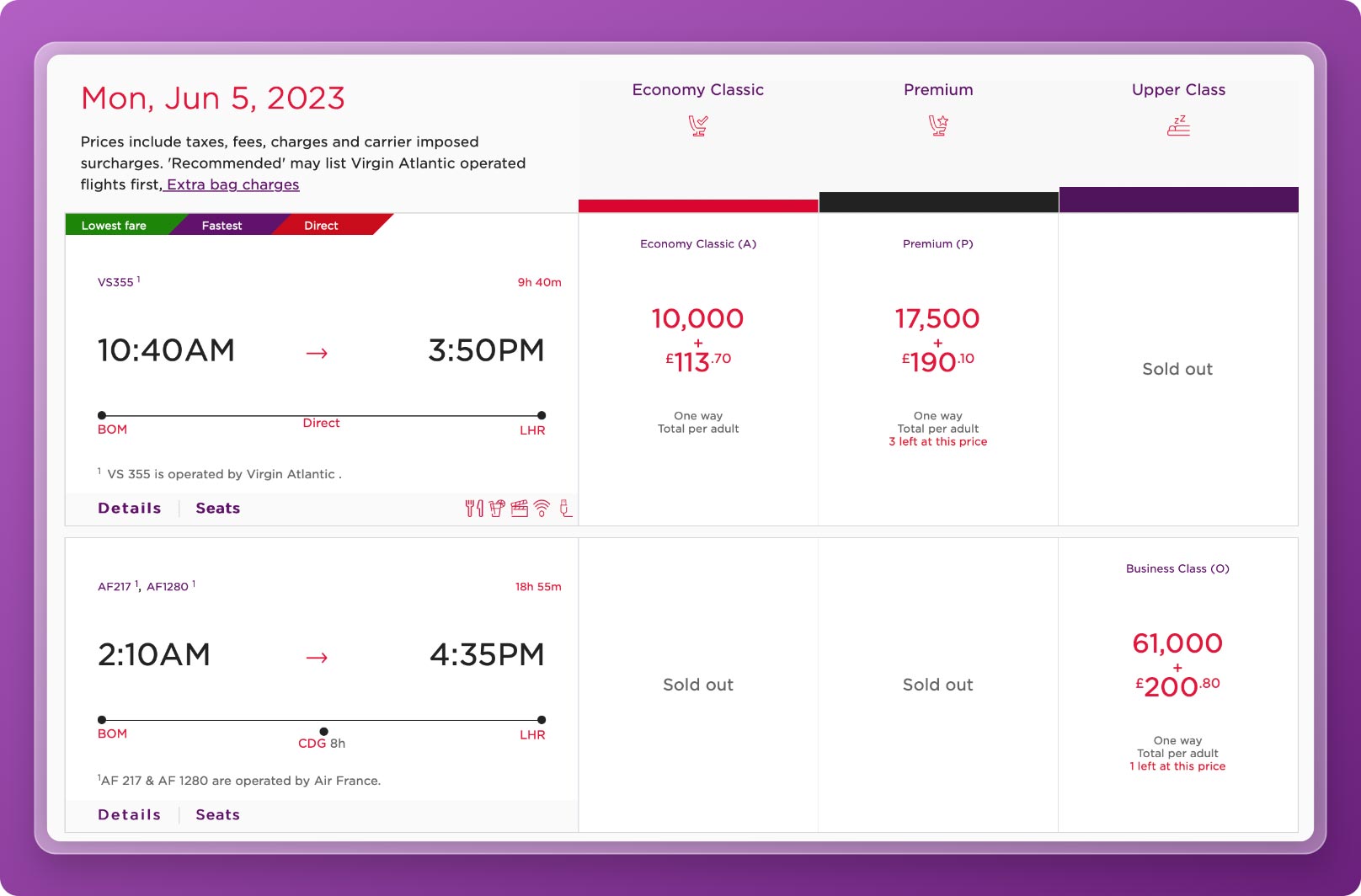 India to Europe
While the availability to London is great because of direct flight from India, the availability with their partners are not that great.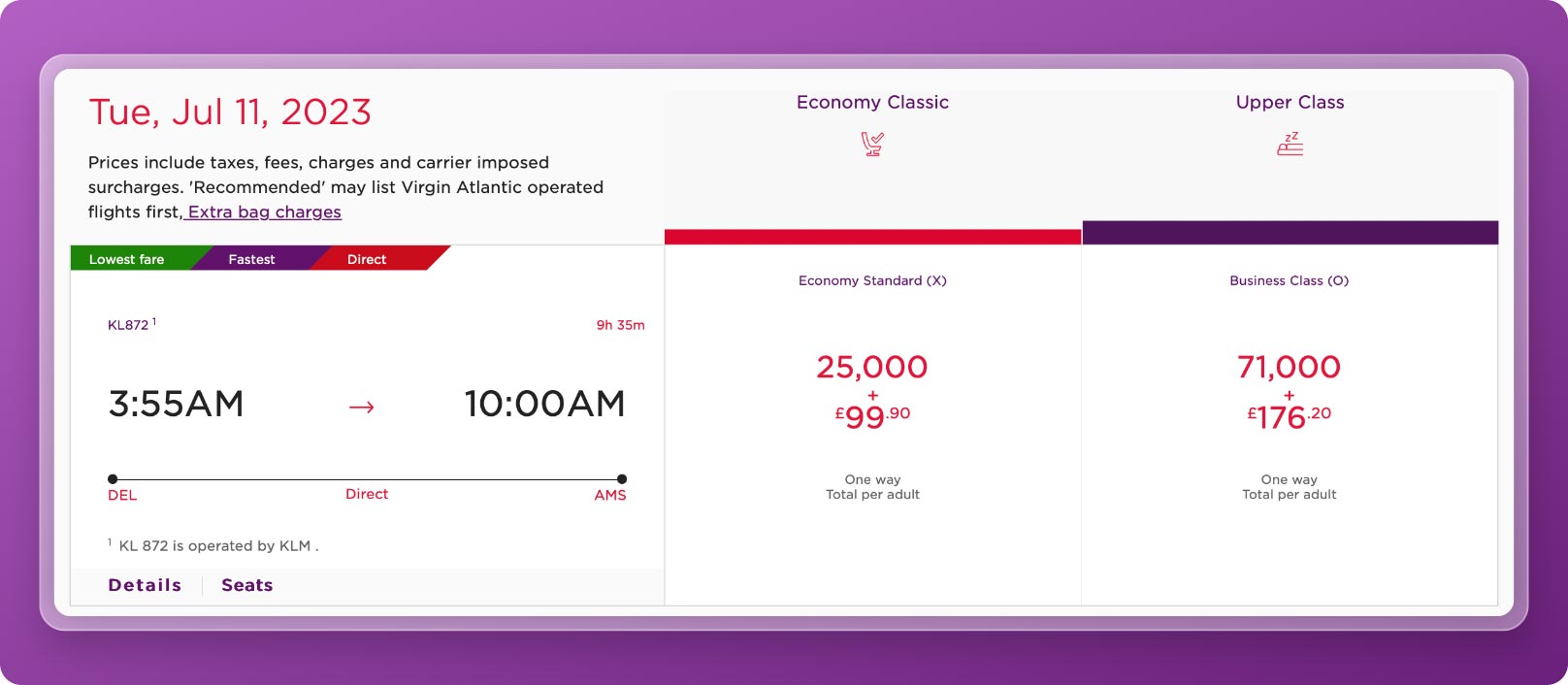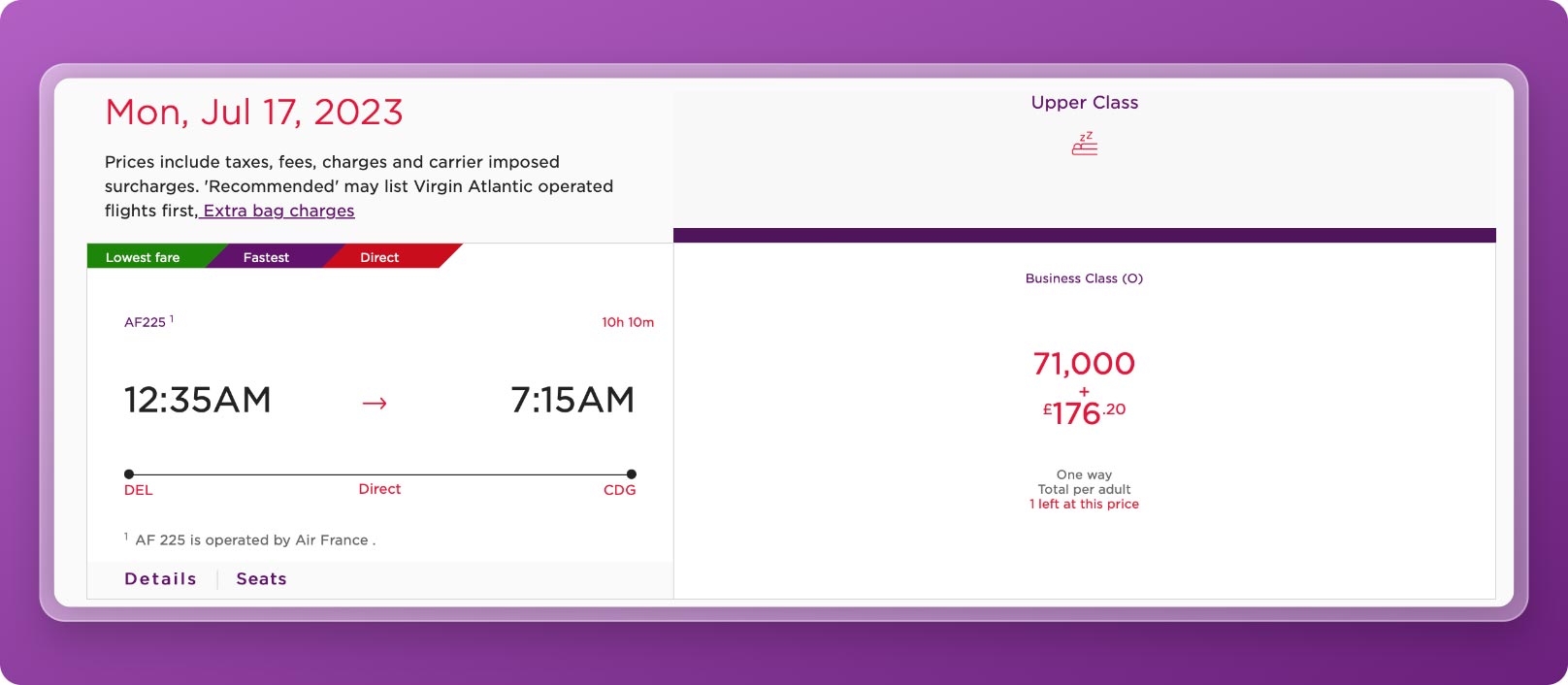 India to USA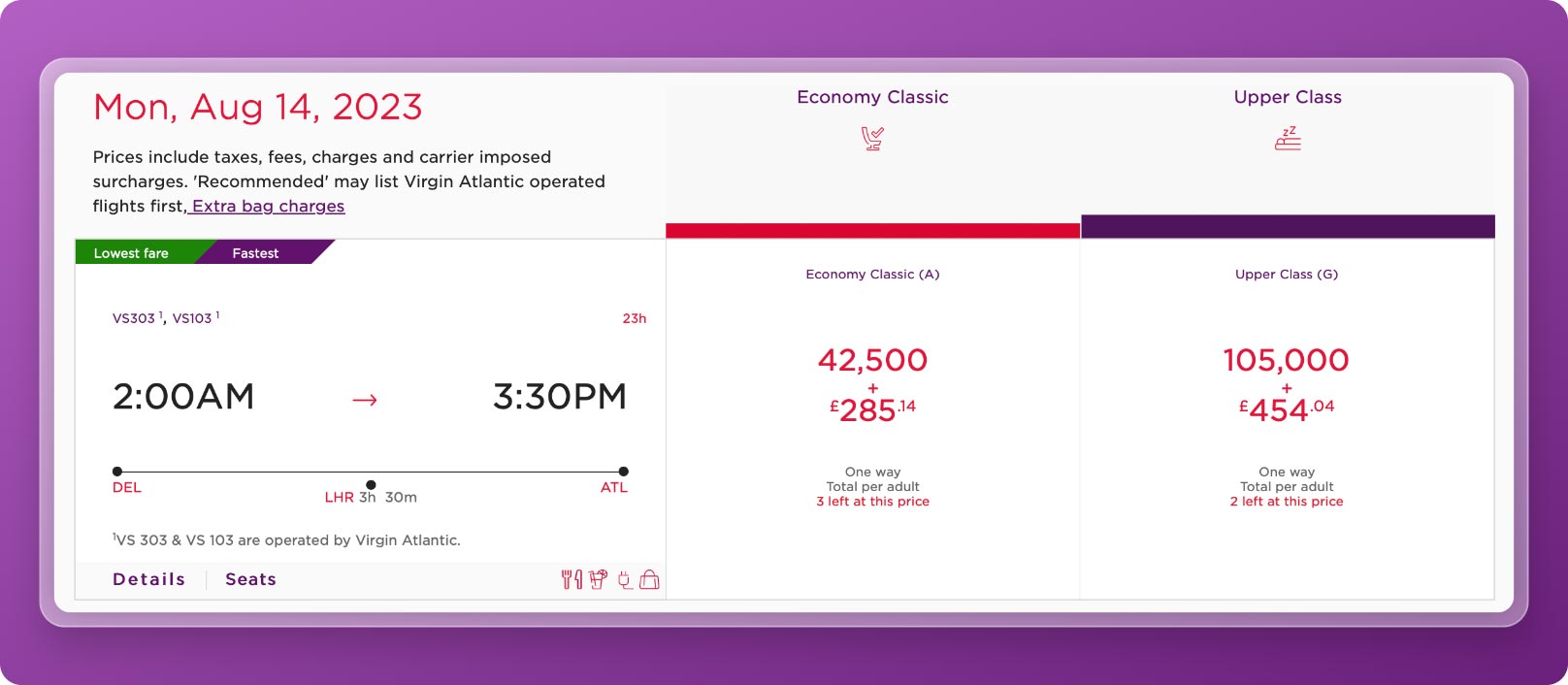 Stop Overs
Flying Club doesn't allow Stop Overs. Flying Club prices one-way awards at half of the award chart price for most partners. As Flying Club charges for each flight segment separately, you can build in a stopover in a connecting city.
However, it may not be worth the extra mileage cost to book an award with a connection or stopover.
Cancellation / Date Change Fee
Date Change: You may amend your travel date, route or class of service prior to travel for an amendment fee of £30 for changes to international flights originating in the UK, US$50 for changes to international flights originating in the US or local currency equivalent of US$50 for changes to flights originating in any other region.
Cancellation: If for any reason a flight Reward is cancelled by the Member outside 24 hours of the outbound flight, 100% of the Virgin Points will be re-credited to the Member's account. A cancellation fee of £30 for changes to flights originating in the UK, US$50 for changes to flights originating in the US or local currency equivalent of US$50 for changes to flights originating in any other region will apply.
Infant Ticket
While most airlines charge 10% of revenue fare on international routes, Virgin Atlantic charges a flat rate based on partners. They charge a small amount of miles for infants, as below:
1000 miles on Economy
2000 miles on Premium Economy
5000 miles on Upper Class (business)
There is huge saving here and for illustration here is the miles required with Infant from Bombay to London for various cabins
To include infant all you need is to add under "Lap Infants" while choosing the number of passenger. It's a super simple process. Wish all air-miles follow Virgin for this matter.
Other things to note
Family Pooling
This is possible only for members holding their highest tier. As one of the perks of Gold elite status with Virgin Atlantic Flying Club, members can create a household account and add up to nine individuals to pool their Virgin Points.
Miles earned through flying will be automatically pooled into the family account.
Redeeming for Friends & Family
You can book for your friends & families using Virgin Atlantic account.
Award Ticket hold
Flying Club allows you to have a hold of 24 hours on award inventory for Virgin Atlantic flights. For this you'll need to call the Virgin's customer care.
Other Redemption Options
What else can I do with my Virgin Atlantic points besides flights? This wouldn't be a complete guide to Virgin Atlantic if we also didn't share some of the more unique redemptions of Flying Club points.
Convert points to hotels: Members may exchange their points with Hilton Honors (2:3 ratio) or IHG Rewards Club (1:1 ratio).
Hot air balloon rides: Redeem 30,000 points per person for a hot air balloon ride over the English countryside (U.K. members only).
Chauffeur service to or from the airport: When flying on Virgin Atlantic, you can book chauffeur service to or from the airport using points.
Sir Richard Branson Private Retreats: Book stays at exclusive resorts in Morocco, Switzerland, Kenya or South Africa.
Fly into space: Members with two million points earned on Virgin Atlantic flights can enter a drawing to redeem points for a trip into space on Virgin Galactic.
Personal Experience
I (Puneet) did travel on Virgin in 2019 and tried their Upper Class on A340. It costs about 37,500 miles + 363 GBP in tax.
The ground experience at Heathrow was quite nice as they had a dedicated check-in facility for upper class passengers. All upper class passenger get access to their signature lounge at Heathrow terminal-3 called Club House.
Unlike most of the other lounges nothing here is self-serve except for bread, pastries, cold items etc. One can order from the menu and it will be served hot to you just like the American Express Lounge in Mumbai.
They used to offer a 15 mins complementary spa but this seems to be recently cut back.
Speaking of the product, Cabin was arranged in a 1-1-1 herringbone configuration with the centre and lefthand seats facing each other until Row 7 and the righthand and centre seats facing each other from there to the back of the cabin.
The privacy was decent, but I didn't like the hard product especially compared to the likes of SQ and other Middle Eastern airlines.
Support
India: +91-124-4693030 (9:15 am to 5:15 pm)
UK: 0344 209 2722
They've a chat support with live agent & I recently had to use it for a reason. It took about 5 mins to get connected to an agent but once connected the agent was able to help quickly with my query.
Bottomline
While Virgin is already popular for its low miles requirement and having a direct connection to London from India, we got more opportunities now to redeem on many partners without needing to call the support line.
From Indians point of view, the future of Virgin Atlantic's FF program depends on their ability to add SkyTeam partners to their online booking system, as otherwise their routes are quite limited compared to the big players in the industry.
Have you redeemed your miles on Virgin? Feel free to share your experience in the comments below.