RBL Bank has about 35+ Credit card variants in their portfolio most of which are co-brand cards with not so amazing brands and hardly any of them makes sense to hold for a premium credit card holder.
Even though they do have cards with a decent ~2% reward rate, that's ain't enough as their merchant offers aren't in par with the top players and most importantly they don't have a compelling USP. But with this new card its finally changing the way we look at RBL cards!
RBL has launched a new travel credit card named World Safari Credit Card and they say its the India's first travel card with 0% markup fees. That's not really 100% right as Axis Burgundy Private is the first one with that benefit, but its an invite only card. So for mass offering, it is indeed the 1st credit card with 0% markup fee.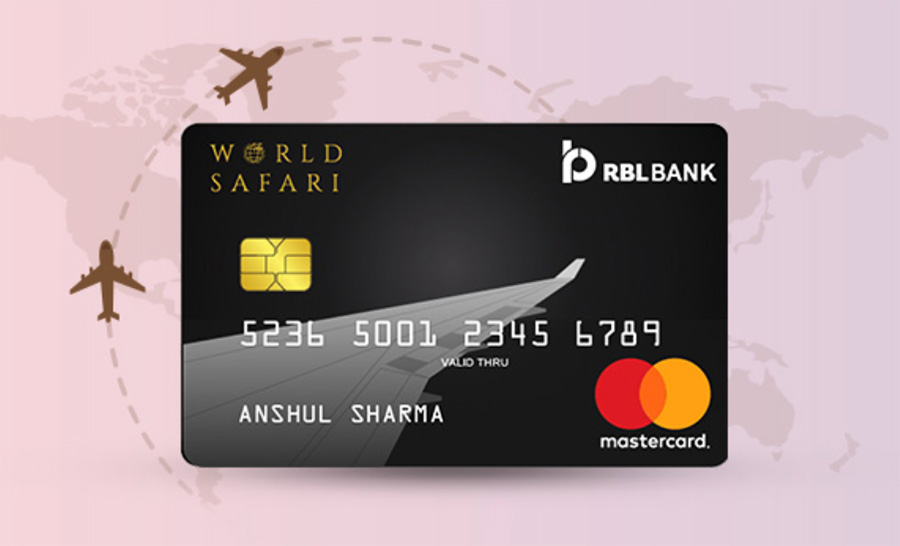 Joining Fees
Joining Fee: Rs.3000+GST
Welcome Gift: Rs.3000 worth MMT Voucher that can be used on Flights/Hotels (online) & Holidays (Offline)
The joining fee is Offset by the MMT voucher but will have to check if we get the same for renewal too. Not sure if RBL has that habit. Existing RBL users, comments please?
0% Markup Fee
0% Forex Markup Charges (but No Reward Points on International txns)
The USP of this card is its 0% markup fee on international transactions and that is great esp. because they're using Mastercard platform which usually has better conversion rates.
But note that you will not get reward points on international spends, though you may continue to get the milestone benefits just like most other credit cards.
Rewards
Regular Rewards
Travel Spends: 5 RP's for every Rs. 100 spent (~1.15% return on spend)
Non-Travel Spends: 2 RP's for every Rs. 100 spent (~0.46% return on spend)
1 RP = ~0.23Ps
Milestone Rewards
Spend 2.5L a year: Get 10,000 bonus Travel Points
Spend 5L a year: Get additional 15,000 Travel Points
Spend 7.5L a year: Get additional Taj Experience Gift Card worth Rs. 10,000
So on 7.5L spend, you get a nice 2% reward rate via milestone spends alone, which is decent for a card with 0% markup fee and affordable joining fee.
Overall rate could be as good as 3.15% if you use the card only for Travel but ofcourse that's rare so you get close to 2.5% even on non-travel spends.
Airport Lounge Access
Domestic: 2/Qtr
International: 2/yr via Priority Pass (includes guests too). Get additional complimentary lounge visit via Priority Pass on spends of Rs. 50,000/- or more in a calendar quarter
Its interesting to note that the new cards are all coming with guest access limits as well that can be charged on the primary priority pass card itself, so you no longer need to deal with Add-on cards for the same, just like the Axis Magnus.
Golf Privileges
Complimentary Golf Games & lessons
This is a Mastercard world privilege but the Mastercard page isn't updated yet for this variant. If we assume the general offer, you may get 4 green fee waiver & 12 lessons.
Travel insurance
The Travel Insurance covers:
Personal Liability coverage
Trip Delay
Baggage Loss
Loss of Passport
Dental Treatment
But before, I just want to know if by any chance you've availed this benefit on any other card? I never did!
Bottomline
CardExpert Rating: 4/5 [yasr_overall_rating]
It takes lot of guts to come up with a credit card at 0% markup fee because markup fees are one of the major revenue stream for the issuers. But given that RBL doesn't usually have that type of customers, this maynot affect them much, at-least initially.
That aside, its an amazing card for those who don't have super premium credit cards like HDFC Infinia or Citi Prestige and do a lot of international travel.
Its also good to see the Taj voucher as a part of the offering. I hope they come up with more new cards with good USP's like this.
What's your take on the RBL Bank World Safari Credit Card? Feel free to share your thoughts in the comments below.
Thanks to Vinod for sharing the details.