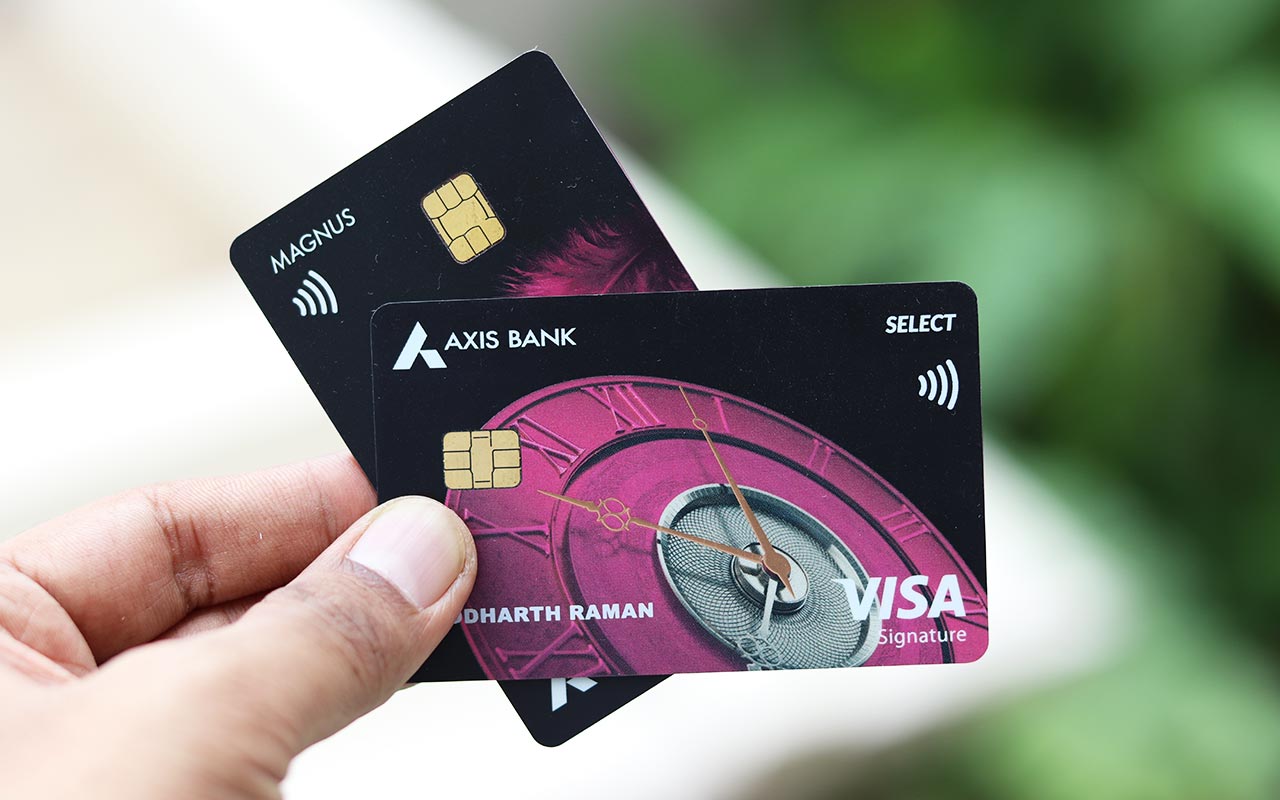 Axis Bank has been recently running some lucrative sign-up offers silently on premium credit cards applied through branch/online and here's everything you need to know about them.
| Variant | Signup Offer |
| --- | --- |
| Select | Spend Rs.60,000 in 90 days for full joining fee waiver |
| Magnus | Spend Rs.1,20,000 in 90 days for full joining fee waiver |
| Reserve | Spend Rs.3,00,000 in 90 days and get 50K additional reward points |
Note: It seems above offer is applicable through all channels except on upgrade. To be on the safer side you'll have to get a confirmation before processing.
As of now the offer appears to continue through September 2021 but I think it may get further extended due to Mastercard ban.
I came across this info when I was trying to apply a card for someone in family and it's quite surprising to me that they're not actually promoting this sweet offer.
Also this offer is applicable only on offline/online applications for now but not via phone banking as that is treated as an upgrade route. Problem with applying offline is Axis takes hell a lot of time to process applications, like ~20 days ideally and you don't have any way to check the status either.
I wish Axis fixes all their on-boarding issues soon. Btw, it seems they've stopped taking Add-on card applications as reported by one of the reader. That's actually a better decision instead of holding the request for ~6 months or more as happened to me.
Is it worthy?
Its a wonderful offer in my opinion, especially on Select & Magnus credit cards as they come with very good value. But Magnus is on Mastercard network, so you can't apply as long as the ban is in place.
I'm still not happy with the Reserve product proposition and even with this offer it doesn't look good, maybe 100K points would help.
However, if you intend to play golf, access lounges and avail airport benefits especially in metro cities, it still makes sense to hold one.
So Axis Select is the easiest one to grab for free with this offer.
Final Thoughts
Joining fee waiver offers like these are rare with Axis bank and its good to see them trying out these during pandemic. It makes sense for bank as anyway most of the cardholders wont make use of the travel benefits and hence not a big loss as such.
So if you think you could hit the spend criteria for the joining fee waiver, its a wonderful opportunity.
What's your thoughts on the new Axis Bank Sign-up offers? Feel free to share in the comments below.