Looking for a detailed & updated review of Magnus Credit Card? Please check out here: Axis Magnus Credit Card Review
Axis Bank after launching Flipkart Credit Card which is one of the best credit cards for beginners, now the focus has moved to the top end customers. Not to mention, Axis Bank already has an invite-only credit card named Axis Reserve at Rs.30K joining fee. 
While Axis Bank has been successfully serving the top end segment with its highly rewarding Vistara Infinite Credit card, not all customers fly Vistara due to its limited network. So here comes a new attempt by Axis Bank to capture the super premium credit card segment with its newly launched Axis Bank Magnus Credit Card that works on the Mastercard network.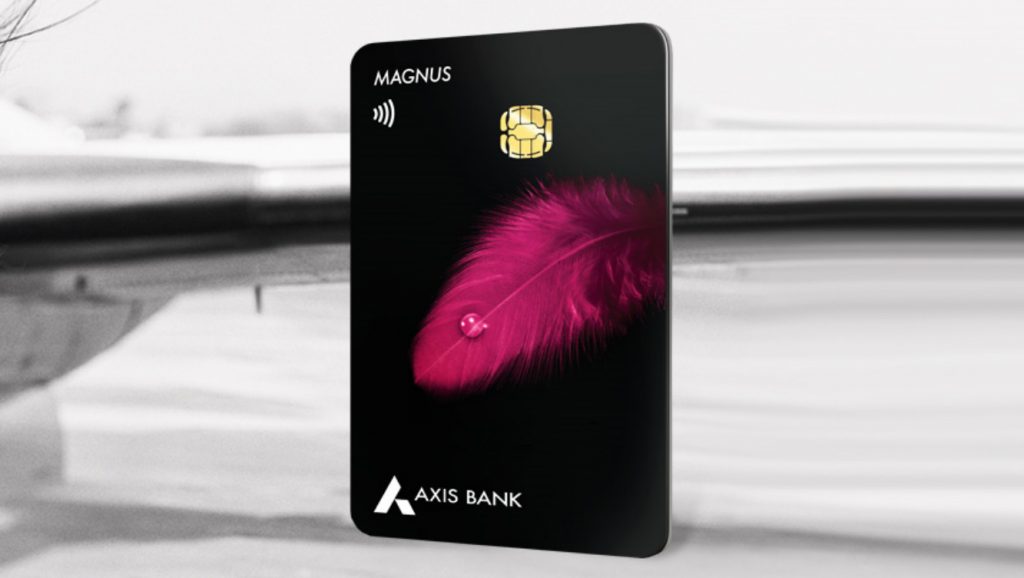 Features Overview
Rewards Earn Rate: 1.2% (Regular)- 2.4%(Yatra, goibibo, etc)
Airport Meet & Assist: 8 Complimentary Airport Meet & Greet Services
Domestic Airport Lounge Access: Unlimited via Mastercard (primary & supplementary cards)
International Airport Lounge Access: 8 per annum via Priority Pass (default) + 4 more visits for next year (on 7L spend). This limit can be used to set off GUEST access too, which is new in India.
Movie benefit: Bookmyshow Buy1 Get1 Offer upto Rs.500 per ticket, both movie & non-movie tickets like events, activities, etc. Upto 5 times in a month
Dining Benefit: DINEOUT PLUS MEMBERSHIP (save 25% on 5 star dining)
Hotel Benefit: Oberoi Offer @ 15% Off on BAR + Complimentary Upgrade
Wellness Benefits
Concierge Services: 24/7 concierge for travel/dining/gifting/shopping/events
Markup Fee: 2%+GST on foreign currency
Credit Shield: 5 Lakhs
That's a good set of benefit covering all aspects of one's lifestyle: Travel, Dining, Entertainment, Hotel & Wellness. And the 8 Airport Meet & Greet benefit is amazing which is over & beyond Citi Prestige which only gives you 2 meet & greet service.
Fees & Charges
Joining Fee: Rs.10,000+GST
Welcome Benefit: One-way Flight Ticket (upto Rs.10,000)
Renewal Fee: Rs.10,000+GST (Waived on 15L Spend)
Eligibility: ITR 18L & above
You shall apply using the apply now form on the website. Note that if you already have an axis bank credit card, you shall apply for this card separately even without upgrading/downgrading the existing card as Axis bank allows you to hold multiple credits cards at once.
Final Thoughts
Overall it's an amazing card with vertical, clutter free design on the front & worthy rewards for the price it demands.
The USP of the card is its Airport Meet & Greet Services which could save you few hours, esp. in bigger airports, highly beneficial if you don't fly business class. Other than that, Unlimited domestic lounge access & the ability to use international lounge access for guests is first of its kind in India with Priority Pass. If you are a family traveller, you gonna love this benefit.
Overall its a very good attempt by Axis bank and I'm sure the Bank's top end customers would be very happy with this offering. But if you've other cards and just looking at higher reward rate, it may disappoint you, as Magnus is designed to give more experience, over just high reward rate.
With the launch of Magnus Card, Axis Bank's portfolio just got stronger and is in a very good position to compete with the top players in the industry.
Would you get the Axis Bank Magnus Credit Card? Feel free to share your thoughts in the comments below. A detailed review of the same should come very soon as well.