American Express India has been testing the waters recently with the Hilton points transfer Offer wherein you can transfer your Amex MR to Hilton and get 50% extra points. It seems the offer worked out for them that now they've the offer enabled for Marriott Bonvoy too. This is a GREAT NEWS if you're into Marriott like me. Here are all the details,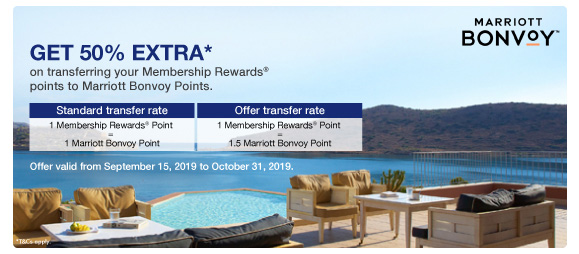 Offer Details
Offer: Get 50% extra points on transferring your Amex MR points to Marriott Bonvoy.
Offer Period: 15th Sep – 31st Oct 2019
Fulfilment: 8 weeks from the offer end date (31st Dec'19), for the additional Marriott Bonvoy Bonus Points to be awarded
Redemption Fee: Rs.250 (plus applicable GST) would be levied for all American Express Cards except for Centurion Card, Platinum Card, Platinum Reserve, Travel Credit Card and Platinum Corporate Card.
That's a neat & simple offer which should fetch you 50% more Marriott Bonvoy points on transfer. Meaning, if you're into Marriott, all your Amex spends are boosted with 50% more reward rate.
The big boost is for those holding Amex Platinum with International spends as you get 3X points there. Just incase if you're unaware of the capability of Marriott Bonvoy Points, do check out the other article on Maximising Amex MR Points.
But hey, the decision to put the redemption fee on non-premium cards isn't a good move.
Bottomline
It is amazing to see such offers show up with American Express. As you might know, I've been longing for the Marriott Credit card in India for a while, so this offer is definitely a great move.
And not just that, this festive season, you shall make use of this offer along with the upcoming 2019 Diwali Spend based offer to get greater returns on your spend on American Express credit cards.
Just incase if you are not in the Amex ecosystem yet, here are some of cards worth applying,
While I'm excited about the Amex – Marriott offer, what's your thoughts on this Marriott Bonvoy Points transfer offer? Feel free to share your views in the comments below.
Update: Fulfilment for Sep 2019 transfers done on Nov 17th