Indusind Bank's Diwali offer is one of the lucrative ones in the industry as they usually come up with 2X/3X/5X promos every year with different spend level targets for each. The promo is purely Points based and that is good because Indusind allows you to convert the points to cash.
Here's the 2019 Indusind Rewardz Festival on Indusind Credit Cards which is similar to the offers received in the past, except that they've now made the 5X to 4X. Here are all the details,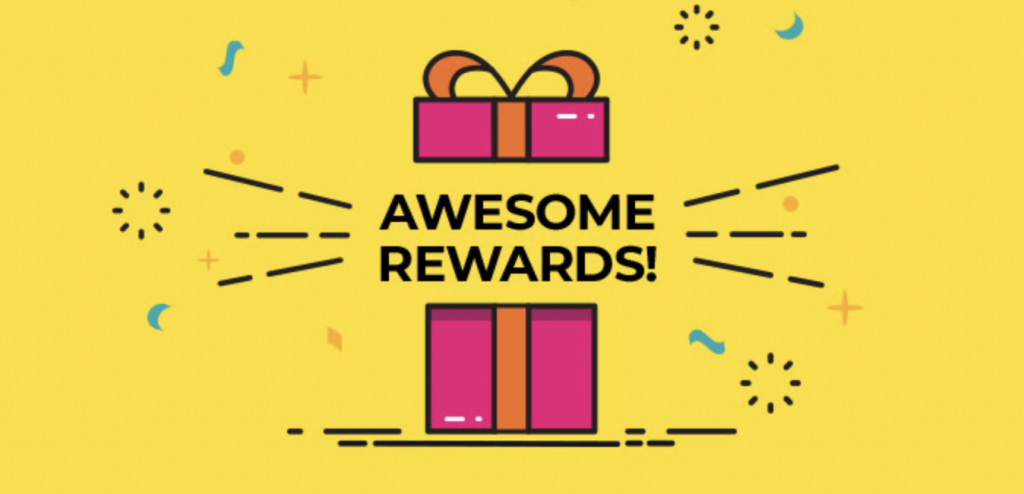 Indusind 2019 Rewardz Festival Offer Details:
Offer period: 29th Sep to 27th Oct 2019
Target A: Spend X to Get 2X Reward Points
Target B: Spend Y to Get 3X Reward Points
Target C: Spend Z to Get 4X Reward Points
Max. Points: 15,000 Bonus Points (regular points not included in this Cap)
Excluded Cards: IndusInd Bank Corporate Cards, IndusInd Bank Classic Credit Card, IndusInd Bank Gold Credit Card, Jet Airways IndusInd Bank Odyssey Credit Card, Jet Airways IndusInd Bank Voyage Credit Card and Credit Cards issued after September 30, 2019
Excluded Spend Types: Loading of Mobile / Digital Wallets
Fulfilment: 31st Dec 2019
To Enroll: You should have registered via SMS (JOIN to 5676757) or clicked the personalised link received on email before 15th Oct 2019.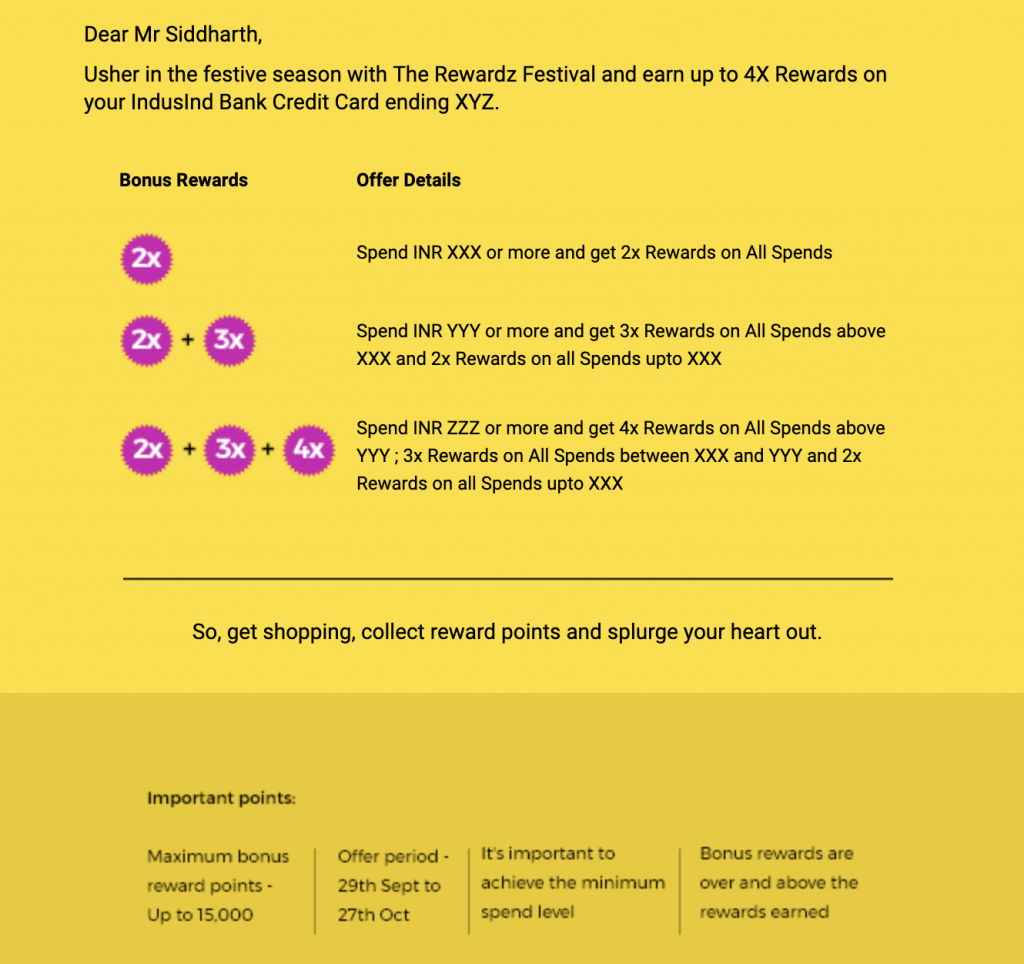 Speaking about the targets, Indusind says: Spend Levels have been set for each Cardholder depending on factors such as, but not limited to, credit history, purchase patterns, payment behaviour, credit limit, loyalty and vintage of the Cardholder.
Updates:
A new line has been added to the Offer T&C (Ref. #8), which means You'll continue to earn reward points (both Regular & Bonus) on credit card spends beyond the credit limit in case the spend thresholds are over and above the credit limit.
That means the new Indusind rule w.r.t. reward points for spends beyond the credit limit in a stmt cycle has been temporarily relaxed for this offer. So this festive season you shall now shop as you wish, over and above the limit.
However, remember that those who got flat reward points offer like one of the reader, regular reward points beyond credit limit won't accrue.
Bottomline
This is the first spend based offer I've come across for 2019 Diwali and is indeed a good beginning. Looking at the targets given for my a/c and playing with an excel sheet, I figured out that I get about 7% return on spend if I time my spends on Iconia Amex in the weekends alone.
The returns are really good considering the cash credit option. But yes the targets could be higher based on your previous spend history.
Have you received your spend targets from Indusind? Feel free to share your thoughts in the comments below.