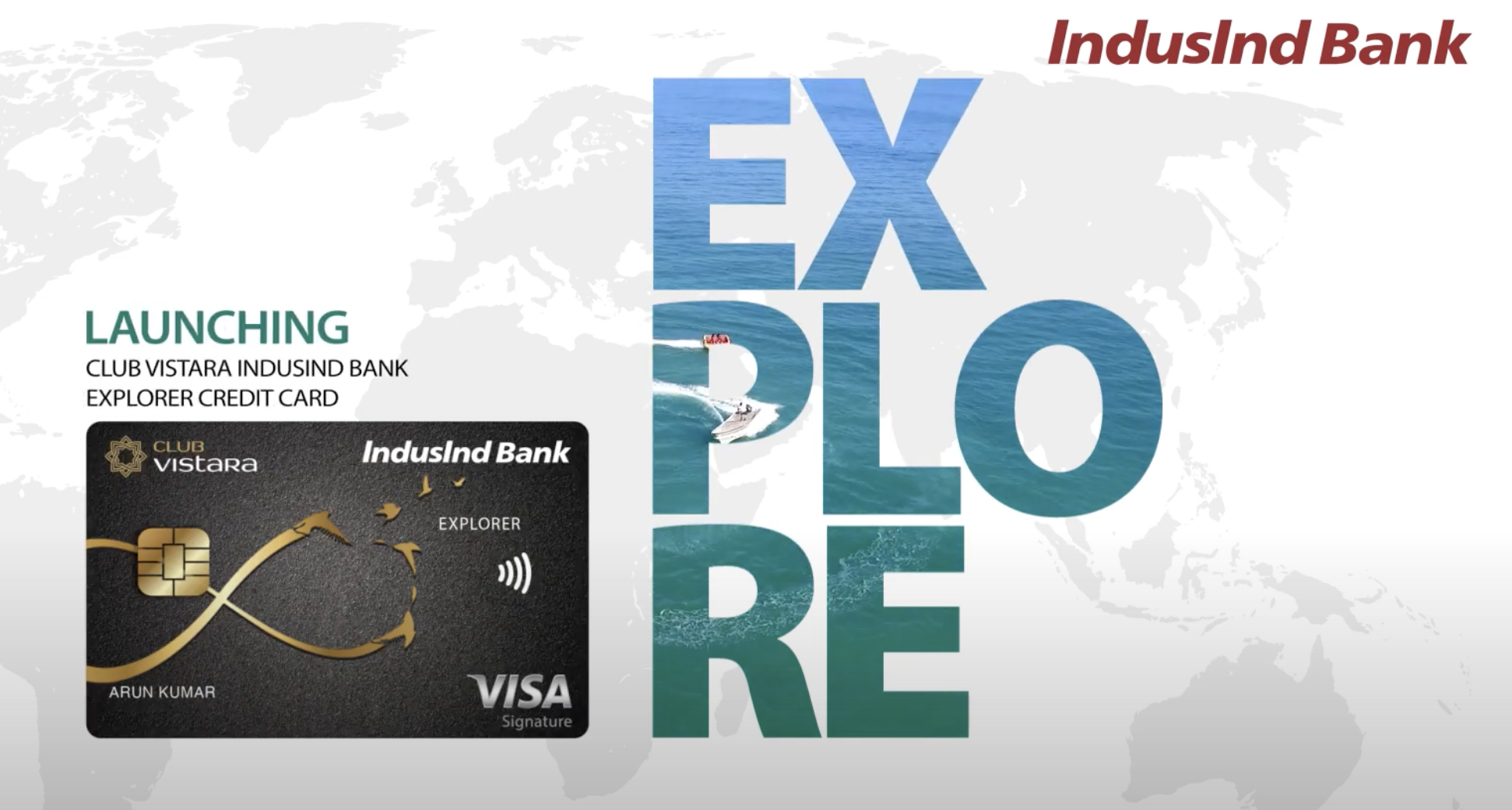 On this 2021 World Tourism Day (Sep 27th), IndusInd Bank has launched a super premium Airline Credit Card with vistara and named it as "Club Vistara IndusInd Bank Explorer Credit Card ". Here's everything you need to know about this product,
Features & benefits
The card is aimed at premium world travellers and so they combined the benefits of a premium credit card & airline credit card, likely because Vistara is flying International now and so it makes sense to do so.
Joining Fee: Rs.40,000+GST = 47,200 INR (may have multiple variants – usual Indusind style)
Welcome Benefit: 1 Business Class ticket + Vistara Gold Tier + [1 night stay voucher at Oberoi (or) 25K worth vouchers (vouchagram & others)]
Renewal Fee:

10,000+GST (with 1 biz class voucher)

Milestone benefits: 1 biz class ticket each on spending 3L/6L/9L/12L/15L
Rewards:

2CV/Rs.200 on all spends (~1%)

Accelerated Rewards: 6CV/200 INR on Hotel, Airline, Travel (~3%) ; 8CV/200 INR on Vistara spends (~4%)
Low Rewards: 1CV/200 INR on Utility, Insurance, Government Payment, Fuel (~0.5%)
Noteworthy benefits: Eazydiner offer, No markup Fee, No Cash Advance fee, No Over Limit Fee
Entertainment: 2 complimentary tickets every month on www.bookmyshow.com. Each ticket is capped at INR 700. (BOGO)
Lounge Access: Domestic 1per qtr, International: 4/qtr (Priority Pass)
The joining fee & welcome benefit are still not clear.
Also the Vistara Gold tier benefit is only for 1st year. (t&c says that the renewal will be as per usual Vistara standard)
IndusInd always has this habit of hiding the joining fee and is not visible on important pages, this card is no exception. We will have some clarity on this shortly.
Update: So for welcome benefit you can choose from 1 Night stay at Oberoi (or) 25K Vouchagram vouchers. This is apart from the Business class ticket & Gold tier.
I wish RBI comes up with a rule stating that the joining fee/renewal fees of any product sold to the public are transparent to users. Just can't believe IndusInd is still doing this in 2021.
My Thoughts
Overall you get a "beautiful credit card" from IndusInd along with a nice ~7.5% return on spending 15L a year, assuming 1 Biz class ticket at 20K INR and assuming you at-least get 1% on these spends via CV points.
However the joining fee is way too much for an airline credit card with above benefits for a regular premium cardholder. If they tune the joining fee to 25K or so (maybe without Oberoi voucher) as they have mentioned in some pages previously, this may sell well.
At the current 47K price point, the best way to get max value is via Oberoi voucher.
For ex, a night stay at "The Oberoi Vanyavilas Wildlife Resort, Ranthambore" costs 50K INR a night. But then the T&C is yet to be clear on the inclusions/exclusions on this.
Yet it feels less attractive to mass premium segment because Axis Vistara Infinite is lot better in terms of value for the fee, but yes this card does come with other benefits like no markup fee which is certainly useful for some.
Having said that, not to forget that Axis is running first year free offer on Vistara Infinite cards till 30th Sep 2021.
Detailed review of the card to be covered in a short while once we get a clarity on the fee & its linked benefits.