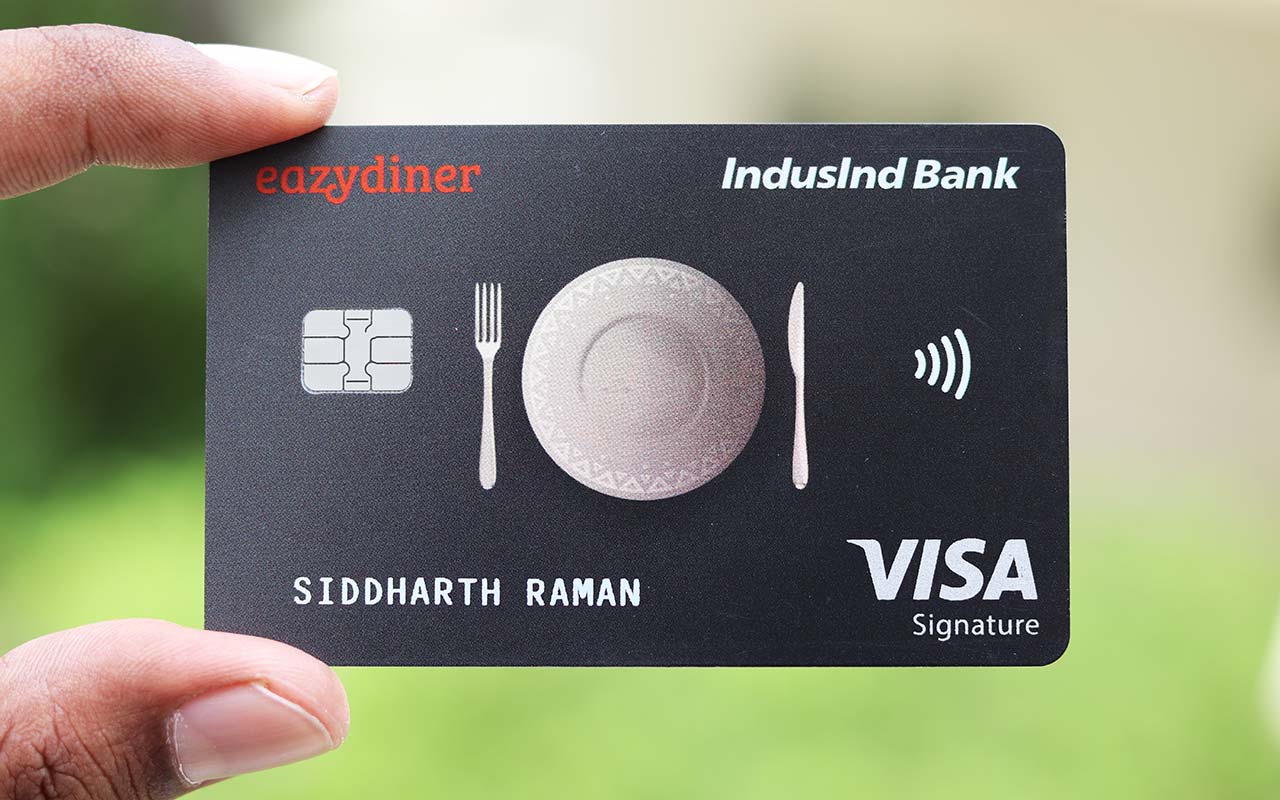 EazyDiner in partnership with IndusInd Bank has recently launched a dining credit card on Visa platform to tap the segment that enjoys dining at restaurants.
The EazyDiner IndusInd Credit Card gives deep discounts on dining bills to cardholders and this is done through EazyDiner Prime membership & discounts when paid through the co-brand card on the PayEazy platform inside the Eazydiner app.
If you're a frequent diner, you've just found the best dining credit card in India or in the world for that matter. Let's see how and why!
Overview
| | |
| --- | --- |
| Type | Dining Credit Card |
| Reward Rate | Upto 50% Off on Dining + upto 2% rewards on spends |
| Annual Fee | 1,999 INR+GST |
| Best for | EazyDiner discounts & movie benefit |
| USP | Redeeming RP's on EazyDiner App directly |
I've been waiting for a dining credit card for quite some time because this is one of the major out-of-pocket expense for me when I travel. While my stays are taken care by reward points, food expenses are always payable.
So it's lovely to see a card that has the ability to walk-in to a fine-dining restaurant, enjoy a healthy meal and walk out with zero out-of-pocket spends.
Sounds like a magic isn't it? Well, it's not. If you're wondering how, here's the complete review of EazyDiner IndusInd Bank Credit Card.
Fees
| | |
| --- | --- |
| Joining Fee | 1,999 INR+GST |
| Welcome Benefit | EazyDiner Prime & 2 more benefits (as below) |
| Renewal Fee | 1,999 INR+GST |
| Renewal Benefit | EazyDiner Prime & 2 more benefits (as below) |
| Renewal Fee waiver | Nil |
We get 3 welcome benefits with the card and here are they:
EazyDiner Prime Membership: Gives ~25% discount at most restaurants in metro cities. (worth ~2500 INR, offsets the fee)
EazyPoints (2000 Points): It's the EazyDiner currency and the value is dynamic, ideally worth ~400 INR in low use case, but might be valued much more if you dine a lot.
Postcard Hotel Voucher (5000 INR): Postcard hotels are bit expensive, so you may assume that the voucher sort of covers your food component during the day.
As you can see, the EazyDiner Prime membership is the primary welcome benefit and is totally worth it. While 2000 EazyPoints is fine, it would be nice if it was 2000 regular points.
Postcard Hotel voucher of 5K INR is good but not sufficient enough to encourage redemptions, as these hotels usually cost north of 30K INR a night.
Rewards
The EazyDiner IndusInd Credit Card comes with two types of rewards:
EazyDiner Rewards: They're called EazyPoints, earned on dining & few other activities. Tough to earn, as we need to spend that much with EazyDiner.
IndusInd Rewards: They're the regular IndusInd Reward Points but can't be redeemed on IndusMoments. These points can be redeemed in realtime against the restaurant bill on EazyDiner through PayEazy platform.
Below are the IndusInd Rewards earn rates on different types of spends done through EazyDiner credit card.
| SPEND TYPE | Description | REWARDs | REWARD RATE |
| --- | --- | --- | --- |
| Accelerated Spends | Shopping, dining and entertainment | 10 RP's on every 100 INR | 2% |
| Regular Spends | Except fuel | 4 RP's on every 100 INR | 0.8% |
1 Reward Point = 0.20 INR (redeemable on app, to pay restaurant bill)
1 EazyPoint = 0.20 – 1 INR (Dynamic, redeemable on app for select vouchers)
3X EazyPoints on dining spends.
"Shopping" refers to both online/offline shopping, though the challenge is that some merchants in India don't categorise their store properly.
But I hope it works as expected.
If you're in a doubt, you may always do a test transaction before going for a high value txn. Fortunately, IndusInd Bank reports the merchant category type for every txn in the credit card statement.
PayEazy Benefit
Additional 25% Off on the Dining bill
Max Cap: Rs.1000 per bill (Bill value equivalent: Rs.4000)
Cooling period between transactions: 2 hrs
No min. spend requirement
Apart from the EazyDiner Prime benefit, you get additional 25% discount on paying through PayEazy. This is the most important benefit to maximize your savings on the card.
EazyDiner has been quite aggressive on PayEazy linked offers already and the 25% off (without monthly limits) on top of 25% off via EazyDiner Prime is definitely a wonderful deal that can give you a nice ~45% savings on the bill.
If you think that's great, well, it doesn't end there!
You can as well redeem your reward points accumulated on this card for paying the remaining bill. For a bill amount of 3000 INR, the numbers look something like this:
| | |
| --- | --- |
| Bill Amount | 3,000 INR |
| Discount: 25% off on EazyDiner Prime | – 750 INR (Net savings: 25%) |
| Discount: 25% off on PayEazy | – 550 INR (Net savings: 45%) |
| Redemption: Reward Points | – 1700 INR (Net savings: 100%) |
| Payable | 0 INR |
So in above example, 100% of the bill value is taken care by "rewards" and "discounts" if used right.
Note that to earn reward points worth 1700 INR, spends of about 85,000 INR is required under "Shopping/Dining/Entertainment" category, as the card gives 2% return as seen before.
If you think spending that much on card is not easy for you, never mind, you still save ~45% on the bill, which in itself is huge if you're dining frequently.
Airport Lounge Access
| ACCESS TYPE | ACCESS VIA | ACCESS LIMIT |
| --- | --- | --- |
| Domestic | Visa | 2 / Qtr |
This is the typical complimentary airport lounge benefit you get on any Visa Signature Credit Card. So the same applies here as well. Supplementary cards gets the lounge access benefit as well, separately.
BookMyShow Offer
Offer: 2 free movie tickets a month [400 INR Value]
Max. Cap: Rs.200/ticket
T&C: Can book single (or) double tickets at a time.
Surprisingly, this is not a Buy1 Get1 Offer – we get the ticket completely free (convenience fee applicable). This is a very good benefit which works similar to the one on Pioneer Heritage Metal Credit Card and SBI Aurum Credit Card.
This movie benefit alone gives us a sweet 4800 INR savings a year.
Other Benefits
Complimentary Beverage: Complimentary premium alcoholic beverage at over 200 restaurants.
EazyDiner Concierge line: +91-7861004445
Forex Markup Fee: 3.5%+GST
Add-on Cards: Upto 5 add-on cards as complimentary with the card
Is it for you?
The Eazydiner IndusInd Credit Card is a MUST have for the first 2 reasons listed below and GOOD to have for the last 2 reasons:
If you're dining out more than twice a month
If you stay at luxury hotels
If you watch movies
Just to have an IndusInd Credit Card (to avail offers or hold the credit line)
In my case, I generally don't dine-out every month but when I travel I have to dine-out often. During my recent trips this year, I had to pay for at-least 10 meals at luxury hotels as I stay there. (thanks to credit card points for free stays).
So I've been using EazyDiner offers on IndusInd Cards even before as you can see below: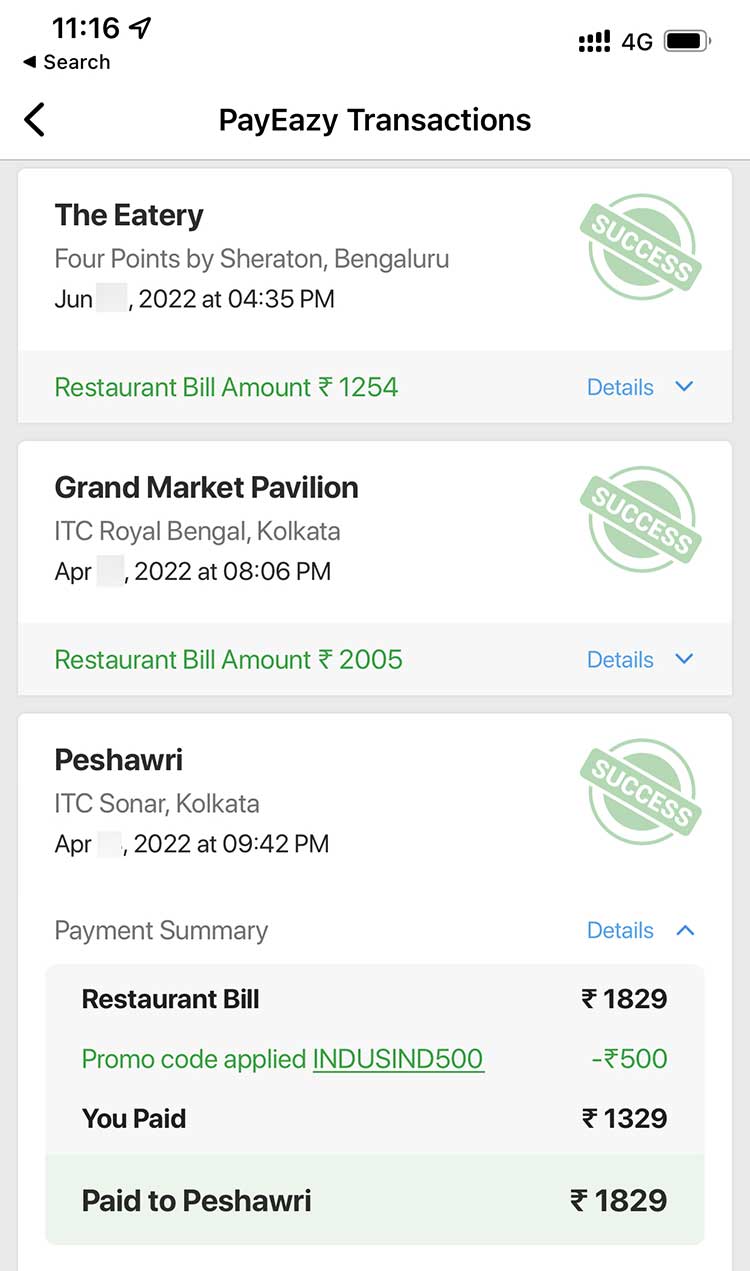 But the problem used to be the recent limitation on coupon usage (1 per 15 days) which doesn't allow me to enjoy the discounts for the entire trip.
Now with the EazyDiner Credit Card, there are no such limitations and so I can dine with ~45% discount on every bill.
On other side, if you dine out only once or twice a month, the Eazydiner Prime membership along with other PayEazy discounts are sufficient.
Getting the Card
Fresh Card: You may apply online on IndusInd website (or) via branch.
Upgrade: If you already hold an IndusInd Credit Card, call customer support and request for an upgrade.
Minimum Credit Limit: 75,000 INR
IndusInd Bank ideally takes ~3 weeks to process the offline applications, online applications could be bit faster.
My Experience
I recently applied for EazyDiner Credit Card and the card was delivered in approx. ~2 weeks from the date of application.
I got access to the virtual card (some new system for this) few days before delivery but for the card to reflect on app & net-banking I had to link it again via net-banking and that gives complete access to the card controls.
The card comes in a nice package that houses the welcome letter, card benefits guide, Postcard hotels voucher, coasters (2 black, 2 white), etc. Here are some pics.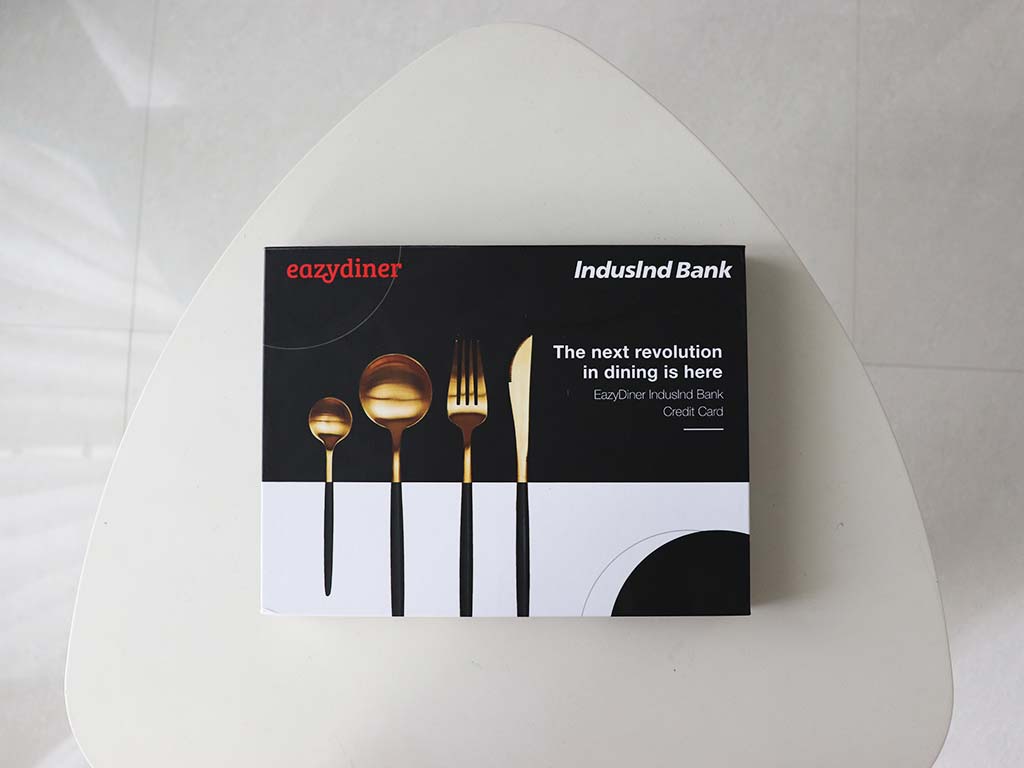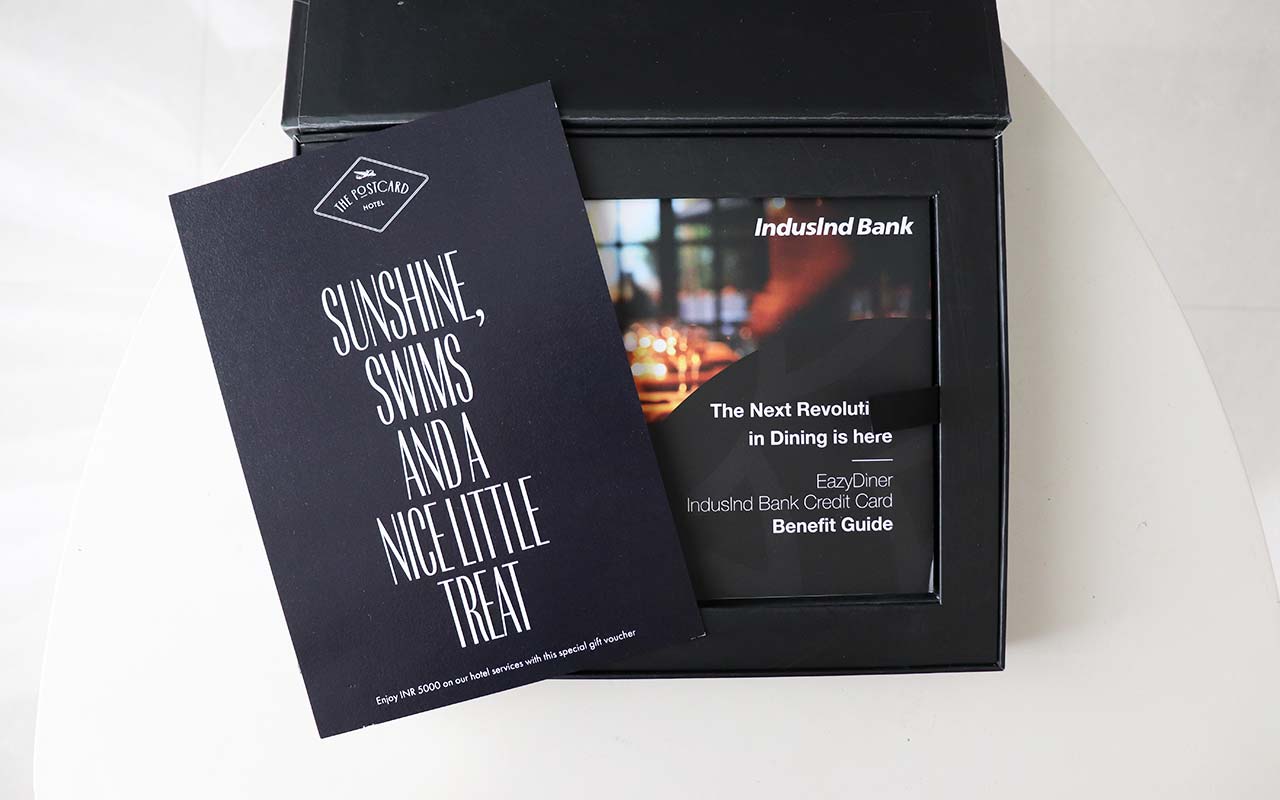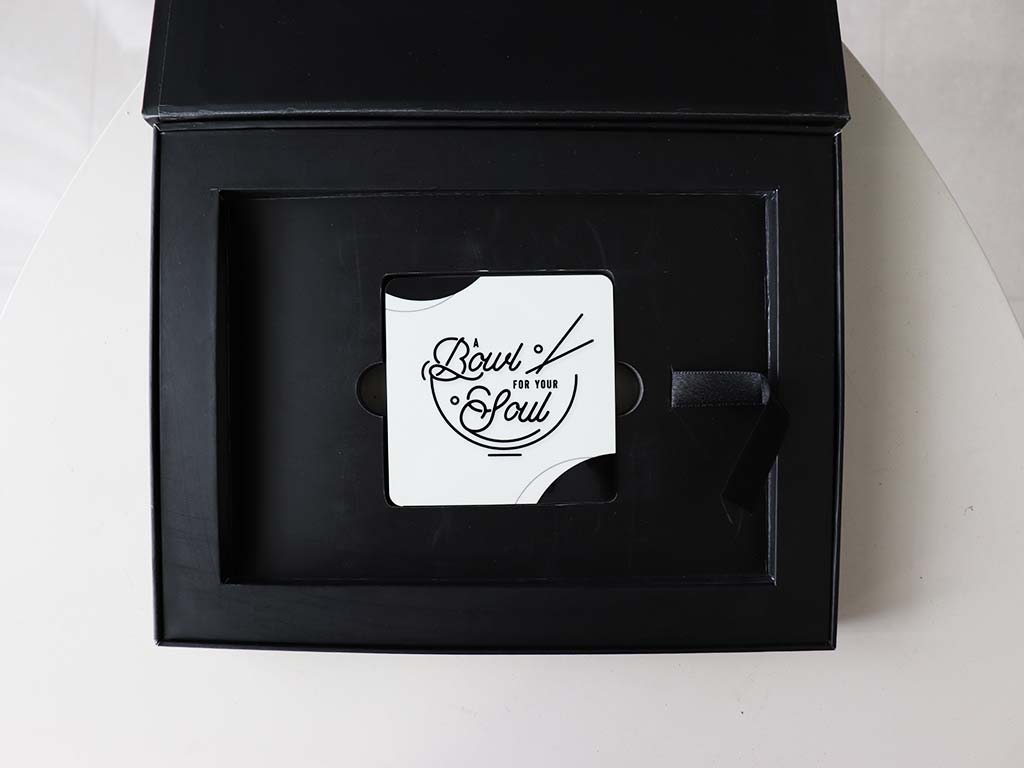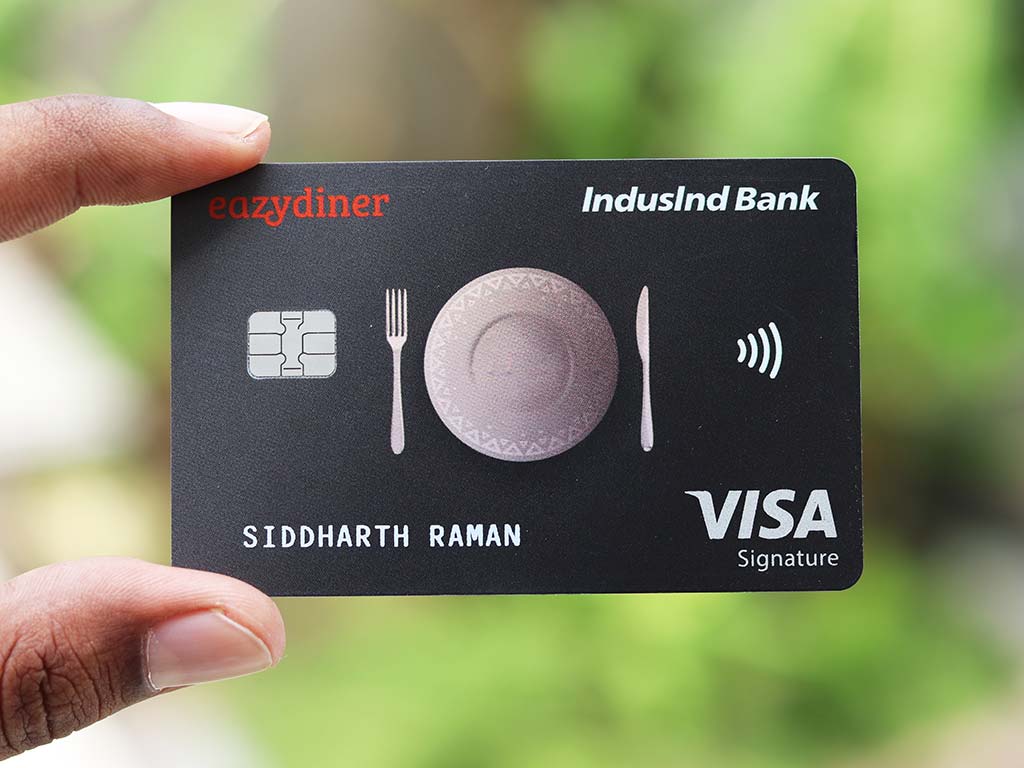 The front face of the card looks good with simple and modern design elements. I've just started using the card and will cover the detailed hands-on experience in some time.
Bottom line
Overall the EazyDiner IndusInd Bank Credit Card is an amazing card to save huge on dining spends and I hope it will certainly "revolutionize" the segment, as they say so.
While the discounts are great, it would have been lot better if we had a higher earn rate on card spends. But well, with so many benefits loaded on a card that doesn't have a direct competitor at the moment, I think it's fine.
The Prime benefit + PayEazy discount is worth a lot and even if you don't avail them, the movie benefit alone can help you cover the fee "twice". So it makes sense for most to hold one.
What's your thoughts on EazyDiner IndusInd Credit Card? Feel free to share in the comments below.