As you might know, I've been on Vistara business class from Bangalore to Delhi before and the overall experience now is as good as how it used to be. But as this was my first flight during covid times, I thought of adding few details that you may find useful.
If you haven't read the previous Vistara Business class reviews, do check them out in above link as I won't be covering all aspects of the flight in this review.
So here's a quick review of the Vistara Business Class during Covid times.
Booking
I used the Premium Economy vouchers that I got from Axis Vistara Signature Credit card and then upgraded using the vouchers on account.
We were flying to Guwahati via Delhi so this is a connecting flight. Booking was all done separately as vouchers don't allow a stop over.
| | |
| --- | --- |
| Flight | Air Vistara UK 808 |
| Route | Bangalore (BLR) – Delhi (DEL) |
| Seat | 1F (Business Class) |
| Revenue Ticket | ~20,000 INR |
| I Paid | ~550 INR (Voucher Redemption) |
Ground Experience
Check-in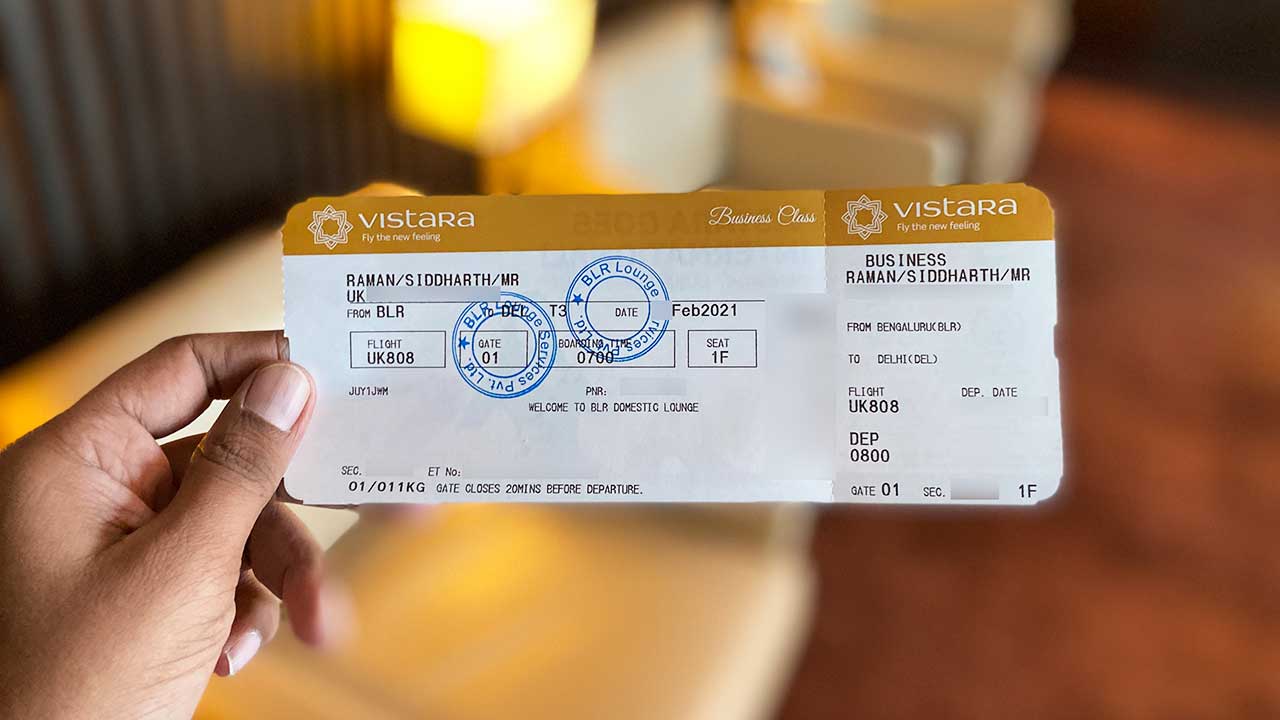 It took them about an hour (yes, an hour!) to issue us the boarding pass. Part of the problem is that the Domestic transfer at Delhi T3 is not operational now during Covid times.
So doing "through check-in" took them some time. They initially said its not possible but then they managed to do it.
Later comes the upgrade issue for my next flight (in PE) as I did the booking in a complicated way.
Ideally what I found was that you cannot upgrade from Premium Economy to Biz class using points if the booking was done via points. Hmm, a not so user friendly system.
Airport Lounge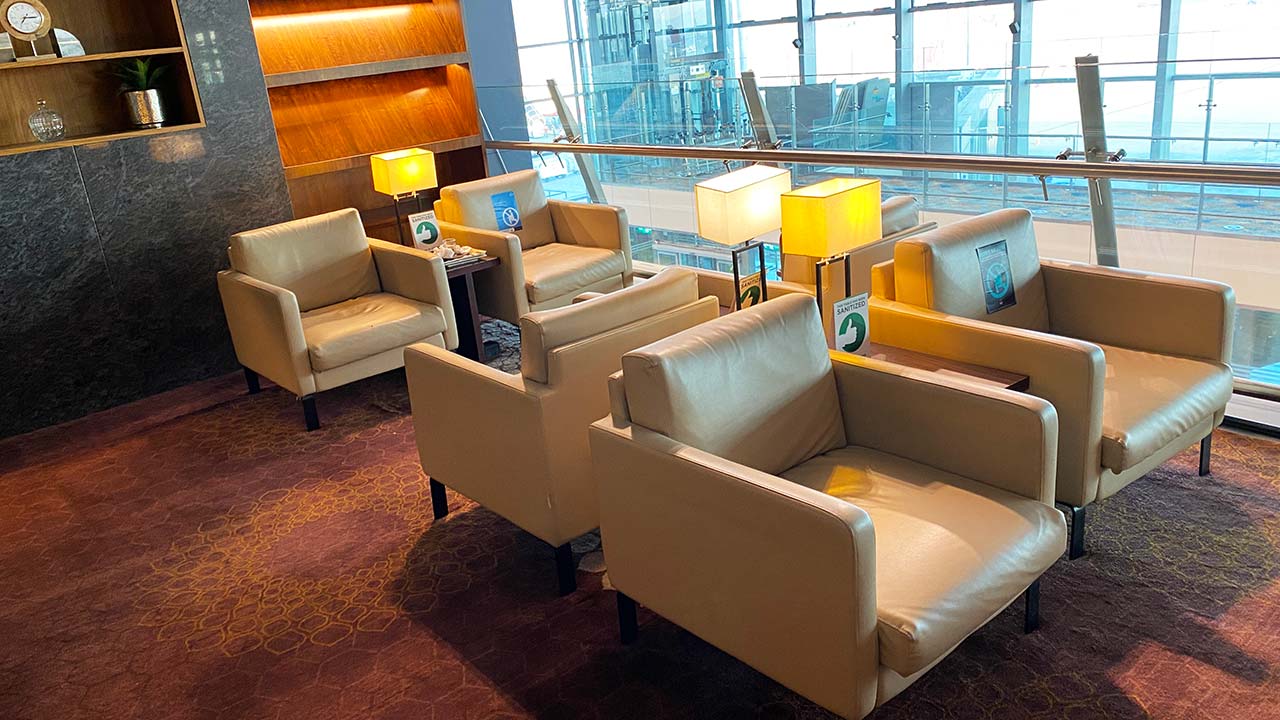 We were given complimentary airport lounge access to the business class section of the BLR Domestic Lounge which i reviewed recently. Its a compact and cozy lounge with: relatively quiet lounge area, privacy & no crowd.
That is all a business class traveller needs. So it fulfils the purpose but nothing more.
No Fast Track Security
I used to wonder 2 year ago and I continue to wonder why one of the busiest airport in India doesn't have a dedicated security line for business class.
Anyway it was a very short wait time in my case, so it didn't hurt but wish Bangalore gets the dedicated Business class line soon, just like the one in Delhi.
Flight Experience
Covid Protocol
As a safety measure everyone in the flight across all class gets a face shield, a mask and a sanitizer (which smells good).
But well, the matter of fact is that most don't wear Face Shield in the flight. The Vistara Face shield is really good in my opinion as you can adjust the angle and its also not hard around the head like those given by Indigo.
Food
There is no menu and no multi-course meals. You just have an option to choose from Veg or Non-Veg. I went with Veg and my friend went with Non-Veg and here is how both of our breakfast look like,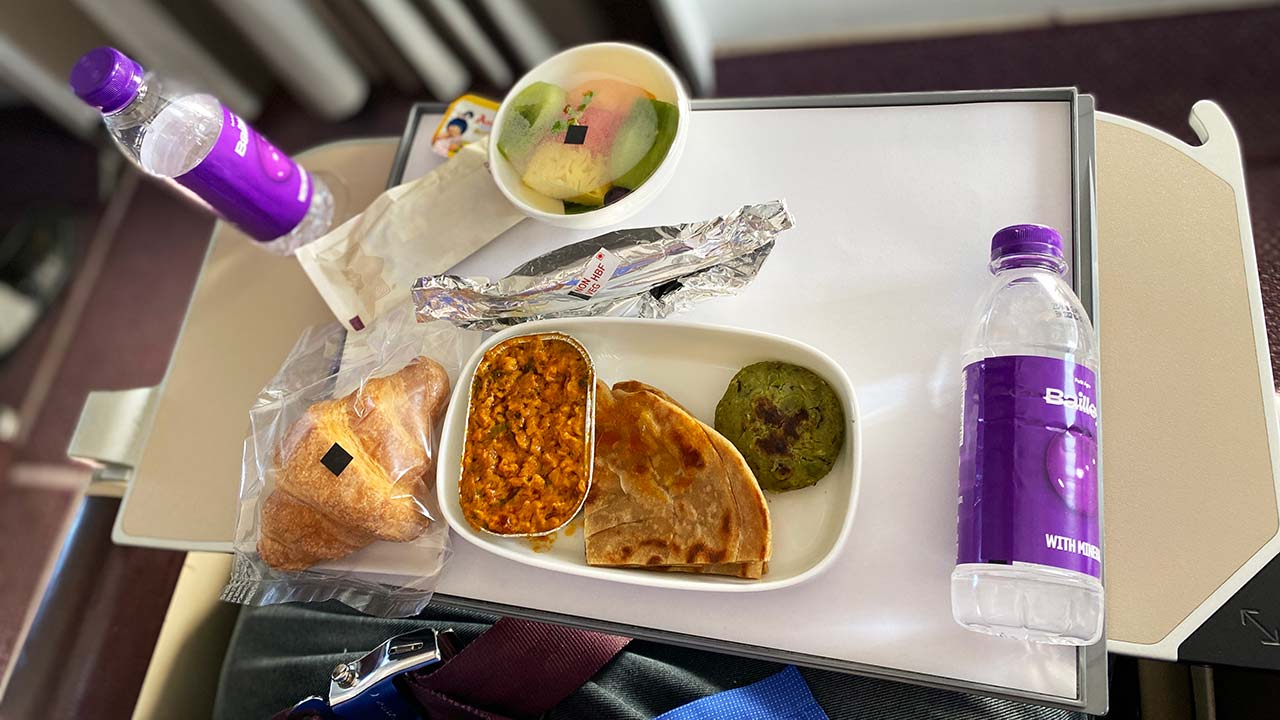 It may not "look" delicious at a glance, but they were definitely tasty and was served smoking HOT. I should say it was one of the best meal I've ever had in the sky. I could still recollect the taste of that chana masala.. it was delicious. My friend's Non-Veg meal was fine as well.
Btw, I never have that croissant, never ever found it tasty anywhere. So I skipped it – Do you like that thing?
Bottomline
Its my first flight after the Covid outbreak and it feels safe to travel with all the above precautions in place. And as always it feels good to fly Business Class with Vistara.
Have you been on Vistara Business class during Covid times? Feel free to share your views in the comments below.