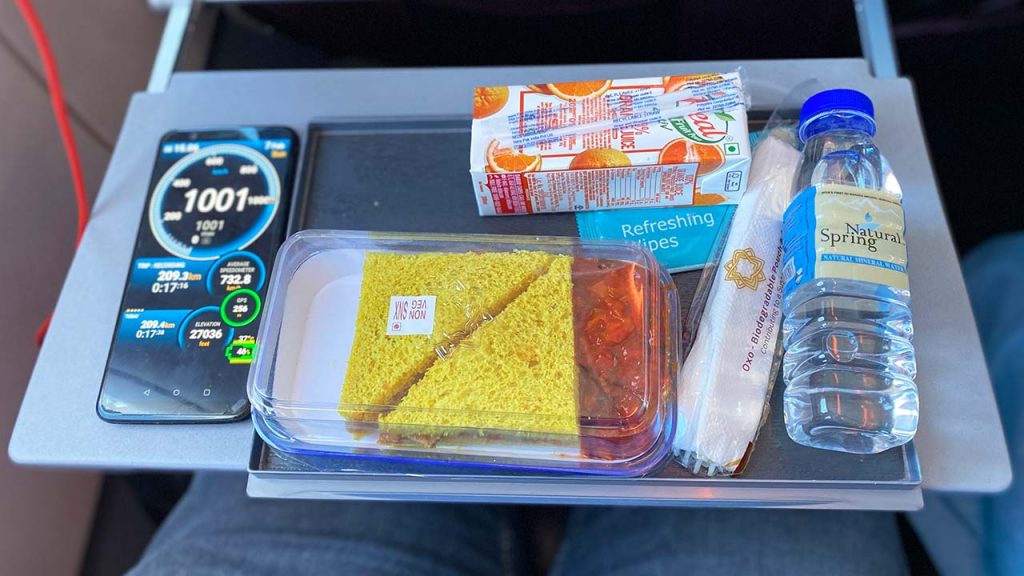 I've been flying Vistara since 2018 but all of them were on Business class, thanks to the points and vouchers. This too was supposed to be one such business class flight but unfortunately I wasn't able to upgrade (you will know why shortly), hence ended up with the premium economy ticket.
Booking
Booking was done via points for Premium Economy with an intention to upgrade at the airport, again using points. Thanks to the Points Fest – it certainly helped a bit.
But you may ask "Why this stupid idea?" – that's because my friend's booking was done via voucher and was not a confirmed business class, hence was trying to either upgrade both or leave it.
| | |
| --- | --- |
| Flight | Air Vistara UK 721 |
| Route | Delhi (DEL) – Guwahati (GAU) |
| Seat | 5B (Premium Economy) |
| Revenue Ticket | ~6,000 INR |
| I Paid | ~450 INR (Points Redemption) |
Ground Experience
Check-in
The idea of upgrading to business class at the airport failed miserably!
They politely denied when I asked "Maybe you can upgrade considering my previous travel history with Vistara and a healthy points balance on account?".
Hmm! I wish he at-least went through the history and denied. We still had an option to upgrade by paying about 10K INR each but I politely denied. 😀
So I ended up with the same PE ticket which I was issued before my connecting flight.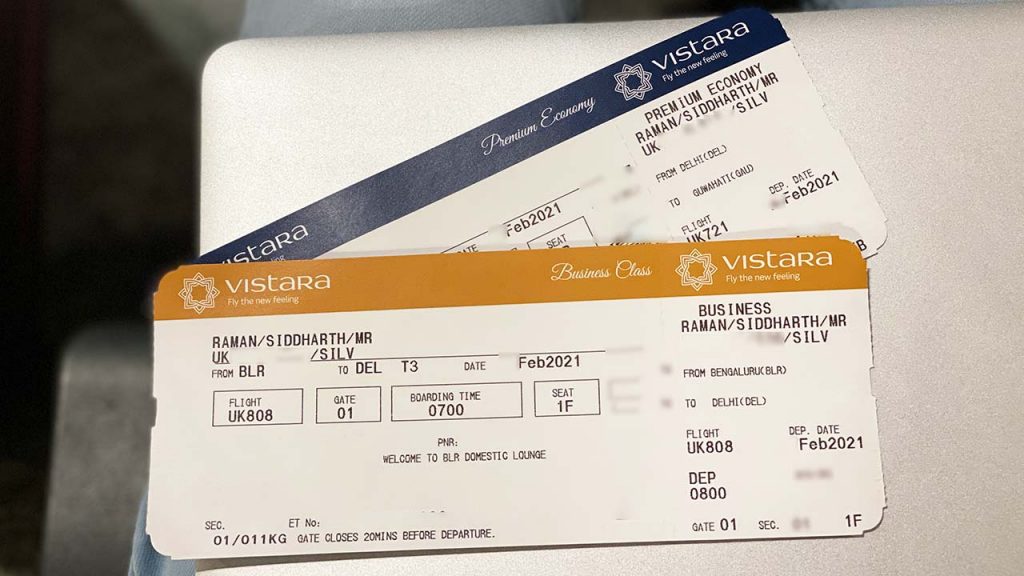 Lounge
As the Vistara lounge is closed for now, I accessed the busiest airport lounge in the country Delhi T3 Plaza Premium lounge via my credit card.
It was full by the time we entered but someone helped us to get a seat in a minute or so. While leaving the lounge I figured out that there was a big queue waiting to enter the lounge. Will cover more on this shortly!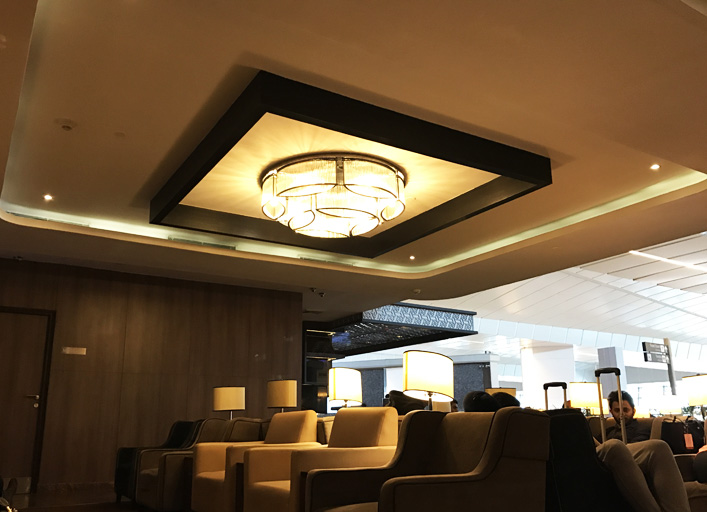 Note that this lounge also has a business class section which allows access to Business Class & Vistara Gold/Platinum members. As I recently got downgraded to Silver tier, I wasn't able to use it.
So if you need a pleasant time in Delhi T3 lounge, consider getting yourself CV Gold via Axis Vistara Infinite Credit card.
Flight Experience
Covid Protocol
As a safety measure everyone in the flight across all class gets face shield, mask and a sanitizer (which smells good) just like what we saw in Business Class article.
I took the seat 5B which means I got to wear an additional layer of use and throw dress as per the covid protocol for middle seats.
Food
Just like the Business class, here too you've two options: Veg or Non-veg. I took the veg and my friend took Non-Veg and here's how they look: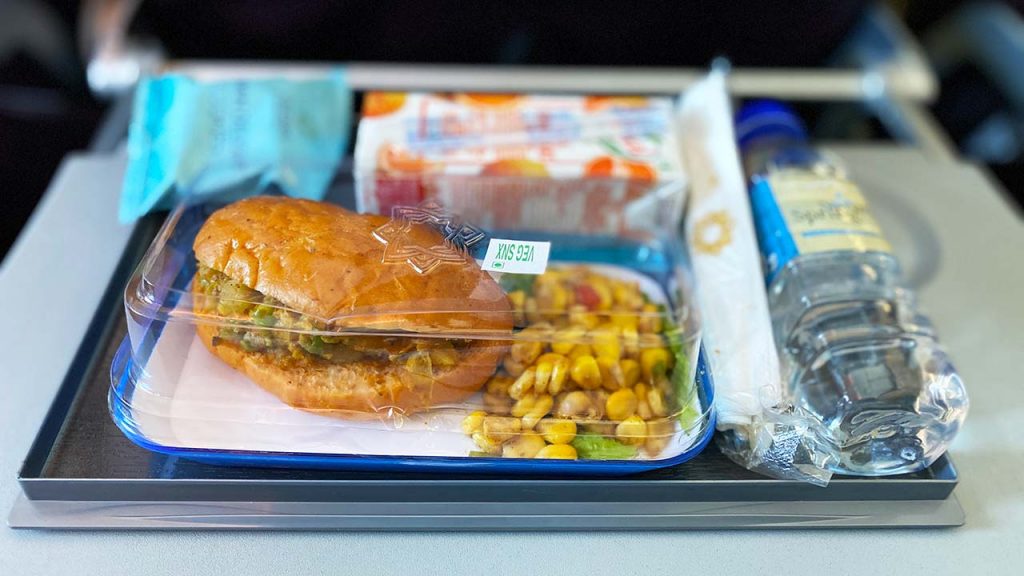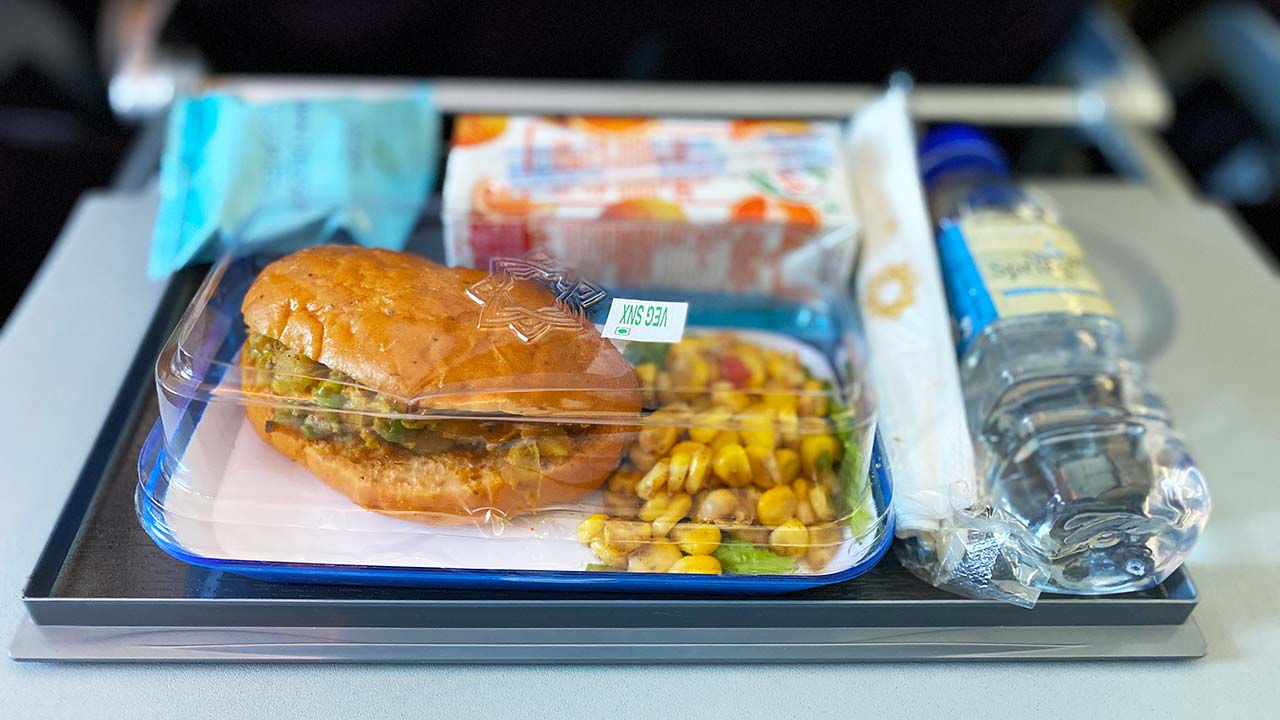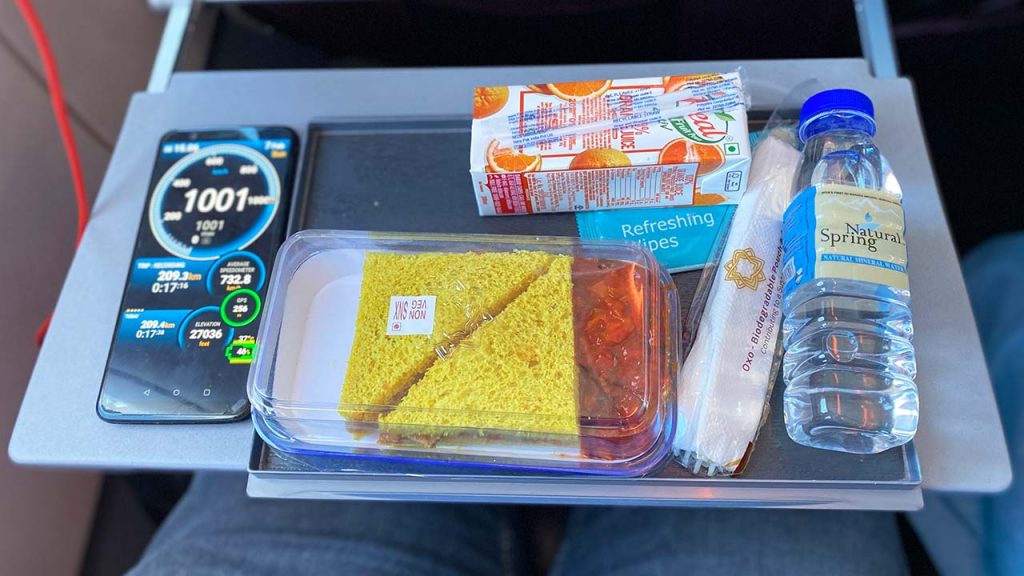 And oh yeah, this was taken when the aircraft was flying at ~1000 Km/hr (as per the app). Good to see these realtime information while flying – thanks to the AvGeek friend.
And oh, the food was COLD compared to the smoking HOT food served in Business class that I had few hours before this flight.
Those corn were really tasty except that I wish it to be served hot. Sandwich was OKAY!
Seat
Premium economy seats usually have slightly better legroom with leather seats. But generally speaking, there is no noticeable difference between the economy and the premium-economy seats.
I felt being crushed in the center seat!
However PE definitely makes a difference if you get the spacious first row, which I couldn't grab during this trip.
Bottomline
I wanted to experience the Vistara Premium Economy for a long time and its good that finally I was forced to experience one. 😀
Premium Economy is always better than Economy but the premium you pay has good value only if you get a front seat (or) if its a short flight (or) during non-covid times as you can enjoy the hot/cold towels, dining menu, etc.
However note that the experience may differ with the premium economy seats on wide-body aircrafts – which I'm not sure how many are flying in India.
Have you been on Vistara Premium Economy? Feel free to share your thoughts in the comments below.