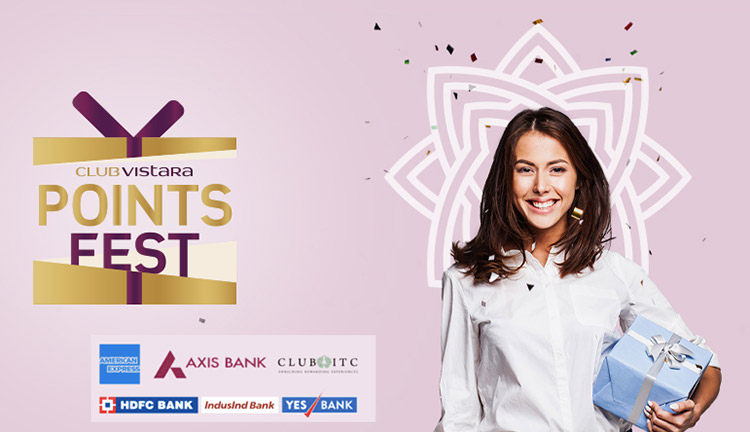 Club Vistara has recently launched Points Fest, a tiered points transfer promotion, valid for point transfers made during December 2020. Here are the offer details:
Offer Details
Offer: Get upto 50% more points on transferring your points from credit cards to Club Vistara
Offer Type: Multi-Tiered, as below
Offer Period: 1st Dec to 31st Dec 2020
CV Points valid for: 3 yrs (36 months)
Eligible transfer partners: Axis eDGE Rewards, American Express Membership Rewards, Club ITC, HDFC Diners Club Rewards, IndusInd Credit Card Rewards, YES BANK Credit Card Rewards
Limitation: Bonus points will be calculated per txn wise and not cumulative.
Fulfilment: 45 days after the base points is credited.
| | | |
| --- | --- | --- |
| Transfer Points | Bonus % | Max. Cap |
| 1,000 to 25,000 | 10% | 2,500 |
| 25,000 to 50,000 | 15% | 7,500 |
| 50,000 to 1 Lakh | 25% | 25,000 |
| 1 Lakh + | 50% | 50,000 |
You also get 10K points if you're one of the top 10 to transfer points during the promo period. Also another 5K points if you transfer 100K+ and do a booking within the offer period.
Check out the full details of the offer on Club Vistara page where you've to register yourself to avail this promo.
Should you transfer?
That depends on many factors. Here are some:
It makes sense for you to transfer if you intend to fly Vistara in next 6 months or before. 
If you intend to transfer from Amex, you may re-consider that decision as Amex Marriott points transfer offer may show up anytime, as I see Marriott Bonvoy promos are already in full swing.
If you have HDFC Diners Clubmiles, that gives you a great value as you get 1:1 transfer even on non-super premium card.
If your CC points are about to expire, transfers makes sense.
Ideally I value CV points at 75ps (minimum). So with the 100K transfer you get 50K points which nets you at Rs.1 value. 
Its can actually be valued much more these days as airfares are relatively high, but I'm sure this will settle soon, in like 3-6 months as air travel is recovering.
Bottomline
It's a wonderful offer for those who transfer over 50K and intend to redeem by early 2021. If not, its not suggested to transfer and accumulate the virtual currency.
That aside, I'm wondering why they are including only HDFC Diners cards for these CV transfer offers and not regular HDFC Credit Cards like Infinia or Regalia.
What's your thoughts on the CV Points Fest? Feel free to share your thoughts in the comments below.