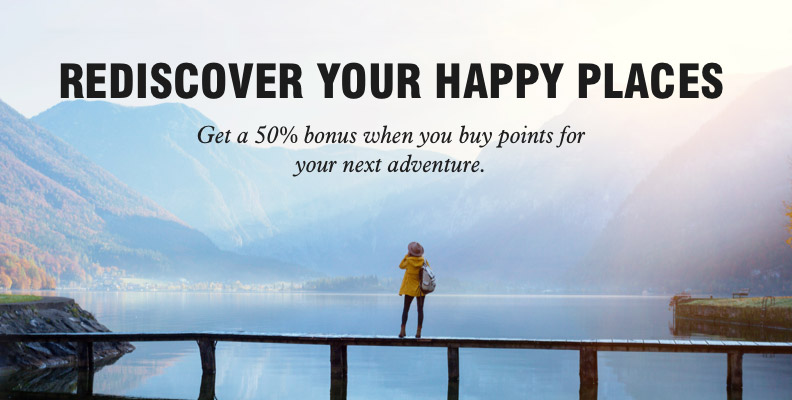 Marriott has been sending offers on points purchase ever since lockdown got lifted. But I didn't cover them by then as there is no point in grabbing the deals when the situation is very much uncertain and as not many are on road.
Now things are changing a bit as people are coming out for safe travel and I'm very much surprised to see some properties getting fully booked. So these offers may help those who're travelling amid Covid-19.
50% Bonus Points Offer
Offer: Get 50% bonus on purchasing Marriott Bonvoy Points
Min. Points to buy: 2000 Points
Max. Points: 150,000 points
Annual Limit: The current limit for buying MB points is 150K annually (up from usual 50K)
Offer Period: Valid till 22nd Dec 2020
Ideally you get close to 60Ps per Marriott Bonvoy Point with this promo. As you might know, I value Marriott Bonvoy at 50Ps (minimum) but it can get you value as high as 3Rs too, as I got with one of my previous redemption.
Off-Peak Redemption Rate
Offer: Redeem points at off-peak rates (33% fewer points than usual)
Booking Period: Dec 14
Stay Period: Feb 28
Even though Marriott is promoting this as 33% off and make it a fresh offer, it is actually the existing system wherein you can redeem points at Off-Peak rate. This is determined automatically based on the billing done by the respective hotels.
I've booked at Off-peak rates previously even before covid, it seems many properties has been enabled now with off-peak rates, for obvious reasons.
Maximising the Marriott Offers
You may use Amex Platinum Charge card to 3X rewards as you will make this payment in USD.
You may use Infinia or Diners black to get 3.3% back + 1% cashback via global value program
You may transfer your 100K welcome bonus from Amex Plat Charge to Marriott to redeem at Off-peak rate
You may transfer Marriott Bonvoy points to Airmiles at 3:1 with 5K bonus on transferring 60K points
Should you grab these deals?
Its depends on various factors, here is one:
If the property in your wish-list have the Off-peak rate enabled and if you intend to do the stay in the said time period, its definitely worth it.
Remember that this is the peak season and we're getting off-peak offers. Its good for now, but what this means is that after peak season gets over by ~ Feb 2021, we may still be able to redeem the points at off-peak rates, if Marriott wishes so, due to low business.
Yet, not to forget that the revenue rates are low already. For ex, Sheraton Grand, Mahabalipuram was selling at 8K INR in Nov 2020 and at 30K points redemption.
But now they're available at 12K INR revenue rate or for 20K points. This along with Marriott Gold (via Amex Plat) may get you upgrades. So the offer works well for now, but if you look at the price a month later, it may go back to under 10K INR.
Bottomline
If you are planning a trip for Dec/Jan vacation, this maybe a good deal to grab, based on which property you're exploring.
Further, cancellations on point redemptions are quick and easy too. That's an additional advantage with Marriott Bonvoy.
Are you buying/redeeming Marriott Bonvoy Points? Do let me know in the comments below.