Premium Economy is a new concept introduced in India by Air Vistara which is positioned between Economy & business class. Axis Vistara Signature Credit Card helps you to indulge in their premium services curated to provide Business class "like" of experience with their complimentary tickets based on milestone spends.
Joining Fee: INR 3,000+GST
Welcome Bonus: One Complimentary Premium Economy ticket
Milestone benefits on Vistara Signature Credit Card:
When you spend certain # anywhere with your Axis bank vistara Signature credit card, you're given with milestone benefits as below.
Spend Rs.75,000 – 3,000 CV Points
Spend Rs.1,50,000 – 1 Premium Economy Class ticket
Spend Rs.3,00,000 – 1 Premium Economy Class ticket
Spend Rs.4,50,000 – 1 Premium Economy Class ticket
Also earn: 4 CV Points for every Rs.200 spent
Note that you need to pay extra Rs.1,000 or so as "taxes" to redeem these complimentary tickets. So, on spending about 4.5L, you'll end up with
3 Premium Economy class tickets + 12,000 CV Points
Tip: Use CV points for Upgrades to Business Class
(excludes joining fee/welcome bonus)
Now, what's the value of it? For this, i took route BLR->DEL and here are the values
Approx cost of 3 Revenue tickets: ~Rs.24,000
Approx cost of 3 redemption's: ~Rs.3,000
Savings: ~Rs.21,000 (or less)
In other words, you get ~4.5% value back, as you spend 4.5L to save Rs.21,000. A very decent return i would say 🙂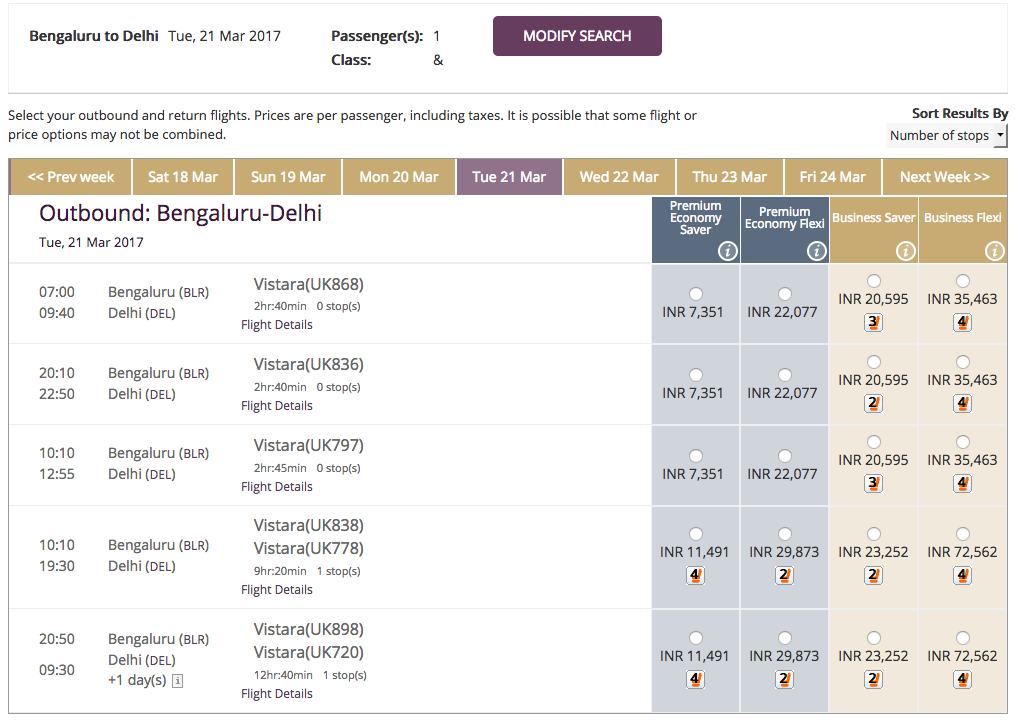 Features of Axis Vistara Signature Card:
CardExpert Rating: 4/5 [yasr_overall_rating]
Reward rate: Upto 4.5% as complimentary tickets
Complementary Airport lounge access: 2 Visits/quarter via Visa Lounge Access Program
Fuel Surcharge Waiver: Nil
Foreign Exchange Markup fee: 3.5% + Service Tax
Renewal Fee Waiver: Nil
Special Features: Club Vistara Silver Membership & Travel Insurance Protection, Discounted golf access
As the numbers speak, its delivers a far better value than Vistara Platinum Card. Note that you can get maximum value from the voucher with long distance flights. If you're redeeming it on short distance flights, overall value you get back might go down to as low as 2% or even less.
I might consider applying for this card, though, connectivity is the major resistance for me. Got something to say? Share your thoughts in comments below.