This is a review by our reader Satish Kumar Agarwal who recently got hands on Axis Bank's newly launched Flipkart credit card.
Flipkart Credit card could possibly be a game changing addition to Axis bank family of credit cards, so much so that it can take Axis bank credit card user base to a high level if managed well by the bank.
Comprehensive features of this Axis bank Flipkart card has already been covered in the card launch article. So this article will cover more about the card application experience as well as some of the useful facts about the card which may benefit prospective card seekers.
My Application Experience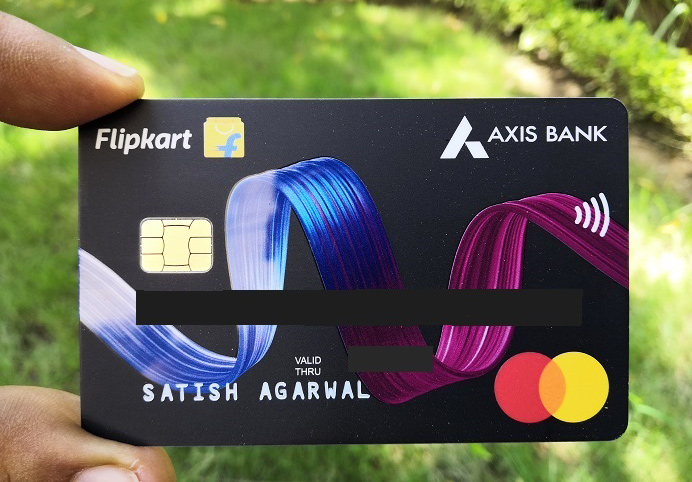 Applied for this card via Axis bank website on 23rd July 2019, the day it went open for all to apply. Prior to this date the card was mostly open to previous Axis Buzz credit card users for swapping. Flow of card processing is as below–
23.07.2019- Applied for the card via Apply Now tab on website
25.07.2019- Bank executive visited my house for KYC as I had no prior relationship
21.08.2019- Received email/ sms that card is approved (Cibil enquiry also done today)
27.08.2019- Received Application ref no. for the first time via sms which was not provided even by the executive who came for KYC
30.08.2019- Received sms containing Bluedart AWB for tracking
01.09.2019- Card delivered (Generated Pin via Axis Mobile app)
07.09.2019- Pin delivered by EMS Speed Post
As can be seen card processing time can be quite long, like 35 days in my case when you don't have any prior relationship with the bank.
Name on the card is printed and not embossed. Card design is as usual but looks vivid and colourful. Credit Limit is almost 1X my salary and among the lowest of the 6 cards I hold.
Things to Know
Welcome bonus of 500 Flipkart GV on any spend within 30 days ( I received it via sms link within 2 days of 1st transaction )
1st transaction on Myntra using this card will give you 15% cashback upto 500
Most importantly EMI transactions will not earn any cashback
Wallet topup/ Gold purchases will not earn any cashback
Every Wednesday/ Saturday Axis bank runs good offers on Grofers/ Amazon Pantry/ Big Bazaar
Sms received after each transaction confirming the eligible % cashback
Cashback to be credited in card account for use in next billing cycle
Every billed transaction shows earned cashback against them (completely transparent) in the monthly statement
Bank executive told me salary requirement of 60K+ for the card (this may vary from city to city)
He also told me 2-3 times that the card is pre-approved for me. As I don't have any prior Axis relationship so far, only possible reason may be salary north of 60K plus
Generated the pin via Axis mobile app as soon as I got the card. Few days later sadly I am unable to use the Axis mobile app as an error is shown everytime saying Customer ID login mismatch. Axis bank support is unable to help and suggests to visit Axis bank branch.
Looking at the past 3 months statement it's clear that there won't be any cashback below spends of Rs 100 for general merchants or even uber which falls in 4% cashback category. Can't say about flipkart though.
I hold Citibank, HDFC, Yes, RBL, ICICI, Kotak apart from this card and this cards statement is much superior and transparent than any of the card I hold.
Bottomline
Over the past year I have found that Axis bank is not generous in issuing credit cards to non account holders. As Axis is targeting to issue 1 million of this card in first year itself hence even if you don't have an account, chances are that card may still be issued easily if monthly salary/ ITR/ CIBIL is good enough. Though card processing time could be as long as above.
If opening Axis account relationship is not something you want, better apply this card via website and not through branch, as branch executive may insist that opening an account is mandatory to apply for the card which is not true.
Also if you don't have any of the Super Premium credit cards and are an avid online shopper, this card along with the ICICI Amazon Pay card will reward handsomely being comparatively easy to get approved.
Have you applied for the Axis Flipkart Credit card? Feel free to share your thoughts in the comments below.