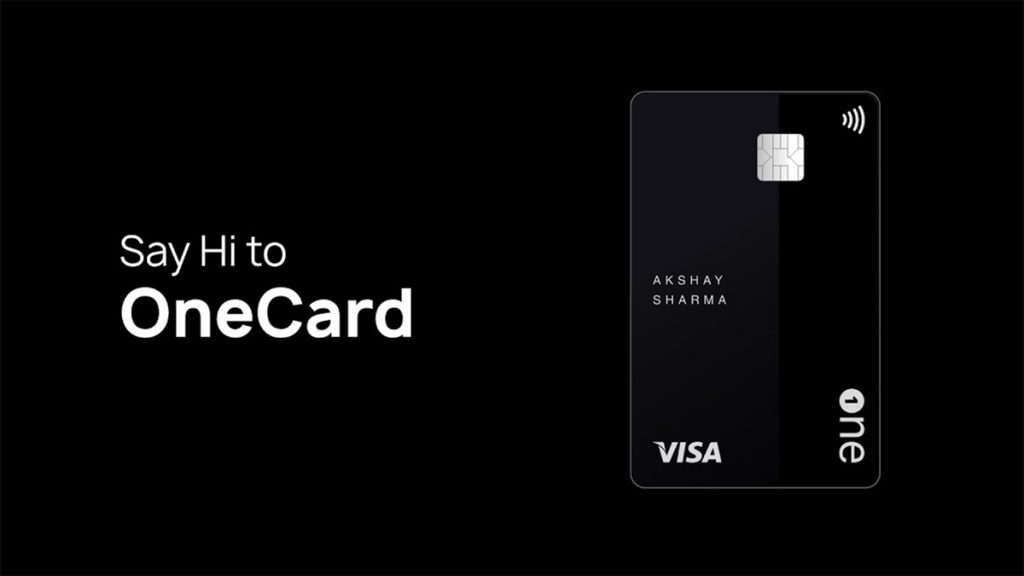 There are entry-level cards with Zero joining fee and then there are super premium cards with high joining fee that comes with a metal form factor.
What if you mix up both segments and issue a free card? That's OneCard. Here's everything you need to know about the OneCard metal credit card:
Overview
| | |
| --- | --- |
| Type | Entry-level Credit Card |
| Reward Rate | 0.2% to 2% |
| Annual Fee | Nil |
| Best for | Low Markup Fee |
| USP | Metal form factor |
Onecard is useful for those who want to experience the metal form factor and the low markup fee, both of which are possible only on super premium credit cards.
Speaking of rewards, regular reward rate is too low but they come up with targeted offers every once in a while that certainly helps to an extent.
What is OneCard?
OneCard is an entry-level credit card launched by FPL Technologies that works on IDFC bank platform through Visa (Signature) network.
While it boasts about a metal form factor like the Amex Platinum or Centurion its like giving you a Maruti 800 that "looks" like an Audi on the outside.
Its a hyped product in a way, but still if your plan is to show off the metal, its still a good choice for that matter.
Fees & Charges
| | |
| --- | --- |
| Joining Fee | Nil |
| Annual Fee | Nil |
| Markup Fee | 1%+GST |
| Interest Rate | 2.5% |
Its good to see the low markup fee, which is better than most credit cards but remember the rewards aren't good enough for it to compete with super premium cards.
As you see, its ideally a lifetime free credit card without any joining or renewal fee. That's good given that its coming in metal variant.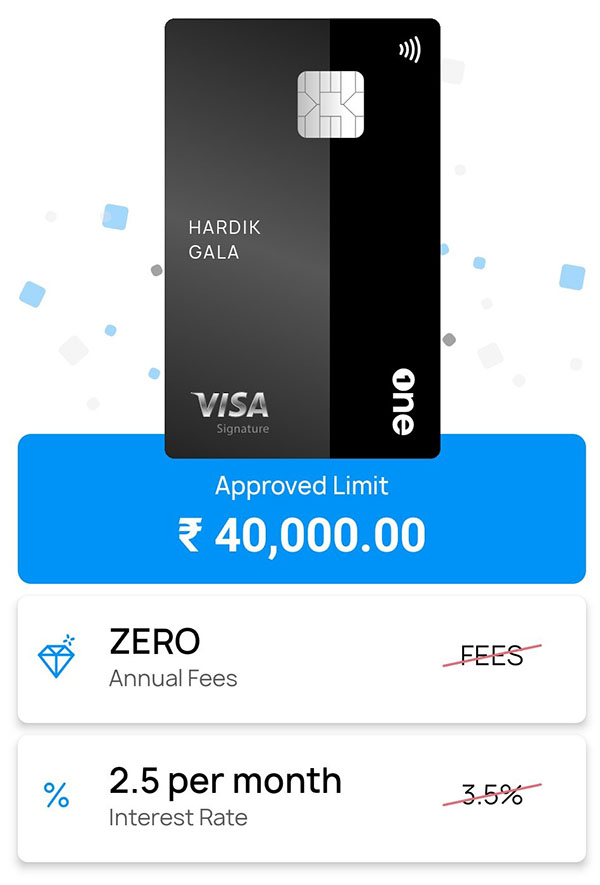 Rewards
| | |
| --- | --- |
| Regular Rewards | 1 RP/ Rs.50 |
| Accelerated Rewards | 5X RP on top 2 categories |
| Point Value | 10 Ps to Rs.1 |
| Regular Reward rate | 0.2% to 2% |
| Accelerated Reward rate | 1% to 10% |
So as you see, the regular reward rate varies anywhere between 0.2% to 2% and in case you get 5X then your reward rate could be anywhere between 1% to 10%
While those are the numbers in theory, in practical, the reward rate is 0.2% to 1% for instant redemption for statement credit.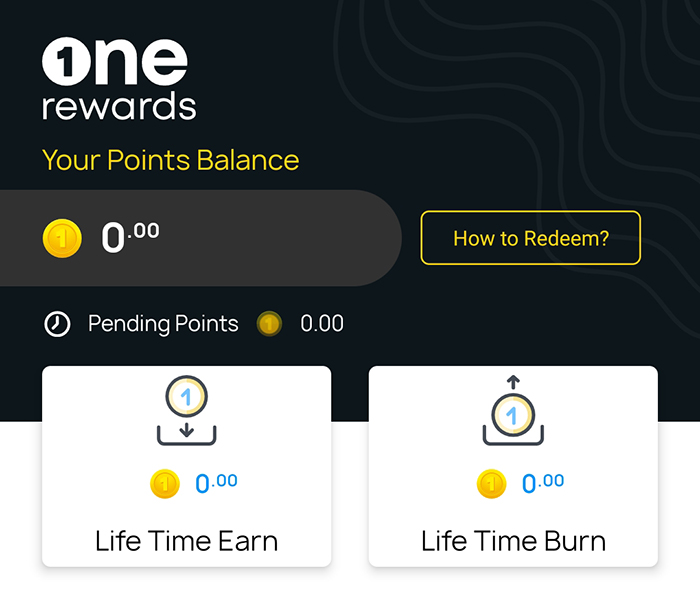 Note: As tested by one of the user, you don't get reward points for wallet load and transfers. Amazon pay load shows as transfer.
Benefits
Form Factor: Metal Card
Visa Signature Privileges (lounge privileges not confirmed yet)
Points are issued INSTANTLY
Points that never expire
Fractional reward points
How to Apply?
Prior to the launch of OneCard, the company launched the OneScore that gives you free credit score & report (Experian) through App.
Within the app they have an option to show interest for the OneCard. You get into waitlist and you will be informed when its available.
Update: They've stopped taking new users. You may get an option to opt-in after sometime.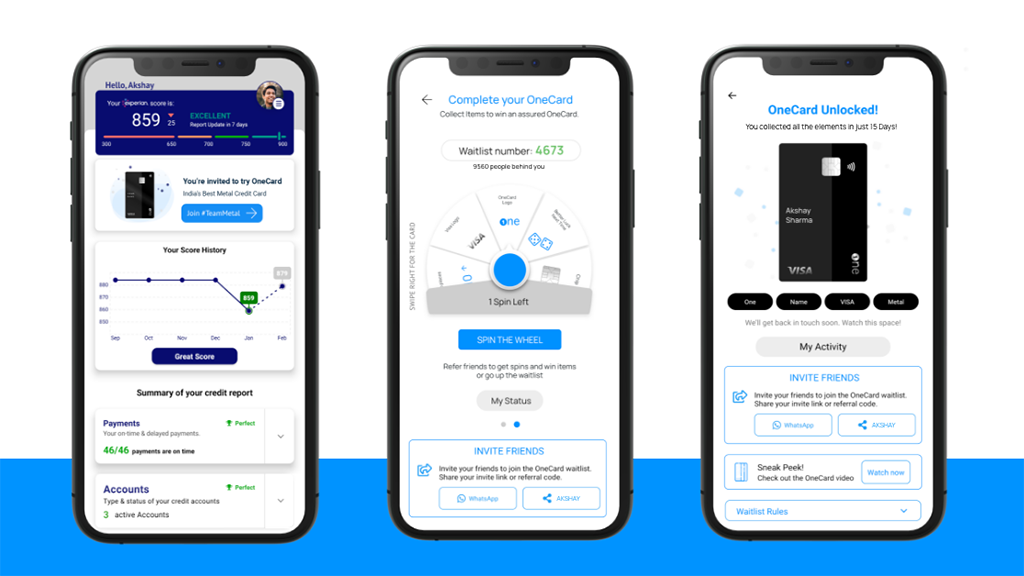 OneCard is currently available in 15 cities including Pune, Mumbai, Bangalore, Ahmedabad, Baroda, Surat & Delhi. Other cities maybe added soon.
User Experience
Onboarding:
Here's what one of the user has to say about getting started,
I got the email that I can now get the OneCard. Registration is simple. I downloaded the app from playstore and entered basic details. It didn't even ask for my PAN number. Just email, phone number along with OTP, mother name and father name.
That's it, the process is completed and the app shows the virtual credit card instantly with eligible credit limit. It's 1,80,000/-
Currently the app is in beta phase on Playstore and yet to go fully live. Here's the app visual: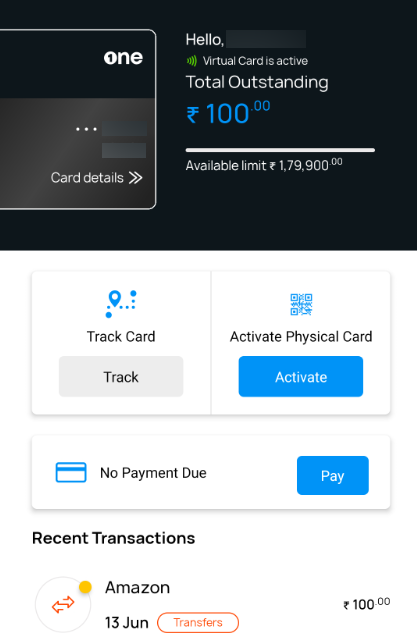 Service:
While the app is sleek and all easy to use, it seems the service/support is not upto the mark. Some have reported that they get robotic responses to their queries. But this may change as they evolve, over time.
Bottom line
As you see, its an entry-level credit card with some fancy features but the very low reward rate of 0.2% on regular spends makes it less attractive. Yet, the 5X rewards on top 2 categories is a good option if you can make use of it.
If you're new to credit cards, I would highly suggest to go with Flipkart Credit Card or Amazon pay Credit Card or OLA SBI Card that are lot better both in terms of reward rate (~1.5%) and service.
Overall the Visa signature platform, metal form factor, free for life and easy to use app are the major advantages of the card.
Having seen enough of entry-level cards in last 2 years I hardly have any excitement for them. I rather wish someone launch a super premium credit card with innovate features.
Have you got the OneCard by any chance? Feel free to share your experience in the comments below.
Thanks to Hardik, Mahendra & others for sharing the experiences with OneCard.