This is a review by our reader Satish Kumar Agarwal who recently got hands on MakeMyTrip ICICI Bank Visa Signature Credit Card. Over to him:

The current position of ICICI bank in credit card segment doesn't do justice compared to its banking business. And much to our delight they are now looking more aggressive with the credit card business, which can be seen by the new offerings. Recent online/ spend offers on ICICI bank cards have been good too.
I am an ICICI bank savings account holder since last 18 years and occasionally received emails regarding LTF Platinum chip card. But their Payback reward points system is not something that excites me. That's the reason I didn't apply for them. As Siddharth rightly pointed out, only card worth taking from ICICI bank is Jet Sapphiro, which is not in my radar as I am not a frequent flier.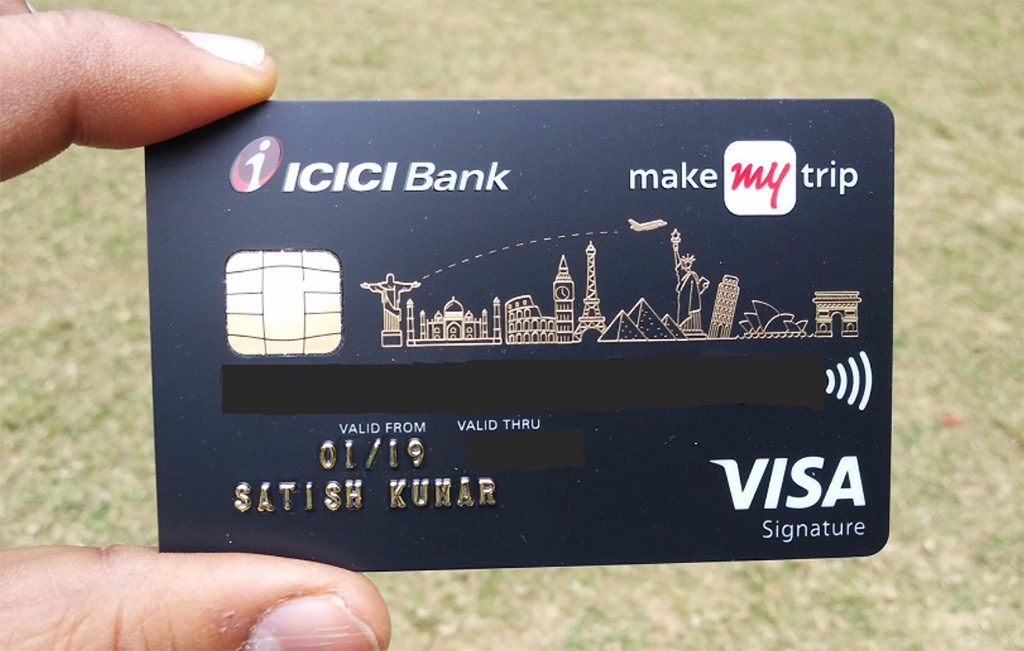 Nevertheless looking at their recent credit card shopping offers, I was looking for one which is not a part of Payback points system and zeroed in on Amazon pay ICICI bank Visa credit card which was launched in last week of October 2018. As this card is by invitation only, I couldn't apply for one yet. But looks like it will take some time.
Meanwhile on searching their other card offerings, one particular card which impressed me was this MMT ICICI Signature credit card launched recently around September 2018 and this is the review of same.
Joining Fees
Joining fee: Rs.2500+GST which comes to 2950/-
No annual fee thereafter (Looks like they have taken a leaf out of IndusInd bank)
Welcome Offers
Lemon Tree hotels voucher worth 2500/- (No min. spend criteria, part of welcome kit)
My Cash worth 1500/- in MMT account without any usage restrictions (valid for 1 year)
Auto enrolment to MMTDOUBLEBLACK for 1st year (worth minimum 999/- on paying via HDFC cc else 1499/-) n MMTBLACK programme
Complementary 10 days Airtel International roaming pack (On booking international flight/ hotel by this card within specified offer period)
If you are able to use the Lemon Tree hotel voucher then this welcome offer may be termed as good one.
Regular Offers
1 international lounge visit and 1 spa session at selected domestic airports per year (Via complementary Dreamfolks DragonPass membership)
1 complementary railway lounge access per quarter (Currently only 3-4 lounges)
Domestic airport lounge visits: 2 per quarter via Visa lounge access programme
2 complimentary movie tickets every month upto 300 per ticket via BookMyShow under "Buy 1, Get1" offer on first-come, first-serve basis
Every sixth ride complementary with Ola (Worth upto 150/- max per sixth ride, but must complete 5 rides n use 6th ride within that month, as count will be set zero next month)
Point no. 1 & 2 is what excites me and was a major factor in deciding to go for this card (though complementary access is too low). Also these features are currently available exclusively on a handful of ICICI bank credit cards only.
Rewards
Flight bookings on MMT – 1%
Hotel/ holiday bookings on MMT – 2%
Domestic spends outside MMT – 0.6%
International spends outside MMT – 0.75%
Milestone spends
Spend 2.5 lacs – 1100 My Cash each anniversary year
Spend 5 lacs –    4000 My Cash (additional over n above 1100) each anniversary year
Earning rate of this card is around 1% if used in a mix of categories mentioned above, which is below expectation for a Visa Signature card. As renewal charges are NIL 2nd year onwards, this may still be acceptable.
But if used frequently for bookings flights/ hotels on MMT then courtesy MMTBLACK (I am already MMTBLACK member via Yes bank complementary offer email link and hence I confirm this) the earning rate shoots to as good as 6% on spending 50K. Though My Cash earned via MMTBLACK route has a validity of 3 months only.
My Experience
Application Process: I applied via bank website apply online link on 25th November and got a call next day regarding the application. I was told that physical application along with documents will be picked up same day. But the bank executive came after a gap of 2 days i.e. on 28th November.
Surprisingly the application form asked for 2 references and their contact numbers also, which was kind of unheard by me so far. And the form mentioned the processing time as within 21 working days.
Upon enquiring I was told by the executive that form will be couriered to their card processing area and then only further action will take place. Again kind of bombed by their working in this digital age. Not a good experience so far.
Flow of card processing:
25.11.18– Applied for the card via Apply Online link on ICICI bank website
28.11.18– Visit by ICICI executive for application form & KYC documents pickup
22.12.18– Received application reference no. via email (1st communication after applying)
02.01.19– Received card approval information via sms & email
05.01.19– Received card dispatch alert via sms & email
06.01.19– Card delivered & received delivery confirmation sms & email
13.01.19– Dreamfolks DragonPass delivered
They took almost 21 working days to provide me the application reference number. And card delivery took 31 working days after documents were picked up, which is quite long. In comparison my YFP card took only 12 working days or so.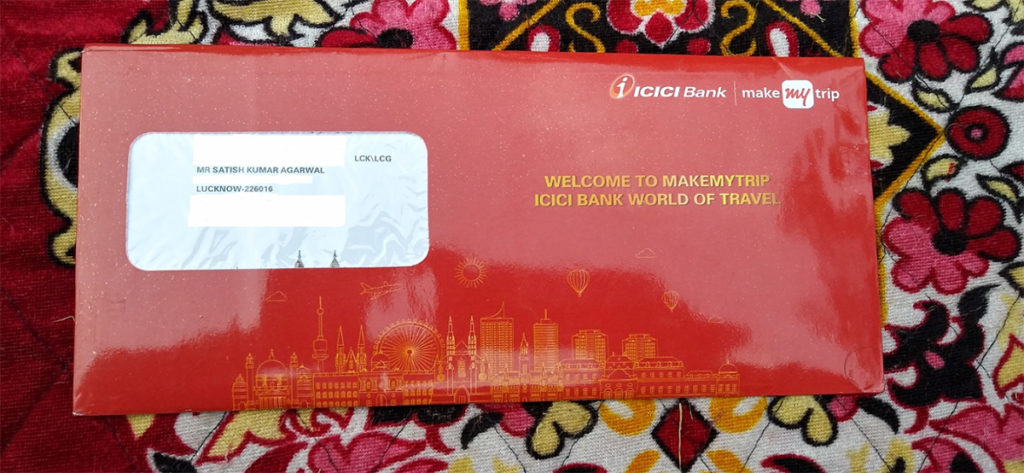 Bottomline
This card is best used for its unique experiences like railway lounge access/ airport spa session, merchant based promo offers apart from using it for its regular offers and not for very high spends.
Cardexpert Rating: 3.5/5 [yasr_overall_rating]
While its not a great card, its still worth holding if you're not yet invited for Amazon Pay Credit Card. What's your thoughts on the ICICI MMT Card?